NCF Nation:

Clinton Granger
April, 19, 2013
4/19/13
9:00
AM ET
Nine of 10 Big East teams will be through with spring practices come Monday, with Rutgers serving as the outlier. With UConn, Temple and SMU all gearing up for their annual spring games this Saturday, here's a peek at what to look for.

UCONN
Fans in attendance for the noon start at Rentschler Field should keep an eye on how the offense moves under new coordinator T.J. Weist. The Huskies ranked 118th in total offense last year as coordinator George DeLeone was stripped of his duties, though he remains the offensive line coach. But the squad returns all five starters up front to protect incumbent quarterback
Chandler Whitmer
, as well as top running back
Lyle McCombs
, as the unit will look to keep pace with a defense that was nothing short of outstanding last season but is down a few stars who will hear their names called next weekend in New York.
Hank Hughes is the new man in charge of the defense, and he has
Yawin Smallwood
back to anchor a unit that has said goodbye to
Sio Moore
,
Jory Johnson
,
Trevardo Williams
and
Blidi Wreh-Wilson
. The Huskies boast plenty of potential in the middle with linebackers
Graham Stewart
,
Ryan Donohue
,
Jefferson Ashiru
and
Omaine Stephens
-- but that is just potential, for now.
UConn needs answers on both sides of the ball if it hopes to improve off head coach Paul Pasqualoni's consecutive 5-7 seasons.

SMU
The Mustangs will have an open practice at 9 a.m. local time at Pettus Practice Field, with many current and former players signing autographs afterward. There will be an NFL Punt, Pass and Kick competition afterward for kids ages 6 through eighth grade.
The Mustangs are intriguing, first and foremost, because they brought Hal Mumme aboard as their assistant head coach and passing game coordinator. Pairing the Air Raid curator with head coach June Jones and his run 'n' shoot pedigree is a fascinating experiment in and of itself.
Kenneth Acker
, who is coming off a second-team All-Conference USA season in the secondary, is another experiment this spring, with the staff splitting the cornerback wide to catch some passes with the offense.
Defensively, the Mustangs are replacing a bulk of their production from last season, with
Margus Hunt
,
Ja'Gared Davis
and
Taylor Reed
all gone.
Kevin Pope
and
Robert Seals
must step up at linebacker.

TEMPLE
Head coach Matt Rhule's first spring will feature live kicking and punting, normal scoring and 15-minute quarters. Who will eventually emerge as quarterback, however, is another matter. Juice Granger and
Thomas Rumer
will see action on the Cherry squad, which is coached by defensive coordinator Phil Snow, while
Chris Coyer
and
Connor Reilly
will take reps for the White team, coached by offensive coordinator Marcus Satterfield.
Reilly has thrived under the pro-style attack, ascending to No. 1 on a depth chart that was expected to see Coyer and Granger fight for the top spot. Coyer has seen time as an H-back in practice, but Rhule said he will remain under center.
Kevin Newsome
, out with a shoulder injury, has been moved to H-back.
Reigning conference freshman of the year
Tyler Matakevich
leads a defense that struggled across the board last season, while
Levi Brown
and
Sean Daniels
are the big guys up front worth keeping an eye on.
The live kicking and punting part of Saturday's 1 p.m. contest at Edberg-Olson Hall is worth noting in that the Owls need to replace
Brandon McManus
, who held the school records for field goals made and punting average.
February, 27, 2013
2/27/13
9:00
AM ET
For the second straight spring, Extreme Makeover: Big East edition has gripped the conference.
Four teams enter practice with an eye toward their first Big East season. Two teams enter spring practice wondering if 2013 is their final Big East season.
The mix makes for quite the dysfunctional pairing, and most likely the only configuration featuring remaining members Cincinnati, UConn, USF and Temple, incoming members UCF, Houston, Memphis and SMU and departing members Louisville and Rutgers playing under the same conference umbrella.
Got all that?
What must be most especially difficult for the league this spring is marketing and promoting what should be a preseason top-10 team -- Louisville -- knowing the Cardinals are not long for the Big East world. It was the same scenario that unfolded back in 2011, when West Virginia represented the Big East as its highest-rated Top 25 team and Orange Bowl participant, with a move to the Big 12 just months away.
[+] Enlarge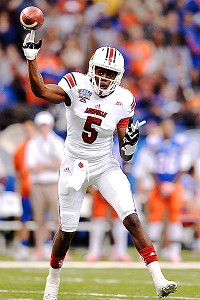 Cal Sport Media via AP ImagesThere are many question marks at QB in the Big East this spring. Louisville's Teddy Bridgewater is certainly not among them.
Given all the conference realignment, this is certainly not uncharted territory. But it certainly takes the luster off what should be downright euphoria over having one of the projected marquee teams in all the nation in 2013. Along with that conundrum is the idea that the Big East cannot begin to rebrand itself while it continues to have a hodgepodge of teams with one foot in the door and one foot out.
None of this is new, but it certainly is more than a little uncomfortable. Having said that, Louisville remains the biggest story to watch this spring and into the fall because of the opportunity the Cardinals have in front of them. Not only do they return nearly all of their key starters from the Sugar Bowl-winning team of a season ago, they return soon-to-be junior quarterback
Teddy Bridgewater
, already a preseason Heisman candidate.
Last spring, he was incredible, completing 70 percent of his passes in a near-flawless performance. That translated into a super sophomore season that not only has people talking Heisman now, it also has them talking about whether this is his final spring in a Cardinals uniform. Another solid spring showing from him, and Louisville should cement its standing as the preseason favorite to win the Big East, with an outside shot as a dark horse national title contender.
Louisville, however, is only one of a handful of Big East schools with quarterback certainty. UCF returns
Blake Bortles
, who had a 3,000-yard season in 2012 as the Knights went 10-4 in their final year in Conference USA. He is perhaps the next-best quarterback in the league, although that is probably up for debate, as Cincinnati returns
Brendon Kay
.
But Kay is going to face some competition this spring, with new coach Tommy Tuberville taking charge. He is not the only incumbent who is sure to be pushed. At Rutgers, coach Kyle Flood says
Gary Nova
remains the starter, but new offensive coordinator Ron Prince is certainly going to want to see what all his signal-callers have to offer. At Memphis,
Jacob Karam
must win his starting job again. At SMU,
Garrett Gilbert
needs to work on his consistency. So does UConn quarterback
Chandler Whitmer
, who is going to see some competition for his job as well.
At Houston,
David Piland
is in for a fight for his spot. USF and Temple need starters, too. The Bulls lose veteran
B.J. Daniels
and return
Matt Floyd
and
Bobby Eveld
. The Owls rotated between
Chris Coyer
and
Clinton Granger
last season, but Penn State transfer
Kevin Newsome
could figure into the mix as well with new coach Matt Rhule taking charge.
The quarterback position in the Big East represents the league as a whole: plenty of uncertainty this spring.
November, 23, 2012
11/23/12
2:33
PM ET
We have seen Syracuse win various ways this season.
The Orange turned to their running game to do the damage against Temple on Friday afternoon. Syracuse overcame a sluggish start to pull away in the second half for a
38-20 win
in the final Big East game in school history. Running back
Jerome Smith
went over 1,000 yards on the season,
Adonis Ameen-Moore
had two rushing touchdowns and
Prince-Tyson Gulley
added another as the Orange ran for 260 yards in their regular-season finale.


Receiver
Alec Lemon
also went over 1,000 yards on the season, giving Syracuse its first 1,000-yard rusher/receiver combination since Michael Owens and Rob Moore back in 1989. Moore is now the receivers coach for the Orange.
This was not a crisply played game on either side, as both teams had several fumbles and way too many costly penalties. Temple jumped out to a 10-0 lead and then led again 20-17 early in the third quarter. But Ameen-Moore and Gulley had back-to-back rushing scores to essentially put the game out of reach.
The most pleasant surprise of the game was the way Ameen-Moore contributed. Going into Friday, Ameen-Moore had 20 carries on the season for 51 total yards. He went over 50 alone against the Owls, showing just how much depth the Orange have at the position. All three rushers will be back next season, too.
Syracuse (7-5, 5-2) ends the regular season with wins in five of its past six games, and their most wins in Big East play since going 6-1 in 2001. The Orange now await their bowl destination.
As for Temple (4-7, 2-5), it was a disappointing end to its first season in the Big East. The Owls end the season with five straight league losses. They had untimely penalties cost them several chances to come back in the second half.
Montel Harris
ended the season with over 100 yards in three of his four final games, and went over 1,000 yards on the season.
We saw some flashes out of quarterback Clinton "Juice" Granger as well. He made some nice throws to rejuvenate the Temple passing game. But he also threw two interceptions late.
Keon Lyn
had both, including one he returned 31 yards for a touchdown to seal the victory.
November, 21, 2012
11/21/12
9:00
AM ET
Because of Thanksgiving, we are moving our usual Thursday coverage up one day. So you get your picks early.
I got cute last week with my picks, and it backfired on me as I went 2-2. Tuna did, too, missing Syracuse and Rutgers.
AA season record:
43-17.
Friday
Syracuse at Temple, 11 a.m., ESPN2/WatchESPN.
So what does
Montel Harris
do for an encore? It is going to be hard for Harris to run for another 351 yards against Syracuse, which has made strides in run defense.
Clinton Granger
played well at quarterback for the Owls as well, but that game against Army last week was just a reprieve. Temple has lost four straight Big East games by an average score of 43-14. Syracuse has won four of its past five games and could get another huge game from receiver
Alec Lemon
against a very shaky Temple secondary.
Syracuse 37, Temple 21.
Matt's pick:
Syracuse 28, Temple 13.
USF at Cincinnati, ESPN/WatchESPN, 7 p.m.
When the Big East released its schedule, this one looked like it would have Big East race ramifications. Now it is just another game. The Bearcats are bowl eligible but out of the BCS hunt; USF is simply down and out. It is hard to say just how much success USF will have on offense with
Matt Floyd
, given what we saw last week against Miami, one of the worst defenses in the nation. The Bearcats could take advantage of a weak USF secondary and open up its pass game a little more.
Cincinnati 30, USF 10.
Matt's pick: Cincinnati 35, USF 7.
Saturday
UConn at No. 20 Louisville, noon, Big East Network/ESPN3.
Both teams enter this game off a bye -- UConn beat Pitt the last time out, and Louisville lost to Syracuse. The Cardinals must win to keep their Big East and BCS hopes alive and are going to have to play better defense after their performance against the Orange. That may not be too difficult in this game, considering UConn barely plays any offense and has not scored a fourth-quarter point in six straight games.
Louisville 31, UConn 14.
Matt's pick:
Louisville 28, UConn 6
No. 18 Rutgers at Pitt, noon, ESPN2/WatchESPN.
Believe it or not, Pitt is a slight favorite. It must be the home-field advantage. Hey, stop laughing out there. Pitt comes into this game off a bye following a loss to UConn, while Rutgers had a very strong win over Cincinnati. Rutgers needs to win to clinch at least a share of its first Big East title. The last time the Scarlet Knights were in that situation, they lost to UConn last year. I don't think history repeats itself. Rutgers is too strong on defense to lose this game.
Rutgers 24, Pitt 13.
Matt's pick:
Rutgers 20, Pitt 14.
November, 16, 2012
11/16/12
11:00
AM ET
Temple has a four-game losing streak. On Tuesday, the Owls found out that their season will all but end in less than two weeks, as a possible 12th game at Hawaii fell through -- something that also costs them a chance at bowl eligibility.


And, to complicate matters, the Owls have a three-man quarterback battle brewing heading into Saturday's game at Army.
"I just think that the bottom line is I feel like we need a spark," coach Steve Addazio said. "I feel like I want to see some energy at that position right now, and I'm just a big believer that no one could ever feel that secure, per se. And I just think that we've got guys waiting in that position that want reps, I'm going to give them reps out here and let's see who has the best week of all and I'll go from there."
Chris Coyer
has started all nine games for the Owls, but
Clinton Granger
has appeared in the past four games, with
Kevin Newsome
appearing in the last two.
All three signal-callers are juniors, but Addazio isn't looking at this week's decision as one with future implications.
"One guy might play and if that's not happening, well, I'll pull him and put the next guy in," the second-year Owls coach said. "My goal right now is I want to see guys performing under the bright lights, because that's really where you measure things. It's hard to measure it in spring ball and preseason camp; it's all part of it, but at this point we've got guys, I need to see them with the bright lights on. I want to see who's got that 'it' factor, if you will."
The growing pains have showed recently for a young team in its first year in a new conference, as the Owls have just 13 seniors and have played 23 freshman.
This is the natural cycle of things, Addazio said, and with a surprising 2-0 Big East start giving way to reality of this past month, he is challenging his upperclassmen to make the most of their final days as college football players.
"We've got to play a great game on Saturday," Addazio said. "We need to do that, so here it is. It's your opportunity. What do you want to get done here? So it'll be interesting to see those dynamics play out."
November, 15, 2012
11/15/12
10:15
AM ET
Here's what to keep an eye on Saturday.
1) Temple's QB
. It is a three-man race to take the first snap under center for the Owls, with
Chris Coyer
,
Clinton Granger
and
Kevin Newsome
vying for the spot. One will be tasked with getting the Owls out of their four-game funk, with Army awaiting.
[+] Enlarge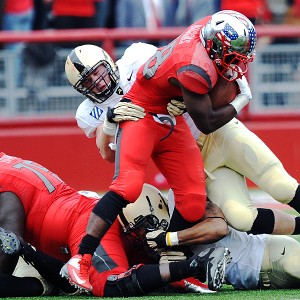 Joe Camporeale/US PresswireRutgers may need Savon Huggins to carry the offensive load at Cincinnati if Jawan Jamison is out.
2) Can Rutgers' offense keep up?
The Scarlet Knights have been underwhelming on offense of late, to say the least. They had seven turnovers against Kent State and needed a very late run to pull away from Army, and now, heading to Cincinnati, are facing their biggest Big East test to date, possibly without star running back
Jawan Jamison
, too.
3) Brendon Kay goes for Round 2
. The fifth-year senior's starting debut last week against Temple couldn't have gone much better. Now he has to do it against Rutgers' defense, with conference title implications on the line.
4) South Florida's QB
. Skip Holtz, like Temple's Steve Addazio, has not announced a starter.
Matt Floyd
or
Bobby Eveld
will get the call against Miami -- a team Eveld beat two years ago. How the Bulls respond without
B.J. Daniels
the rest of the way -- and after finally snapping their losing streak … and after a bye, too -- is worth watching for a team that still has a chance at bowl eligibility.
5) Syracuse goes for bowl eligibility
. Frankly, it would typify the Orange's past two seasons to follow up a masterpiece against Louisville with a letdown at Missouri. Winners of three of its past four, Syracuse instead hopes to build off a big win this time, with its offense clicking on all cylinders as it readies for a Tigers team that also is going for win No. 6.
November, 12, 2012
11/12/12
1:15
PM ET
The status of two of the Big East's best running backs remains up in the air following Week 11 injuries.
Rutgers'
Jawan Jamison
is "50-50," coach Kyle Flood said Monday, while Temple's
Montel Harris
looks a bit more likely to play this Saturday at Army.
"Montel's doing well," Owls coach Steve Addazio said of Harris, who left Saturday's loss to Cincinnati in the second quarter with a knee injury. "Just got to give it a little rest and see how that goes, but I feel good about him."
Jamison hurt his ankle in the third quarter of a win over Army but returned in the fourth quarter, finishing the game with 90 yards on 22 carries, plus a 16-yard touchdown pass.
Flood said he's confident in
Savon Huggins
' ability to handle the extended workload should Jamison not be able to go Saturday at Cincinnati.
Louisville coach Charlie Strong
said earlier Monday that leading rusher
Senorise Perry
tore an ACL and is out for the year
.
QB shuffles
: Cincinnati will stick with
Brendon Kay
as its starting quarterback this week after a strong debut at Temple. … South Florida has not named a starter for this week following
B.J. Daniels
' season-ending ankle injury two weeks ago. Temple remains undecided, too, following
Clinton Granger
replacing
Chris Coyer
this past Saturday.
November, 12, 2012
11/12/12
10:00
AM ET
Here's one more look back at what went down this past weekend in the Big East:
The good
: Connecticut finally notched a Big East 'W.' Rutgers got back on the winning track. And Syracuse and Cincinnati turned in dominating performances a week after their tight battle, which went the Bearcats' way.
The bad
: Louisville, which had risen to No. 9 in the BCS rankings and was carrying the banner for the conference, laid a gigantic egg in Syracuse, getting blown out 45-26. Lots of credit to the Orange, but make no mistake, this was a huge blow for the conference, which was already getting disrespected by computers and pollsters who had two two-loss teams ahead of the unbeaten Cardinals.
The ugly
: Oh, Pitt. What shall we do with you? A week after taking the No. 3 team in the country to triple-overtime on the road, you fall behind 24-0 to a UConn team that has not moved the ball well in more than a month. Now your bowl chances are very slim, and you really have nowhere to look but in the mirror following some mind-boggling defeats this season.
The replacements
:
Brendon Kay
's first start for Cincinnati could not have gone better, as the fifth-year senior completed 13 of 21 passes for 244 yards and two touchdowns, adding 71 rushing yards on seven carries. His second-half opponent,
Clinton Granger
, replaced
Chris Coyer
, who has been ineffective throughout Temple's four-game losing streak. Here's guessing one of these teams' QB situations will be a lot clearer than the other's heading into this week.
Send it in, Jerome!
Jerome Smith
has now rushed for 100 or more yards in four straight games for Syracuse, who notched another huge home upset under coach Doug Marrone. The Orange are on the brink of returning to bowl eligibility, and their re-established running game is a big reason for that, with Syracuse winning three of its past four games.
Nice to see you again
: Oh hey, UConn's rushing game.
Lyle McCombs
had his first 100-yard game since Sept. 22. In fact, he had not rushed for even 50 yards in a game since September, and the Huskies had not scored a second-half touchdown since then, either. But the nation's 116th-ranked rushing attack put up 132 yards while holding Pitt to 48, this after
Ray Graham
picked apart Notre Dame's defense for 172 rushing yards a week earlier.
Wild finish awaits
: Rutgers is the only team without a Big East loss, but it will have its hands full this week at Cincinnati. Rutgers and Louisville both control their own destinies when they meet in the Nov. 29 regular-season finale, but the Bearcats can turn this into a completely chaotic race if they take down the Scarlet Knights this weekend.
November, 10, 2012
11/10/12
3:40
PM ET
Was the Syracuse game the last we've seen of
Munchie Legaux
this season?
If
Brendon Kay
's performance Saturday at Temple is any indication, that may very well end up being the case.


The Bearcats could not have asked for much more from their new signal caller in a
34-10
rout of the Owls. Kay completed 13 of 21 passes for 244 yards and two touchdowns and carried it seven times for 71 yards.
His touchdown passes, to
Kenbrell Thompkins
and
Chris Moore
, went for 75 and 65 yards, respectively.
George Winn
, the Big East's leading rusher, added 83 yards and two touchdowns on 20 carries.
Cincinnati jumped out to a 24-3 first-half lead and never looked back, pressuring
Chris Coyer
into a costly interception late in the first half that cost the Temple signal caller the chance to start the third quarter.
That honor went to
Clinton Granger
, who fared little better. The two Owls quarterbacks combined to go 12-of-32 for 142 yards.
Cody Booth
's 4-yard touchdown catch late in the third quarter cut the Cincinnati lead to 14, but that was as close as Temple would get.
The Bearcats held Temple to just 267 yards of total offense in what was a complete, solid performance. Reality has come down hard on the Owls following their 2-0 Big East start, as they now find themselves in the middle of a four-game losing streak going into next week's game against Army.
Cincinnati scored another win Saturday when Louisville was routed by Syracuse, giving both the Bearcats and Cardinals one Big East loss. Louisville beat Cincinnati two weeks ago, so the Cardinals have to lose another game for Cincinnati to have a chance to win the conference outright and gain a BCS bowl bid.
To have that chance, the Bearcats need to start by beating Rutgers next week, which would create quite a wild race to the finish among three one-loss Big East teams. That's a scenario that looks much more possible after Kay's performance Saturday in Philadelphia.