NCF Nation:

coaches 052312
May, 22, 2012
5/22/12
10:58
AM ET
Hey, you stay at the top long enough, people get tired of seeing you there.
Such is life as Mack Brown and Bob Stoops.
This year,
we asked who got you fired up the most,
and Brown and Stoops ran away with the poll.
[+] Enlarge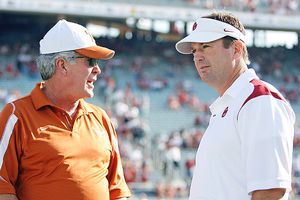 James D. Smith/Icon SMIA recent poll ranks Mack Brown, left, and Bob Stoops as the most disliked coaches in the Big 12.
Stoops hauled in 39 percent of the vote, while Brown checked in with 37 percent.
They couldn't be any more different in personality, but they have one big thing in common: They win. If a coach kept beating your team, you wouldn't like it much, either.
Stoops got the OSU faithful fired up last season when he
needled them for recognizing a co-Big 12 South title in 2010
. He's won the biggest of any coach in the Big 12, and until the past two seasons, Brown had won with the most consistency.
That streak of nine consecutive 10-win seasons came to a screeching halt with a 5-7 campaign in 2010, leading more than a few to question Brown's coaching prowess. Could he be as effective at another school? What if you plopped him right in the middle of Ames? Would you still be impressed?
And at Texas, which has all the resources -- both financial and recruiting -- anyone could ever want, shouldn't a coach win more than one national title in 14 seasons?
Maybe that's fair. Maybe it's not. Only eight coaches currently coaching college football even have
one
national title. Stoops and Brown are both in that group.
The duo has outlasted every other Big 12 coach. No one in the league has been at their current schools longer. (Yes, Bill Snyder's three-year sabbatical disqualifies him.)
Before last season, Snyder was the only coach to swipe a Big 12 title from Brown and Stoops since 2001.
Hate them if you must. Pardon them if they don't stop winning long enough to notice.
May, 22, 2012
5/22/12
10:35
AM ET
Coaching villains are supposed to rip the hearts out of opposing fan bases. They're supposed to send chills down the spines of those dressed in the wrong garb. They're supposed to wreck the enemy.
It isn't supposed to be the other way around.
But there are always exceptions, and this year Arkansas happened to be on the wrong end of the unfortunate situation in which Bobby Petrino took that infamous joy ride on April 1.
[+] Enlarge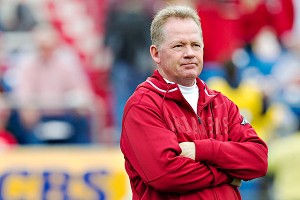 Wesley Hitt/Getty ImagesFormer Arkansas coach Bobby Petrino made himself the easy choice as the SEC's top villain this year.
That day started a chain of deceitful events that sent Arkansas' hero into the leagues of the villainous.
After pulling Arkansas from the depths of inconsistency, he might have cost the Razorbacks the ultimate prize by thinking of only himself while committing a laundry list of mistakes that cost him his job.
Less than three months after guiding Arkansas to its first 11-win season in nearly four decades, and being a little more than a year removed from the program's first BCS bowl berth, Petrino was fired months before he could really do anything with a team he felt might have been his best in Fayetteville.
When he veered off a highway on his motorcycle near the town of Crosses in Madison County, Ark., to kick off April, his superstar status in Fayetteville slowly began to crumble.
First, there was the lie about being alone on his Harley-Davidson. Petrino, 51, later admitted (just before the police report was made public) that someone was with him -- 25-year-old Jessica Dorrell, whom Petrino helped hire to work in the football department.
Petrino, a married father of four, then admitted to carrying on an inappropriate relationship with Dorrell, which he said took place for more than a year. It was later discovered that Petrino had given Dorrell $20,000 in cash and shared more than 4,300 text messages and nearly 300 phone calls with her.
Nine days later, athletic director Jeff Long dismissed Petrino, putting the dignity of the university ahead of winning football games.
But the damage to Arkansas' program had already been done. Not only was shame brought to it, but the offensive genius responsible for getting Arkansas toward the top of the SEC West was gone. Arkansas' leader had become consumed with power, arrogance and that destructive feeling of invincibility.
If the accident itself didn't reveal just how conceited Petrino was, all that electronic communication he had with Dorrell (on his work phone no less) certainly did. He didn't become a villain just for his physical actions; he became one because he put himself before his team.
He embarrassed himself, his university, the team, his boss and his family when he took that joy ride, but this wasn't the first time Petrino shook a team with a humiliating exit. His arrival at Arkansas didn't come without controversy, either, as he walked out on the Atlanta Falcons with three games remaining during his first year in 2007.
At least he left a note.
He almost scurried away from Louisville before his first year was finished when he secretly met with Auburn about its not-yet-vacant head-coaching job, where Petrino's former boss, Tommy Tuberville, was still employed. Not to mention more supposedly secret discussions with Florida, LSU, Notre Dame and Ole Miss in 2004.
There's that wonderful quote in "The Dark Knight" -- "You either die a hero or you live long enough to see yourself become the villain." -- that pretty much sums up Petrino's last few stops.
But like Petrino's previous places of employment, Arkansas will move on. It'll grow and find new leadership under interim coach John L. Smith. Players have vowed to complete the journey Petrino started. They will rise up, while Petrino's character continues to fall.
May, 22, 2012
5/22/12
10:30
AM ET
In keeping with the theme this week of "coaches we love to hate," ESPN.com is looking for some villains today.
The truth is, the ACC is comprised of a bunch of nice guys. (Maybe that's the problem.)
Jim Grobe? The kind of guy you'd want to invite to your family picnic.
Frank Beamer? Could make a run for grandfather of the year.
David Cutcliffe? The man would probably give you a lift to class if you needed one.
[+] Enlarge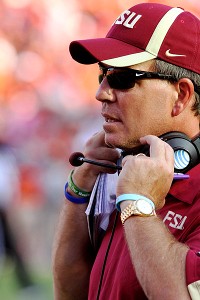 Joshua S. Kelly/US PRESSWIREJimbo Fisher's comments about leaving the ACC put him at the top of the conference's villain list.
There's one current coach, though, who has separated himself as the league's most recent villain, and he did it with one breath last week.
Hint: "If that [jumping to the Big 12] is what's best for Florida State, then that's what we need to do."
Jimbo Fisher apparently didn't get the memo about the company line.
Meet your villain, ACC fans, your one, unabashed detractor in a league that boasts unity and is determined to keep its stability. Fisher has since tried to back off of that comment, telling reporters at the ACC spring meetings he's "not a decision-maker," and that FSU is hap-hap-happy in the ACC.
(Unless, of course, the Big 12 comes calling.)
Fisher is an SEC-bred football coach stuck in a, well, basketball conference. He would fit perfectly in one of college football's big boy conferences. He's tailor-made for it, guilty of at least half of the seven deadly sins: greed, pride, and Big 12 envy. Even Nick Saban should be fearing Fisher, a relentless recruiter who has beaten his former boss for several of the nation's top prospects in the state of Alabama.
It's the rest of the ACC, though, that should be wary of this villain.
While Fisher isn't the one calling the shots in Tallahassee, it's na´ve to think he can't influence them. If he wants out, people will listen. We did. Almost as soon as those words were spoken -- "then that's what we need to do" -- the Twitter world lit up. Expansion rumors got new life. There appeared to be mixed messages coming out of Tallahassee. Everyone was talking, but not to each other. Fisher's comments gave validity to the notion that Florida State would even
consider
leaving the ACC -- $20 million exit fee and all.
Fisher endorsed Florida State flirting with the possibility of leaving the ACC -- arguably one of the most devastating scenarios the league could face. It was a survival-of-the-fittest, every-man-for-himself kind of statement.
It was as if he (sniff, sniff) thought there was something better out there. Or worse, that Florida State was better than the ACC.
Not anymore.
The ACC and Florida State have been together since 1991. They've been together through good times and bad.
The ACC needs Florida State. And in a conference full of nice guys, it needs its villain, too. After all, it only takes one national title to become a hero overnight.
May, 22, 2012
5/22/12
10:30
AM ET
Every good conference boasts some coaching villains, and the Big Ten has several men who fill the role. No one will confuse the Big Ten with the SEC, where all 12 coaches have voodoo dolls of one other and dart boards with their opponents' heads as the bull's-eyes. But let's not forget the Big Ten produced Woody and Bo, two men who certainly played the villain when they set foot on opposing soil. The Big Ten may never see Woody versus Bo, Part II, but you get 12 Type A personalities competing for championships in a high-stakes sport, and it's going to get heated.
Last month, we asked you to weigh in on the
most disliked Big Ten coach
. Not surprisingly, the three highest vote-getters also earned our nod for their villainous traits. Remember, this is all in fun, and it's important to note that it's hard to be a coaching villain if you don't win a lot of games or tick off multiple fan bases.
Let's take a look.
Bret Bielema, Wisconsin (six seasons, 60-19 overall and at Wisconsin)

Any coach who plays college ball, has his team's logo tattooed on his leg, and then ends up coaching a major rival is predisposed to be a villain. Bielema, a former Iowa defensive lineman, still sports the Tigerhawk stamp on his leg, but he's very much a Badger these days. While Bielema might not be a favorite son in Iowa, he has ticked off others around the league a little more.
In 2010, Bielema ignited a flap with Minnesota when he called for a 2-point conversion attempt with Wisconsin ahead by 25 points in the fourth quarter. Minnesota coach Tim Brewster confronted Bielema after the game and later said Bielema made "a poor decision for a head football coach." Bielema claimed he was following the coaches' card of when to go for two or not, but given tension with Brewster and the Wisconsin-Minnesota rivalry, few bought his explanation. The Wisconsin coach didn't help his rep a few weeks later when the Badgers' record-setting offense put up 83 points against Indiana, although the sportsmanship complaints seemed hollow as Indiana totally packed it in that day.
Then came national signing day in February, when Bielema at a news conference referred to "illegal" recruiting tactics by new Ohio State coach Urban Meyer. Many incorrectly interpreted Bielema's comments as sour grapes about losing a recruit (Kyle Dodson) to Meyer, but Bielema didn't publicly specify what he meant or why he contacted Meyer to discuss the situation. The allegations didn't sit well with Meyer or Ohio State athletic director Gene Smith, although the situation put to rest the ridiculous belief about a "gentleman's agreement" among Big Ten coaches.
Bielema is relatively young, highly successful and never short on confidence. He's very media savvy and knows how to get his message across. He may fill the villain role for several fan bases, but he's the one going to Pasadena every year.
Urban Meyer, Ohio State (first season, 104-23 overall in 10 seasons)

Meyer hasn't coached a single game as Ohio State's head man, but he still received the most votes as the league's most disliked coach. Unlike the others in the Big Ten villain mix, Meyer sparks ire in other parts of the country, particularly in a little place they call Gator Country.
He left Florida after the 2010 season -- after nearly stepping away the previous year -- citing health concerns and a desire to spend more time with his family. Some saw him taking the Ohio State job, undoubtedly another pressure cooker, just a year after leaving Florida, as disingenuous. More Florida fallout arrived this spring in a
Sporting News story
that showed Meyer as the overseer and enabler of a mess in Gainesville.
Meyer's Big Ten villainy stems mostly from his immediate success on the recruiting trail after being hired in late November. In two months he put together the Big Ten's top-rated recruiting class, which included several players who had flipped from other programs to the Buckeyes. His surge drew comments from Bielema and Michigan State defensive coordinator Pat Narduzzi, and the perception that Meyer has rocked the boat in the Big Ten remains very much alive.
Although Meyer and Michigan coach Brady Hoke have been cordial to this point -- they have the same agent, Trace Armstrong -- it's only a matter of time before things get spicy. Ohio State set off a mini blaze by displaying a
sign in the football complex
comparing its players' academic majors with those of Michigan's.
Buckle up.
Mark Dantonio, Michigan State (five seasons, 44-22 at MSU, 62-39 in eight seasons overall)

The seemingly permanent scowl. The deep, borderline monotone voice. The willingness to stick up for players who make mistakes and fuel rivalries. In many ways, Dantonio looks and sounds more like a villain than any of his Big Ten coaching brethren. Warm and fuzzy he is not, and while he has a unique sense of humor and can be charming, he comes off serious, intense and, some would say, confrontational.
Dantonio has made some notable statements about archrival Michigan in his five seasons in East Lansing. Who can forget his "pride comes before the fall" response to Mike Hart after the 2007 Michigan State-Michigan game? After last season's personal-foul fest against Michigan, a game Michigan State won 28-14, Dantonio drew criticism for not suspending defensive end
William Gholston
, who had punched a Wolverines player and twisted the helmet of another (the Big Ten later suspended Gholston for a game). In January, he
interrupted Michigan assistant Jeff Hecklinski
during a presentation to state high school coaches. And this spring, he set off some fireworks by
telling Brian Bennett
, "We're laying in the weeds. We've beat Michigan the last four years. So where's the threat?"
Some Michigan fans still dismiss Michigan State as not a real rival, but Dantonio has certainly gotten under the skin of Wolverines backers, especially because he keeps beating the Maize and Blue.
Dantonio also was looped into the Meyer/Bielema flap in February, although his general comments about recruiting were misinterpreted by a reporter.
The hyper intense Dantonio has some villain in him. And if he keeps winning at Michigan State, the image will continue to grow.
May, 22, 2012
5/22/12
10:30
AM ET
Time for a little game. Think of the most vilified college football coaches today.
Your list probably looks something like this:
Bobby Petrino.
Rich Rodriguez.
Todd Graham.
Randy Edsall.
[+] Enlarge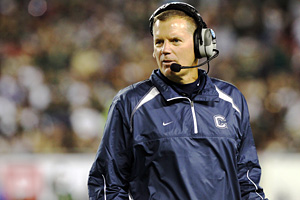 Kim Klement/US PresswireRandy Edsall is just one of many former Big East coaches who left the league.
You know what they all have in common. They all were Big East coaches at one point in time. Really great Big East coaches, to boot. But alas, great coaches never stick around for long in this league, a common lament among Big East fans. Perhaps the bigger question is -- what has made the Big East a breeding ground for villainous coaches?
Consider the recent history.
Exhibit A. Petrino got his first head coaching job at Louisville, and did one heck of a job, going 41-9 in four seasons. But the Cardinals were never just right, were they? I mean, how could they be when you 1) Try to negotiate a deal to become head coach at Auburn behind your boss' back. 2) Interview at Florida, Mississippi AND LSU the following year, while pledging love and loyalty to Louisville in between. 3) Forget loyalty and interview with the Oakland Raiders after Year 3 in Louisville. 4) Finally end the misery and leave for the Atlanta Falcons after a 12-1 season and an Orange Bowl berth.
That Atlanta dream job was not quite right either, so he left with good-bye statements taped to his players' lockers before the season even ended and headed for Arkansas. You all know
how well his stint
ended there.
Maybe all these aforementioned Big East coaches just hate good-byes.
Edsall left for Maryland after UConn lost the Fiesta Bowl to Oklahoma in January 2011 and never told his players word one about his plans. In fact, he did not even take the team charter home with the team. What may even be worse than that -- he made Jordan Todman get up in front of the team to explain why he was leaving early for the NFL draft. Edsall just finished a 2-10 season at Maryland in which
he took a beating
and lost 24 transfers. He is working hard to
right the ship
-- but you can bet some folks in Storrs are thinking, "Karma!"
Meanwhile at Pitt, Graham also had a tough time with good-byes at the end of last season. He told his players he was leaving via text message and hightailed it for Arizona State after a 6-6 season in which he had his players buying into an "high-octane" and "high-energy" offense. This, of course, came after he pretty much begged for the Pitt job after the Mike Haywood fiasco. But his shenanigans started at Rice, where he also had a one-year stint before leaving for Tulsa. ESPN.com columnist Mark Schlabach dubbed Graham the new
president of the Liar's Club
after his Pitt exit.
Rich Rod? Well, he is persona non grata in two states, West Virginia and Michigan. Who can forget the drama after he left the Mountaineers for the Wolverines in 2007, a few short months after signing a new contract and pledging his commitment to his school? West Virginia sued Rodriguez in the wake of his departure, and Michigan turned out to be an absolute disaster. It sure ain't easy being hated in as many spots as these guys.
There are others who left in less-than-ideal ways. How about Brian Kelly at Cincinnati, waiting until the end of his team banquet to announce his departure for Notre Dame? This was hours AFTER players began hearing news reports that they had lost their coach. Most recently, Rutgers coach Greg Schiano left for Tampa Bay less than a week before signing day, not even telling his loyal assistants, who were out on the road recruiting without any idea about what was happening.
His departure was tame compared to the rest. As for the others, I think they would make an excellent subject for a new television series.
"College Football Coaches Behaving Badly."
May, 22, 2012
5/22/12
10:30
AM ET
The Pac-12 is supposed to be a collegial league. Folks throw the ball a lot and mostly get along. There are strong rivalries, but no real villains.
Or not!
Heck, the new Pac-12 is loaded with villainy. At least it is when my bosses tell me to write a story about the top coaching villains in the Pac-12 as part of our "Love to hate!" series this week.
Villains? Iago, Darth Vader and Loki have nothing on Pac-12 coaches.
New Arizona coach Rich Rodriguez ruined a great Michigan program. Well, it was him and a bad administration, bad players and a bad streak of duplicitous jealousy from former coach Lloyd Carr. But it's more fun to just blame Rich Rod. And Greg Robinson.

New Arizona State coach Todd Graham left Pittsburgh high and dry after just one season to take over the Sun Devils. His rosy-cheeked players cried for days, though it's possible they were more upset about hearing the truth about the Easter Bunny -- he's doing 5-to-10 in New Jersey State Prison for vandalizing gardens.

[+] Enlarge

Kyle Terada/US PresswireOregon's Chip Kelly might be considered a villain in the Pac-12, because he can be abrasive with the media, and he wins a lot.

California coach Jeff Tedford has failed to build on the incredible success of his predecessor, Tom Holmoe.

Colorado coach Jon Embree made his team play 13 consecutive games last season with no bye. Wait ... that wasn't his fault? Oh. Well, I heard Embree yell at practice once.

Oregon coach Chip Kelly fails to have a sunny disposition around reporters on a consistent basis. Dante reserved a special level of hell for coaches who aren't nice to the media.

Oregon State coach Mike Riley... Er. Hmm. Well, one might smile, and smile, and be a villain, yes?

Stanford coach David Shaw is always throwing his Stanford-ness in your face. You know the, "Oh I played receiver for Stanford," "Oh, I've got a B.A. from Stanford," "Oh, I'm the coach of Stanford," "Oh, I didn't get rejected by Stanford's graduate English program like you did," etc, etc.

UCLA coach Jim Mora wasn't all rainbows and roses with Doug Gottlieb in a radio interview once.

USC coach Lane Kiffin? Lane Kiffin! Don't listen to revisionist history. He's still Lane Freaking Kiffin!

Utah coach Kyle Whittingham might act all soft-spoken and nice, but he sports a gotee and he's buffed up like a linebacker. He's clearly just waiting for everyone to turn away so he can snap your spine over his knee. And don't act like you haven't thought the same thing.

Washington coach Steve Sarkisian? Two words: Coach thief.

Washington State coach Mike Leach shot Yogi the Bear. Or was it Boo Boo?
So who is the top coaching villain in the Pac-12?
The easy answer is Kelly. He's gruff. He's closed practices. He flirted with the NFL. And, well, he wins too much.
But watch out for Kiffin. If USC again climbs back to the top of college football, that success might inspire Kiffin to again tweak his critics and adversaries. Not unlike Kelly, Kiffin has a pretty amusing, sarcastic sense of humor that isn't for everyone and sometimes doesn't translate well to print. Can he really keep that muzzled forever?
In fact, the Pac-12's biggest villain likely will be the winning coach when Kiffin and Kelly square off in the Coliseum on Nov. 3. The winner likely will be front-and-center in the national title race.
And no one likes a winner.