December, 30, 2013
12/30/13
7:23
PM ET
It wasn't pretty, but Ole Miss did just enough to knock off Georgia Tech and win the Franklin American Mortgage Music City Bowl
25-17.
With the win, the Rebels have now won 10 of their past 11 bowl games.
Here's how it went down:


It was over when:
Mike Hilton
sealed the victory with an interception in the final minute, but the key play came the drive before when Ole Miss quarterback
Bo Wallace
connected with
Laquon Treadwell
for 27 yards on third-and-13. It allowed the Rebels to run an extra two minutes off the clock and made a Georgia Tech comeback nearly impossible. The freshman wide receiver finished with five catches for 51 yards, but none bigger than that third-down grab.
Game ball goes to:
Wallace. The Ole Miss signal-caller played maybe his worst game as a Rebel in an overtime loss to Mississippi State in the regular-season finale, but he redeemed himself with an impressive performance against Georgia Tech on Monday. The junior went 22-of-32 for 256 yards and a touchdown, and also rushed 13 times for 86 yards and two touchdowns. It was a successful homecoming for the Tennessee native, who finished the season on a high note.
Unsung hero:
Ole Miss linebacker
D.T. Shackelford
. The senior, who missed the 2011 and 2012 seasons due to ACL tears, might not have gotten the credit he deserved this season, but he was all over the field for the Rebels on Monday. Down the stretch, he blew up the Yellow Jackets' reverse pass attempt that ultimately led to a safety, and he was the one to apply pressure on the quarterback which forced the game-clinching interception.
Stat of the game:
Georgia Tech rushed for 92 yards in the first quarter, including 64 yards on the opening drive. Ole Miss held the Yellow Jackets to just 59 yards on 33 carries the rest of the way. The return of freshman star
Robert Nkemdiche
and safety
Cody Prewitt
in the second quarter was huge (both were suspended for the first quarter; Prewitt later left due to injury), but the whole defense stepped up, stopped the triple-option attack and carried the Rebels to victory.
What we learned:
Ole Miss fell short of its goals this season, but with a victory in the bowl game, the Rebels can take some momentum with them into the offseason. This is clearly a team on the rise, and it's not far from competing in the SEC West with the likes of Alabama and Auburn. As for Georgia Tech, it's time to start wondering if the Yellow Jackets have reached their ceiling under coach Paul Johnson. They will lose 11 senior starters on both sides of the ball, and all they have to show for it is a 7-6 season with a loss in the bowl game.
To watch the trophy presentation of the Music City Bowl,
click here
.
August, 30, 2013
8/30/13
4:17
AM ET
NASHVILLE, Tenn. -- If this was any indication of what's on the horizon this season in the SEC, we could be in for the football ride of our lives.
Then again, how does anything trump this gem of an opener?
Ole Miss won it, then seemingly lost it and somehow managed to win it again Thursday night in a 39-35 shootout over Vanderbilt that swung back and forth and featured a little bit of everything.
"It's the wildest roller coaster I've ever been on," Ole Miss coach Hugh Freeze said.
And an incredibly entertaining one.
It was college football at its finest. Unpredictable. Emotional. Captivating.
It's why the season can't start soon enough for college football fans. And while openers can sometimes be sloppy and mundane, we might look back four months from now and say this was one of the games of the year.
"If I wasn't playing, this is a game I would have loved to have been at home watching," said Ole Miss safety
Cody Prewitt
, whose interception with 26 seconds to play finally sealed it for the Rebels.
But not before there were six touchdowns scored in the final 25 minutes of the game, three lead changes in the final nine minutes and an electrifying 75-yard touchdown run by Ole Miss'
Jeff Scott
with 1:07 left, capping a 29-point second half by the Rebels.
Only two plays earlier, Vanderbilt quarterback
Austyn Carta-Samuels
had connected with a wide-open tight
Steven Scheu
on a 34-yard touchdown pass to give the Commodores a 35-32 lead.
And that wasn't the best of it. Vanderbilt's brilliant senior receiver,
Jordan Matthews
, managed to get behind double coverage on fourth-and-18 and haul in a 42-yard catch to set up Scheu's touchdown, which came on a busted coverage. Matthews had courageously gone back into the game after absorbing a vicious hit over the middle a few plays earlier and throwing up on the field.
Earlier in the game, Matthews cramped up and had to go to the locker room to take some IV fluids. He said he threw up from having all the fluids on his stomach.
"That's the kind of game it was. Nobody wanted to lose it," said Ole Miss quarterback
Bo Wallace
, who rolled up 331 yards of total offense and carved the Commodores apart in the second half with several keepers on the zone read play.
The truth is that nobody deserved to lose it.
Ole Miss, which made a habit of losing games in the fourth quarter last season, fought back from a 21-10 halftime deficit.
But even with the Rebels scoring touchdowns on three straight possessions in the second half, the Commodores kept answering.
"The game is never won," Vanderbilt coach James Franklin said. "They played for four quarters just like we played for four quarters [last year in a 27-26 win at Ole Miss]. I could name 15 plays that would have made a big difference.
"We had the lead, lost the lead, lost the momentum and gave up a big play to end the game."
Both teams were hoping to build on the momentum they generated last season. The Commodores won nine games for the first time in nearly 100 years and were sporting the SEC's longest active winning streak at seven straight games.
The Rebels, in Freeze's first season, had gone from two wins to seven and capped their season with a top 5 recruiting class nationally.
"It was important that we started this season the right way," Scott said. "The thing you see about this team is that we're going to keep fighting no matter what. We learned some hard lessons last year."
The Rebels also learned that their freshman class is for real. Receiver
Laquon Treadwell
caught everything and led the team with nine catches for 82 yards. Defensive end
Robert Nkemdiche
had several key stops. Safety
Tony Conner
had an interception, and offensive tackles
Laremy Tunsil
and
Austin Golson
both played extensively as the Rebels churned out 185 of their 206 rushing yards in the second half.
Granted, it was just one win, but it was a win the Rebels absolutely had to have when you look at what's looming on their schedule. They play at Texas in two weeks, and after a bye travel to Alabama and Auburn in back-to-back weeks.
"This is just the first step in getting us where we want to be, but it's a step we had to take," Wallace said.
We can only hope the next few are just as entertaining.
August, 30, 2013
8/30/13
1:37
AM ET
Last year, it was Vanderbilt who rallied to beat Ole Miss in the final minutes. This year, the Rebels turned the table on the Commodores. With just more than a minute to go,
Jeff Scott
ripped off a 75-yard touchdown run to take back the lead, and
Ole Miss hung on to win
Thursday's season opener, 39-35.


Vanderbilt thought it hit the knockout punch with 1:30 remaining when
Austyn Carta-Samuels
connected on a 34-yard touchdown pass with his tight end
Steven Scheu
. However, Scott answered just two plays later with the long touchdown run.
The heralded 2013 recruiting class for Ole Miss was on full display Thursday night with a number of newcomers making an impact. True freshman wide receiver
Laquon Treadwell
had nine catches for 82 yards, and
Robert Nkemdiche
, the nation's No. 1 recruit a year ago, was disruptive all night for the Rebels.
It was over when:
Cody Prewitt
intercepted Carta-Samuels in the final minute of the game. Vandy wide receiver
Jordan Matthews
had a gutsy performance, finishing with 10 catches for 178 yards and a touchdown, but the ball deflected off his hands and went right to Prewitt.
Game ball goes to:
Both Scott and Treadwell deserve recognition, but the player of the game for Ole Miss was quarterback
Bo Wallace
. Coming off clavicle surgery in the offseason, Wallace finished 31-of-47 for 283 yards through the air, and he also rushed for 48 yards and two scores.
Stat of the game:
Outside of a lull in the second quarter, the Ole Miss offense looked good all night. More importantly, the Rebels didn't turn the ball over once. Last year, they were in the bottom half of college football in that category, turning the ball over 29 times.
What it means for Vanderbilt:
It's a crushing loss for the Commodores to open the season, but more importantly, they have to make sure Matthews is healthy going forward. He took a big hit late in the game and was throwing up on the field. He came back to make a crucial catch on that same drive, but there's a chance he sits out the next game.
What it means for Ole Miss:
Believe in the hype. The Rebels finished 7-6 a year ago, the first year under head coach Hugh Freeze, and it looks like they're ready to take the next step this season. They got a lot of key contributions from freshmen, and Wallace made plays when he needed to.
August, 30, 2011
8/30/11
3:40
PM ET
Ole Miss' defense is getting back to the roots of it all.
Fundamentals, attitude, a blue-collar work ethic and trying to outwork others will be the foundation of a defense that was a disaster in 2010.
Defensive coordinator Tyrone Nix said his players took their talents and what those before them did for granted last season. Players strutted around thinking the red carpet was going to roll out for them each game.
It didn't come close to working that way as the Rebels ranked last in the SEC in scoring defense (35.2 points per game) and 11th in total defense (399.2) and passing defense (246.3). Ole Miss also allowed opponents to score a league-high 95 percent of the time when they ventured into the red zone (27 touchdowns and eight field goals in 37 attempts).
[+] Enlarge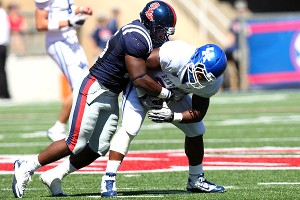 Nelson Chenault/US PresswireJoel Kight is part of an Ole Miss defense that expects to be improved this season.
That's a far cry from the defenses Nix led at Ole Miss in the previous two seasons. Those defenses commanded respect and delivered results. Last year's defense just struggled to keep its head above water.
This season, Ole Miss is dealing with a slew of younger players on defense. It has been both exciting and tiresome for Nix and his defensive staff, but with days until the Rebels' tough season-opener against BYU, Nix says he's happy with where his defense is.
"These kids have really worked hard and are trying to restore some of the respect that was lost last year," Nix said. "We built this thing up in the first couple of years and earned a lot of respect defensively and we're going to continue to work toward that."
In order to do that, this group has had to shovel away its pride and start over. Nix said he's seen players getting to meetings on time or earlier this time around. Players are holding each other accountable instead of assuming they'll get it right on the next play.
There is fire and determination in practice, Nix said, and he sees that in his coaching staff as well. Nix said the addition of Keith Burns as the secondary coach has been a major boost for the defense and added that the coaches have become better teachers. They too took past talents for granted.
Senior linebacker Joel Kight agrees: This team thought the past would push it in 2010. He was also wrong, but he also sees a change.
Kight sees more togetherness and trust among players. Youngsters are being vocal, but they are also willing to listen to veterans. Kight is being looked at as a leader, but he's made sure he hasn't fallen off in practice or his words will mean zilch to players, especially the young ones -- and there are a lot who will see the field early.
Top-rated linebackers C.J. Johnson and Serderius Bryant are expected make major impacts. So are defensive backs Cody Prewitt and Senquez Golson.
While Nix admits no true freshmen are ready to be regular starters, he thinks they'll contribute a lot, starting with the opener.
Seasoned players will also guide this team. Senior end Kentrell Lockett is back after blowing out his knee last season, providing a tremendous presence in the pass rush. Wayne Dorsey will be assisting opposite, while Marcus Temple will lead a more athletic defensive backfield.
The hope, Kight said, is that everyone doesn't hold back this year.
"They say we have a lot of potential. I don't really like the word potential," he said. "I want to see us use that potential. We're very talented and it's up to us to be a good overall, all-around defense."
But there will be plenty of hiccups. It's hard for a unit to perform an instant 360, and Nix is fine with that. What he won't tolerate is complacency. For the defense to shake last season's setback, it will have to rediscover itself and get back to the foundation of football.
"You're either at the top or at the bottom because everybody sitting in between is just a juggling act," he said. "Right now, we're at the bottom of it and we want to finish on top and all we can do is control the present and that's play the best we can, play as a team and play fundamentally sound. If we do those things I think we'll be happy with our season this year."