NCF Nation:

Colby Cameron
March, 21, 2013
Mar 21
9:00
AM ET
BERKELEY, Calif. -- While California has hired two coaches over the past 12 years, it didn't hire them to do the same job.
Jeff Tedford took possession of a dilapidated and unlivable house on college football's skid row in 2001. Sonny Dykes this winter moved into a nice home in a posh neighborhood that needs some minor interior renovations.
Sure, Cal went a dreary 3-9 last season, its second losing season in three years, which got Tedford fired. But he took over a program that went 1-10 in 2001, played in a crumbling stadium that averaged 30,000 in attendance and featured some of the worst facilities in major college football.
Dykes has inherited a team that went 82-57 under Tedford and plays in front of 55,876 fans even during a 3-9 season. And the facilities? Sparkling. Brand freaking new. Among the best in the Pac-12 and the nation.
Tedford made the Bears respectable and then made a push for the top of the Pac-10. That initiated the process -- glacial in pace -- of facility upgrades. But he couldn't reach the top of the conference. The program plateaued and then reversed course. In 2004, it seemed certain Tedford would get the Bears to their first Rose Bowl since 1959. In 2012, the Rose Bowl seemed infinitely far away, and it didn't help that stricken Old Blues had to watch crosstown rival Stanford win the darn thing.
Enter Dykes.
"Jeff had a rebuilding job. His job was different," Dykes said. "He made this place credible. He made people take notice and say, 'Cal is a good job. You can do things at Cal.' If it hadn't been for his success, we wouldn't be sitting in this facility right now. He did a great job with the program. They kind of fell off the last couple of years, but he's what made this place a good place."
Dykes is expected to make it a great place.
That won't be easy. Stanford and Oregon are in the way, for one. Washington and Oregon State, potential top-25 teams in 2013, also are looking to take the proverbial "next step." And that's just the North Division.
Further, there are some things that need to be cleaned up, not the least of which is team academics.
Cal is the nation's most celebrated public university. It's difficult to walk around campus without running into someone wearing a Nobel Prize medal. Yet the football program not only ranked
last in the Pac-12 in graduation rate
last season at 48 percent -- 5 percent behind No. 11 Arizona -- it ranked second worst among automatic qualifying conference teams, 1 percent ahead of Oklahoma, where folks believe the Nobel Prize is something a person gets for visiting the "
Rock Rose Capital of the World
."
On the football side of things, the Bears seemed mired in a general malaise over the past few seasons. Quarterback play, upon which Tedford built his strong reputation, was mediocre to bad post-Aaron Rodgers. Further, when Cal lost, it didn't mess around. Over Tedford's final four years, the Bears lost 16 games by at least 17 points. That happened while the Bears nonetheless remained a
major pipeline to the NFL
.
Top-to-bottom talent didn't seem like the problem. It seemed like the Bears had become a bit of a head case. Chief among Dykes' first-year tasks is creating a mentally tougher team.
"This is not a traditional rebuilding job," Dykes said. "But some things do need to be rebuilt. I think the psyche needs to be rebuilt. Maybe expectations need to be rebuilt. We need to do a good job of balancing athletic and academic success."
As for X's and O's and quarterback woes, Dykes and his spread-guru offensive coordinator Tony Franklin averaged 51.5 points per game last season at Louisiana Tech, with quarterback
Colby Cameron
ranking 22nd in the nation in passing efficiency while throwing 31 TD passes with just five interceptions.
Too pass-happy? The Bulldogs averaged 227 yards rushing, which ranked 17th in the nation. Dykes, who also coached Nick Foles as Arizona's offensive coordinator before going to Louisiana Tech in 2010, has the offensive bona fides, without question.
In terms of putting it all together at an elite academic institution -- Cal fans might want to cover their ears -- Dykes sees a pretty good model playing ball a bit to the south.
"The thing Stanford has done is they've done it the right way," he said. "Their kids are graduating. They've proven you can have high academic standards and still have success on the field."
Dykes says his charge is "not about building a team; it's about building a program." That means creating a culture aimed at long-term and high-level success.
Yes, more than a few Old Blues have related to Dykes their singular wish to experience a Rose Bowl before they die. Tedford used to joke that many Cal fans wanted the Rose Bowl more than a national title.
Tedford took over a team that hadn't posted a winning season in eight years. He made winning seasons the standard. Now Dykes is charged with pushing the Bears back into the national rankings and into the Pac-12 title picture, while maintaining high academic standards.
And if he produces a Rose Bowl victory, they'll probably build a statue of him outside remodeled Memorial Stadium.
September, 19, 2012
9/19/12
5:30
PM ET
Illinois' defense entered the season pegged as one of the Big Ten's best, a distinction linebacker
Jonathan Brown
thinks the Illini still merit.
"We've got the best front seven in the country,"
Brown told reporters
last week. "I firmly believe that."
His comments came four days after Illinois surrendered 45 points and 510 yards in a blowout loss to Arizona State. The Illini had communication problems early and missed tackles throughout the game. Perhaps the only positive is that the contest kicked off so late (10:30 p.m. ET) that most of the country missed it.
The debacle in the desert would seem to counter Brown's claim. Then again, it could be just an aberration -- a bad night after a long trip. Illinois has allowed just seven points in its two victories.
[+] Enlarge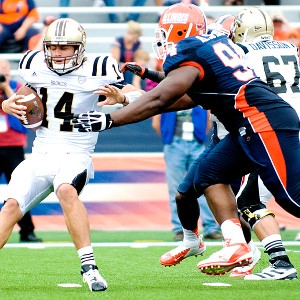 Bradley Leeb/US PRESSWIREAkeem Spence and the Illinois defense have allowed seven total points in two victories, but allowed 45 in a loss to Arizona State.
What is the real Illini defense?
The beauty is we'll soon find out, thanks to the schedule.
After a game that revealed virtually nothing -- last week's 44-0 smashing of woeful Charleston Southern -- Saturday night's test against Louisiana Tech figures to show much more about the Illinois defense. Louisiana Tech's offensive numbers, despite a small sample size (two games), are quite staggering:
Fifth nationally in total offense (603.5 ypg)

Third in scoring (56 ppg)

Ninth in rushing (289 ypg)

17th in passing (314.5 ypg)

Tied for 15th in offensive plays per game (83)
"They're not complicated with what they do," Illinois coach Tim Beckman said. "They just do what they do very well."
The final number might get Illinois' attention more than any other. Louisiana Tech coach Sonny Dykes wants his offense, led by senior quarterback
Colby Cameron
and freshman running backs
Tevin King
and
Kenneth Dixon
, operating at an accelerated tempo, and the Bulldogs ran 94 players in their opening win against Houston.
Arizona State coach Todd Graham also preaches a quick pace on offense, and although his Sun Devils ran only 67 plays against the Illini, they capitalized on a defense that looked out of sorts, especially early in the game.
"It was just a lack of communication," defensive tackle
Akeem Spence
told ESPN.com. "Guys were looking at the wrong person, getting the wrong call."
Illinois simplified the signaling issue and worked to prepare for Tech's pace this week. Coaches put players through "fastball" periods in practice, where Spence estimates six plays were run in a span of a minute or so.
They also went over rotations and substitution patterns for an opponent that makes it difficult to shuffle players on and off of the field.
"It's just guys talking," Spence said, "making sure one another is on the same page, and just getting on the small things not to get us beat. Make sure the guys have the right call. If we're all wrong, and we all have the wrong call, then we're all right. ... When they're going so fast, you can't really take guys out, and you don't want to get any stupid penalties, 12 men on the field, substitution penalties.
"I think we took the proper measures to get ready for these guys."
According to Spence, Illinois will look to take away King, Dixon and the run game and make Louisiana Tech one-dimensional. Like Brown, Spence hasn't lost any confidence in the front seven, which he thinks still can be elite.
Saturday night, they have the chance to prove it.
"We've got to execute a lot better than we did when we played Arizona State," Spence said. "If we do that, we'll have a better outcome. A lot better outcome."
December, 21, 2011
12/21/11
10:30
AM ET
You saw the preview and prediction, now here are three keys for TCU and Louisiana Tech in the San Diego County Credit Union Poinsettia Bowl:

TCU (10-2)
1. Move on
: No doubt, the Horned Frogs have to be a little disappointed after failing to reach a BCS bowl game after going in back-to-back years. But head coach Gary Patterson said that's in the past and they have moved beyond it. We know Louisiana Tech wants to be there. Every year there is at least one team that feels like it is playing below its station in life. If TCU is anything but 100 percent ready to go, the Bulldogs will jump all over them.
2. Something special
: Greg McCoy, the Mountain West Conference's special teams player of the year, is a difference maker in the return game -- averaging 31.6 yards per return, good for fourth in the nation. He has two kickoff returns for touchdowns of 94 and 99 yards. TCU's vaunted defense creates a lot of punts, which means McCoy should have a chance to make an impact on this game -- be it in the field position battle or potentially breaking a touchdown.
3. Share the love
: TCU has three stellar running backs in
Ed Wesley
,
Waymon James
and
Matthew Tucker
. Each brings their own skill set to the position and each will rotate throughout the game liberally, assuring that the Horned Frogs always have a fresh pair of legs running the ball. They'll run some option and misdirection with multiple-back formations. Once they get into a running rhythm, that will open things up for quarterback
Casey Pachall
to start looking downfield and make good use of play-action.

Louisiana Tech (8-4)
1. No home? No problem
: Louisiana Tech has a hike from its Ruston campus to Qualcomm Stadium -- (temporarily renamed Snapdragon Stadium by the opportunistic folks at Qualcomm to promote their new processors) -- 1,609 miles to be exact. So what? The Bulldogs have won five straight on the road by a combined score of 140-76. In fact, it will have been almost three months since Louisiana Tech dropped a game away from home. The last road loss was on Sept. 24, a 26-20 defeat at the hands of Mississippi State in overtime.
2. Point of attack, and beyond
: One of Louisiana Tech's advantages is its defensive line -- where 340-pound nose tackle Justin Ellis eats up space. Just as TCU rotates backs, look for a steady rotation of defensive linemen from the Bulldogs. They are also one of the better teams in the country at getting after the quarterback, ranking 17th nationally with better than 2.5 sacks per game. Christian Lacey and Matt Broha are outstanding defensive ends who could create havoc in the TCU backfield.
3. Good decisions
: Louisiana Tech hasn't dropped a game since
Colby Cameron
got the starting gig. He can make all of the throws downfield to a solid group of receivers --
Quinton Patton
(74 catches, 1,135 yards, 10 touchdowns) being his primary guy. But TCU hasn't been one of the best defenses in the nation for half a decade for nothing. It knows how to create pressure, disguise its coverages and blitz packages and keep quarterbacks guessing with its 4-2-5 formation. Cameron is a very good athlete, but his mental skills will be put to the test.
November, 21, 2011
11/21/11
1:00
PM ET
Let's take a look back at the non-AQs in Week 12.
[+] Enlarge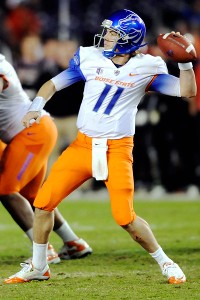 Christopher Hanewinckel/US PresswireThanks to a stellar game from Kellen Moore against San Diego State, Boise State remains in play for an at-large berth into the BCS.
Boise rebounds.
It may not have been pretty, but the Broncos rebounded from their loss to TCU with a 52-35 win over San Diego State.
Kellen Moore
went 28-of-40 with four touchdown passes and an interception as Boise State jumped out to a quick 21-0 lead and then held on. The defense, with its top three cornerbacks out, has not looked like the dominated unit we are used to seeing. The Broncos have now given up at least 35 points in back-to-back games for the first time since losing to Hawaii (39-27) and East Carolina (41-38) to close out the 2007 season. It also was the third time in four games Boise State has allowed over 400 yards in total offense. Still, Boise State remains in play for an at-large berth into the BCS. The Broncos are No. 7 in the latest standings, and could be chosen considering the SEC has five teams in the Top 14 and the Big 12 has three. You must be in the Top 14 to be considered for an at-large berth and there is a limit of two teams per conference. If Houston gets the automatic berth into the BCS, that would leave three at-large spots open.
Conference race update.
Here is how the conference races are shaking out.
Conference USA:
The winner between Houston and Tulsa on Friday wins the West and clinches a spot in the C-USA title game. Southern Miss lost to UAB 34-31 but can still clinch the East Division with a win over Memphis on Saturday or a Marshall loss.
MAC:
Ohio won the East and is in the MAC title game. In the West, Northern Illinois clinches a return trip with a win over Eastern Michigan or a Toledo loss at Ball State.
Mountain West:
TCU wins the outright league title with a victory over UNLV on Dec. 3.
Sun Belt:
Arkansas State can win the league title outright with a win over Troy on Dec. 3 or a Western Kentucky loss to Troy this Saturday. The Red Wolves have already accepted an invitation to the GoDaddy.com Bowl. ULL also has been invited to the R&L Carriers New Orleans Bowl. FIU and Western Kentucky are also bowl eligible, but the Sun Belt only has two tie-ins. There are backup agreements with the Little Caesars Pizza and BBVA Compass Bowls, but it appears as if there will not be open slots in either of those games.
WAC:
If Louisiana Tech and Nevada win out, both would get a share of a conference title.
Game of the week.
Louisiana Tech 24, Nevada 20. The Wolf Pack built a comfortable 20-3 lead on the Bulldogs, and appeared set to cruise to a win in their quest to win an outright WAC title. Nevada was the only undefeated team in the league going into the game; Louisiana Tech had one loss. But
Colby Cameron
engineered an incredible fourth-quarter comeback to lift the Bulldogs to a 24-20 win. Now they have a chance to clinch a share of the WAC title Saturday against New Mexico State. Cameron threw three touchdown passes in the span of nine minutes, hitting
Taulib Ikharo
with 51 seconds to play to complete the rally. Nevada had two first downs on its final three possessions. Adrien Cole finished with 17 tackles, and Cameron finished 25-of-45 for 355 yards and three touchdowns. The Bulldogs have now won six straight -- the longest winning streak since 1999.
Bowl streak ends.
After Navy beat SMU last week, hopes brightened for the Midshipmen to keep its bowl streak alive. Navy had games left with San Jose State and Army -- two teams with losing records. Win out, and go to a bowl game. But the Midshipmen blew several opportunities on offense and could not stop San Jose State running back
Brandon Rutley
, losing 27-24 to the Spartans. The loss breaks a streak of eight straight bowl appearances. If you were to encapsulate this season for Navy, it would be about an uncharacteristic lack of discipline and missed chances to win. Four of its seven losses have been by three points or less.
"My worst nightmare came true. We were sleepwalking to start the game. We left a ton of points out on the field offensively. We had some uncharacteristic mental lapses that really hurt us," Navy coach Ken Niumatalolo said after the game. "We didn't deserve to win. We played horribly, and it starts with me. Obviously, I didn't do a good job of getting us ready."
Helmet stickers
Sammy Brown, LB, Houston.
Brown had 10 tackles, included 4.5 for a loss and three sacks, in a 37-7 win over SMU. He was selected Walter Camp Football Foundation National Defensive Player of the Week for his efforts.
Chandler Harnish, QB, Northern Illinois.
Harnish broke the school record for total offense with 519 total yards in a 31-28 win over Ball State on Tuesday night. His 519 total yards is tied for third most by any player in FBS this season. Harnish passed for 338 yards and two touchdowns, and rushed for 181 yards and a touchdown.
Bobby Rainey, RB, Western Kentucky.
Rainey rushed for a season-high 214 yards and a touchdown against North Texas, helping the Hilltoppers become bowl eligible. He also caught four passes for 48 yards, including a 34-yard touchdown reception. Rainey needs 82 yards to become the school's all-time leading rusher.
Brandon Rutley, RB, San Jose State.
Rutley ran for 132 yards and two touchdowns, and caught a career-high eight passes for 101 yards in a 27-24 win over Navy. Rutley is the first San Jose State player to have 100 yards rushing and 100 yards receiving in the same game. The Spartans now have four wins -- one more than 2009 and 2010 combined.
Brett Smith, QB, Wyoming.
Smith accounted for 352 of his team's 462 yards of total offense in a 31-10 victory over New Mexico. In addition to rushing for a career-high 140 yards and two touchdowns, Smith completed 23-of-38 passes for 212 yards and a touchdown. Wyoming is now bowl eligible.
November, 7, 2011
11/07/11
3:55
PM ET
Here are the non-AQ players of the week, as selected by each conference.
C-USA
Offense:
Nick Fanuzzi
, QB, Rice. Fanuzzi had career highs with 405 yards passing, 30 completions and 439 yards of total offense, while throwing three touchdowns and leading Rice to a 41-37 win over UTEP. Fanuzzi helped lead the Owls to the third-highest offensive output in school history with 671 yards.
Defense:
Curnelius Arnick, LB, Tulsa. Arnick had a career-best 19 tackles, including 12 solos and one tackle for loss, as well as one pass breakup in a 24-17 road victory over UCF.
Special teams:
Tracey Lampley, PR, Southern Miss. Lampley returned a punt 60 yards for a touchdown in a win at East Carolina. It was his first punt return for a touchdown since his freshman year in 2009.
MAC
East Division
Offense:
Donte' Harden
, RB, Ohio. Harden had a school-record 322 all-purpose yards (184 rushing, 75 receiving and 63 return yards) and scored a pair of touchdowns in a 35-31 win over Temple.
Defense:
Jerrell Wedge, LB, Miami (Ohio). Wedge had nine tackles and a fumble recovery in a 35-3 victory over Akron.
Special teams:
Rob Hollomon, KR, Kent State. Hollomon averaged 35.7 yards on three kick returns in a 24-21 win over Central Michigan.
West Division
Offense:
Chandler Harnish
, QB, Northern Illinois. Harnish threw six touchdown passes, the second-most in MAC history, to lead Northern Illinois to a 63-60 shootout victory at Toledo. Harnish also rushed 16 times for 133 yards to account for 398 yards of total offense.
Defense:
Dan Molls, LB, Toledo. Molls had 17 tackles and one tackle for loss in a 63-60 loss to Northern Illinois
Special teams:
Tommylee Lewis
, KR, Northern Illinois. Lewis became only the 13th player in NCAA FBS history to return two kickoffs for touchdowns in the same game when he scored on back-to-back kickoff returns for Northern Illinois in a 63-60 win at Toledo. Lewis brought the opening kickoff back 100 yards. After Toledo scored, he returned the ensuing kickoff 95 yards for the score.
Mountain West
Offense:
Waymon James
, RB, TCU. Rushed for a career-high 181 yards on 12 carries in a 31-20 win at Wyoming. James, who had a career-long 74-yard run on the first play of the fourth quarter, had 117 yards on five carries in the final period.
Defense:
Jon Davis, DB, Air Force. Davis tied a career-high with 12 tackles as Air Force captured the Commander-In-Chief Trophy for the second consecutive year with a 24-14 victory over Army.
Special teams:
Parker Herrington, PK, Air Force. Kicked a career-high three field goals in a 24-14 win over Army. Herrington improved to 10-of-10 on the season inside 40 yards.
Sun Belt
Offense:
Ryan Aplin
, QB, Arkansas State. Aplin accounted for five touchdowns in leading Arkansas State to a 39-21 victory at FAU. Aplin rushed for 49 yards and four touchdowns and completed 24 of 37 passes for 244 yards and another score.
Defense:
Devon Lewis-Buchanan, LB, ULL. Lewis-Buchanan had a career-high 12 tackles, including 11 solo, in a 36-35 win over Louisiana-Monroe. He also had three tackles for loss and a pass breakup in the win.
Special teams:
Brett Baer, K, ULL. Baer perfectly executed an onside kick late in the game against ULM, allowing
Ladarius Green
to recover the kick at the ULM 39 to set up the game-winning score.
WAC
Offense:
Colby Cameron
, QB, Louisiana Tech. Cameron completed 19 of 33 passes for 376 yards and four touchdowns with no interceptions in Louisiana Tech's 41-21 win at Fresno State.
Defense:
Travis Johnson, DE, San Jose State. Johnson tied a school record with four sacks in a loss to Idaho. One of his sacks resulted in San Jose State's first safety in seven years. He had a total of 10 tackles and a fumble recovery.
Special teams:
Stanley Morrison
, WR, Utah State. Executed two successful fake punts in a 35-31 comeback win at Hawaii. In the second quarter, he rushed for 8 yards on fourth-and 4 and then in the second half, he threw a 23-yard pass on fourth-and-5 to
Joe Hill
for a first down.
March, 31, 2010
3/31/10
12:20
PM ET
As Louisiana Tech heads continues with the latter half of spring football, two quarterbacking prospects have emerged to run coach Sonny Dykes' new spread system -- Ross Jenkins and Steve Ensminger.

Jenkins was last year's starter and the favorite to win the starting spot this year, but Ensminger has emerged out of quarterbacking oblivion to put up a fierce challenge.

"Last year at this time, I was on the depth chart as a tight end," Ensminger said. "And I wasn't having any fun playing the game. I would be ready to go to practice and thinking that it wasn't going to be fun because I wasn't going to be playing anyway."

But with a new coaching staff, Ensminger has a very real chance of leading the Bulldogs when they open the season in September.

Dykes said while Jenkins and Ensminger have separated themselves from a pack that included Colby Cameron, last year's backup, Doak Raulston and Randy Hardin, who has taken up student coaching because of a shoulder injury, the competition will continue through the next six practices and the spring game.

"It is going to be a good competition between all of these guys and those two specifically have been more consistent right now but we're going to keep competing for spots," Dykes said. "I like that we're starting to develop a little bit of depth at the skill positions. It is a competition and that is what makes you better."

Jenkins returned to practice Monday after missing the last two weeks to be with his family during his father's passing. Jenkins father suffered a stroke on March 18 and he was buried last week.

In Jenkins' absence, Ensminger has really taken to Dykes' up-tempo offense and shined in passing drills and scrimmages. It's given Ensminger a renewed sense of not only what he can do on a football field, but what he can do for Louisiana Tech.

"It's a fun time and not just because of what I've been able to do," Ensminger said. "We're all enjoying being a part of this offense that is fast-paced and quick attacking. It's made it fun for everybody."
TOP 25 SCOREBOARD
Thursday, 12/5
Friday, 12/6
Saturday, 12/7
TOP PERFORMERS