January, 6, 2012
1/06/12
2:30
PM ET
You saw the preview and prediction. Now here are three keys for Pitt and SMU in the BBVA Compass Bowl:

Pitt
1. Focus.
The same question has to be asked again this year heading into the BBVA Compass Bowl: What will be the motivation for the Panthers, who are playing in this game for the second straight season under an interim head coach? There is no doubt these players and this program were rocked hard by the way former coach Todd Graham left. They must put those negative emotions behind them and play for themselves and each other. This is a team that has been maddeningly inconsistent, which led to a disappointing season. Can they pull it together one final time to win their third straight bowl game?
2. Run.
Pitt has experienced the most success this season when running the ball. That task got more difficult when
Ray Graham
was lost for the season. It will be even harder now that backup
Zach Brown
is questionable for the game with a bruised sternum. True freshman
Isaac Bennett
and
Corey Davis
will be relied upon to shoulder the load, so the game doesn't rest on the arm of quarterback
Tino Sunseri
.
3. Get after J.J. McDermott.
Pitt has been terrific with its pass rush all season, tied for fourth nationally in sacks with an average of 3.25 per game. The Panthers have 39 total sacks on the season. The Mustangs have given up 27 sacks on the year, so there should be plenty of opportunity for Aaron Donald and Brandon Lindsey to get after McDermott. That obviously is a huge key if the Panthers want to disrupt their passing game -- the strength of the team.

SMU
1. Limit the mistakes.
SMU ranks last in the nation in turnover margin (minus-17) and has at least one interception in 11 of its 12 games this season. Only East Carolina has thrown more interceptions than SMU's 19 in 2011, according to ESPN Stats & Information. On the bright side, Pitt only has eight interceptions this year. On the down side, Pitt did force six turnovers the last time out against Syracuse.
2. Make Sunseri win it.
SMU has some pretty talented players up front. Defensive end Taylor Thompson, who has seven sacks and six forced fumbles on the season, is going to need a big game to slow down the Pitt running attack and to take Sunseri down. Ja'Gared Davis is also an important player for the Mustangs on defense -- he has 4.5 sacks and 11 tackles for loss.
Taylor Reed
is a tackling machine and will be key to slowing down the Pitt run.
3. Pass game must get going.
There is no escaping this -- SMU has to pass the ball in order to win. The Mustangs went 2-4 in their last six games largely for this reason: Scoring an average of 17.7 points during the stretch, SMU averaged just 223.7 yards through the air and threw six touchdowns and 11 interceptions. The Panthers have been much better on pass defense in the second half of the season but will be challenged by
Cole Beasley
and
Darius Johnson
-- each has over 900 yards receiving and the duo has combined for nine of the team's 16 touchdowns this season. If SMU can protect McDermott and connect on big pass plays early to take a quick lead, Pitt could find itself in serious trouble. The Panthers are not equipped to play from behind.
December, 4, 2011
12/04/11
11:40
PM ET
SMU Mustangs (7-5) vs. Pittsburgh Panthers (6-6)
Jan. 7, 1 p.m. ET (ESPN)

SMU take from college football blogger Matt Fortuna:
Following a Conference USA West division title, the Mustangs opened this season with a 5-1 record, including an overtime win at TCU. In the season's second half, however, things turned south. SMU lost four of its last six games and two of its final three to finish 7-5. A lot of that falls on the offense, which averaged 33.7 points per game through the season's first half before scoring just 17.7 points per game in its final six games.
Quarterback
J.J. McDermott
replaced
Kyle Padron
in a season-opening 46-14 loss at Texas A&M and has started every game since, throwing for 3,182 yards, 16 touchdowns and 16 interceptions. Running back
Zach Line
eclipsed the 100-yard mark in eight of SMU's first 10 games and led the conference in rushing, but he is out for the remainder of the season with a foot injury.
Cole Beasley
and
Darius Johnson
have emerged at receiver, with each just shy of the 1,000-yard mark for the season. Defensively, linebackers Taylor Reed (93 tackles, 7.5 tackles for loss, three sacks) and Ja'Gared Davis (11 tackles for loss, 4.5 sacks, two interceptions) lead the way for a Mustangs unit that ranks 37th nationally in total defense.
---

Pitt take from Big East blogger Andrea Adelson:
Expectations were high for the Panthers this season. First-year coach Todd Graham predicted his team would run a "high-octane" offense, a line he used over and over again to promote his program and the new regime hitting town. To be sure, it was a huge departure from the pro-style, smash-mouth football Pitt has been known to play. Graham says he has no regrets over ratcheting up hopes, even though Pitt failed to resemble anything high or octane. Simply put, he does not have the personnel to run the hurry-up, spread system that ran to perfection in his final season at Tulsa.
Quarterback
Tino Sunseri
never bought in or adapted to the changes, and that contributed to Pitt giving up 56 sacks this season. Injuries on the offensive line didn't help, either, as Pitt used myriad different starting lineups to help fill in the gaps. The line wasn't the only area that was impacted by injuries. The Panthers lost star tailback
Ray Graham
to a torn ACL against UConn in October and from that point on, it was an even bigger struggle for the offense to do anything with Sunseri behind center.
Pitt needed a 33-20 win over Syracuse in the final game of the season to become bowl eligible, but at least salvaged the season. What the Panthers do have is a much improved defense from Week 1. Defensive end Aaron Donald was a breakout star, with 10 sacks. The pass defense made a huge turnaround. After giving up more than 300 yards in two of the first three games of the season, the most they gave up in the final nine weeks was 271 yards to Rutgers.
October, 11, 2011
10/11/11
10:30
AM ET
SMU MUSTANGS
Record:
4-1, 2-0 CUSA

The Mustangs made it to the Conference USA championship game last season, but now coach June Jones expects to win it. His team has its hands full in the West Division, but certainly the Mustangs have shown the potential to get back into the title game again this season. They have done it with a new quarterback.
J.J. McDermott
replaced an ineffective
Kyle Padron
in the season opener and has not let go of the starting job. McDermott has played well, throwing for 1,482 yards, eight touchdowns and four interceptions to rank No. 2 in CUSA in passing.
Darius Johnson
has proven to be a go-to receiver with 39 catches for 550 yards and four touchdowns, and leads the league in receptions per game and receiving yards a game. His teammate
Cole Beasley
is right behind him at No. 3 in both categories. Running back
Zach Line
once again is dominating on the ground, with 583 yards and 11 touchdowns already this season to lead CUSA. SMU has done a nice job on defense as well, ranking No. 2 in the league in total defense, giving up an average of 296.6 yards a game. Steps are being made, and none bigger than its 40-33 overtime win over cross-town rival TCU. It was the Mustangs' first win over a ranked team since defeating No. 22 TCU 21-10 in Dallas on Sept. 10, 2005. SMU is off to a 4-1 start for the first time since going 5-1 to begin the 1986 season. But the schedule has its challenges. The Mustangs get UCF this weekend in a rematch of last year's CUSA title game. They also have to play at Southern Miss, Tulsa and Houston. But the Mustangs have proved they can play with anybody. Will that translate into an even bigger milestone for the program this season?
Offensive MVP:
RB Zach Line. You are making me choose just one? It was a tough call between Line and Johnson, but I am going with the guy who leads the league in scoring with 66 points. He has been incredibly valuable and durable once again.
Defensive MVP:
LB Ja'Gared Davis. Plenty of candidates for this one as well. Taylor Thompson is third in the league with five sacks, and
Taylor Reed
leads the team with 39 tackles. But Davis has done a little bit of everything -- he has 28 tackles, including four for loss and 1.5 sacks. He also has an interception, forced and recovered a fumble and has six passes defended.
September, 29, 2011
9/29/11
11:00
AM ET
If there is one area of the TCU defense that has struggled more than the rest, it has been against the pass.
There were glaring problems in the season opener against Baylor, in which the Bears had five touchdown passes of 25 yards or more. A lot of those came against one-on-one coverage, as the Horned Frogs seemed helpless to stop balls that were simply being thrown over their heads.
Since then, TCU has not faced as big a test through the air. But that changes Saturday against SMU in the Battle for the Iron Skillet. The Mustangs are No. 15 in the nation in passing under June Jones, the run 'n' shoot master.
[+] Enlarge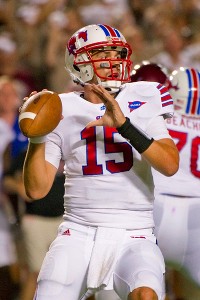 AP Photo/Dave EinselIn four games, J.J. McDermott has thrown for 1,133 yards and four touchdowns.
They have not really lost a beat with
J.J. McDermott
at quarterback, either. McDermott relieved an ineffective
Kyle Padron
in the season opener against Texas A&M and has thrown for 1,133 yards with four touchdowns and three interceptions.
Coach Gary Patterson knows what to expect out of this offense. So does his defense. He says his players are doing better against the pass.
"We gave up one long pass against Monroe; last week didn't give one up," he said. "We just have to keep getting better."
Indeed, of the nine passing touchdowns TCU has given up this season, eight have been of 20-plus yards. Consider TCU allowed just five passing touchdowns of 20-plus yards in all of 2011. There are new faces starting in the secondary, so they have needed time to get adjusted.
Also, Patterson said last week veteran cornerback Greg McCoy was not playing to the level he played at in the Rose Bowl, having given up three touchdown passes already this season. He wanted his team to get into sync, and play with confidence.
How does does a win over FCS Portland State do that? That remains to be seen. SMU gave TCU a challenge in the first half last season, taking a 14-10 lead into halftime.
Zach Line
had a monster game with 139 yards and one touchdown and an average of 8.2 yards a run.
Line is back, and already has 11 touchdown runs this season -- second in the nation behind
Bernard Pierce
of Temple. Though the Mustangs love to throw, Line has been a huge presence in the run game the last two seasons. He ranks No. 14 in the nation in rushing.
But what could hurt SMU is the potential loss of top receiver
Cole Beasley
, who has an injured right knee. Jones hasn't said whether Beasley will play. If he can't go, that would be a big blow for an SMU offense that is doing a better job of getting big plays in the pass game.
Beasley leads the team with 31 receptions for 376 yards. He and
Darius Johnson
have been the top two targets, combining for 58 of the team's 95 receptions.
On throwing the ball deep, Jones said, "I think we're better than we were last year at this point. We're making more throws up top and down the field. We still missed a few in the first three games, but last week we made a couple good throws so we'll just hope that we keep getting better each week."
Given what Baylor did to TCU, you can bet SMU will try to follow the same game plan.
May, 17, 2011
5/17/11
4:00
PM ET
Next up in our look at potential BCS busters out of Conference USA is SMU, a team coach June Jones believes is on the
doorstep of breaking into the system
the way he did with Hawaii back in 2007. Jones has the experience of taking a team to a BCS game that nobody else does in C-USA, which should give his Mustangs an advantage. Plus, he gets to recruit in Texas, a place that is overflowing with talent. If TCU can do it in the Mountain West, why not SMU in C-USA?

Why they have a shot:
The Mustangs are getting closer and closer to where Jones wants them to be now that they are in Year 4 of his program. SMU made it to the C-USA title game last season, which was earlier than even Jones anticipated.
Kyle Padron
has shown improvement, and Jones expects him to take the next step this season. That means connecting on more big plays in the passing game.
Cole Beasley
emerged as a 1,000-yard receiver last season and he is going to be even more vital in 2011.
Zach Line
proved to be an excellent back with 1,494 yards in 2010, and the defense returns solid players in Ja'Gared Davis, Taylor Reed, Margus Hunt and Chris Banjo. Jones said Davis and Reed have put in "unbelievable work" in the offseason. "They were good last year, and they're better now," Jones said.
Why they won't make it:
The Mustangs still lack depth on the offensive and defensive lines and need a big-play receiver to replace Aldrick Robinson. The lack of depth is most concerning to Jones, but he knows it takes time to rebuild there, especially when you have inherited a losing program. The nonconference schedule is tough, with games at Texas A&M and at TCU and a home game against Navy. The TCU game actually begins a difficult four-game stretch. After playing the Horned Frogs, SMU gets a week off before hosting UCF, then it travels to Southern Miss and Tulsa. SMU also has to play Houston on the road on Nov. 19. The Mustangs start on the road at Texas A&M on Sunday night, Sept. 4. A loss there and a BCS season most likely ends.
Previously profiled
Houston
April, 29, 2011
4/29/11
10:30
AM ET
SMU has had one of the youngest teams in the country the past several years as coach June Jones has relied on talented freshmen and sophomores to rejuvenate the program.
While Jones plans on doing the same at some positions in 2011, he can rely more on returning starters who have been in the program for several years and finally understand what it takes to win. The Mustangs are coming off an appearance in the Conference USA championship game and the next step is to win a title.
Could it happen in Year 4 under Jones?
"In the next two years, hopefully we'll put together a run like we had in Hawaii or a run like TCU had," Jones said in a phone interview. "That's what the goal is. We don't have the depth at some of the positions that you have to have to really do that, but we're real close to making a statement."
[+] Enlarge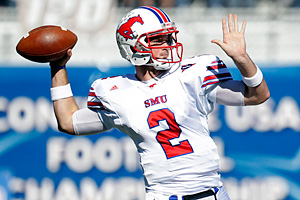 AP Photo/John RaouxProtecting quarterback Kyle Padron will be important for SMU in 2011.
Jones anticipates playing 15 freshmen once again, especially on the offensive line, which is still an area of concern because of a lack of depth. The Mustangs gave up 34 sacks last season, ranking No. 86 in the nation, and that had an impact on quarterback
Kyle Padron
, who was hit and knocked down more times than any coach wants.
Padron had another good season, throwing for 3,828 yards with 31 touchdowns and 14 interceptions. But his completion percentage and quarterback rating were down, and he made questionable decisions at times. As SMU goes into its final spring practice with a scrimmage Saturday, Padron won't see a lot of reps.
But he has worked on plenty. One of the areas of emphasis has been taking advantage of big plays when they are there.
"Every year a quarterback plays, they get better," Jones said. "The biggest thing is accuracy on the vertical throws down the field. We had many opportunities to make big plays. It's hard to get big plays in this day and age so when you have them, you have to hit them. From now until the fall, he will be throwing the deep ball. You have to do it over and over and repeat it until you don't have to think about it."
SMU will have to get those big plays without leading receiver
Aldrick Robinson
. But
Cole Beasley
and
Darius Johnson
return.
Der'rikk Thompson
has taken many reps at Robinson's position and will probably replace him. Jones said Thompson can run a 4.3 40-yard dash, so he could be exactly what the Mustangs need.
Leading rusher
Zach Line
hasn't practiced this spring, but he does return to help give the offense an added dimension. His emergence led to
Darryl Fields
and
Kevin Pope
playing both running back and linebacker this spring, and Jones anticipates both contributing on defense this season.
As for the growth of his team, Jones has been pleased. Expectations have been raised with back-to-back bowl appearances, and this season SMU is expected to contend for the West Division with Houston and Tulsa.
"Now we have guys who are acting like they belong instead of hoping they belong," Jones said. "When you come out of the tunnel, one team is hoping they're going to win and the other believes they're going to win. We're getting to the point where were' starting to believe. You can see that swagger, that walk."
TOP 25 SCOREBOARD
Saturday, 12/21
Monday, 12/23
Tuesday, 12/24
Thursday, 12/26
Friday, 12/27
Saturday, 12/28
Monday, 12/30
Tuesday, 12/31
Wednesday, 1/1
Thursday, 1/2
Friday, 1/3
Saturday, 1/4
Sunday, 1/5
Monday, 1/6