February, 24, 2012
2/24/12
3:00
PM ET
We have come to the final group in the 2011 postseason position rankings: special teams. This one is all encompassing -- kickers, punters, returners, and team coverage -- which has made it quite the task to evaluate as one group. Some teams had returns that excelled and kickers that were so-so. Some had great kickers but a so-so return game.
I tried to give equal weight to all parts. In the end, I took the rankings in several special-teams categories and used an average ranking to help determine these. Special weight was given to game-changing plays as well.
1. Cincinnati.
The Bearcats ranked in the top two in four of the five statistical categories I used to evaluate special teams as a whole. The only area lacking was field goals, but I thought overall
Tony Miliano
had a decent year for a true freshman, even considering his missed kick against West Virginia. Ralph David Abernathy IV emerged as a dynamite kickoff man, and
Pat O'Donnell
was the best punter in the Big East again. Kickoff coverage was solid as well.
Preseason ranking
: 5.
2. UConn.
Nick Williams
averaged just 5.6 yards a return on punts. He was not particularly dynamic on kickoff returns, either, ranking No. 4 in the Big East after going into the season as one of the top returners in the league. UConn was one of two Big East teams without a kickoff return for a touchdown. But still, the Huskies were solid in every other category.
Dave Teggart
once again was the Big East first-team kicker, and
Cole Wagner
averaged 41.1 yards a punt.
Preseason ranking:
1.
[+] Enlarge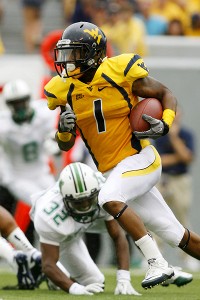 Charles LeClaire/US PresswireTavon Austin had two kickoff returns for touchdowns last season.
3. West Virginia.
Tavon Austin
was hands down the best returner in the Big East this season, and one of the best in the nation. But since this is an evaluation of special teams as a whole, everything is taken into account. West Virginia had the worst punting situation in the Big East, and ranked last in kickoff coverage. There were several critical blocked field goals as well. Special teams absolutely improved as the year went on, and some players made big plays --
Eain Smith
comes to mind. But Austin alone wasn't enough to elevate the group higher.
Preseason ranking:
7.
4. Rutgers.
Once again, the Scarlet Knights were highly effective at blocking kicks -- a staple under coach Greg Schiano.
Jeremy Deering
was solid in the kickoff return game as well. But
San San Te
had the worst field goal percentage in the Big East (64.5 percent), and kickoff coverage ranked No. 7 in the conference. Rutgers only had an opportunity to return 16 punts last season, averaging about 6 yards a return.
Preseason ranking:
6.
5. Pitt.
The Panthers lost their punter and field goal kicker from a year ago and did perhaps better than expected in special teams overall. Punter
Matt Yoklic
was second in the league in punts, though
Kevin Harper
did struggle at times with his field goals. Losing
Cameron Saddler
really hurt the punt return game as well.
Preseason ranking:
8.
6. Syracuse.
Ross Krautman
led the Big East in field goal percentage (78.9) but he only had 19 attempts on the season, second fewest in the Big East. Punt returns were essentially nonexistent -- with only 12 attempts for an average of 3.1 yards a return.
Jeremiah Kobena
was a nice addition at kickoff returner, but the Orange still ranked No. 6 in the Big East in that category and kickoff return coverage as well.
Preseason ranking:
4.
7. Louisville.
Chris Philpott
had a disappointing season, ranking No. 7 in the league in field goal percentage (66.7). He and
Josh Bleser
averaged 37.3 yards a punt. Punt returning ranked No. 7 in the Big East as well, and aside from
Adrian Bushell
's 100-yard kickoff return for a touchdown, that category was just average for the Cardinals.
Preseason ranking:
3.
8. USF.
I think the Bulls were the biggest disappointment in this category.
Lindsey Lamar
, who was the first-team Big East selection at returner last year, had zero this year and ranked No. 9 in the league in kickoff return average. His average was down some six yards from last season. When
Terrence Mitchell
got hurt and missed the second half of the season, no one was dynamic at punt returner, either.
Maikon Bonani
ranked No. 3 in field goal percentage but fairly or not is going to be remembered for missing a field goal that would have beaten Rutgers, and eventually gotten the Bulls bowl eligible.
Preseason ranking:
2.
January, 14, 2011
1/14/11
9:00
AM ET
Let's put a final bow on bowl season with the Big East's All-Bowl team:
Offense
Quarterback: Ryan Nassib, Syracuse
Nassib, who struggled down the stretch of the regular season, took advantage of Kansas State's shaky defense to complete 13-of-21 passes for 239 yards and three touchdowns in the New Era Pinstripe Bowl.
[+] Enlarge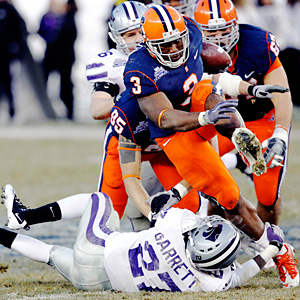 William Perlman/US PRESSWIRESyracuse's Delone Carter ran over Kansas State for 198 yards and two touchdowns in the Pinstripe Bowl.
Running backs: Delone Carter, Syracuse, and Dion Lewis, Pittsburgh
Carter ran 27 times for 198 yards and two scores in the Pinstripe Bowl. Lewis rumbled for 105 yards and a touchdown on 22 carries in the BBVA Compass Bowl before declaring for the NFL Draft.
Wide receiver: Marcus Sales, Syracuse
Sales came almost out of nowhere to record five catches for 172 yards and three touchdowns against Kansas State. No other Big East receiver had even a fraction of his stats in the postseason.
Tight end: Cameron Graham, Louisville
The league's best tight in the regular season kept it up in the Beef 'O' Brady's Bowl, catching three passes for 31 yards and a touchdown.
Offensive line: Jacob Sims and Sampson Genus, South Florida; Jason Pinkston, Pittsburgh; Mark Wetterer, Louisville; Justin Pugh, Syracuse.

Sims and Genus were part of a USF line that pushed back Clemson's talented defensive front in the Meineke Car Care Bowl; Sims in particular helped keep Da'Quan Bowers quiet, which is not an easy thing to do. Pinkston showed some fire in protecting his quarterback after
Tino Sunseri
was hit late, and the Panthers ran for 261 yards while surrendering zero sacks against Kentucky. Wetterer and Pugh helped open holes for their high-scoring postseason offenses.
Defense
Defensive line: Brandon Lindsey, Pittsburgh; Terrell McClain, South Florida; Bruce Irvin, West Virginia.

Lindsey stepped up his game in the regular season when Greg Romeus was hurt and did so again in the bowl with Jabaal Sheard out. McClain didn't record many stats but was his usual dominant self in the middle against Clemson. Irvin had two sacks and a forced fumble against NC State in the Champs Sports Bowl.
Linebackers: Derrell Smith, Syracuse; J.T. Thomas, West Virginia; Brandon Heath, Louisville; DeDe Lattimore, South Florida.

I went with a 3-4 look on defense to recognize the many strong performances by linebackers during bowl. Just about all of these guys had double-digit tackles and/or a couple TFLs.
Cornerbacks: Johnny Patrick, Louisville; Quenton Washington, South Florida
After getting burned on a play early, Patrick was all over the field. He forced a fumble and blocked a punt. Washington also blocked a punt and had a 45-yard interception return.
Safeties: Dom DeCicco, Pittsburgh, and Robert Sands, West Virginia
DeCicco had nine tackles and a forced fumble, while Sands had eight tackles and a sack.
Specialists
Punter: Cole Wagner, Connecticut
Wagner punted seven times for an average of 46.9 yards -- with a long of 52 yards -- against Oklahoma in the Tostitos Fiesta Bowl.
Placekicker: Chris Philpott, Louisville
Philpott only got the call once, but he made the game-winning 36-yarder in the fourth quarter.
Kick returners: Jeremy Wright, Louisville, and Robbie Frey, Connecticut
Both Wright and Frey returned kickoffs for touchdowns in their bowl games. Wright's was especially crucial, as it tied the score in the fourth quarter.
Punt returner: Terrence Mitchell, South Florida
Mitchell had a 34-yard punt return against Clemson.
December, 5, 2010
12/05/10
1:47
AM ET
Connecticut's kickers:
Kickers don't get much love in this space, but Dave Teggart and
Cole Wagner
are major reasons why the Huskies are going to the BCS. Teggart made all four of his field goals, including the 52-yard game-winner with 17 seconds left that will live forever in program lore. Punter Cole Wagner averaged 53.2 yards on six punts and had one downed at the USF 1 yard-line. Without those guys, the Huskies don't beat South Florida
19-16.

Dion Lewis, RB, Pittsburgh:
Lewis carried 42 times for a career-high 261 yards and four touchdowns in a
28-10 win
at Cincinnati.
Geno Smith, QB, West Virginia:
The sophomore completed 23 of 28 passes for a career-high 352 yards and a touchdown in the Mountaineers'
35-14 win
over Rutgers.
Tavon Austin, WR, West Virginia:
The sophomore caught six passes for 121 yards and a touchdown and ran for a 46-yard score.
December, 5, 2010
12/05/10
1:36
AM ET
TAMPA, Fla. -- Lawrence Wilson grew up in Tuscaloosa, Ala. He went to Paul Bryant High School, for crying out loud. Yet Wilson couldn't get as much as a head nod from any SEC schools.
Now he's a fifth-year senior linebacker for Connecticut, and maybe the perfect poster boy for these underdog, under-loved Huskies.
[+] Enlarge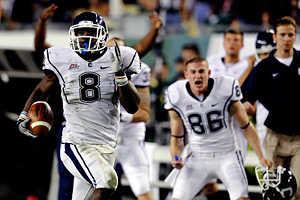 Cliff Welch/Icon SMI Lawrence Wilson returned an interception 55 yards for the Huskies' only touchdown of the game.
Wilson's 55-yard first-half interception return was the only touchdown for UConn on Saturday night, but his team somehow found a way to
beat South Florida 19-16
and clinch its first-ever BCS berth.
"Payback is what I call it," Wilson said. "For overlooking me. Now we're going to the BCS. I can't believe it."
Neither, probably, can the rest of the country, or even the rest of the Big East. The Huskies are in just their ninth year of playing at the FBS level and their seventh in a automatic bid conference. What's more, they started this year 3-4 overall and 0-2 in league play before improbably winning their final five games. At 8-4 and never having once been ranked this season, UConn is shockingly BCS-bound.
It is also bound for a month's worth of knocks from critics. None of it will leave a mark.
"People have already said a lot of things about us," quarterback
Zach Frazer
said. "That's fine. We know we deserve to be here."
Saturday's game showed why a lot of people doubt the Huskies' ability to compete in a BCS bowl.
They managed only 232 total yards against South Florida, which came in with a simple yet effective plan: Stop the UConn running game. Everybody has tried that this year, but most failed. The Bulls overloaded the box all night and practically begged Frazer to beat them over the top.
Yet even with the numbers stacked against the run, star tailback
Jordan Todman
pounded it 33 times into the crowd. He gained only 93 yards, just the second time this season he has been held under 100 in a game. The longest Connecticut run of the night went for nine yards.
Running it in a phone booth still is usually a more preferable option than throwing it. Frazer, never an accurate passer, completed less than half his attempts (13-of-29) for a paltry 112 yards, the fourth straight game the Huskies have been held under 125 yards passing. You can already envision the headaches an athletic defense like Oklahoma or Virginia Tech will cause with a month to prepare against such a one-dimensional attack.
But Saturday's game also illustrated UConn's strengths: its resiliency and resourcefulness.
The defense came up with a crucial stand after South Florida drove to the 5-yard line in the final two minutes with three chances to take the lead. Frazer completed two key passes after USF's tying field goal to get within kicker Dave Teggart's range.
Special teams proved to be enormous all night. Teggart drilled the 52-yard game-winner with 17 seconds left after making a 50-yarder earlier in the half. Punter
Cole Wagner
was an unsung hero, averaging 53 yards on six punts in a game of field position. And returner
Robbie Frey
kept setting up the Huskies in good spots; he got the winning drive started on the UConn 40.
"Football is not about style points; it's about winning and losing," head coach Randy Edsall said. "This is who we are."
Is that identity good enough to merit a BCS game? You bet, Edsall says.
"The bottom line is we won the game and nobody can take anything away from us," he said. "We played by the rules and we won the Big East, so we get the BCS. That's what the rules are, and we're going."
Few would have thought that possible on Oct. 23. The Huskies got blasted 26-0 at Louisville that afternoon, just days after Edsall dismissed starting quarterback
Cody Endres
for failing a second drug test. Connecticut had lost to Rutgers the week before and was blown out by Michigan and Temple earlier in the year. The season hung in the balance.
"You could see it on everyone's faces -- we were like, 'Where are we going to go and what's going to happen?'" Frazer said. "We could have easily gone down the tank and gone home for Christmas."
But this is a team that learned to battle back from adversity last year, when teammate Jasper Howard was murdered after a midseason game. Following some heartbreaking losses, the players regrouped to win their four games. Edsall is hoping that the Orange Bowl takes the Huskies because Howard, who would have been a senior this year, called Miami home.
Reps in loud blazers from both the Fiesta and Orange bowls checked out the delirious UConn locker room, and perhaps they argued over who should get stuck with the Huskies. This a team that nobody wanted in a BCS game, full of players hardly any big schools wanted, with a style of play nobody wants to watch.
Like it or not, though, the Huskies are going to the BCS. And nobody can overlook them any more.
"We worked for it and we earned it," Wilson said. "We had a hard path, but we proved we're a great team."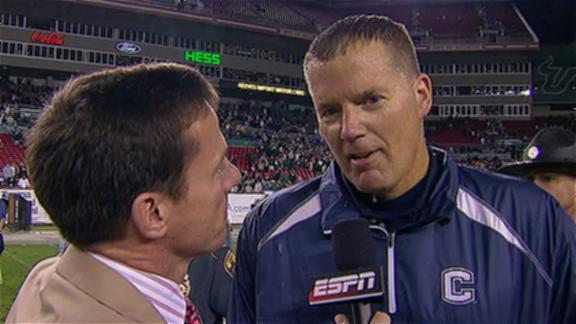 December, 4, 2010
12/04/10
10:28
PM ET
TAMPA, Fla. -- There isn't much to look at offensively, but the Connecticut kickers have been money tonight.
I told you about
Cole Wagner
in the last post. Well, Dave Teggart just drilled a 50-yard field goal after it appeared South Florida had made a huge defensive stand. That put the Huskies up 16-6 early in the fourth quarter, and given USF's offensive struggles, that's a lot of points to make up in 13 minutes.
No offensive touchdowns tonight yet, but Connecticut may make the BCS by being very resourceful on defense and special teams.
December, 4, 2010
12/04/10
10:02
PM ET
TAMPA, Fla. -- The stealth MVP of this game might be Cole Wagner.
He's the Connecticut punter, and after averaging 52 yards on two punts in the first half, he boomed a 63-yarder that was downed at the South Florida 1 early in the third quarter.
That resulted in a huge field position flip, and UConn capitalized with a field goal to make it 13-3. In a game this defensive-minded, that lead feels even larger.
The Huskies had no secrets after getting the ball back. They lined up in the power formation -- fullback, two tight ends and just one wideout -- and simply pounded
Jordan Todman
ahead. That was good enough to get them inside the 5 but no farther. Todman doesn't have a single run over nine yards this evening, which is a testament to the Bulls defense.
But South Florida needs to find something on offense. And fast.