August, 15, 2013
8/15/13
9:00
AM ET
There will be a point this season when we'll know whether Iowa defensive tackle
Carl Davis
has turned a corner.
It won't be after he mauls a quarterback or fills a rushing lane with his 6-foot-5, 313-pound frame. Davis already has shown flashes of being a dominant interior lineman. When Penn State guard
John Urschel
was asked on an ESPN.com chat last month to name the toughest lineman he blocked last year, he picked Davis, a backup for the Hawkeyes, ahead of players like Purdue's Kawann Short and Ohio State's Johnathan Hankins, both second-round picks in April's NFL draft.
Davis can deliver a great play or two. But the true gauge for the Hawkeyes junior will come when opposing offenses sustain drives. Davis will be on the field for Play 1 or Play 2. If he's still there for Play 8 or Play 9, Iowa will be a lot better off.
"I believe my best football is ahead of me," Davis recently told ESPN.com. "I had some problems with my knee, I had some mental work being an every-play guy, and I'm still working on that. You've got to do it every day. You can't come out here like, I had a good practice today,' and then slack off tomorrow. You try to put days back to back to back."
[+] Enlarge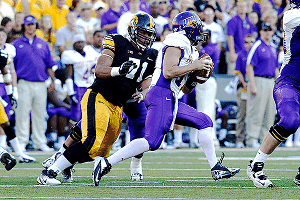 David Purdy/The Des Moines Register via USA TODAY SportsCarl Davis' size and strength have Iowa's staff optimistic on the defensive tackle's future.
Davis appeared in 11 games as a reserve in 2012, recording 14 tackles, including 1.5 for loss, to go along with a forced fumble. Hawkeyes defensive line coach Reese Morgan said the experience, even during a rough 4-8 season, bolstered Davis' confidence that he's built to last.
After being
limited by a wobbly kneecap early in his career
, Davis attacked conditioning and strength training during the offseason. He hang-cleaned 395 pounds -- a Hawkeyes defensive tackle record -- and boosted his squat max by 100 pounds.
Davis also shaved one-tenth of a second off of his 10-yard dash time, going from 1.7 seconds in 2012 to 1.6. He came into camp a little heavy at 313 pounds -- "I'm paying for it right now," he said with a laugh -- but hopes to get down to 310 before the season kicks off Aug. 31 against Northern Illinois.
"He developed a lot of strength and confidence with the records, the work ethic," Morgan said. "Being a big guy, sometimes they're worried about running out of gas and pushing themselves to get out of their comfort zone. Carl started doing that a little bit in the spring, worked hard through the summer, really did some diligent preparation."
Head coach Kirk Ferentz describes Davis as an "Iowa guy," meaning Davis didn't walk onto campus game-ready but has developed himself into a position to contribute significantly as an upperclassman. What stands out about Davis is his size. Iowa's recent defensive tackle standouts -- Mitch King, Matt Kroul, Karl Klug, Mike Daniels -- all played around 280 pounds. Only Christian Ballard (297 pounds) approached the 300-pound mark. Davis, meanwhile, was 295 when he signed with Iowa in 2010 and quickly went north of 300.
"We haven't had many guys like him," Ferentz said. "Colin Cole was never as big with us as Carl is currently. Carl's a guy who has a great attitude, he's got good ability, good size. We're all confident this is going to be his time to really step up and play well."
Cole is the gold standard for Iowa defensive tackles. He earned first-team All-Big Ten and second-team All-America honors for Iowa's 2002 co-Big Ten champion team, recording ridiculous numbers for a defensive tackle: 85 tackles, 18 tackles for loss, nine sacks, 16 quarterback hurries, one forced fumble and two fumbles recovered.
If Davis comes anywhere close to those totals, Iowa's line will be much improved.
"I want to have at least 40 tackles and eight to 10 sacks," he said. "If you shoot high, you see where you fall, and you might not be disappointed."
Davis is a big man with big goals. One of his challenges, somewhat ironically, is to use his size more to his advantage.
"He's a big guy who thinks he's a finesse guy, instead of being a physical guy," said Morgan, who attributes Davis' approach in part to his background as a basketball player. "Now he's starting to become physical. That's really what you like about Carl, understanding that assignment. He's really a caring, solid person. As a player, he's really grown a lot, and we're excited to see what he's going to do this fall."
A Sterling Heights, Mich., native, Davis grew up a Michigan fan and wanted to play for Lloyd Carr but didn't attract much interest. He actually became sold on Iowa after attending the Hawkeyes' 30-28 win against Michigan in 2009 under the lights at a geared-up Kinnick Stadium.
When Davis arrived, Iowa was enjoying arguably the most successful run of defensive linemen in team history (three were drafted after the 2010 season, and another followed after 2011). Daniels took Davis under his wing, and Davis admired the power Daniels generated despite being a smaller interior lineman (6-1, 280).
Davis still reviews practice clips from Daniels, Ballard and defensive end Adrian Clayborn, a first-round pick in the 2011 draft.
"I want to be one of those guys that can be the next name that pops up," Davis said. "Only time will tell, and I've got to put in the work."
February, 21, 2013
2/21/13
9:00
AM ET
Iowa's
2012 recruiting class
included two Floridians in wide receiver
Greg Mabin
(Fort Lauderdale) and defensive end
Daumantas Venckus-Cucchiara
(Weston). The Hawkeyes'
most recent recruiting haul
included no players from the Sunshine State -- a first in the Kirk Ferentz era.
This is no accident.

I must have missed it from last winter, but Ferentz said he's no longer assigning an assistant coach to recruit Florida. Then Tuesday night, Iowa recruiting coordinator Eric Johnson told an I-Club gathering in Des Moines that
Florida is no longer a priority area
for the program's recruitment.
I think I just choked on some orange juice and spilled some sun screen.
We're talking about Florida, right? The state that produced four of the top six players and 22 of the top 100 players in the 2013 class, according to ESPN Recruiting? The state often grouped with Texas and California as
the nation's top recruiting hotbeds
?
Yes,
that
Florida.
All but two Big Ten teams (Iowa and Michigan) signed at least one Floridian earlier this month. Indiana and Purdue both signed five.
The Iowa coaches think the program needs to concentrate recruiting closer to campus. The (Cedar Rapids) Gazette's Marc Morehouse notes that Iowa went to St. Louis, a city that has produced recent stars like Adrian Clayborn and Marvin McNutt, for three recruits in the 2013 class. Iowa also has had recruiting success in other Midwestern cities like Chicago and Indianapolis, and signed a Detroit prospect (safety Desmond King) on Feb. 6.
There's nothing wrong with prioritizing your backyard and places where you've had success. But ignoring Florida just doesn't make a lot of sense.
Iowa did well in the Sunshine State early in Ferentz's tenure, luring players like defensive tackle Colin Cole, linebacker Abdul Hodge and wide receiver Mo Brown. Former assistant Bret Bielema was Iowa's primary recruiter in Florida and left the Hawkeyes following the 2001 season, but other Iowa assistants continued to recruit the state.
As pointed out
here
and
here
, Iowa has had many more misses than hits with Florida prospects since 2002. Several players transferred, including running backs Jeff Brinson and De'Andre Johnson. The jury is out on other Florida recruits, including quarterback
Jake Rudock
, who could start this coming season.
I'm still waiting for a good reason for Iowa to back away from Florida. Sure, Iowa has had a run of bad luck with Florida recruits. But should it stop trying? I can think of 22 reasons -- and many more from the 2013 class -- to keep investing time and money there.
Big Ten teams can't expect to compete at a national elite level by recruiting solely in the Midwest. Prioritizing states like Florida -- along with Georgia, Texas and California -- is a must for Big Ten programs.
It's great to see coaches develop talent and several Big Ten programs, including Iowa, have done that well over the years. But there's a ceiling for teams trying to win with overlooked recruits from the heartland. Too many Big Ten teams -- not just Iowa -- seem to fall into this trap. Penn State just signed its first Florida recruit (safety Neiko Robinson) in
more than a decade
. That's insane.
It still comes down to talent, and there's just more of it in the South. Big Ten teams need to compete in states like Florida. Will they get all the top players? Of course not. But with the right coaches and strategy, they can help their teams get better.
Sure, Iowa lost Bielema, who continued his Florida recruiting push as Wisconsin's head coach and will carry it on at Arkansas. Iowa lost another Florida recruiter when Rick Kaczenski left for Nebraska in 2011.
But Ferentz has had plenty of chances to hire assistants with Florida roots the past two seasons.
Iowa's staff is in an unprecedented period of flux
, and Ferentz has brought in six new assistants since the end of the 2011 season. None of them could help Iowa made inroads in Florida?
Look how Nebraska secondary coach Terry Joseph, hired last March, has helped the Huskers' recruiting efforts in the South. The same goes for new Big Ten assistants like Everett Withers at Ohio State. Wisconsin would have loved to retain assistant Charlie Partridge because of his recruiting clout in Florida.
Perhaps Iowa can build itself back into a Big Ten title contender without investing in Florida. Re-establishing itself in cities like St. Louis certainly is a good sign.
But Ohio State's coaches continue to mine the South, and
Michigan is ramping up its Southern recruiting efforts as well
.
In recruiting, you follow the talent. You flock to it. You compete for it.
You don't turn your back on it.