November, 2, 2010
11/02/10
9:12
PM ET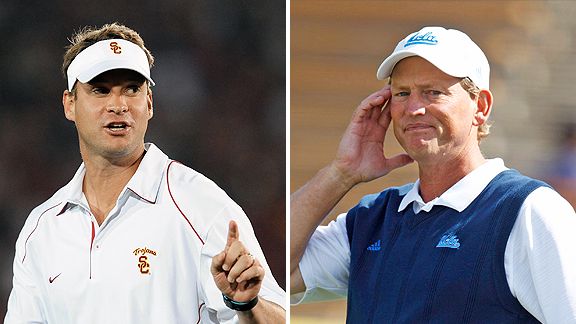 US PresswireAttendance at games may be down for USC and UCLA, but both Lane Kiffin (left) and Rick Neuheisel say their programs are on the rise.
Are you ready for some football? Not if you live in LA you're not.
USC is 5-3 and is ineligible for the postseason due to NCAA sanctions. UCLA is 3-5 and appears likely to be ineligible for the postseason due to its record.
Of course, you can always go to an NFL game. Er, never mind.
Just twice since 1990 -- 1996 and 1999 -- have neither USC nor UCLA played in a bowl game.
Fans appear to be turning away.
In 2005, USC was the hottest show in LA and it averaged 90,812 fans in the Coliseum, 26,000 more than any other Pac-10 team.
Last year, the Coliseum's average attendance was 84,799. This year, it's 81,321.
UCLA? The Bruins average attendance in 2009 was 64,547, which ranked second in the conference. This year, it's 56,704. The Rose Bowl seats 91,500.
It's fair to say 2010 won't be remembered as a banner year for college football in Los Angeles. But how will it be remembered in the big picture, because in many ways both programs are in transition. But to what?
This won't surprise you: Both UCLA coach Rick Neuheisel and USC coach Lane Kiffin aggressively project optimism.
"I believe the program can turn and turn quickly," Neuheisel said. "We are not falling on hard times in any way in that regard."
Kiffin was quick to point to last week's announcement that USC will break ground in 2011 on a new, 110,000-square foot football building. It will cost $70 million and will house meeting rooms, coaches offices and a football locker room, as well as an academic center, weight room, athletic training room and digital media production facility for all of USC's 21 sports,
according to the official website
.
As for the two-year bowl ban and scholarship reductions hurting recruiting, Kiffin said that's not the case.
"It's been very neat seeing the reaction of California kids, national kids -- especially Southern California kids -- who still want to come here," he said.
Kiffin has been hard on his team -- he called the Trojans running game against Oregon "terrible" -- but he's been generous in assessing how fans have stuck by the Trojans.
"Last Saturday night says a lot about our fan base," he said. "The [Coliseum] was rocking. It was an electric atmosphere. It was a really really neat scene Saturday night, even though we already lost two games this season and can't go to a bowl game."
Still, there were a lot of empty seats greeting the No. 1 Ducks. And many didn't stick around in the fourth quarter.
Kiffin also said he remains hopeful that, after myriad revelations across the country of agent-player contact, the NCAA Appeals Committee might reduce the harsh sanctions on the Trojans: "We really hope the right thing is done and they're reduced."
Neuheisel has landed two strong recruiting classes, but the Bruins continue to struggle to find consistency. It's been baffling that Neuheisel and offensive coordinator Norm Chow, proven offensive minds, haven't been able to find a quarterback who can consistently produce points (in fairness, the
injury history
at the position is
pretty ridiculous
).
Neuheisel wouldn't bite on the notion of UCLA being in position to thrive while USC is burdened with NCAA sanctions.
"I didn't feel it was one-sided when I got here," he said. "I really didn't. It may have been in the past, but I did not feel that. "
He wants the story to be about the Bruins, not about the Bruins as they compare to USC: "Our view of the future has been received well. And I continue to believe it will be," he said.
So who emerges from 2010 and transitions into a brighter future?
The first test will be Dec 4, when USC visits UCLA, particularly if the Bruins are sitting at 5-6 and are within a game of bowl eligibility.
The second test will be on Feb. 2, when Kiffin and Neuheisel announce their recruiting classes on national signing day.
But the real measure figures to be three-to-five years from now: Who's program will be on top? And will both or either -- or neither -- be led by their present coaches?
August, 30, 2010
8/30/10
9:08
AM ET
We're going on record with what we think will happen this season -- team-wise and player-wise. Who will shine? Who will surprise? Who will disappoint?
And feel free to disagree and
supply your thoughts
.
Conference winner
: Oregon
It took a while to re-warm up to the Ducks after the, er, departure of He Who Shall Not Be Named. But the Ducks have so much going for them, it's hard to go against the defending champions.
Offensive MVP
:
Jake Locker
, QB, Washington
Huskies fans: Know all those folks who constantly take shots at Locker and call him overrated? They will either apologize or look stupid at season's end.
Defensive MVP
: Akeem Ayers, LB, UCLA
Ayers gets the nod because he's the sort who's going to put up a lot of different numbers: tackles, sacks, tackles for a loss, interceptions, fumbles, etc.
Surprise team
: Stanford
Stanford might not be a surprise to those in the know, but if the defense steps up -- and here's a bet it will -- then the Cardinal will be in middle of the conference race.
Team most likely to disappoint
: USC
The Trojans will still trot out the most talented starting 22 in the conference. There's not a team on the Trojans' schedule that, at this juncture, rates as a "favorite" -- even Oregon because the Ducks must visit the Coliseum on Oct. 30. But with only pride to play for, USC could come apart at the seams.
Surprise player
:
Steven Threet
, QB, Arizona State
Threet is expected to be announced as the Sun Devils starter on Monday. He's going to be good enough to make the offense respectable.
Newcomer of the year (offense
): Josh Smith, WR, UCLA
If he stays healthy, Smith, a Colorado transfer, will be a big-play guy for the Bruins on offense and on special teams as a returner.
Newcomer of the year (defense
): Brandon Rankin, DT, Washington State
We hate to interrupt your mocking of Washington State, but Rankin, a JC transfer who stuck with the Cougars despite an offer from Alabama, is going to be a force on a surprisingly stout D-line.
Freshman of the year (offense):
Keenan Allen, WR, California
The touted true freshman won a starting job in camp. Expect him and
Marvin Jones
to inspire folks to start to saying, "You know that quarterback
Kevin Riley
ain't half-bad!"
Freshman of the year (defense):
(tie) Marquis Flowers, S, Arizona & Dietrich Riley, S, UCLA
Ladies and gentlemen, meet the next two great safeties in the Pac-10. These freshmen can really play.
Coach of the year
: Chip Kelly, Oregon
His Ducks should play in another Rose Bowl, even though they are replacing a quarterback who was projected to be in the Heisman Trophy hunt. If quarterback
Darron Thomas
shines, this one will be a gimme for Kelly to repeat. So that would be two years, two Coach of the Year trophies. One word: Raise.
Can't miss game
: Civil War, Oregon at Oregon State, Dec. 4
Oregon is the conference favorite. Oregon State is a consensus No. 3 pick. USC is No. 2 but ineligible. Expect the Civil War, for a third consecutive season, to decide who goes to the Rose Bowl.
TOP 25 SCOREBOARD
Saturday, 12/21
Monday, 12/23
Tuesday, 12/24
Thursday, 12/26
Friday, 12/27
Saturday, 12/28
Monday, 12/30
Tuesday, 12/31
Wednesday, 1/1
Thursday, 1/2
Friday, 1/3
Saturday, 1/4
Sunday, 1/5
Monday, 1/6