NCF Nation:

conference diagnosis 091813
September, 18, 2013
9/18/13
10:30
AM ET
The ACC has to be thrilled with the first three weeks of the season: three top-25 teams, including two in the top 10, a 2-2 record against the SEC in early nonconference games and six unbeatens so far.
What could be ailing this conference? Take a closer look at the numbers, and you will find that offense is generally down across the league.
What's ailing the ACC
Remember, the ACC set all sorts of single-season offensive records in 2012 -- scoring 40 or more points in a game (42 times), topping 500 yards of total offense in a game (38) and 100-yard receiving days (69), as well. And the league had its highest-scoring game in history between Georgia Tech and North Carolina (a 68-50 Yellow Jackets victory).
But so far, nine teams are below their total offense average from a year ago. That includes high-flying Clemson, which ranks "only" No. 35 in total offense so far. Miami (No. 91 overall) and North Carolina (No. 71 overall), expected to be two of the better offenses in the league, also have had problems with consistency. Virginia Tech, Boston College and Wake Forest -- three of the worst teams in total offense a year ago -- are all statistically worse.
Having said that, part of the reason the numbers are lower from some of these schools is the opponents they have played. Miami, North Carolina, Clemson and Virginia Tech all played SEC competition within the first two weeks of the season. Virginia played BYU and Oregon. Eight teams also have had byes within the first three weeks, so the body of work is not nearly as large. But it is still an interesting trend to note.
What's the cure
Another reason for some of these struggles has been
mediocre quarterback play
. But there are a few factors to consider.
Of the nine teams whose offensive production has dipped, five have either new head coaches or new offensive coordinators (Syracuse, Miami, Virginia, Virginia Tech and Boston College). In Miami, for example,
Stephen Morris
' completion percentage has dropped to 52 percent. Others, such as Virginia, Duke and Syracuse, have new starting quarterbacks.
Other programs have had to deal with personnel changes around them. North Carolina went into the season with a revamped offensive line and questions at running back following Giovani Bernard's departure to the NFL. Clemson has had to replace DeAndre Hopkins and Andre Ellington.
As these players and coaches get more comfortable with one another, then some of these offenses should look better as the season goes on. Virginia Tech quarterback
Logan Thomas
, for example, says he felt more in sync with offensive coordinator Scot Loeffler in a victory over East Carolina last week. That was his best game of the young season.
It's very early in the season to start drawing definitive conclusions, but there's no question there's room for improvement everywhere.
September, 18, 2013
9/18/13
10:30
AM ET
Texas is crumbling, Oklahoma appears to be on the right track, Texas Tech has surprised and Oklahoma State remains the favorite. Here are some things that are ailing the Big 12 and some cures for those ailments:
What's ailing the Big 12
Losing to FCS teams.
After a summer in which Big 12 coaches touted the overall depth of the conference, Iowa State and Kansas State -- both bowl teams in 2012 -- lost to FCS opponents in Week 1. West Virginia escaped with a late win over FCS opponent William and Mary. Big 12 teams already have lost seven nonconference games, including against Ole Miss (over Texas), LSU (over TCU) and Iowa (over Iowa State).
The cure
Don't talk about it, be about it.
Oklahoma State did knock off Mississippi State and OU gets a shot at Notre Dame on Sept. 28, so all is not lost. But the league's reputation has taken a hit.
On to Part II:
What's ailing the Big 12
Lack of defense.
The Big 12 has a reputation for poor defense. While nobody in the league likes that reputation, nobody's done much to change it during nonconference play. The league average is 19.3 points and 384.5 yards allowed per game against FBS schools during the first three weeks of the season. Oklahoma, Oklahoma State and Texas Tech have had strong single-game performances, but no Big 12 defense looks dominant.
The cure
Is there one?
Things aren't going to get any easier for Big 12 defenses when conference play begins. All is not lost for Big 12 defensive coordinators, however, because several Big 12 squads remain riddled with uncertainty at quarterback. This isn't the Big 12 of old when defenses had to slow Robert Griffin III one week, then deal with Brandon Weeden the next. So there's hope for Big 12 defenses. But based on the first three weeks, don't hold your breath.
[+] Enlarge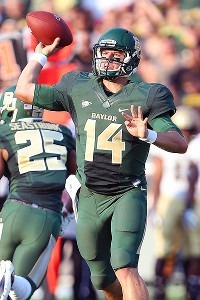 Zuma Press/Icon SMIPotential Big 12 breakout stars haven't emerged yet in 2013, but Baylor quarterback Bryce Petty could be on the verge of becoming one.
Part III:
What's ailing the Big 12
Fluid quarterback situations.
The season is 3 weeks old, yet 22 quarterbacks on Big 12 teams have thrown at least one pass this season, and 17 of them are in double digits in pass attempts. Blowouts have played a role in those numbers, but 15 quarterbacks have started a game in the 10-team league. Meanwhile, Oklahoma, West Virginia, TCU and Oklahoma State already are pinning their futures on the shoulders of a quarterback who didn't take the first snap of the 2013 season.
The cure
Better quarterback play.
Oklahoma State's
J.W. Walsh
, Oklahoma's
Blake Bell
and West Virginia's
Ford Childress
appeared to have upgraded their team's offenses when they took over. TCU's
Trevone Boykin
has a ton of talent, but he hasn't become the run-pass threat he should be to this point. And Texas ... they've got other problems.
Part IV:
What's ailing the Big 12
What happened to RG III, Tavon Austin, etc?
There seems to be a lack of star power in the league. Stars were expected to emerge early this season, but they've been few and far between. Several standouts such as Baylor's
Lache Seastrunk
, Kansas'
James Sims
and Oklahoma State's
Josh Stewart
have performed well, but supplemental stars haven't emerged. Baylor quarterback
Bryce Petty
is showing good signs and several other players have had strong single-game performances. But the lack of legitimate game-changing performers is a surprise.
The cure
Time will tell.
Petty, Oklahoma's Bell, TCU's
B.J. Catalon
and others have the shown the potential to be stars, but the difference between stars and good players is pretty simple. Stars play like stars. Every single week. No excuses.
And finally, Part V:
What's ailing the Big 12
Nobody has been challenged.
Oklahoma State, Baylor, Oklahoma and Texas Tech are the current favorites to win the conference. Now, which from that foursome has recorded the best victories so far? Oklahoma State's victory over Mississippi State leads the pack, followed by Texas Tech's win over TCU. Do we really know anything about these favorites? And what about Texas, West Virginia, Kansas State and TCU? It's not crazy to think they can recover and insert themselves in the Big 12 race. (Sorry, Kansas and Iowa State, but you'll have to prove it on the field.)
The cure
Conference play.
We'll start to learn how good Baylor and Petty really are in October. And the same can be said for a host of Big 12 teams and players. True favorites will start to separate themselves and pretenders will fall by the wayside. Some players with potential will blossom into stars, and other potential standouts will continue to flash some upside, but lack consistency. Should be a fun October.
September, 18, 2013
9/18/13
10:30
AM ET
The doctor is in. Three weeks into the 2013 season, it's my job to diagnose any ailments in the Big Ten. After last Saturday's results, it's not hard to find some.
Let's begin ...
What's ailing the Big Ten?
[+] Enlarge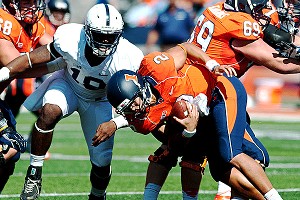 Bradley Leeb/USA TODAY SportsBig Ten defenses would get better with pass-rushers like Penn State's Deion Barnes getting more heat on opposing QBs.
Leaky defenses:
Defense hasn't been the Big Ten's biggest problem in recent years, but there are some troubling signs this fall. Four teams are allowing more than 400 yards a game against mostly weak competition. Half of the league's teams are surrendering more than 250 passing yards a game. Only one Big Ten team (Michigan State) ranks in the top 40 nationally in sacks, and only one squad (Minnesota) ranks in the top 40 in tackles for loss. Minnesota end
Theiren Cockran
is the only Big Ten player with at least three sacks.
What's the cure?
Develop the pass rush:
Certain position groups have gone downhill in the Big Ten in recent years, but the league has had no problems producing elite defensive linemen. More players need to emerge in the coming weeks to put some heat on opposing quarterbacks and help out some young defensive backs. I'm looking at you,
Deion Barnes
,
Tyler Scott
,
Frank Clark
and all of Wisconsin's down linemen (the team has only one sack, from linebacker
Chris Borland
).
And, now, for Part II ...
What's ailing the Big Ten?
Limited pass games:
This is hardly a new problem for the Big Ten, which had only one team (Indiana) finish among the top 30 in pass offense last season. There has been a dearth of elite wide receivers throughout the Big Ten, which has been reflected in recent NFL drafts. While certain pass offenses have improved this fall -- Northwestern, Illinois, Michigan -- the league still has four teams averaging fewer than 200 pass yards per game. Minnesota has only 28 completions in three games.
What's the cure?
Develop No. 2 options at receiver:
The No. 1 receivers around the Big Ten are pretty strong, from Penn State's
Allen Robinson
to Michigan's
Jeremy Gallon
, Nebraska's
Kenny Bell
to Wisconsin's
Jared Abbrederis
and Iowa's
Kevonte Martin-Manley
. But not enough teams have found second and third options early this season. The ones who have -- Indiana, Northwestern, Illinois -- are seeing good results through the air. It's important for teams like Iowa, Penn State and Wisconsin to find complementary pieces for the pass game.
September, 18, 2013
9/18/13
10:30
AM ET
Our question today across the major FBS conferences today is simple: What's ailing [conference X]?
That's a good question for the Big Ten and the Big 12. And maybe even for the doughty SEC. But not really for the Pac-12.
What's ailing the Pac-12? Not much. The Pac-12 is off to a rollicking good start, at least if you aren't USC and coach Lane Kiffin.
Still, not every team is content. A few have at least a case of the sniffles. Some have a legit fever.
What's ailing the Pac-12?
California
: The Bears, at 1-2, are the only Pac-12 team with a losing record. Of course, part of that is playing two ranked teams -- No. 18 Northwestern and No. 4 Ohio State.
Oregon State
: The Beavers have won two in a row since opening with a shocking loss to Eastern Washington, an FCS team, including a thrilling overtime win at Utah. Still, this was a ranked team coming off a 9-win season.
[+] Enlarge
Harry How/Getty ImagesUSC coach Lane Kiffin is on the hot seat now, but winning can cure that.
USC
: Coach Lane Kiffin entered the season sitting on one of the nation's hottest coaching seats. The 10-7 loss to Washington State in Week 2 set his seat afire, particularly considering the anemic offense and passing game was his responsibility.
Utah
: The Utes were so close to a 3-0 start and making a strong opening statement in Pac-12 play. But close only gets you a sympathetic sigh from Kevin.
What's the cure?
California
: Another schedule, perhaps? The Bears get Oregon next on Sept. 28 -- on the road! -- an ominous matchup for the nation's 120th-ranked defense. What Cal really would like is to get healthy. Even if a bunch of wins aren't forthcoming in year one under Sonny Dykes, it would be nice to at least know what would happen at full-strength.
Oregon State
: The Beavers' offense has been fine all season, but the defense has struggled, most notably against the two mobile QBs it has faced. Oregon State also is dealing with some injury issues. Getting healthy and stout on D would be a good start. By the way, the schedule is, as often noted, heavily backloaded. The Beavers need to win now because it won't be as easy going in late October and November.
USC
: Winning is the only thing that will cool Kiffin's hot seat. He's got a defense that's good enough to secure double-digit victories. The offense showed signs of life in a 35-7 win over Boston College. The turnaround game, however, is at Arizona State on Sept. 28. If the Trojans win in Tempe to improve to 4-1, fans might starting looking at the Pac-12 South Division race instead of at lists of potential new coaches.
Utah
: Utes fans will feel a lot better if their team wins at BYU on Saturday. Beating a state rival typically eases pain. But the upcoming schedule is brutal. The Utes are going to need at least one upset victory to earn bowl eligibility.
September, 18, 2013
9/18/13
10:30
AM ET
Well, after three weeks of football, we know that the SEC isn't perfect. Crazy to think, I know.
So what's ailing the SEC? Well ...
[+] Enlarge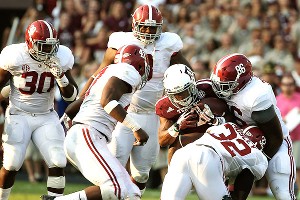 Scott Halleran/Getty ImagesEven Alabama's vaunted defense is getting gassed and gashed by fast-paced offenses.
No defenses:
It felt weird typing that, and I'm sure it felt even weirder reading that. But alas, the SEC has had trouble with its defenses. Heading into the weekend, the SEC has only four teams that rank in the top 40 nationally in total defense -- Florida (No. 3), Arkansas (No. 6), LSU (No. 10) and Ole Miss (No. 35). Notice you won't find Alabama on that list. Yes, the team that ranked No. 1 in total defense for the past two years and in the top five for five straight years sits at No. 86 nationally after giving up a school-worst 628 yards to Texas A&M last week. So the league known for stopping points from going on the scoreboard has six teams allowing more than 25 points per game.
What's the cure?
Amp up the early-morning conditioning:
With all these teams trying to run some sort of up-tempo offense, SEC defenses are sweating. We're talking Jadeveon Clowney, hands on his hips sweating (and panting). The fast-paced offense has become so popular that even Nick Saban's Crimson Tide ran a little of it against the Aggies. Some teams are very inexperienced (see Georgia and Texas A&M), but it really does look like teams just need their defensive players to get into better shape. Even teams such as Alabama and Vanderbilt (534 yards allowed per SEC game), which both brought back good experience, have underperformed. It can be tough this time of year with class and games, but there's time during the week to have a couple of extra sprints. My advice is to do it earlier in the morning. It boosts metabolism and can actually make people more energized throughout the day! Obviously, with games being every Saturday, the extra conditioning should be done Monday through Wednesday. That will give players an easier Thursday practice and you might as well scrap the Friday walk-throughs. You can't risk any sort of physical activity that might cause players to break any sort of sweat. This will help with endurance, and defensive players clearly need that this year. Also, load up on the water and Gatorade. I can't stress enough just how important it is for these guys to stay properly hydrated. Oh, and how about no more cross-country trips? I'm looking at you, Tennessee.