NCF Nation:

Connor Reilly
August, 29, 2013
8/29/13
9:02
AM ET
Notre Dame's long offseason comes to an end Saturday, as the Irish play host to Temple at 3:30 p.m. ET. What can they expect against the Owls?
When Temple has the ball:
Under former coach Steve Addazio, the Owls were a ground-and-pound team. Now they are without their top two backs from last season in Montel Harris and
Matt Brown
. They have a new coach in Matt Rhule, who has implemented a pro spread offense, which allowed quarterback
Connor Reilly
to ascend from the fourth team to starter since the start of this past spring. Leading receiver
Jalen Fitzpatrick
(30 catches, 363 yards, 2 TDs) is back. But
Cody Booth
, who led the Owls last season with four touchdown catches, has moved from tight end to left tackle. Former signal-caller
Chris Coyer
added 30 pounds this offseason as he moved to H-back. Notre Dame will likely look to pressure Reilly in his first career start and force him into some early mistakes, especially now that the Irish have a secondary that is better equipped to seize opportunities than it was last season.
When Notre Dame has the ball:
Tommy Rees
is Notre Dame's quarterback, again. So what changes? For one, Rees is two years older than he was the last time he started extensively for the Irish. He's a bit bigger, too. He has two proven receivers in captain
TJ Jones
and
DaVaris Daniels
, and some unproven talent behind them. Notre Dame's pistol package in camp has caused some buzz in South Bend, and it figures to help a crowded but mostly green backfield. Those tailbacks, by the way, should try to avoid linebacker
Tyler Matakevich
at all costs, as he is the reigning Big East rookie of the year and already one of the leaders of the defense as a sophomore captain.
Intangible:
This is 38-year-old Rhule's first game as a head coach. The former New York Giants assistant returned to the Owls after serving as an assistant under Al Golden. You never know how a new coach and his players will come out early, especially when entering a place with as much history as Notre Dame Stadium. The Irish, meanwhile, should know better than to look ahead to Michigan, as they had their 2011 opener ruined by what turned out to be a 3-9 Big East team (South Florida).
Prediction:
Notre Dame 31, Temple 6. The Owls may be the worst team the Irish face this season. Some early first-game hiccups will keep it from eventually getting too far out of hand.
August, 28, 2013
8/28/13
12:00
PM ET
SOUTH BEND, Ind. —
Tommy Rees
has control over Notre Dame's destiny for yet another season. And yes, the same was true last season, when he started just twice and made a handful of cameos despite relinquishing full-time No. 1 duties to Everett Golson.
"He was a backup quarterback, he was an assistant coach and kind of made everything go," Irish offensive coordinator Chuck Martin said. "If he would've taken a different stance, the whole season's probably completely different. I mean, he could've easily ruined the whole deal for everybody."
[+] Enlarge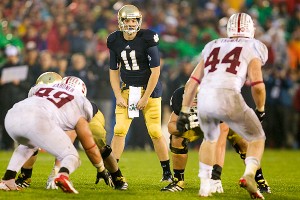 Cal Sport Media via AP ImagesTommy Rees served as a backup last season and declined to transfer. Now he's the starter.
And he could have done the same after the season, with Golson deemed the quarterback of the future and with playing time looking more scarce for the ever-reliable next-man-in.
How things have played out since then illustrates just how beneficial it has been for the Irish to have a signal caller like Rees, whose contingent got its wish when he replaced Dayne Crist in the 2011 home opener, only to turn on him when he replaced Golson late in the 2012 home opener.
"When you win 12, they don't remember what happened the second game of the year," Martin said. "You guys do, we do, but a lot of the fans don't. They forgot that they were booing him. They forgot that it's hard to lead a two-minute drive at home when you're getting booed off the field."
Rest assured, Rees will be a major factor in another Notre Dame Stadium opener this Saturday against Temple, after Golson was hit with a semester suspension from school in May for academic misconduct.
And Notre Dame hopes the lessons Rees learned from a 12-month period that began with a suspension of his own and culminated with the senior in command of the offense once more can help serve a program looking to turn last year's meteoric rise into something resembling the norm.
"I probably should give a lot of credit to my parents, the way I was raised," Rees said of the way he's handled his career. "I love my teammates. I love the guys that I'm out there with every day, so for me there's not really another option. You've just got to stay prepared, and when the moment comes for you, you've got to be ready for those guys, because you count on them, they count on you, and that's really what our team's been built on. People say it's a family all the time, but until you're a part of it and until you feel how close this group is, it's kind of hard to explain."
Perhaps tellingly enough, not a single question among the 42 asked during head coach Brian Kelly's 42-minute Tuesday press conference was about Rees.
[+] Enlarge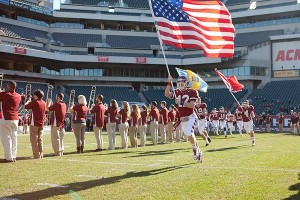 Courtesy of Mitchell LeffConnor Reilly, known for leading Temple onto the field, now will lead the Owls as quarterback.
For once, the closest thing to a quarterback drama comes from the visiting sideline, where
Connor Reilly
will start for Temple, winning over new coach Matt Rhule after entering the spring at No. 4 on the depth chart.
Interestingly enough, Reilly's father, Lt. Col. Neil Reilly, grew up in Rees' hometown of Lake Bluff, Ill. The connection between the two quarterbacks has led some in the 5,000-person community to label Saturday's tilt as the "Lake Bluff Bowl."
More importantly, Neil Reilly recently served with the Army in Afghanistan, and he flew a Temple flag over his battalion while deployed.
Connor Reilly repays the gesture by running onto the field before each game waving the same U.S. flag that his father flew as a squadron commander in the Army on several missions in Afghanistan.
"It's a really cool honor to do that for my dad, because I know he does that and serves and honors and protects my country," Connor Reilly said.
April, 23, 2013
4/23/13
9:00
AM ET
Connor Reilly
has never started a game for Temple, but Reilly made his mark on the Owls in every single contest over the past two seasons.
It was Reilly who led his teammates onto the field before kickoff,
waving an American flag
his father flew with as a squadron commander in the Army on several missions in Afghanistan. After the euphoria of each moment, Reilly retreated to the sideline, clipboard in hand, headset on to signal in the plays.
[+] Enlarge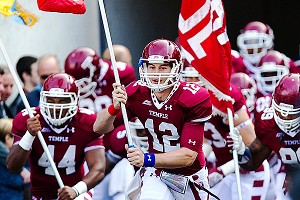 Howard Smith/USA TODAY SportsQuarterback Connor Reilly has led Temple onto the field before games. Now it appears he'll be leading the Owls in the huddle, too.
He never got much of an opportunity to win the starting job. For one, Reilly was relatively new to football, having picked up the game during his sophomore year of high school. For another, former coach Steve Addazio emphasized dual-threat quarterbacks in his spread system. Reilly was more of a pro-style kinda guy with a rocket for an arm, thanks to his baseball background.
Indeed, Reilly continued to play both sports last spring as
Chris Coyer
took the starting quarterback reps. And he continued to play both sports this year, too (though he has taken a two-week hiatus to focus on football). A new offensive emphasis under coach Matt Rhule, finally gave Reilly his opportunity.
Reilly's rise from last on the depth chart to first has been one of the biggest spring surprises in the league.
In the spring game this past weekend, Reilly went 25-of-41 for 366 yards and four touchdowns. Coyer -- the guy who used to get the signals from Reilly -- caught two of them in his new role as tight end/H-back.
Those are quite impressive passing numbers, when you consider just how poorly the Owls threw the ball last year. Yes, Temple was a run-first team. But when the Owls needed to pass the ball, they simply could not find any consistency. Temple ranked No. 116 in the nation in passing, and its quarterbacks completed an average of 52.5 percent of their passes. Only nine teams had a worse percentage.
Run-oriented Navy and Air Force posted better completion percentage numbers.
Perhaps more impressive, though, are these comments about Reilly from Rhule following the game Saturday: "I think what you see is, you see our team when he's out there kind of rallying around him and believe he's going to make a play."
Quarterback was one of the biggest question marks on this team headed into the spring, but it appears as if a guy who was not even in the discussion back in March has solidified his status atop the depth chart. Whether he continues to carry the U.S. flag onto the field this season remains to be seen.
But there seems to be little question that Reilly is a guy to root for when the season begins.
April, 19, 2013
4/19/13
9:00
AM ET
Nine of 10 Big East teams will be through with spring practices come Monday, with Rutgers serving as the outlier. With UConn, Temple and SMU all gearing up for their annual spring games this Saturday, here's a peek at what to look for.

UCONN
Fans in attendance for the noon start at Rentschler Field should keep an eye on how the offense moves under new coordinator T.J. Weist. The Huskies ranked 118th in total offense last year as coordinator George DeLeone was stripped of his duties, though he remains the offensive line coach. But the squad returns all five starters up front to protect incumbent quarterback
Chandler Whitmer
, as well as top running back
Lyle McCombs
, as the unit will look to keep pace with a defense that was nothing short of outstanding last season but is down a few stars who will hear their names called next weekend in New York.
Hank Hughes is the new man in charge of the defense, and he has
Yawin Smallwood
back to anchor a unit that has said goodbye to
Sio Moore
,
Jory Johnson
,
Trevardo Williams
and
Blidi Wreh-Wilson
. The Huskies boast plenty of potential in the middle with linebackers
Graham Stewart
,
Ryan Donohue
,
Jefferson Ashiru
and
Omaine Stephens
-- but that is just potential, for now.
UConn needs answers on both sides of the ball if it hopes to improve off head coach Paul Pasqualoni's consecutive 5-7 seasons.

SMU
The Mustangs will have an open practice at 9 a.m. local time at Pettus Practice Field, with many current and former players signing autographs afterward. There will be an NFL Punt, Pass and Kick competition afterward for kids ages 6 through eighth grade.
The Mustangs are intriguing, first and foremost, because they brought Hal Mumme aboard as their assistant head coach and passing game coordinator. Pairing the Air Raid curator with head coach June Jones and his run 'n' shoot pedigree is a fascinating experiment in and of itself.
Kenneth Acker
, who is coming off a second-team All-Conference USA season in the secondary, is another experiment this spring, with the staff splitting the cornerback wide to catch some passes with the offense.
Defensively, the Mustangs are replacing a bulk of their production from last season, with
Margus Hunt
,
Ja'Gared Davis
and
Taylor Reed
all gone.
Kevin Pope
and
Robert Seals
must step up at linebacker.

TEMPLE
Head coach Matt Rhule's first spring will feature live kicking and punting, normal scoring and 15-minute quarters. Who will eventually emerge as quarterback, however, is another matter. Juice Granger and
Thomas Rumer
will see action on the Cherry squad, which is coached by defensive coordinator Phil Snow, while
Chris Coyer
and
Connor Reilly
will take reps for the White team, coached by offensive coordinator Marcus Satterfield.
Reilly has thrived under the pro-style attack, ascending to No. 1 on a depth chart that was expected to see Coyer and Granger fight for the top spot. Coyer has seen time as an H-back in practice, but Rhule said he will remain under center.
Kevin Newsome
, out with a shoulder injury, has been moved to H-back.
Reigning conference freshman of the year
Tyler Matakevich
leads a defense that struggled across the board last season, while
Levi Brown
and
Sean Daniels
are the big guys up front worth keeping an eye on.
The live kicking and punting part of Saturday's 1 p.m. contest at Edberg-Olson Hall is worth noting in that the Owls need to replace
Brandon McManus
, who held the school records for field goals made and punting average.
July, 18, 2012
7/18/12
9:00
AM ET
The American flag came folded up in a special package to the Temple football office, delivered just before the start of the 2011 season, with backup quarterback Connor Reilly in mind.
His father, Lt. Col. Neil Reilly, flew with the flag as a squadron commander in the Army on several missions in Afghanistan. Neil Reilly sent the flag to show his love and appreciation for the school and his son, a gesture many in the military make to the most special and supportive people in their lives.
What Neil Reilly could not have known when he sent the flag was how Connor would end up honoring him every game day.
[+] Enlarge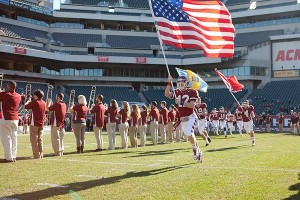 Courtesy of Mitchell LeffTemple reserve QB Connor Reilly ran onto the field before every Owls game last season.
As a third-string quarterback at Temple, Connor Reilly does not get much playing time. But you can say he had the most meaningful job of anybody on the Owls sideline.
Coach Steve Addazio suggested that Connor run onto the field before every game waving that U.S. flag, as way of paying tribute to his father and the many others fighting for our freedom.
Connor Reilly, incredibly humbled, said he would.
But he kept it a secret from his family. He wanted to wait until his father could see him run out with the flag in person.
Neil Reilly was scheduled to return to the United States on leave in September, and set to attend the home game against Penn State on Sept. 17. Connor ran onto the field with the flag, to the incredible surprise of his family members in the stands. His mother cried. But his father was delayed, and
did not arrive until halftime
. Neil learned what Connor did as soon as he took his seat.
After the game, a tough 14-10 loss, father and son embraced. And cried.
"I was overwhelmed," Connor Reilly said in a recent phone interview. "I felt pretty cool to be able to do that."
Neil Reilly said, "I don't think you understand the magnitude of the event until you're there to see it, and it's really the appreciation of not only the other folks at the game but the fact that your son -- who's playing two sports in college and a teenager -- is putting that effort into it. That just demonstrates he supports what I'm doing, it's a role reversal if you will. Usually it's the parents that are there to support their children."
Neil showed his support as well. While deployed from February 2011 until February 2012, he served as the commander of the 7th Squadron, 17th Calvary Regiment of the 101st Division (Air Assault). The unit was a helicopter task force that flew reconnaissance and security missions throughout Kandahar Province in support of ground forces. On every single one of his missions, he flew with the Temple flag.
That was his idea. On Nov. 10, 2010, he and his wife attended the Temple-Miami (Ohio) football game. Before the game began, he told the coaches he would be honored to fly the Temple colors. Director of football operations Ed Foley and athletic equipment supervisor Paul Kelly gave Neil Reilly the Temple flag that is carried into the stadium on game days.
[+] Enlarge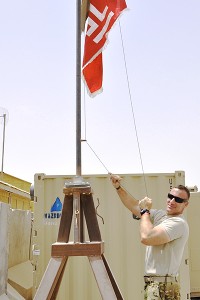 Courtesy of Reilly familyLt. Col. Neil A. Reilly carried the Temple flag with him on his recent mission to Afghanistan.
In addition to flying with the flag, Reilly also flew it beneath the Squadron Battle Flag over his command post. He returned the Temple flag to the football offices before the start of the 2011 season. In the same package, he enclosed an American flag and a certificate that had pictures of the Temple flag proudly displayed on base.
Neil Reilly is stateside again, and recently moved to the Joint Readiness Training Center in Louisiana. Connor Reilly only played in three football games last season, but he got his shot on the baseball field, and became the only two-sport male athlete at Temple. Reilly started 38 games in the outfield, hitting .263 with 36 hits and 25 RBI.
Baseball is, in fact, his first love and it is a sport that runs in the family. Neil played for the Texas Rangers. Connor's grandfather played for the Philadelphia A's and Seattle Rainiers. Connor did not play baseball in his first season at Temple because he wanted to see how football turned out for him first, particularly because of the coaching switch to Addazio.
After his freshman season, he asked Addazio if he could do both, and the coach said yes. Now that he's done both for a season, Connor has no plans to give up one sport. This season, Connor will continue to wear a headset and signal in the calls from the sideline to starting quarterback
Chris Coyer
.
And of course, he plans to continue running onto the field with the U.S. flag.