NCF Nation:

Conor Hanratty
May, 9, 2013
5/09/13
10:30
AM ET
SOUTH BEND, Ind. --
Matt Hegarty
was about to put his pads on before a Nov. 8 practice when he forgot what he was going to say to fellow lineman
Conor Hanratty
. Perplexed, he wondered if he had gotten enough sleep the night before.
"It was just a really confusing day, honestly," Hegarty said. "You wake up, go to class, you write notes in your book just like you normally do, and then it kind of does a 180 on you."
The writing and speaking were temporarily halted, and breathing was uneasy. He approached Notre Dame head athletic trainer Rob Hunt. Stroke symptoms were detected, and Hegarty soon found himself in the hospital. Less than 24 hours later, doctors determined that Hegarty had two previously undetected holes in his heart -- adding up to roughly an inch in missing tissue -- which caused a ministroke that shelved any thoughts of contributing to a national title chase and set in motion a spring comeback and a chase at a starting job.
Six whirlwind months later, Hegarty's last hurdle to climb is the depth chart, where he chased
Nick Martin
this spring for a shot at the Irish's starting center job.
"It's a big event in your life," Hegarty said of the ministroke. "And as much as you try to not think about it, you want to push on and think about, 'What's the next step?' I've got to take care of this final. I've got to write this paper. I've got to go to this doctor and visit.
[+] Enlarge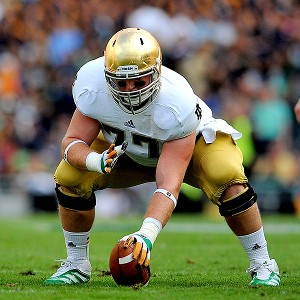 Tommy Grealy/Icon SMICenter Matt Hegarty filled in for the injured Nick Martin on Saturday and the Irish O-line didn't miss a beat, rushing for 235 yards against BYU.
"It kind of creeps in a little bit on you. I think the best part is getting back to business and going out there doing practice, doing everything that I normally do and seeing that everything's back to normal. I don't have anything to worry about."
Hegarty met with an occupational speech therapist after the episode. On Dec. 14, Dr. Ronald Nelson went up his thigh with a catheter to patch the holes in Hegarty's heart. Not long after, Hunt, the trainer, had Hegarty using an elliptical machine until he could resume weight-lifting, which he was eventually cleared to do in February, a hurdle he considered among the most significant.
"You kind of find yourself in the weight room, and I was able to find myself," Hegarty said. "Get back in there, you're throwing weight around, you're like, 'All right, it's back to business.' I felt great, it's what I do. Back to normal."
The new normal for Hegarty contains a greater sense of appreciation, but doctors told him that the heart repair has also given him up to 20 percent more oxygen in his bloodstream.
"Matt likes to say, 'I am 20 percent better than before, but it was a heck of a way to get better,' " his father, Bryan, said.
Hegarty is off the Plavax and Coumadin he was initially prescribed, now just taking a baby aspirin until June and possibly in the future before he travels long distances.
With the initial scares and most difficult obstacles now shoved to the side, Bryan Hegarty has looked at the timing of the ordeal that his son faced as a blessing.
Yes, Hegarty had to be shut down for the stretch run of a season that ended in the Discover BCS National Championship, but the recovery process allowed for a return to spring ball and a seemingly clean slate, with a first-team spot open in the middle of the line for the Aztec, N.M., native.
"Very foreign," Irish offensive line coach Harry Hiestand said of dealing with Hegarty's injury. "And I think that the scary thing is just the unknown. You understand elbow, you understand a knee, you understand an ankle, you understand shoulders -- you don't have much experience with a guy's heart and issues there.
"But when you're around him, you see his attitude about it and the smile on his face and the determination on his face. You kind of shake it off: 'Hey, let's go to work.' That's what you want, to be the best we can. The way he's handled it and his approach to things is just outstanding."
For Christmas, Bryan Hegarty gave Matt a copy of former NFL player and current ESPN analyst Tedy Bruschi's book, "Never Give Up: My Stroke, My Recovery and My Return to the NFL," a memoir that helped fast-track Hegarty mentally.
His father said that it had initially taken the 6-foot-4.5, 291-pound third-year junior about a month to get over the fact that something like this could happen to him.
"When you're young, you're invincible. What's hard about this thing is it wasn't like an MCL tear, because you don't feel it," Bryan Hegarty said, referring to a prep injury Matt had suffered. "My wife used to be a therapist, so she has a good way of talking to Matt."
Back on the Loftus Sports Center practice field this spring, Hegarty's biggest concerns were dealing with Louis Nix and the rest of Notre Dame's relentless defensive line, a different but welcome dose of anxiety that is as sure a sign as any that the converted tackle's toughest battles are behind him.
"It takes two," head coach Brian Kelly said. "His family was involved. Really from a consensus standpoint, everybody was on the same page with this kind of serious condition. He had the best doctors. He had great followup. He took care of himself. I just think it was everybody pulling in the right direction to get him back on the field, where he feels very, very confident that he can go every single day and not have to worry about his health."
January, 3, 2013
1/03/13
2:31
PM ET
DAVIE, Fla. —
Everett Golson
was much more vocal Thursday than he was in fall camp, naturally. That was one of the first things that jumped out during the media's first viewing of Notre Dame practice since August.
Here are a few other notes and observations from Nova Southeastern University — the practice facility of the Miami Dolphins — as media members were allowed to watch the first 15 minutes, which consisted mostly of tempo drills. (Defense was on an opposite field, so the offense received most of the visitors' attention.)
DaVaris Daniels looks pretty much recovered from the broken left clavicle he suffered Nov. 10 at Boston College, as he was active throughout. Offensive coordinator Chuck Martin jumped on the redshirt freshman at one point, telling him if his running wasn't better on a particular route, then the Irish would have no chance.
Freshman quarterback Gunner Kiel, normally No. 1, was wearing a No. 10 jersey to play the role of Alabama quarterback AJ McCarron on the scout team.
Head coach Brian Kelly alluded to depth concerns on the offensive line, and he wasn't kidding. The second-team offensive line consisted, from left to right, of Nick Martin, Conor Hanratty, Mark Harrell, Bruce Heggie and an unidentified walk-on wearing No. 76. (Hanratty and Harrell were both wearing No. 65, too.) Tate Nichols (knee) and Ronnie Stanley (elbow) have been out, as has Matt Hegarty for a non-football medical issue.
March, 28, 2012
3/28/12
9:00
AM ET
With Notre Dame a week into spring practice, the fifth-year players officially returning and the 2012 recruiting class finalized (we think), let's break down the Irish's complete roster, position-by-position, as it gears up for Year 3 under Brian Kelly.
We'll start with the offense today and delve into the defense tomorrow, with special teams coming Friday.
QUARTERBACK
The players:
Tommy Rees
,
Andrew Hendrix
,
Everett Golson
, Gunner Kiel
The incoming:
None
The breakdown:
Experience is the only real way to rank these guys, as Rees has 16 starts, Hendrix has played in five games, Golson has sat a year learning the offense and Kiel arrived on campus just two months ago. Nonetheless, that likely won't matter as Kelly goes to a square-one approach, opening the playbook from the beginning to allow for a fair chance for everyone. The decision -- which will likely be up in the air deep into the summer -- may prove to be Kelly's biggest so far with the Irish.
RUNNING BACK
[+] Enlarge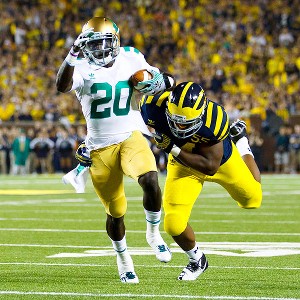 Rick Osentoski/US PresswireCierre Wood is still the clear favorite in Notre Dame's backfield, but the Irish have other running backs ready to vie for playing time.
The players:
Cierre Wood
,
Theo Riddick
,
George Atkinson
,
Amir Carlisle
, Cam Roberson,
Tyler Plantz
The Incoming:
Will Mahone, KeiVarae Russell
The breakdown:
Wood is the clear No. 1, as he was heading into last season as well. Riddick broke off a pair of huge runs toward the end of Saturday's scrimmage, and Kelly wanted both him and Atkinson to see more time back there as Wood rested with a minor quad injury. (Kelly said Wood did go in the rodeo drill earlier.) Both Riddick and Atkinson are capable of playing in the slot, and may end up seeing more time catching balls this season than taking handoffs, though Tony Alford will coach both regardless.
Carlisle, the USC transfer, is eligible to play in 2012 but out for the spring with a broken ankle. Where he fits in will be interesting, as carries may be hard to come by if Atkinson really progresses this spring in the backfield. The 5-foot-10, 185-pound Carlisle was featured on kickoffs last season with the Trojans, and there, or on the punt return team, may prove to be the fastest way on the field for him.
WIDE RECEIVER
The players:
John Goodman
,
T.J. Jones
,
Robby Toma
,
DaVaris Daniels
,
Daniel Smith
,
Luke Massa
,
Eric Lee
,
Nick Fitzpatrick
,
Ryan Liebscher
The incoming:
Justin Ferguson, Davonte Neal
The breakdown:
Goodman has talked about making the most of this last chance, and the coaching staff would not have invited him back for a fifth year had it not believed in him. Whether he can be a top target is up in the air, but he should bring some stability and leadership to a group loaded with youth. Jones has been solid through two years and Kelly has said he is on the cusp of breaking out. Toma has done everything asked of him and then some in the slot when replacing the oft-injured Riddick, and he may have the position to himself this year.
Daniels has the complete package physically, but he has yet to take a snap after redshirting last season. He was seen running with the 2s to start spring, but that could easily change with a strong showing. Smith, too, ran with 2s to open spring, but he must stay healthy first. Ferguson has the tools to compete for playing time upon arrival, but that could likely depend on how the incumbents step up in front of him. Neal is pegged as an athlete, but Kelly said there are no plans right now to play him at corner upon his arrival. He could possibly be a playmaker at receiver or on special teams.
TIGHT END
The players:
Tyler Eifert
,
Troy Niklas
,
Alex Welch
,
Ben Koyack
,
Jake Golic
,
Arturo Martinez
The incoming:
None
The breakdown:
We all know what Eifert can do, which is why he almost entered the draft this year. Niklas is the big question mark. And by big, we mean it literally. A switch from linebacker -- where he started one game last fall as a freshman -- to tight end for the 6-7, 252-pounder has many excited to see what the offense can do with a potential two tight end set. Everyone saw what the
New England Patriots
did last year with
Rob Gronkowski
and
Aaron Hernandez
.
It would be foolish to expect that much so soon -- both without
Tom Brady
as the Irish's quarterback and without Niklas having played the position since high school. How quick Niklas can master the playbook and blocking could go a long way in seeing some of these sets come to fruition. The move does leave some to wonder what this means for Welch and Koyack, but the duo is young and, according to tight ends coach Scott Booker, up for the challenge.
OFFENSIVE LINE
The players:
Zack Martin
,
Chris Watt
,
Braxston Cave
, Mike Golic,
Tate Nichols
,
Christian Lombard
,
Bruce Heggie
,
Jordan Prestwood
,
Matt Hegarty
,
Conor Hanratty
,
Nick Martin
,
Brad Carrico
,
Matt Tansey
,
Dennis Mahoney
The incoming:
Mark Harrell, Ronnie Stanley
The breakdown:
Cave will not be playing much, if at all, this spring as he recovers after injuring his foot last season. Golic, who started in his place, is the center with Cave out, but it would not be surprising to see Golic move to right guard upon Cave's return. Right now Lombard is manning the right guard spot, with Nichols at right tackle. How the second unit gets shuffled upon Cave's return to the starting unit remains to be seen, but to open spring, it consisted of Heggie, Prestwood, Hegarty, Hanratty and Martin.