NCF Nation:

Cooper Helfet
February, 22, 2012
2/22/12
9:00
AM ET
Duke begins spring practices today with an experienced quarterback in three-year starter
Sean Renfree
, one of the ACC's most accomplished receivers in
Conner Vernon
, and an experienced, more athletic offensive line. So what can Duke fans expect in a season that should feature a wide-open Coastal Division race? I caught up with Vernon on Tuesday to get his take on the Blue Devils this season. Vernon is the only player in ACC history with multiple seasons of 70-plus receptions (73 in 2010; 70 in 2011). With 198 career receptions, he is now 34 catches away from matching the league record of 232 held by Clemson's Aaron Kelly (2005-08). With 2,675 career receiving yards, Vernon needs 842 yards to equal the conference mark of 3,517 yards held by Florida State's Peter Warrick (1996-99). He's a key piece to Duke's bowl hopes this year, but he'll be limited a bit this spring because he's still recovering from an ankle injury he suffered at the end of last season.
Here are the highlights of our conversation:
What's different about Duke football this year? What can Duke fans be encouraged about?
Conner Vernon:
Definitely just how young of a team we were last year, and how a lot of them have really grown up a lot and shown flashes of greatness early. That's something Coach Cut [David Cutcliffe] has preached a lot about this offseason, about being great, and that good isn't good enough anymore. A lot of guys have stepped up big, and a lot of young guys have stepped up big. My impression is that that's created a lot of competition with the older guys and we're looking forward to starting [today].
[+] Enlarge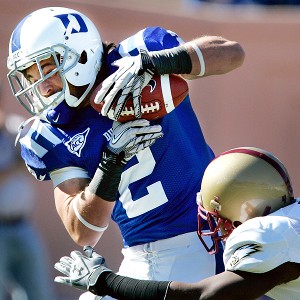 Mark Dolejs/US PresswireDuke's Conner Vernon is on the brink of breaking several ACC receiving records.
You mentioned that Coach Cut said good isn't good enough at this point. What's it going to take for you guys to take the next step?
CV:
That's something we're going to figure out and we'll find that out as a team. The competition level is going to keep going up at practice, which is going to push more guys. That's what we need. We have a great recruiting class coming in and last year's class, a lot of those guys have stepped up and it's going to be fun. That's what I think he's trying to get at, letting guys know we have a lot of guys coming in who are great and are going to push us to the limit and it's going to be good for all of us.
Just from a personal standpoint, how badly do you want to see all of this hard work finally translate into a bowl game this year?
CV:
Oh, more than anything I've ever wanted. Not only do the players who have been here for the last four or five years, coaches, staff, Duke University itself, the fans and alums, it's time to put Duke back on the map, get to that bowl and get over the hump. This whole university and the people around it definitely deserve it.
Because you guys have been so close under Cutcliffe, but it hasn't happened, why is everyone still believing and buying in?
CV:
Because it shows. It shows out there. I'm sure you can ask any team in the ACC that it's shown and it's something that they can't take Duke for granted anymore. Even though the win-loss column may not show it, you can tell teams are respecting Duke a lot more. It's only going to get better.
I look at what you guys have coming back on offense and it seems pretty good with Sean Renfree being in his third season as a starter. What do you think you guys are capable of this year offensively?
CV:
The sky is the limit for us. We have some set offensive goals and we're hoping to achieve them, but from a passing standpoint and running standpoint, we look very good.
Without [Donovan] Varner and [Cooper] Helfet it seems like you're the main man out there. How do you feel your role will change out there, not that you haven't been a productive part of Duke's offense in recent years?
CV:
I think I'm going to have to take more of a leadership role. Cooper and Donovan were leaders on the offense, along with Sean. Just them being seniors as a group and gone, it's kind of like it's my turn now. I would say just trying to take more of that role and it's definitely going to be my biggest challenge this offseason.
You're 34 catches away from setting a league record, and 842 yards away from another league record. How much do you think about those things and care about them, and are they goals of yours for the season?
CV:
They're definitely subplots of this trip, my four years here. But definitely my first and foremost goal is putting Duke football back on the map and getting to that bowl game and having more wins than losses this year. If the record comes, great, but the only record I'm really worried about is the one for Duke's team at the end of the year. I'll do everything in my power to make that happen, and I'm sure if we're in a bowl game this year those records will be right there behind it. I'm looking forward to the challenge, but Duke comes first before the individual records.
August, 25, 2011
8/25/11
9:00
AM ET
Duke tight end
Cooper Helfet
has played Division I lacrosse.
He has played two seasons as a receiver at a junior college in California.
Now, finally, entering his second season as a tight end in the ACC, Helfet is the most comfortable and most prepared he's been as an athlete and he could be one of the best tight ends in the ACC.
[+] Enlarge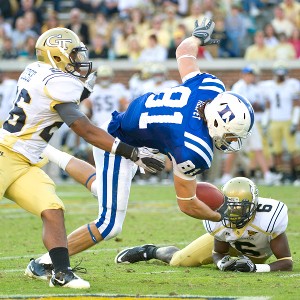 AP Photo/Rich AddicksCooper Helfet expects to be a more well-rounded tight end this season.
NC State's
George Bryan
has gotten all of the attention for the position as a first-team all-conference selection, but Helfet has become a more complete player this offseason and could push Bryan for the spotlight. Last year, Helfet played in 11 games and started one and finished fourth on the team with 34 catches for 380 yards and two touchdowns. This year, he's a projected starter and his improved blocking skills combined with his ability to stretch the field vertically will make him a key player in Duke's pass-happy offense.
Helfet said he's grown "a ton" since arriving at Duke.
"I was a receiver at the JC," he said. "I ran a lot of similar tight end routes, where it's a lot of over-the-middle things, a lot of big body catches, but I never put my hand in the dirt. Coach Ron Middleton is probably the best coach I've ever had. He's gotten me exactly where I need to be. In a very short period of time, he's gotten me to be a tight end, which you'll see a lot more of this year, more of real tight end, hopefully."
By that he means he'll be blocking a lot more. Last year Helfet was used on mainly pass plays, but this year he'll incorporate more three-point stance blocks and motion blocks.
"You'll see me get my face into some guys this year," he said. "I struggled with it last year, just based on a technique standpoint, so I've gotten that this year. I've really focused on it."
He's come a long way from being an unheralded but talented three-sport high school athlete.
Helfet suffered a back injury during his junior year at Redwood High School in California, which he said derailed his recruitment and changed the course of his path. He received a lacrosse scholarship offer from Johns Hopkins and decided to give it a try.
"I just really wanted to play a really competitive DI sport at the highest level, so I got there and tried it out, but lacrosse was never my true passion," he said. "It wasn't for me. I couldn't give it everything I wanted to give. I wanted to go back to playing football."
The junior college route seemed to be his best option. During two seasons at Santa Rosa Junior College, Helfet had 68 receptions for 1,039 yards. It was a successful detour, but Helfet said he's finally at the place he wants to be as a collegiate athlete.
"I just wanted to be in a place where I could compete and play Division I football," he said. "Obviously the ACC is a big-time conference, and they're putting me in a position where I can be an effective player. That's really all I wanted."
It's up to him this fall to show just how effective he can be.
February, 28, 2011
2/28/11
9:00
AM ET
Attention: There was actual ACC football played on Saturday -- 75 snaps in Wallace Wade Stadium.
Duke, the first ACC team to start spring practices, had its first spring scrimmage on Saturday, and the offense was the highlight. While it should be noted that five projected defensive starters were out with injuries, this is the kind of offensive progress Duke needs to see this spring, particularly in the running game. Defensively, it was a chance for some younger players to get some significant snaps.

OFFENSIVE HIGHLIGHTS:
Quarterback
Sean Renfree
, who could be the lone returning full-time starting quarterback in the Coastal Division, accounted for three touchdowns and running back
Patrick Kurunwune
had 154 yards on eight carries. Renfree completed 7 of 13 passes for 129 yards with touchdowns of 18 yards to tight end
Cooper Helfet
and 55 yards to wideout
Brandon Braxton
. Renfree also rushed for a 3-yard touchdown. Kurunwune took off on runs of 27, 37 and 75 yards en route to averaging an impressive 19.3 yards per attempt. Fellow running backs
Desmond Scott
and
Juwan Thompson
added 50 and 41 yards on the ground, respectively.
Thompson (62 yards) and wideout
Conner Vernon
(42 yards) led all receivers with three catches each while tight end
Braxton Deaver
finished with two catches for 63 yards.
DEFENSIVE HIGHLIGHTS:
Safety Jordon Byas led the defense with two pass breakups, one caused fumble and one fumble recovery. Defensive tackle Jamal Bruce chipped in a tackle for loss while linebacker C.J. France and defensive end Nick Sink combined on one quarterback sack. Duke is missing three injured players this spring -- linebacker Kelby Brown, safety Lee Butler and defensive end Kenny Anunike -- and noseguard Charlie Hatcher and safety Matt Daniels didn't dress for the scrimmage because of minor injuries.
QUOTABLE:
"I thought we ran the ball really well today," Renfree said, according to the team's scrimmage report. "I think it has to do with being multiple, and mostly it has to do with the performance of our offensive line. They did a great job. We've got a lot of good running backs and if you get holes for them, they're dangerous. That was lot of fun to see."