December, 24, 2011
12/24/11
11:46
PM ET
No. 21 Southern Miss beat Nevada
24-17 in the Sheraton Hawaii Bowl
on Saturday night. Here is a quick breakdown of how it happened:


How the game was won:
One definitive drive. Incredibly, two of the most potent offenses in the nation slogged through most of this game. Special teams were a mess on both sides -- Nevada had a punt blocked and lost a fumble on a kickoff; Southern Miss lost fumbles on a kickoff and a punt return. Midway through the fourth quarter, each team had more punts than first downs. But finally, the Golden Eagles woke up with seven minutes to play.
Austin Davis
fired a 43-yard pass to
Dominique Sullivan
. Davis completed the drive with a 4-yard touchdown pass to
Kelvin Bolden
. It was the longest drive of the game for the Golden Eagles.
Turning point:
The 43-yard pass to Sullivan might not have gone for a big play had Nevada defensive back Isaiah Frey not gambled. Frey went for the interception and missed, allowing Sullivan to race 20 more yards.
Player of the game:
Southern Miss defensive end Cordarro Law. After Nevada gashed Southern Miss on the ground in the first half, Law helped his teammates put an end to that. He had a huge impact in the second half, and ended the game with seven tackles (three for loss) and two sacks.
Second guessing:
Nevada had a chance to answer the go-ahead Southern Miss score. On fourth-and-1 from midfield with 4:01 to go, coach Chris Ault called a running play between the tackles. The Wolf Pack had early success running in that direction, but they had been stymied the entire second half.
Lampford Mark
was tackled for no gain, and that did it for Nevada. After Mark had 162 yards and two touchdowns in the first half, he had 22 after the break.
What it means for Southern Miss:
The Golden Eagles won a school-record 12 games to cap the best season in school history. But now they have to move on without coach Larry Fedora and record-setting quarterback Davis. Fedora moves on to North Carolina, while Davis will try for a shot in the NFL. Both were instrumental in this team's success this season.
What it means for Nevada:
The Wolf Pack played their final game in the WAC, as they head to the Mountain West in 2012. They are now 0-4 in their past four appearances in Aloha Stadium and continue to have key breakdowns on defense late in games. In its past three defeats, Nevada has either been tied or had a lead in the fourth quarter, and lost.
Cody Fajardo
was benched in the second half in favor of
Tyler Lantrip
because he was ineffective, so the Wolf Pack are going to need much more consistency out of him if he is to lead this team going forward.
December, 23, 2011
12/23/11
2:30
PM ET
You saw the preview and prediction. Now here are three keys for Nevada and Southern Miss heading into the Sheraton Hawaii Bowl on Saturday night at 8 p.m. on ESPN.
Nevada (7-5)

1. Block Jamie Collins and Cordarro Law.
For the Wolf Pack to have any success with their Pistol offense, they are going to have to take stock of these two players, who have been terrific at making plays behind the line of scrimmage. Southern Miss ranks No. 20 in rush defense, and Collins and Law are a big reason for that. Collins, who plays the hybrid end/linebacker role, really does a nice job shutting down the perimeter. He has 94 tackles this season, with a team-leading 19.5 tackles for loss (tied for No. 10 nationally) and 6.5 sacks. Law has 7.5 sacks, 17.5 tackles for loss and four forced fumbles.
2. Consistent defense.
One of the biggest reasons Nevada struggled late in the season was because of inconsistent play on defense, especially in the secondary. This group will be facing one of the most balanced teams it has played this season, so it has to be ready for equal doses of runs and passes, and has to be on the lookout for
Austin Davis
scrambling out of the pocket, too. It is a cliche to say Nevada has to play assignment-sound, but it totally fits the bill here.
3. Rishard Matthews advantage.
Matthews is the best, most consistent player the Wolf Pack have on offense, so it will be critical to get the ball to him in what appears to be a huge matchup advantage. Matthews leads the team with 91 receptions for 1,364 yards and eight touchdowns. He most likely will be paired against Deron Wilson, and has a huge size advantage on the cornerback (4 inches, 40 pounds).
Southern Miss (10-2)

1. Big plays in the pass game.
Davis has been terrific this season in leading Southern Miss, and he will have an opportunity to take advantage of the biggest area of weakness Nevada has on defense -- the secondary.
Ryan Balentine
and
Kelvin Bolden
each have more than 600 yards receiving and have been the most consistent threats in the pass game. The Golden Eagles also are effective at getting the ball to
Tracy Lampley
out of the backfield.
2. Block Brett Roy.
No question Nevada will try to get Davis off his rhythm by getting after him. Roy, a first-team WAC defensive tackle, had 10 sacks and 18.5 tackles for loss, and is the best player on the Wolf Pack front. Nevada has been solid at generating a pass rush this season, but the big problem facing Nevada is Davis' escapability and a solid offensive line that has only allowed 15 sacks all season.
3. Make Cody Fajardo win it.
Fajardo has shown flashes this season, but this defense has been excellent at putting major pressure on quarterbacks and forcing mistakes. Just ask
Case Keenum
, who had his worst game of the season against Southern Miss. Dan Disch has done a great job installing his 4-2-5 scheme, and Southern Miss has set a new FBS record with eight interception returns for touchdowns. You can bet this group will be hoping for a few more against the redshirt freshman quarterback.
December, 7, 2011
12/07/11
10:00
AM ET
SOUTHERN MISS GOLDEN EAGLES
Record
: 11-2, 6-2 C-USA
You gave Southern Miss a chance in the Conference USA championship game, right? Nobody outside Hattiesburg did. But the Golden Eagles pulled off one of the biggest upsets of the season, beating No. 6 Houston 49-28 to win its fifth league championship but first C-USA title game. It was an impressive defensive performance, one that featured the team's eighth interception return of the season to set a FBS record.

The win gave Southern Miss a school record 11 wins. The school had only two 10-win seasons over its first 100 years since the program began. This also is the program's 18th straight winning season, the fourth longest streak in the FBS behind Florida State, Florida and Virginia Tech. What is hard to believe is this team could have been undefeated, if not for losses against one team that finished .500 and another that had a losing record.
Offensive MVP:
Austin Davis
, QB. Davis has set just about every career quarterback record in school history and passed single-season marks against Houston for touchdown passes (28) and passing yards (3,331). It was the third time in his career Davis threw four touchdown passes in a game. He also added 332 yards rushing on the season and three touchdowns on the ground as Southern Miss went over 6,000 yards of total offense for the first time in school history.
Defensive MVP:
Cordarro Law, LB. Law had 17.5 tackles for loss and a team-high 7.5 sacks for the Golden Eagles, and he was unstoppable against Houston, with 2.5 tackles for loss, one sack and a hurry. Defensive back Marquese Wheaton deserves mention as well after registering three touchdowns on the season off two interceptions and one blocked field goal return.
Turning point:
A 48-28 win over East Carolina. The victory was the seventh in a row for the Golden Eagles after they dropped an early game against Marshall, and essentially allowed them to take control of the East Division. This game also featured two interceptions returned for a touchdown. Jamie Collins returned one 97 yards for a score, and Deron Wilson had one that went 79 yards as the Golden Eagles used their opportunistic defense to help them win.
What's next:
Southern Miss will head to its 10th straight bowl game, playing Nevada in the Sheraton Hawaii Bowl. But the Golden Eagles may have to start looking for a new coach. Larry Fedora is reportedly the choice at North Carolina after four seasons at Southern Miss. They will also lose Davis and Law, the backbone of their team this season, so there will be plenty of changes for 2012.
December, 3, 2011
12/03/11
4:12
PM ET
Houston was so close to making history.
All the Cougars had to do was beat Southern Miss in the Conference USA championship game to clinch a spot in their first BCS game.
So close.
No. 24 Southern Miss completely dominated No. 6 Houston and Heisman trophy candidate
Case Keenum
, burying the Cougars
49-28
behind the strength of their aggressive, physical, opportunistic defense. The victory gives the Golden Eagles (11-2) their first win in the C-USA title game.
Now the BCS is thrown into flux, as the Cougars (12-1) are out of the mix after a season full of records. That's a $17 million loss for Conference USA.
Keenum came back for his sixth season to make history, and he did that as the NCAA record holder for passing, touchdowns and total offense. He led the Cougars to a school-record 12 wins, too. But nobody in Houston cares much about the record books right now. Houston needed this win in the worst way, but Larry Fedora outcoached Kevin Sumlin in the biggest game in Houston history.
From the start, the Cougars looked off-kilter because Southern Miss applied heavy pressure and simply dominated the Houston offensive line. Keenum never got comfortable, never got in a good rhythm, and that was a big reason the Cougars could never claw back after going down 14-0 early.


They managed to tie it in the second quarter at 14, but Southern Miss answered right back when
Austin Davis
threw a 69-yard touchdown pass to
Dominique Sullivan
on the next drive. That was as close as the Cougars got. Hard as it might be to believe, Houston never led in this game.
Keenum, who came into this season with just three interceptions, threw two in this game. One was in the end zone to kill a drive. The other was returned for a touchdown, giving Southern Miss an FBS-record eight interceptions returned for a score this season.
What is most impressive about this Southern Miss D is this: First-year coordinator Dan Disch installed a completely new 4-2-5 scheme when he arrived on campus. Generally it takes about a year for a team to really take to a new style of play. But not this unit. Earlier this week, Fedora said his players bought into the scheme immediately.
"We knew in making that change that there wouldn't be time for a learning curve so we told the kids, 'There is not time for a learning curve, you're going to have to spend whatever free time you have learning this system as quickly as possible.' They all bought in. They were excited about it and they learned it very quickly. You have to give credit to Dan Disch and the defensive staff for making things simple."
Cordarro Law, who has been outstanding all year, was a particular source of trouble for Houston. He was simply unblockable. The No. 1 offense in the nation was held to season lows in points and total offense (428) -- 185 yards below its season average. Keenum was 41-of-67 for 373 yards with two touchdowns and two interceptions, as his Heisman hopes took a serious hit.
The Cougars had made improvements on defense, but Southern Miss racked up 207 yards on the ground. The Golden Eagles' Davis, who has been so solid for this team, threw four touchdown passes.
With the loss, the door now opens for TCU to potentially join the BCS party for a third straight season. No. 18 TCU has to move into the top 16 in the final BCS standings and finish ranked ahead of the Big East champion, and the Horned Frogs will get an automatic berth. Non-AQ teams are eligible for an automatic berth if they win their conference. Boise State will be ranked higher if it closes its season with a win over New Mexico, but it is disqualified from getting an AQ spot because it lost the Mountain West title to TCU.
For Houston, the what-if game is one that will now be played.
September, 5, 2011
9/05/11
4:53
PM ET
Here are the non-AQ players of the week, as selected by each conference. The independents are selected by a national panel of writers.
C-USA
Offense:
Case Keenum
, QB, Houston. Threw for 310 yards and two touchdowns to lead the Cougars to a 38-34 win over UCLA in his first game since tearing his ACL last year.
Defense:
Cordarro Law, DL, Southern Miss. Had eight tackles (two solos) and added two sacks and 3.5 tackles for loss in Southern Miss' win over Louisiana Tech.
Special Teams:
Robert Kelley
, PR, Tulane. Set a school-record for kickoff return yards in his first game for the school, with 213 yards on seven returns.
Independent
Offense:
Kriss Proctor
, QB, Navy. Ran for 176 yards and three touchdowns, including a 75-yard scoring sprint on the third play from scrimmage, in a win over Delaware.
Offense:
Michael Floyd
, WR, Notre Dame. Recorded a career-high 12 catches for 154 yards and two touchdowns in a loss to USF. Floyd set the school record for career receptions and now has 183.
Defense:
Kyle Van Noy, LB, BYU. With his team trailing 13-6, Van Noy caused a fumble that he also recovered, taking it 3 yards into the end zone for the decisive score in a 14-13 win over Ole Miss.
Special teams:
Jon Teague, K, Navy. Set a career and Navy record with a 54-yard field goal. Teague added a 36-yard field goal and was 4-of-5 on extra points.
MAC
East Division
Offense:
Bernard Pierce
, RB, Temple. Had 20 carries for 147 yards and tied a career-high with three touchdowns in a win over Villanova. Pierce became the third player in Temple history to record 10 games of 100 yards rushing.
Defense:
Chris Jones, DT, Bowling Green. Had tackles, three tackles for loss, two sacks, a forced fumble and safety in a win over Idaho.
Special Teams:
Travis Carrie, PR, Ohio. Had a 65-yard punt return for a touchdown in a 44-24 win at New Mexico State.
West Division
Offense:
Chandler Harnish
, QB, Northern Illinois. Threw a career-high five touchdowns and ran for 80 yards and a score in a 49-26 victory over Army on Saturday.
Defense:
Nathan Ollie, DT, Ball State. Had four tackles, including two sacks, in a 27-20 win over Indiana.
Special Teams:
Ryan Casano, PK, Toledo. Made all three field goals and seven extra points for 16 points in a 58-22 win over New Hampshire.
Mountain West
Offense:
Kellen Moore
, QB, Boise State. Completed 28-of-34 passes for 261 yards and three touchdowns to lead No. 5 Boise State to a 35-21 win over No. 19 Georgia.
Defense:
Nordly Capi, DE, Colorado State. Set a new NCAA single-game record with four forced fumbles in a 14-10 victory at New Mexico. His fourth forced fumble of the contest helped the Rams preserve their first conference victory. He added seven tackles, 4.5 tackles for loss and 3.5 sacks .
Special teams:
Greg McCoy, KR, TCU. Set a new TCU single-game record with 229 kick return yards a 50-48 loss at Baylor. His total ranks fourth in Mountain West history.
Sun Belt
Offense:
T.Y. Hilton
, WR, FIU. Had 283 all-purpose yards, 12 shy of his own school record, in a win over North Texas. The 283 yards were the most by any player in the country in Week 1.
Defense:
Eric Russell, DB, Middle Tennessee. Led the team with 13 tackles, including 11 solo, and got his first career sack in a loss at Purdue. He also had an interception and was the main kick and punt returner for the team.
Special Teams:
Hendrix Brakefield, P, Western Kentucky. Averaged 44.6 yards per kick on eight punts in a loss to Kentucky. Of his eight punts, three went for over 50 yards -- including a 58 yarder. He also had two punts downed inside the 10.
WAC
Offense:
Bryant Moniz
, QB, Hawaii. Moniz completed 20-of-33 passes for 178 yards and a touchdown while adding a career-high 121 rushing yards on 14 carries with three more scores in a win over Colorado.
Defense:
Paipai Falemalu, DL, Hawaii. Had six tackles (five solo), including three for a loss, in a win over Colorado.
Special teams:
Taveon Rogers
, KR, New Mexico State. Returned four kickoffs for 177 yards -- including a 97-yard touchdown -- in a loss to Ohio. Rogers had a total of 259 all-purpose yards.
November, 22, 2010
11/22/10
2:00
PM ET
Let's take a look at the good and the bad for the non-AQs in Week 12.
The good:
TCU and Boise State are still in the national title hunt, keeping the non-AQs as one of the hottest topics of the college football conversation as we get into the final parts of the season. The two will continue to jockey for position, especially if they both win out. … Congrats to BYU for become bowl-eligible following a 1-4 start to the season. It has won five of its last six and has outscored its opponents 144-24 in the past three games. OK, the Cougars have beaten up on the bottom feeders in the league, but so has everyone else. … Wyoming closed its season with a 44-0 win over rival Colorado State for its first Mountain West win. Air Force also finished its season with a win over UNLV to finish 8-4. The Falcons await their bowl assignment. … SMU is also headed to a bowl game in back-to-back seasons for the first time since 1983-84. … Northern Illinois is headed to the MAC title game for the first time since 2005 and has won eight straight.
The bad:
Fresno State was shut out for the first time since 1998 in a 51-0 loss to Boise State. The Bulldogs managed 125 total yards of offense.
Ryan Colburn
was sacked four times, had three turnovers and completed just six passes. … East Carolina continues to struggle, this time giving up 62 points to a Rice team that had two wins going into the game. The Pirates have given up 40-plus points in eight of their 11 games this season, including two games of 60-plus points. They have the worst defense in college football. … Army was held to just three points and a season-low 165 rushing yards in a loss to Notre Dame, and also lost the turnover battle. The Black Knights had been averaging 273 yards on the ground, and were one of the nation's best in turnover margin. Since the start of 2006, Army is 7-35 when the margin is negative or even.
[+] Enlarge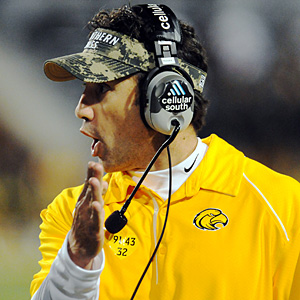 AP Photo/Steve ColemanLarry Fedora guided Southern Miss to an emotional win over Houston.
The uplifting:
Southern Miss played truly inspired football in a 59-41 win over Houston. Coach Larry Fedora wondered how the events of last week would affect his team going into the game. Three players were shot after a fight inside a club spilled out into the parking lot. Linebacker Martez Smith is paralyzed from the waist down, but he was at the game for Senior Day, and in an emotional moment, was allowed onto the field in his wheelchair before the game. Tim Green, shot in the neck and unable to speak, watched from his hospital room, while Deddrick Jones watched from Fedora's office. Defensive end Cordarro Law, who wore Jones' No. 91, had two sacks and played with extra motivation. Green and Smith are his roommates.
The heartache:
It seems we are always writing about Western Kentucky in this space. The Hilltoppers blew yet another fourth-quarter lead, dropping a 27-26 game to Middle Tennessee. Rod Issac returned a fumble 99 yards in the fourth quarter to spur the comeback. The Blue Raiders scored the final 17 points of the game. Western Kentucky has won two games this season -- both on the road. … Meanwhile, the Aztecs blew a 27-10 second-quarter lead to Utah and lost for the fourth time this season. Each loss has come to a bowl-eligible team. Each loss has been by five points or less.
500 club:
Two non-AQ quarterbacks went over 500 yards this weekend: Hawaii QB
Bryant Moniz
set a new school record with 560 passing yards in a 41-7 win over San Jose State, breaking the old record of 559 by Colt Brennan against Arizona State in the 2006 Hawaii Bowl. San Diego State QB
Ryan Lindley
went 36-of-54 for a career-high 528 yards with four touchdowns and three interceptions -- but his two INTs late made the difference in a 38-34 loss to Utah. He did become the first Aztecs player to post back-to-back 3,000-yard seasons since Dan McGwire in 1989-90.
A few more helmet stickers:
Western Kentucky LB Bar'ee Boyd. As a team, the Hilltoppers had not blocked a punt in over two years. In the first quarter against Middle Tennessee, Boyd did it twice. His second block was recovered by Derrius Brooks in the end zone for a touchdown. … Wyoming DE Josh Biezuns had a career-high 3.5 sacks, four tackles for loss, a forced fumble and a pass breakup in a 44-0 win over Colorado State.
Week 13 look ahead:
The big one Friday night is in Reno, when No. 4 Boise State plays No. 19 Nevada with not only WAC title hopes on the line, but BCS hopes on the line for the Broncos as well. This weekend could clear up the national championship picture as well. … There also is a big game in the MAC on Tuesday night between Miami (Ohio) and Temple. Miami needs a win and an Ohio loss at Kent State to clinch the East. … And of course, there is BYU at Utah, in a game that is no sure thing for the Utes anymore. The Cougars actually have a semblance of an offense, but this will be their biggest test since the last time they lost -- at TCU. Their opponents are a combined 8-37 in their four-game winning streak.
November, 18, 2010
11/18/10
5:00
PM ET
Three Southern Miss football players will honor the teammates who were shot and injured following a fight at a club by wearing their respective jerseys against Houston on Saturday.
Receiver
DeAndre Brown
will wear No. 43 honoring Tim Green, defensive lineman John Henderson will wear No. 32 to honor Martez Smith and defensive lineman Cordarro Law will wear No. 91 to honor Deddrick Jones. The number switches have been approved by the Conference USA office and Houston coach Kevin Sumlin.
Coach Larry Fedora said Brown came up with the idea. Defensive line coach Deke Adams spoke to a few of his players, and Henderson and Law jumped at the opportunity.
"It is a tremendous honor for them, because they are going to have to honor those guys and that is obviously a lot of responsibility," Fedora said.
The team will also wear a decal on their helmets: a gold heart with their respective numbers in black. The heart symbolizes a quote that Fedora first addressed to the team after the shooting, and that the three players are in their hearts.
The decals will also be handed out to fans before the game.
Smith is paralyzed from the waist down, while Green cannot talk. Jones was reportedly shot in the chest. All three were with several teammates at a club in Hattiesburg following a 31-21 win over UCF last weekend. A fight inside spilled into the parking lot, where they were shot.
Two people
have been arrested in connection with the shooting
, and a third suspect is being sought.
October, 15, 2009
10/15/09
1:17
PM ET

Posted by ESPN.com's Graham Watson

Southern Miss junior defensive end Roshaad Byrd will miss the rest of the season after dislocating his ankle in practice Tuesday.

"It happened in practice yesterday and he was evaluated last night," Southern Miss coach Larry Fedora said. "He was in surgery from around midnight to 2 a.m. He got rolled up in a team drill. There is a fine line on how much tackling you can do [in practice] and that is the way it works."

Byrd, who had started all six games for the Golden Eagles this season, had 12 tackles, including 3.5 for loss and a sack.

Fedora said sophomore Cordarro Law would step in for Byrd. Law actually leads the team with 3.5 sacks. He has 14 tackles and is second on the team with 5.5 tackles for loss.

"[Byrd] and Cordarro had been splitting time," Fedora said. "Roshaad was the starter, but Law was playing a lot of snaps so he will step in and we will have enough ends to fill in."

Southern Miss plays Memphis this weekend. The Golden Eagles have lost four of the last five to the Tigers including the last two games by 6 and 3 points, respectively.