NCF Nation:

Corey Crawford
November, 14, 2013
11/14/13
11:00
AM ET
While Florida State has dominated the headlines in recent weeks, division rival Clemson has gone about its business without much fanfare or attention. You could even say the preseason favorites in the ACC have all of a sudden become an under-the-radar team.
But the spotlight will be shining on Clemson starting Thursday night against Georgia Tech (6-3, 5-2), as the Tigers (8-1, 6-1) try to remain in contention for an at-large BCS bid. Their final two FBS games of the season are high on the difficulty scale. The Jackets have historically given the Tigers all sorts of problems. Then the regular-season finale against bitter rival South Carolina could potentially give Clemson its third top-10 matchup this season.
[+] Enlarge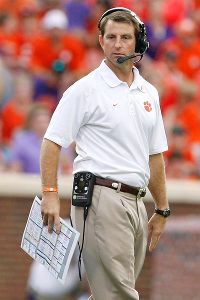 Tyler Smith/Getty ImagesClemson coach Dabo Swinney said his team must stay focused in order to win out and play in a BCS bowl game.
There is little doubt Clemson is in good position to get a BCS berth, sitting at No. 8 in the latest BCS standings. If Florida State ends up playing for a national championship and Clemson finishes with at least 10 wins, the Tigers would be a prohibitive favorite to get an at-large spot in the Orange Bowl. Several projections have Oregon as their opponent, which would create one of the more intriguing BCS matchups of the season.
Clemson coach Dabo Swinney would disapprove of all the look-ahead talk, but everybody inside the program knows what is at stake with a strong finish to the season. Keep in mind the Tigers have been ranked in the top 10 for 12 straight polls, the longest streak in Clemson history. It is currently the fourth-longest streak in the FBS, behind Alabama, Oregon and Ohio State.
"There's a lot of opportunity for this team," Swinney said in a recent phone interview. "There has never been a team in the history of this school to start in the top 10 and stay in the top 10 all year. There's so much for them to focus on and things that they control. When it's all said and done, you look up and we'll see where the cards fall. We've got a chance to have one of the best seasons in the history of this school if we can stay focused and continue to win."
Clemson deserves credit for staying focused after an embarrassing 51-14 home loss to Florida State, a loss that essentially flipped the scripts for the Tigers and the Noles. Florida State went on to clinch a spot in the ACC championship game. Clemson was left to pick up the pieces, knowing full well its ACC and national championship hopes were all but over with five regular-season games left to play.
But Clemson defensive end
Corey Crawford
said he and his teammates refused to let that one loss define their season. As a point of reference, he mentions the 2011 season and Clemson's game against these very Jackets. The Tigers went into that game unbeaten and ranked No. 5 in the country. They proceeded to lose 31-17, then dropped three of their final five games, including a 70-33 loss to West Virginia in the Discover Orange Bowl.
"

When it's all said and done, you look up and we'll see where the cards fall. We've got a chance to have one of the best seasons in the history of this school if we can stay focused and continue to win.

"

Clemson coach Dabo Swinney on the Tigers finishing the season.
"We don't want to go back down that route," Crawford said. "We want to stay focused, get ready for Georgia Tech, and not think about anything else. I feel what happened with us in 2011, we were the big dogs, we were unstoppable and whatnot, but now we realize everybody that plays us wants to get a piece of Clemson and wants to take Clemson down, especially in the ACC since we became one of the big, prominent teams. We're going to get everyone's best and we're going to have to come out and give our best and just play ball."
Clemson might ultimately be judged on its performances against Florida State and South Carolina when the 2013 season comes to a close. But there really is plenty at stake. Not only is there BCS talk, but the Tigers also have a chance to post three straight 10-win seasons for the first time since a four-year streak from 1987-90.
"There's only going to be one team that wins the national championship, but ultimately, you want to be the best you can be every year," Swinney said. "That's the mentality we have on and off the field. We can't be 12-0, but hey, what are we going to end up? Can we be 11-1? Can we be 10-2? Is it 9-3? What's our best? I don't know. But every opportunity we have to play, we have to put our best foot forward. There's been a lot of consistency with these guys, and the only reason we've been able to have that type of consistency is because of that mentality that these guys have. I'm proud of the guys for how they've responded."
October, 17, 2013
10/17/13
11:00
AM ET
CLEMSON, S.C. -- There is a new celebrity walking around the Clemson campus. His name is not Tajh or Sammy, though.
His name is Vic.
Racking up sack after sack on a much improved defense has made defensive end
Vic Beasley
one of the most recognizable players around town, earning hellos and handshakes at a clip that has surprised Beasley.
[+] Enlarge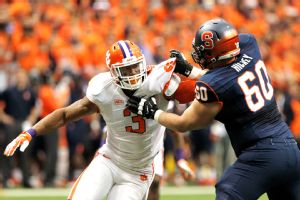 Jerome Davis/Icon SMIDE Vic Beasley bypassed the NFL draft this year to return to Clemson to get his degree and improve his draft stock.
Indeed, the biggest development in this Clemson season to date has been the way the defense has ripped headlines away from the high-powered offense and made its own name. Simply put, the Tigers D cannot be called the weak link any longer.
Not when you consider what has happened through the first six games of the season:
Beasley leads the nation in sacks with nine and was the only Clemson player on the ESPN.com midseason All-American team. That's right. The lone Clemson rep came from its defense.
The defense has held five consecutive opponents to 14 points or fewer, the first time that has happened since 1989.
Clemson ranks No. 10 in the nation in scoring defense, higher than its scoring offense (No. 17). The last time Clemson finished a season in the top 10 in the nation in scoring defense was 2007.
The Tigers rank in the top 25 in 13 statistical defensive categories.
"We came in with a big chip on our shoulder," Beasley said. "A lot of people were doubting us and said we weren't going to be the strength of this team, but I feel like we've become the strength of the team. No knock on our offense. I want our offense to be great too, but I feel like we're making a statement to be the best in the country."
In January 2012, coach Dabo Swinney fired Kevin Steele as defensive coordinator after a miserable 70-33 loss to West Virginia in the Orange Bowl. A performance like that would never happen again, not under his watch. Clemson had no problem playing top dollar for its assistants, and Swinney wasted no time targeting Oklahoma defensive coordinator Brent Venables.
In 13 seasons with the Sooners, Venables had his group ranked in the top 20 in total defense eight times. When he looked at what he would have to work with at Clemson, he knew he could mold this group into an elite unit. Almost presciently, Venables said in the spring, "I wouldn't have come if I didn't feel this was a place you could win every game and recruit the best players in the country."
He talked at length about what makes a good defense, saying the best teams he has ever been associated with were player driven, bonded with a unique chemistry, a special focus and a willingness to work.
This Clemson group has all those qualities. Last week, Venables discussed the brotherhood that has developed among his players, how hard they are working and how his players just love to play. Period.
"There's a freshness about that. It's not like it's pulling teeth to go to practice," Venables said. "Guys practice well; they're around the office a lot on their own. They're a prideful group. We don't spend a lot of time perpetuating anything that's negative. Whether you start over every week, or every day or every year, to me I'm not big at living in the past, good or bad. We've got a group of guys that are easy to inspire, that they like to play and they respect each other. They're high effort kind of guys."
Seeking a new identity as a strength on the team has been a source of motivation and inspiration. Every player on this Clemson defense knows what was said after the Orange Bowl, a game that lingers still today. Like their coach, they never want to go through that again.
They rededicated themselves in the offseason, intent on becoming a more physical team that would never be outworked. So far, Clemson has demonstrated that physicality. Its front seven has done a terrific job, thanks to improved depth and the play of Beasley and fellow end
Corey Crawford
.
Venables said nobody has improved more than Crawford and linebacker
Stephone Anthony
, now starting in the middle. He described them both as playing on a different planet. The secondary has also made strides from a year ago, thanks to contributions from several freshmen and a group of veterans that has been able to stay healthy.
What's more, these players are now in Year 2 under Venables, so improvement was expected. You can see that when comparing the defensive stats over the first six weeks of last season to the first six weeks of this season. Clemson is giving up an average of 11 fewer points and 110 fewer yards per game.
"Last year at this time, we were very inconsistent from an execution standpoint and just doing all the little things that we needed to do," Swinney said. "But that's been the biggest improvement. Guys are where they are supposed to be and have a good feel playing with high energy, and we are just much more experienced on that side of the ball than we've been in a while."
It has not all been perfect for Clemson. The Tigers gave up more than 200 yards rushing to Georgia and more than 300 yards rushing to Syracuse. They have given up too many big plays -- 26 for 20 or more yards (15 pass, 11 run). They are still thin on depth at linebacker and in the secondary.
But they are better. The goal is to keep on this upward trend. This is only a start.
"We feel like we've earned some respect over the course of these last couple of weeks," defensive tackle
Grady Jarrett
said. "We know we're not perfect and we've got a lot more work to do. We're playing pretty good, but we can be a lot better. We're working to be the best we can be."
Then more recognition is sure to follow.
September, 6, 2013
9/06/13
5:00
PM ET
CLEMSON, S.C. -- Clemson defensive end
Corey Crawford
said he and his teammates on the defensive line wanted to send a message in last weekend's 38-35 win over Georgia:
"We're not a soft front," he said. "I know last year we probably had a couple of games that made it look like that, but this year we're taking it upon ourselves to let people know we're not soft. We're a physical front."
And they looked like it in the season opener.
The Tigers sacked Georgia quarterback
Aaron Murray
four times, intercepted him once, forced three fumbles and recovered one, disrupted the passing game, and made plenty of athletic plays. After what was something of a slow start for both defenses -- with a halftime start of 21-21 the game quickly lived up to the billing of a shootout -- Clemson got a much-needed statement performance from its defensive line.
[+] Enlarge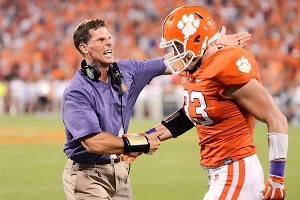 Doug Buffington/Icon SMIClemson defensive coordinator Brent Venables said he was pleased with his front line against a tough Georgia offense.
"Our guys up front won the game for us," said Clemson defensive coordinator Brent Venables. "At the end of the day, they were disruptive enough. They had a couple of long runs, it was really the second level -- those guys did a fabulous job of making the running backs stop and start all night. Even when Murray was not sacked, they were disruptive enough at some key times when he threw some errant balls. I just think those guys came out and played at a really high level. They took to the challenge well and responded, and to me that was the difference in the game."
Clemson's defense has been its biggest question mark since the Tigers were blown out 70-33 by West Virginia in the 2011 Orange Bowl. (Yes, it's been that long.) As Clemson has improved, though, skeptics have continued to wonder if the program has an elite defense to match its record-setting offense. One of the biggest factors that has separated Florida State and Clemson, as the two tangle for the lead in the Atlantic Division, has been the superiority of Florida State's defense, particularly up front.
With the Noles having new starters on their defensive line and Clemson's performance on Saturday, might the gap be closing this year? The Tigers' performance last weekend was hardly flawless -- Georgia racked up 545 yards of total offense, averaged 5.4 yards per carry and scored five rushing touchdowns. Coach Dabo Swinney said there were still some communication issues and a few mental errors on the backside -- but it was a second-straight win against an SEC opponent in which the defense was a highlight.
"I thought our front played outstanding the whole game," Swinney said. "I was really, really pleased with how our defensive line played. I thought outside of just a few critical mistakes, our backers played very well. We had a couple mistakes. On the big long touchdown we just overran it, and that was really -- even most of the big plays, none of them were really on our defensive line. I just thought they did an outstanding job, very consistent for four quarters, backers were solid.
"We had a few big plays and some things that we've got to fix, but it's a good start. Not anywhere near what we want to be, but a very good start for our defense."
Vic Beasley
led the team with two sacks, and Georgia was just 4-of-14 on third-down conversions.
"I felt like Georgia just came into the game thinking our D-line wasn't a physical D-line, like we weren't a line they played against all the time," said Crawford, who had the lone interception of the game. "As the game went on, we just kept pounding and pounding them and they kept getting tired and we weren't. We made a statement we're not a soft D-line."
September, 1, 2013
9/01/13
3:35
AM ET
CLEMSON, S.C. -- About two hours before kickoff on Saturday evening, hordes of Clemson fans lined Centennial Boulevard, shoulder-to-shoulder in the blazing heat, to watch the players and coaches make their celebratory "Tiger Walk" from the busses into Memorial Stadium.
"I can't wait to see him," whispered Tyler Englehart, an awestruck freshman, to nobody in particular.
[+] Enlarge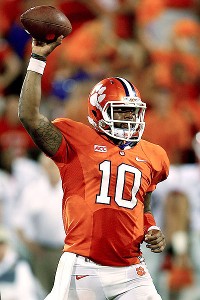 Streeter Lecka/Getty ImagesTajh Boyd stood tall against Georgia, accounting for all five of Clemson's touchdowns.
Clemson quarterback
Tajh Boyd
, wearing a dark suit and a purple bowtie, was one of the last players to stroll down the line, and the crowd seemed to grow louder with every step he took. Boyd called the atmosphere "surreal," but it paled in comparison to the show he put on in the historic 38-35 win over No. 5 Georgia. Boyd was on, even when his receivers were off. He ran with the strength of a fullback and took hit after hit. He was responsible for all five of his team's touchdowns -- three passing and two rushing.
"Tajh is our Superman," running back
Roderick McDowell
said.
"Tajh is the best football player on this team, in this conference, in the nation," added defensive end
Corey Crawford
.
Perhaps the most awestruck fans of Boyd are the ones who practice with him every day.
Clemson's win over Georgia legitimized the Tigers as a national title contender, and further boosted Boyd's résumé as a Heisman hopeful. He finished with 312 yards of total offense, a school record for a season opener, and now has 22 wins as a starter -- tied for fourth most in school history. For just the third time in his career, Boyd finished with multiple rushing touchdowns. He also helped deliver one of the biggest wins in school history on the biggest stage.
"His leadership and how he brought us together at the end of the game, we thrived off him," wide receiver
Sammy Watkins
said. "With him getting first downs, and him getting the ball out of his hands on the edge, and us blocking, he made us good tonight."
That's exactly why Boyd came back, instead of leaving early for the NFL.
He came back to run down The Hill before what was the largest, most raucous home crowd he had ever seen.
He came back to experience the "surreal" moment of walking through a horde of fans in the team's pregame "Tiger Walk."
He came back to compete for a national title.
"He's a baller," offensive coordinator Chad Morris said. "There's no question about what Tajh Boyd means to this program, to this university and to college football. To go against the opponents he's gone against the last two games and two control the games in a manner in which he did, it says a lot about him."
Neither team's defense played particularly well early in the game, and Clemson was outgained in total yardage, but Boyd made more clutch plays and was able to stay on his feet while Georgia's
Aaron Murray
was sacked four times. This game was billed as featuring two of the best quarterbacks in the country. It did, but Murray had a fumble and an interception, both in the second quarter. His critics will likely continue to point to his 3-11 record against teams that have finished in the Associated Press Top 25.
Meanwhile, Boyd has now led Clemson to back-to-back wins against SEC teams.
"He played like a veteran quarterback is supposed to play," Morris said. "We had a couple of drops tonight, and they very well could have led to some more scores. He never rattled, he never shoot, and his ability to run the football tonight made us successful."
Boyd's 4-yard touchdown run in the first quarter gave Clemson the early 7-0 lead, and his 77-yard pass later in the quarter to Watkins put the Tigers up 14-7. Boyd always seemed to find an answer in what was a thrilling, electric, back-and-forth game that lived up to every bit of the hype. In the third quarter, he found
Zac Brooks
for a 31-yard touchdown pass, and threw the game winner to
Stanton Seckinger
in the fourth quarter.
"I think it turned a lot of heads in the college football world," Boyd said of the win. "It was a very monumental win for the university and program and conference in general. All that good stuff is great, but we have to keep working to keep and keep our eyes on the prize. This is only the opener. We have 11 games left. We have to continue to keep working."
Clemson fans had to wait to see Boyd in the Tiger Walk, but he didn't waste any time making his statement against Georgia.
September, 1, 2013
9/01/13
12:06
AM ET
CLEMSON, S.C. -- No. 8 Clemson made a statement in its
season-opening 38-35 win
against No. 5 Georgia, beating a historic rival in a game with clear BCS championship implications. Let's take a closer look at how the Tigers got it done:


It was over when:
Facing third-and-goal from Georgia's 9-yard line,
Stanton Seckinger
caught a touchdown pass to put Clemson up 38-28 with 7:40 to play. The Tigers drove 87 yards in 12 plays -- none bigger than a highlight-reel 36-yard run by
Roderick McDowell
to Georgia's 6 -- on the game-clinching drive.
Game ball goes to:
Clemson's defensive front.
Although Georgia gained 545 yards, Clemson's front made huge plays after the Bulldogs built early momentum. In particular,
Stephone Anthony
forced an
Aaron Murray
fumble at Georgia's 20, leading to a touchdown, and
Corey Crawford
halted Georgia's next drive with an interception at Clemson's 17.
Stat of the game: 1,012.
Clemson-Georgia was billed as a meeting of explosive offenses and they didn't disappoint. They combined for 73 points and 1,012 yards (467 by Clemson and 545 by Georgia).
Best call:
Georgia was in jeopardy of letting Clemson run away with the game in the third quarter when the Bulldogs faked a punt on fourth-and-1 from their own 34.
Collin Barber
's 5-yard run kept the drive alive and
Todd Gurley
later tied it at 28 with a tackle-breaking 12-yard touchdown run.
What it means for Clemson:
Clemson keeps its BCS championship hopes alive with a résumé-building win against one of the nation's top programs of 2012.
What it means for Georgia:
The Bulldogs don't have long to regroup. Georgia will host South Carolina -- which hammed the Bulldogs 35-7 last year -- next Saturday.
August, 30, 2012
8/30/12
1:00
PM ET
The jokes about the Clemson defense began during the Orange Bowl and have kept on rolling.
The most stale line by far: "Wait. I think West Virginia just scored again."
The Tigers have heard them all after a 70-33 loss to the Mountaineers on the biggest stage of the season. But there is nobody laughing in Clemson.
With a new defensive coordinator in Brent Venables and a new season ahead, there would be no better way to make the jokes stop than with an impressive performance against Auburn in the opener Saturday. This group simply cannot afford anything less.
[+] Enlarge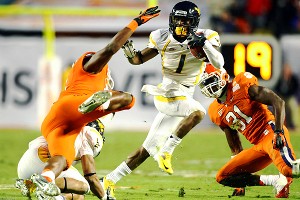 Douglas Jones/US PresswireRashard Hall (31) and the Clemson defense are looking to move on from the Orange Bowl loss to West Virginia.
"I'm ready for a new beginning," safety
Rashard Hall
said.
He is not the only one. Questions about this defense have trailed Clemson since the final seconds ticked away in Miami, becoming a dominant storyline going into this season. Coach Dabo Swinney promptly fired Kevin Steele after the loss and brought in Venables, whose impeccable credentials at Oklahoma alone give the Tigers an upgrade.
The reviews so far have been extremely flattering.
"He brings a lot of excitement, a lot of energy. ... Brent Venables is one of the best coaches I've ever had," Hall said. "Just the way he leads, his enthusiasm. He is real purposeful and a get-after-it kind of guy. We have all really responded to that."
Linebacker
Corico Wright
told local reporters: "We love what Coach Venables has brought to the table for us, what he's asked us to do. He has a lot of energy. He's a teacher, he makes sure we know what we're doing. From a defense standpoint, you see guys attacking the football whether it's in the air or on the ground, that's going to be the biggest difference for us this year."
The first order of business for Venables is rebuilding up front. With Andre Branch and Brandon Thompson gone,
Malliciah Goodman
is the lone returning starter on the defensive line and must take the next step in his development to carry this team. He is just about the only certainty along the line.
Grady Jarrett
,
DeShawn Williams
and
Corey Crawford
are all sophomores and expected to start, with
Josh Watson
and
Vic Beasley
also expected to be big contributors. There are going to be changes at linebacker, as well, with the emergence of
Quandon Christian
and true freshman
Travis Blanks
. Wright is playing outside behind
Tig Willard
, after
Stephone Anthony
emerged in the middle last year.
Then, in the secondary, Hall,
Xavier Brewer
and
Jonathan Meeks
will all play at safety, and
Darius Robinson
takes over for Coty Sensabaugh at cornerback. Swinney was asked this week for his thoughts on who would emerge as a defensive playmaker this year, and he essentially said that was a large unknown.
The answers will start to come Saturday.
"There'll be some good, there'll be some bad," Venables told
reporters in Clemson
. "That's what this season is about. The best teams I've had have gotten better over the course of the year. You find out what your strengths and weaknesses are. Game day is part of that process. Putting guys in the right spots, hopefully we've been able to identify that but maybe after the first game it isn't what you thought it was. Hopefully at the end of the day there'll be more passing grades than not. That means you played well. You want to see your guys play with great discipline, toughness and effort. You have that, you have a strong foundation."
August, 15, 2011
8/15/11
9:00
AM ET
It was a busy weekend in the ACC. Here's a look back at the highlights from the scrimmages, according to the sports information departments of the teams that provided reports:

BOSTON COLLEGE
Coach Frank Spaziani told reporters after the 70-minute scrimmage that there were some good things, but "it's like a jigsaw puzzle with all the pieces in the box; they're not connected yet."
Offensive highlights:
Defensive highlights:
Linebacker Nick Clancy and defensive back Sean Sylvia led the team with four tackles each.
Sophomore linebacker Jake Sinkovec had one interception and one fumble recovery.

CLEMSON
Quarterback
Tajh Boyd
had an impressive performance, as he completed 10 of 12 passes for 168 yards and a touchdown to highlight the new offense in Clemson's 75-play scrimmage in Memorial Stadium on Saturday morning.
Offensive highlights:
Defensive highlights
:
The first-team defense did not allow a scoring drive.
Martin Jenkins led the team with seven tackles, including a tackle for loss.
Corico Hawkins had five tackles and a fumble recovery, while freshman defensive end Corey Crawford had five stops, including a sack.
Special teams highlights:
Clemson's three kickers, Chandler Catanzaro, Ammon Lakip and Brian Symmes were a combined 16-of-16 on the day in field goal attempts and extra points against a live rush.
Notable:
Three Tigers missed the scrimmage because they were going through graduation exercises across the street from Memorial Stadium in Littlejohn Coliseum. Starting offensive tackle Landon Walker, starting safety Rashard Hall and reserve defensive end Kourtnei Brown all graduated from Clemson on Saturday. It was especially noteworthy for Hall, who has been at Clemson just three years. He joins Nick Eason (now in the NFL with the Arizona Cardinals) as the only scholarship football players to graduate with two years of athletic eligibility remaining.
Four players missed the scrimmage due to injury. Those players were defensive back Xavier Brewer (sprained foot), defensive back Garry Peters (bruised calf), Andre Branch (head injury), DeShawn Williams (sprained ankle).

GEORGIA TECH
Georgia Tech coach Paul Johnson had mixed reviews after the Yellow Jackets' first scrimmage, which ran 90 minutes inside Bobby Dodd Stadium on Saturday morning.
"It was like a lot of first scrimmages, there were way too many balls on the ground and way too many penalties," Johnson said. "But we hit some big plays. When you play against each other there's positives and negatives on both sides. It's a starting place and we'll look at it and try to make some improvements."
Offensive highlights:
While no official statistics were kept, quarterback Tevin Washington passed for well over 100 yards, including a 63-yarder to senior A-back Roddy Jones. Redshirt freshman quarterback Synjyn Days threw the only touchdown of the day, to true freshman Jeff Greene.
Greene ran with the first unit Saturday as most of the veterans -- junior Stephen Hill, senior Tyler Melton, sophomore Jeremy Moore and junior Daniel McKayhan -- all sat out with injuries.
Washington scored the only other touchdown Saturday on a 1-yard QB keeper.
Defensive highlights:
Defensive end Emmanuel Dieke had a sack, true freshman Jamal Golden intercepted a Vad Lee pass, and Steven Sylvester and Isaiah Johnson both recovered fumbles.
Special teams highlights:
Sophomore Justin Moore booted a 45-yard field goal on his only attempt.
David Scully's 52-yard attempt was long enough, but just wide left.

MIAMI
The most important news out of Miami's first scrimmage was that quarterbacks
Jacory Harris
and
Stephen Morris
combined for five touchdown passes and only one interception. That sounds like improvement. Miami's quarterbacks combined for 407 passing yards on 38-of-52 passing for six touchdowns and only one interception.
Offensive highlights:
Receiver Tommy Streeter had the best offensive day for the Canes, catching five passes for 71 yards and three touchdowns, two of which came from Harris.
Lamar Miller had runs of 16 and 31 yards on the opening drive.
Defensive highlights:
Senior defensive back JoJo Nicolas led all defenders with eight tackles (six solo), with two tackles for loss.
Ramon Buchanan and freshman Gionni Paul and each had six total tackles, with Paul also recording a tackle for loss.
The defense totaled eight tackles behind the line of scrimmage for a total loss of 29 yards

VIRGINIA TECH
The Hokies' offense was the highlight, but what does that mean for the defense? Coach Frank Beamer pointed out that there were some long plays allowed, as the offense racked up 398 yards of total offense in the 78-play scrimmage at Lane Stadium on Saturday afternoon. The touchdowns came against Tech's second- or third-team defense, though, so the jury is still out.
"I thought it was a good first scrimmage -- better than most," Beamer said, according to the team's scrimmage report. "You take into consideration that you're trying to get everyone some work, people who don't know quite what they're doing, and that makes things a little ragged. I thought overall, though, it was a sharp scrimmage. The quarterbacks made some nice plays and Wilson got a couple of long plays against the defense, and we need to see what's going on there. Overall, the effort was good and the play was good."
Offensive highlights:
Backup quarterback Mark Leal led the quarterbacks with 116 yards passing, completing 6 of 13. He also threw an interception. Beamer said Leal is No. 2 on the depth chart behind Logan Thomas. Ju-Ju Clayton, who has dropped to No. 3 on the depth chart, completed 6 of 10 for 51 yards, while starter Thomas completed 4 of 8 for 79 yards, with an interception, in limited action.
Tailback David Wilson scored against the Hokies' second-team defense on a 22-yard run. Wilson led all rushers with 57 yards on five carries. Freshman Michael Holmes added 54 yards rushing on a game-high 11 carries.
Defensive highlights:
Freshman tackle Luther Maddy led the team with eight tackles, including two for a loss, and a sack. Freshman Michael Cole added six tackles, while Telvion Clark and Jack Tyler each finished with four.
Barquell Rivers had three tackles and an interception.
Jayron Hosley and freshman Ronny Vandyke also had interceptions. Hosley intercepted a Logan Thomas pass, while Vandyke intercepted a Trey Gresh attempt.
Special teams highlights:
The kickers connected on 5-of-6 attempts. Cody Journell hit from 35, 22 and 35 yards, while Justin Myer drilled a 52-yarder and a 28-yarder. "Cody's kicking extremely well," Beamer said. "Myer has a load of potential, and he needs to win some of the kicking contests during the week. That shows consistency, and that's where he is right now. Cody is usually winning it or right in the running at the end."
April, 11, 2011
4/11/11
10:30
AM ET
Clemson fans saw more out of the Tigers' offense in this year's spring game than they did a year ago -- literally.

Last year, the Tigers ran 108 total plays in their spring game. On Saturday, the Tigers ran a total of 130. And yes, it was balanced, with 69 rushing and 61 passing plays. Clemson, which is under the direction of first-year offensive coordinator Chad Morris, snapped the ball with 16-20 seconds left on the play clock on most plays.
"People saw that we will run a fast paced offense this coming season, but we really would like to go faster," coach Dabo Swinney said, according to the team's
practice report
. "I was pleased with what I saw in the running game today. All three of our backs ran well. And
Tajh Boyd
ran well. He made some good decision today and most importantly, he did not have a turnover."
While Boyd was in the spotlight for the first time, Clemson's rushing attack was the highlight, as two players ran for at least 100 yards each.
Demont Buice
had 18 carries for 102 yards and Rod McDowell rushed 12 times for 100 yards for the Orange team.
D.J. Howard
had 11 carries for 97 yards and a touchdown for the White team.
Boyd threw for one touchdown (to tight end
Dwayne Allen
) and rushed for one. He completed 8 of 24 passes for 114 yards and had eight carries for 43 yards. His Orange offense averaged 6.2 yards per carry.
DeAndre Hopkins
, Clemson's top receiver last year as a freshman with 52 catches, had four for 54 yards. Allen had three catches for 43 yards, including a 10-yard touchdown.
Freshman quarterback Cole Stoudt was 6-of-22 passing for 118 yards.
Marquan Jones
led the White team with three catches for 71 yards.
Desmond Brown led the Orange team with seven tackles. Spencer Shuey and Andre Branch each had two sacks. Justin Parker had the only interception of the game.
The White defense was led by Jonathan Meeks with seven tackles and two pass breakups. Garry Peters, a redshirt freshman, had six stops, a fumble recovery and a pass breakup. Quandon Christian had five tackles and a forced fumble. Freshman Corey Crawford, who entered Clemson in January, had two sacks.
Clemson offensive starters
Andre Ellington
(RB) and Antoine McClain (OG) were injured and did not play.
April, 4, 2011
4/04/11
11:00
AM ET
Clemson quarterback
Tajh Boyd
threw two touchdown passes and continued to show progress on Saturday in the Tigers' final stadium scrimmage before Saturday's spring game.

Offensive highlights

:
Boyd completed 8 of 16 passes for 129 yards and two touchdowns. He completed a 20-yard scoring pass to DeAndre Hopkins, and a 3-yard touchdown pass to redshirt freshman tight end Sam Cooper in a goal-line situation. Boyd also had 10 carries for 14 yards. Hopkins finished with two catches for 43 yards.
Marquan Jones had a team-high four catches for 44 yards.
Jaron Brown had two carries for 26 yards, a 30-yard reception and a 20-yard punt return. D.J. Howard (19-85), Demont Buice (13-59), Rod McDowell (8-36) and Brown (2-26) combined for 206 yards in 42 attempts.
Defensive highlights

:
Corico Hawkins led the defense with eight tackles, and Rashard Hall had seven.
Corey Crawford had an 87-yard fumble return and caused and recovered another fumble. He also had a tackle for loss and a pass deflection. Crawford's playing time increased this week when Andre Branch returned home to be with his family after the death of his grandfather.
Tig Willard had six tackles, a pass broken up and an interception. Josh Watson had two tackles for loss, and Justin Parker had five tackles, including a sack.
Quotable

:
"Tajh Boyd has continued to improve and the game is slowing down for him," coach Dabo Swinney said, according to the team's practice report. "He has a bit of false security when wearing the purple jersey [quarterbacks are not tackled], and I need to break him of that, but he is improving. He made some very good decisions today."