November, 8, 2012
11/08/12
11:13
PM ET
BLACKSBURG, Va. -- Here's a quick recap of No. 10 Florida State's bizarre come-from-behind
28-22 win
over Virginia Tech in Lane Stadium:


It was over when:
Virginia Tech quarterback
Logan Thomas
threw an interception on the Hokies' final possession of the game, squandering a last chance at a comeback. FSU safety
Tyler Hunter
grabbed the interception with 27 seconds remaining. The pass was intended for
Corey Fuller
. Thomas squatted down in dispair and FSU took over at its own 33.
Game ball goes to:
FSU receiver
Rashad Greene
. He had six catches for 125 yards and two touchdowns. His 76 receiving yards in the first half was his best effort of the season. His second-quarter touchdown was his first since the Clemson game.
Stat of the game:
FSU was held to minus-15 yards rushing. Manuel was sacked five times, the most given up by the Seminoles this season.
Unsung hero of the game:
Virginia Tech's defense. The Hokies played lights out for a majority of the game and were suffocating against the run.
What it means:
The Noles maintained their grasp on the lead in the Atlantic Division race, further closing the door on Clemson, and they proved they can win outside of the state of Florida.
November, 8, 2012
11/08/12
11:00
AM ET
After eight straight seasons of at least 10 wins, four ACC titles and five appearances in the ACC championship game, Virginia Tech (4-5, 2-3 ACC) enters Thursday night's ESPN game against No. 10 Florida State (8-1, 5-1) unranked, unimportant in the national picture, and needing to win two of its final three games just to become bowl eligible.
The preseason Coastal Division favorites are playing at home, but they're still in very unfamiliar territory.
Virginia Tech as underdogs in Lane Stadium? On a Thursday night?! This is not the norm in ACC country.
"For a Virginia Tech team not to be at the top, yeah, it does surprise you because they've been there so consistently," Florida State coach Jimbo Fisher said. "It shows the injuries, attrition -- things can happen in a season. They're still the same coaches, still the same players, they'll still be doing pretty good, but sometimes the reasons for winning and losing are very small and sometimes the breaks don't go your way."
Not much has gone right for the Hokies at all this season.
Virginia Tech is in fifth place in the Coastal Division standings and hasn't been ranked in the Top 25 since losing to Pittsburgh in Week 3. The Hokies have lost five of their past seven games, including the past two during back-to-back road trips to Clemson and Miami. They have struggled in all three phases of the game, but the miscues on defense and special teams have been the most surprising, considering those have been trademark strengths of coach Frank Beamer's tenure.
Offensively, quarterback
Logan Thomas
has struggled mightily behind an inexperienced line that lost its only veteran, center
Andrew Miller
, to a season-ending injury in mid-October. Having to replace eight starters on offense took a greater toll than many had expected. Thomas already has thrown more interceptions this year (12) than he had all of last season (10).
[+] Enlarge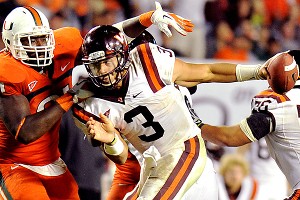 Steve Mitchell/US PRESSWIRELogan Thomas has struggled this season, having already thrown more interceptions (12) than all of last season (10).
Thomas' teammates said he took last week's 30-12 loss to Miami particularly hard.
"It was really tough," receiver
Corey Fuller
said. "He just wasn't there. He didn't pick his head up, he didn't say anything. He had a towel over his head the whole bus ride home, whole plane ride back home. I wanted to send him a text the day after, ask him how he was doing, but I just felt like I needed to give him some space, let him be, because he really seemed shaken up about it.
"He came out this week, he's been throwing great passes all week. I think he's feeling confident and ready to move on and come out and play."
He's going to have to in order to keep pace with Florida State quarterback
EJ Manuel
, who ranks second nationally in passing efficiency (174.03) and has completed 70 percent of his passes. FSU's offense is No. 3 in the country at 44.78 points per game.
Virginia Tech's offense has long been one of the most criticized in the ACC, but this year there is plenty of blame to go around in Blacksburg. Some within the program have struggled to pinpoint just what has been the problem, but Beamer said it's simple: They just haven't played well enough consistently.
"I have said so many times that there is a thin line between winning and being OK and not winning," he said. "Winning every Saturday is hard. You play a lot of people you are better than and sometimes you play a lot of people that are better than you. The way that ball bounces on Saturday is just a thin line. We got used to 10-win seasons and I am proud of those and I am proud of this football team …
"… I think everybody in our operation here could have done something better to help this football team. But the thing I am looking at is we got a tremendous football team coming in here Thursday night and is ranked and should be. They are as good as it gets in college football and that is what we put our attention to."
The Hokies haven't quit, nor should they with bowl eligibility still on the line.
"Two things we're playing for: One is a bowl game, of course, and then we're playing for pride," Fuller said. "You don't ever want to just give up and throw in the towel. We're playing to say, 'Ok, we've lost some, but we can still have pride. We didn't roll over and let everybody just run over us.' "
That would be an even bigger surprise than the Hokies' current place in the ACC race.
November, 5, 2012
11/05/12
10:00
AM ET
Time for a few superlatives from the week that was in the Big 12:
Best offensive performance: Brennan Clay, RB, Oklahoma.
No huge standouts this week, but I'm going with Clay narrowly ahead of a few other deserving folks. Iowa State has a pretty good defense, but Clay nearly topped his career high by more than 100 yards. Clay carried the ball 24 times for 157 yards and a touchdown, easily surpassing his previous career high of 64 yards.
Best defensive performance: Allen Chapman, CB, Kansas State.
Only seven Big 12 players had at least three interceptions all season. Chapman nabbed three from two different quarterbacks in one game on Saturday night. He returned one 29 yards for a score and sealed the win with his final pick of the night. He also added five tackles and two pass breakups.
[+] Enlarge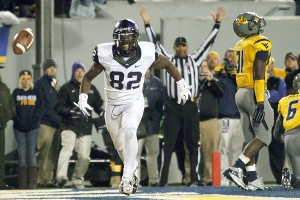 Justin K. Aller/Getty ImagesTCU's decision to go for the win instead of the tie paid off after Josh Boyce made the two-point conversion in double overtime against West Virginia.
Best game: TCU 39, West Virginia 38 (2OT)
. What more could you ask for here? The Frogs' 94-yard touchdown pass from
Trevone Boykin
to
Josh Boyce
that forced overtime was mostly thanks to terrible defense from WVU, but the double-overtime gambles from the Frogs? That was all execution on a reverse pass that fooled the Mountaineers and a pretty rollout play that resulted in a tough scoop for Boyce to clinch the win. The Frogs are playing the role of drama queens these days. Only two Big 12 games have gone to overtime this year. TCU has been involved in both.
Best team performance: Texas.
Tough pick here, but I'll go with the Longhorns, who went on the road and soundly beat a ranked Texas Tech team badly in need of a win. Texas asserted some dominance and grabbed the inside track to a Cotton Bowl berth in the process.
Best play: WR Brandon Carter and TE Corey Fuller, TCU.
Carter, a former high school quarterback, took a pitch on the reverse and hit a wide-open Fuller who had sneaked out behind the WVU defense and caught the ball for a 25-yard touchdown on the first play of double overtime. That's a play Fuller, a senior, will never forget. The senior tight end had two catches for 1 yard this season entering Saturday's game.
Second-best play:
Tavon Austin, PR, West Virginia.
Austin's 76-yard return should have been enough and should have won the game for West Virginia. Alas, a good day for the defense came crashing down with a few late mistakes. After breaking loose and setting the crowd off on what seemed to be the game winner, the defense let TCU get back in the game with a costly mistake. Which brings me to the next award ...
Worst play: West Virginia's defense.
I was in awe of this one. West Virginia got a huge sack and pinned TCU on its own 6-yard line with under two minutes to play and a seven-point lead. It should be a simple task for the safeties, regardless of the coverage: Stay deeper than the deepest. Do
not
get beat over the top. WVU lost track of Josh Boyce, TCU's best receiver, and let him get -- you guessed it -- over the top for a 94-yard score on a broken play.
Best decision: Gary Patterson, TCU.
Patterson had been there before, and decided to go back to the well. "I'm one of those people who believes when you play someone on the road, you have to go take ballgames," Patterson
told the Fort Worth Star-Telegram
. TCU scored on a reverse pass from Brandon Carter to Corey Fuller to get within 38-37, and like he did against Boise State last year on the road, Patterson went for two. The Frogs ran the exact same play and it worked. Welcome to bowl eligibility in Year 1 of the Big 12, Frogs.
Best quote: Boyce, on going for two to win the game
. "I already knew what the play was going to be," he said. Awesome.
November, 4, 2012
11/04/12
9:00
AM ET
Time to hand out some hardware for a job well done in the Big 12 on Saturday. Your stickers are in the mail, boys.

Gary Patterson, coach, TCU:
Hey, the players are the ones who do it on the field, but Patterson went with a pair of gutsy gambles in double overtime to help the Frogs rally for a
39-38 victory
at West Virginia. TCU got a touchdown on a reverse pass from
Brandon Carter
to
Corey Fuller
, and got the two-point conversion on a rollout play that was a mirror of the play that beat Boise State last season. Patterson doesn't necessarily call those plays, but he had the guts to sign off on them. Few other coaches would. Those were game-changing decisions and now TCU is bowl-eligible, despite a mountain of losses.
Allen Chapman, CB, Kansas State:
What a night for the senior cornerback. He got it off to a great start when he returned his first interception 29 yards for a touchdown late in the first half of Kansas State's
44-30 win
over Oklahoma State. He picked off another late on a play in which Cowboys quarterback
Wes Lunt
suffered an apparent head injury, and his final pick of the night sealed the game for the Wildcats and allowed the K-State faithful to breathe a sigh of relief when he came up with the ball in the end zone on a
Clint Chelf
toss that would have made the game very, very interesting. He finished with five tackles, three picks and two pass breakups. My hat is off, sir.
Brennan Clay, RB, Oklahoma:
Landry Jones
is a strong candidate here, but I'm going with Clay because of Jones' two interceptions in the second quarter. Clay's previous career high was just 64 yards rushing, but with injuries to the Sooners' backs, Clay came up big in relief of
Damien Williams
. He carried the ball 24 times for 157 yards and broke an impressive 18-yard touchdown run for his only score of the day as Oklahoma beat Iowa State
35-20
. He also caught a pair of passes for 12 yards.
Mike Davis, WR, Texas:
"Magic Mike" was money on Saturday for the Horns. He only caught four passes, but he made 'em count in the Longhorns'
31-22 win
over Texas Tech. He caught touchdowns of 75 and 25 yards from
David Ash
and finished with four grabs for 165 yards. The Horns needed some explosiveness on offense. Davis provided it.
Baylor's offensive line:
Can't hand it to just one guy here, but the big uglies up front got it done against the Jayhawks. Baylor's
Nick Florence
wasn't sacked and threw for 367 yards and three touchdowns in a much-needed, turnover-free performance. Meanwhile, running backs
Glasco Martin
and
Lache Seastrunk
combined for 260 yards on just 28 carries, an average of 9.3 yards a carry, in the
41-14 romp
. Big time.
November, 3, 2012
11/03/12
7:10
PM ET
TCU was going to go down fighting, one way or the other.
The Horned Frogs trailed by seven after WVU took just one play to score in double overtime, but TCU had plans to do the same.


Receiver
Brandon Carter
, a former high school quarterback, grabbed the ball off a reverse and found a wide-open
Corey Fuller
, who rumbled in for the touchdown.
TCU coach Gary Patterson wasn't done. Taking a page from last season's regulation victory at Boise State, Patterson went for two on the road with what looked like the exact same play.
Trevone Boykin
found
Josh Boyce
, who hauled in a low toss to clinch the
39-38 win
and set off a raucous Frogs celebration.
A review upheld the call.
Overtime only happened because Boykin found Boyce wide open for a 94-yard touchdown pass with 1:24 to play after
Tavon Austin
raced 76 yards on a punt return for a go-ahead touchdown for the Mountaineers.
Somebody's two-game losing streak had to come to an end. TCU played to win and made the plays to make it happen. It takes a whole lot of guts to do what Patterson did, and it paid off.
Iowa State coach Paul Rhoads tried a similar maneuver in 2010 versus Nebraska, but that failed. Its biggest win of the season pushed TCU to 6-3 overall (3-3 in the Big 12) and made it bowl-eligible.
The Frogs are banged-up and depleted, but this win will taste very, very sweet. Next week, the Frogs get a shot at Big 12 front-runner Kansas State.
Meanwhile, another crushing loss for West Virginia. The offense struggled again and
Geno Smith
finished just 32-of-54 for 260 yards, three touchdowns and a terrible interception on a badly underthrown deep ball that drew an animated reaction from coach Dana Holgorsen.
Austin tried his best to rescue the Mountaineers (5-3, 2-3) with the late punt return and a crazy 43-yard touchdown on a short catch in the second quarter, but it wasn't enough.
West Virginia is left searching while the Frogs moved up the Big 12 standings.
September, 14, 2012
9/14/12
2:30
PM ET
Virginia Tech receiver
Corey Fuller
has had an outstanding start to the season, leading the team in yards receiving with 126, and also got the first touchdown catch of his career last week. I had a chance to catch up with him earlier this week for our Friday Q&A.
What has been the biggest key to your early success this season?
CF:
Just doing a lot of work in the offseason with my brothers, and some of the corners on the team now. I did a lot of speed work on the track, and worked on different types of releases, ball drills, different things like that.
[+] Enlarge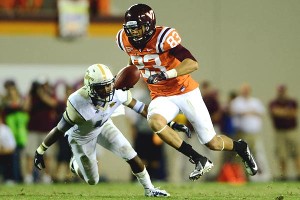 Andrew Weber/US PresswireWide receiver Corey Fuller says he's stepping up his game for the Hokies this season.
Do you knew you had the potential for a breakout season?
CF:
I knew I did. I just had to show it.
It obviously hurts losing a teammate in D.J. Coles, but how do you see this opportunity now with him being out for the season?
CF:
It's a big opportunity. With him out now, it's a big door that I just need to show what I can do.
Why did you decide to give up football out of high school and focus on track at Kansas?
CF:
When I was leaving high school, I wanted to do both football and track, and most of the football schools wanted me to go to a prep school to gain weight. I wanted to go college. The track coach at Kansas, Wayne Pate, coached a lot of Olympians in my event. So I went straight there out of high school.
What was it like giving up football?
CF:
It was tough. I still played a little bit. I was still working out with Kansas, with Vincent and Kendall, too. Once the season started, I wished I was still out there sometimes.
So what was the track experience like?
CF:
It was amazing. I got to travel plenty of places I would have never been if I didn't go to Kansas. I got to go to a lot of big meets, met a lot of great people, a lot of great track athletes, which was amazing. One of the biggest places I'm glad I got to go was the University of Oregon, where they call it Track Town USA, so that was one of the biggest things that I enjoyed going to.
Did you have aspirations to make the Olympic team?
CF
: Even when I transferred back to Tech, I still thought about making the Olympic team sometimes.
So why did you leave to come to Virginia Tech?
CF:
When I was at Kansas, the idea of playing football and track came up but nobody came to an agreement. The track coaches worried about me getting injured. When Kyle was getting recruited, it was an opportunity for me to come back and play football and an opportunity to get back to my family. My first year here, I didn't do track but this past year I ran indoor and I was just glad to be back out there.
What was it like to play again after sitting out two years?
CF:
It wasn't that bad. I had a lot to work on. The speed was obviously there. I had to work on staying low instead of running up so high, and I had to get back to catching the ball, looking it all the way in, getting more physical, getting off the jams, my releases. It was a little rough, but then it got easier and easier and easier.
You also had to make the transition to receiver after playing quarterback in high school, but you have made it look easy. How?
CF:
I knew I could do it. In high school, I played quarterback, but in different camps and combines, I also got some receiver reps so that was big for me. Transferring, starting all over I was up to the challenge. It was a little difficult. I was living by myself when I first got here, too. It was a little weird for me but it all worked out in the end.
We have heard all about the Fuller brothers. Vincent played there, now you and Kyle. Your youngest brother, Kendall, has committed. What was it like growing up in your house?
CF:
It was competitive. Everybody always wanted to win. I remember we had a little store up the street from our house, and we would walk to the store, get some chips or a soda and on the way back, we'd always say, 'The last person there is a rotten egg,' and race all the way home.
Who would win?
CF:
I don't remember, but I would say myself.
Good answer. So what about your goals for the season, have they changed now that you have gotten off to a good start?
CF:
I set little goals. I didn't set anything too high. Remember sharing them with my older brother, Vincent. He told me, 'I think you can shoot a lot higher, you can do better than these goals.' So now I'm I the process of getting goals higher. At least five catches a game.
Any yardage amount to go with that?
CF:
I feel as the catches come, the yards will get there.
September, 8, 2012
9/08/12
5:06
PM ET
Boston College and Virginia Tech each won Saturday. Here are quick recaps:


Boston College 34, Maine 3:
Maine jumped out to an early 3-0 lead and it took about a quarter for Boston College to find its rhythm. The story of the day was
Spiffy Evans
, who had his first touchdown catch and first punt return for a touchdown, and set a career-high with 155 all-purpose yards in the victory. Running back
Rolandan Finch
was able to play after sitting out the Miami game with a foot injury. He led the team with 90 yards rushing, but also lost a fumble early in the game.
Tahj Kimble
also lost a fumble at the goal line, or the Eagles would have had more points.
Receiver
Alex Amidon
just missed out on his second straight 100 yard game, after finishing with 99 yards receiving and a touchdown. Boston College plays at Northwestern next week.


Virginia Tech 42, Austin Peay 7:
The Hokies also got off to a slow start on offense in this game, but they cruised to the victory and avoided any sort of upset on just five days' rest.
Junior running back
Tony Gregory
blocked a punt and ran for his first career touchdown. Running back
Michael Holmes
also had his first two career scores with runs of 2 and 9 yards. Receiver
Corey Fuller
also had his first career touchdown, catching a 30-yard touchdown pass in the second quarter. Virginia Tech spread the ball out to 10 receivers in its first game without
D.J. Coles
, out for the season with a knee injury.
Logan Thomas
finished 15-of-23 for 212 yards and two scores in three quarters of work. Virginia Tech plays at Pitt next week.
September, 6, 2012
9/06/12
11:30
AM ET
An already unproven group of Virginia Tech wide receivers took a major hit Thursday with the news that senior
D.J. Coles
is out for the season with a knee injury.

The Hokies
went into the season
without their top two receivers from a year ago in Danny Coale and Jarrett Boykin, so you can bet there is an even greater sense of urgency for somebody to step up with Coles now out of the mix, too.
Marcus Davis
and
Dyrell Roberts
are the first two names that come to mind, given their experience in the offense.
Davis and Roberts took the most snaps against the Yellow Jackets among all receivers -- but Roberts only had two catches for 5 yards; Davis had six catches for 82 yards. Davis did hurt his shoulder in the game but should be available Saturday against Austin Peay. Those two players are the more known commodities.
But there are two other players to keep an eye on after their performances against the Yellow Jackets.
Redshirt freshman
Demitri Knowles
had a beautiful 42-yard touchdown catch in the corner of the end zone -- and it just so happened to be the first reception of his entire career. He only saw three snaps at receiver but that should change moving forward.
Then you have
Corey Fuller
, who had the hands down best night among all receivers, and graded out the highest among all players at his position. Fuller set career highs in receptions (five) and yards (82), and had a critical 23-yard reception on fourth down late in the game that allowed the Hokies to send the game into overtime. He also recovered a fumble by Davis that preserved a drive in which Virginia Tech eventually scored a touchdown.
Fuller transferred to Virginia Tech in 2010 from Kansas to join his brother, cornerback
Kyle Fuller
. Corey Fuller actually starred on the Kansas track and field team, competing as a sprinter, triple jumper and long jumper. But he decided to focus on football with the Hokies and has really done a nice job transforming himself into a receiver, playing the flanker spot that Coles also plays.
Last year, Fuller only played in six games. But that is sure to change after his performance Monday night.
"He's really developing into a football guy," coach Frank Beamer said Wednesday on the ACC coaches call. "I think he's got great speed, but he's playing the game the way it needs to be played. Had a pro scout ask about him the other day. I'm really proud of the way he's come along. Looks like to me he's going to have a bright future."
September, 3, 2012
9/03/12
11:37
PM ET
After a giving fans a snoozer through three quarters, Georgia Tech and Virginia Tech ended up delivering some major drama. In the end, the No. 16 Hokies survived
20-17 in overtime
. Now does this mean the Hokies end up winning the Coastal? The rest of the season awaits.
Here is an instant analysis.


It was over when:
Cody Journell
nailed an 18-yard field goal in overtime. Journell was lucky to get his spot back on this team after an offseason arrest, but coach Frank Beamer was convinced he deserved a second chance. Not only did Journell make the game winner in overtime, he made a 41-yard field goal as time expired in regulation to send the game into the extra period.
Game ball goes to:
Journell gets one. So does cornerback
Kyle Fuller
. Why? He had perhaps the biggest defensive play of the game when he intercepted
Tevin Washington
near the goal line in overtime. The Yellow Jackets were in field goal range on the first possession of the extra period, but Washington panicked after he was forced to scramble on third down. Fuller was there, giving Virginia Tech possession. You should also note his brother, Corey, had a huge fourth-down catch to set up the field goal that sent the game into overtime.
Stat of the game:
23. The teams went into the fourth quarter tied at 7. But Virginia Tech and Georgia Tech ended up scoring a combined 23 points in the fourth quarter and overtime.
August, 20, 2012
8/20/12
10:00
AM ET
Not every school in the ACC gives scrimmage reports, but for those that do, we will gladly post the highlights. Here's a look back at what happened in the ACC this weekend, according to each school's report:

Boston College
Offensive highlights:
Junior receiver
Alex Amidon
had seven catches for 84 yards, including a 29-yard touchdown reception, in the situational scrimmage Sunday. The scrimmage featured six end-of-half/fourth-quarter situations with limited time on the clock and a limited number of timeouts.
Chase Rettig
went 18-of-32 for 168 yards, one touchdown and two interceptions.
Defensive highlights:
Justin Simmons
had two interceptions off second-team quarterback
Josh Bordner
.
Manuel Asprilla
intercepted Rettig at the goal line, and linebacker
Nick Clancy
intercepted a Rettig pass that was deflected by
Mehdi Abdesmad
a few plays later.
Special teams:
Gerald Levano
punted four times and averaged nearly 48 yards per punt. His first punt landed at the 2-yard line, while his second attempt went 60 yards. Kicker
Nate Freese
made his only field goal attempt, from 40 yards, and is now 6-for-6 on field goal attempts in the preseason.
Quotable:
"We got a lot of nice young guys on this football team, and if they come through and play well, good things can happen, and Justin [Simmons] is one of them," coach Frank Spaziani said. "He's as advertised. We did our homework and everything that you do on kids. He's a good prospect."

Clemson
Offensive highlights:
Tajh Boyd
threw for 218 yards and three touchdowns Saturday, while
Martavis Bryant
had four catches for 97 yards and had two touchdowns. Boyd was 13-of-22 for 218 yards, three touchdowns and two interceptions. Backup
Cole Stoudt
went 4-of-9 for 61 yards and led a touchdown drive on his first possession.
Andre Ellington
had an 8-yard touchdown run, while
Roderick McDowell
led all running backs for a second straight scrimmage with 65 yards on four carries.
Defensive highlights:
Coach Dabo Swinney praised the defensive line, where
Josh Watson
,
Grady Jarrett
and
DeShawn Williams
made plays.
Xavier Brewer
made a brilliant breakup of a long pass and added five tackles.
Jonathan Meeks
added an interception.
Tony Steward
made a big play with a 25-yard interception return.
Special teams:
Williams had a blocked a field goal. Backup kicker Spence Benton made a 53-yard kick that could have been good from 63 yards.
Quotable:
"We have two weeks to get dialed in," Swinney said. "We are going to turn the page on Monday after our last two-a-day (practices) and start getting ready for Auburn. We will have our guys penciled in on where they need to be."

Duke
Offensive highlights:
Quarterback
Brandon Connette
caught a 15-yard touchdown pass from
Sean Renfree
and ran for another in a 95-snap, controlled scrimmage Friday night at Wallace Wade Stadium. Renfree went 14-of-21 for 116 yards with one touchdown and one interception. Freshman
Shaquille Powell
had eight carries for 30 yards, while
Jela Duncan
had 28 yards on nine attempts. Garrett Patterson, who moved from defensive back to receiver this week during practice, had five receptions for 80 yards.
Defensive highlights:
Cornerbacks
Lee Butler
and
Tony Foster
each had interceptions while linebacker
Deion Williams
recovered one fumble. Freshman defensive end
Michael Mann
had one sack and one forced fumble.
Special teams highlights:
Freshman kicker
Ross Martin
made field goals of 43 and 48 yards and converted his only extra-point attempt.

Georgia Tech
Offensive highlights:
Broderick Snoddy
had a 70-yard touchdown run on the second series, while quarterback
Vad Lee
threw two touchdowns to A-back
B.J. Bostic
. Lee later added a touchdown run as he continues to work at quarterback and A-back.
Synjyn Days
and freshman
Justin Thomas
also took snaps at quarterback, and each led scoring drives.
Defensive highlights:
Nick Menocal
had an interception he nearly returned for a touchdown.
Jimmie Kitchen
recovered a fumble, while defensive lineman
Anthony Williams
had two sacks.
Special teams highlights:
Justin Moore
had a 29-yard field goal, while
David Scully
made a 31-yard field goal and all five of his extra-point attempts. There was no punting on Saturday.
Quotable:
"The guys are ready to play someone else," quarterback
Tevin Washington
said. "We've been hitting each other for two weeks and all summer doing drills against each other. Guys are just ready to go and get some new faces in front of us."

Maryland
Freshman
Stefon Diggs
continued to impress, as he had three first-half touchdowns -- a 68-yard punt return, a 98-yard kickoff return and an 11-yard reception. Quarterback
Perry Hills
ran the first-team offense and led Maryland to scores on three of his five drives.
On the opening drive, Hills took the Terps on an 18-play, 76-yard touchdown drive, He went 5-of-6 for 27 yards on the drive and also rushed for 36 yards, including a 16-yard touchdown run.
"I thought Perry [Hills] had a good day," coach Randy Edsall said. "I thought he did some good things. Of course there's going to be plenty of things that he could learn from, and get better, but I think that we didn't have any issues with delay of game, really didn't have any false starts. When you talk about the mechanics and the operation of the offense I thought he handled it really well."

Miami
The Hurricanes' scrimmage Saturday was cut short in the middle of the second quarter because of lightning in the area. Among the highlights in the abbreviated scrimmage:
Mike James
and
Duke Johnson
each had touchdown runs, and
Kelvin Cain
recorded a sack in the end zone for a safety.
Virginia Tech

Offensive highlights:
Logan Thomas
went 8-of-15 for 112 yards and a score, while backup
Mark Leal
went 6-of-16 for 111 yards, with a touchdown and an interception.
Kevin Asante
led all receivers with four catches for 79 yards, while
Corey Fuller
caught three passes for 68 yards. The Hokies also rushed for 174 yards.
J.C. Coleman
played with a broken hand and had 54 yards -- 52 coming on one run -- and
Trey Edmunds
added 45.
Tony Gregory
rushed for 36 yards, including a 26-yard touchdown run. Projected starter
Michael Holmes
had three carries for 21 yards.
Defensive highlights:
The projected first-team defense allowed a little more than 120 yards in four series (24 plays) and gave up just two field goals. Walk-on
Zach Snell
had six tackles, while
Ronny Vandyke
had five.
Desmond Frye
and
Antone Exum
each recorded four. The defense had five total sacks and
Bruce Taylor
had an interception.
Special teams highlights:
Cody Journell
made two field goals and missed one, while
Brooks Abbott
made one and had a 37-yarder blocked by
Kyle Fuller
.
Quotable:
"I thought it was one of the more productive offensive first scrimmages we've had around here," coach Frank Beamer said. "I think we did some good things, and I think we'll see some things we can improve. Overall, I think the effort was good. I always say this, but it's hard to come out pleased because if the offense makes plays, you're worried about your defense. If the defense makes plays, you're worried about your offense. Overall, I thought it was a good first scrimmage."