NCF Nation:

Corey Gatewood
April, 3, 2012
4/03/12
12:00
PM ET
Stanford's secondary is going to be young next season. Not exactly breaking news, but that's the reality when four seniors, three of them starters, graduate. But the players returning also have some experience and quality playing time, which should help compensate for their youth.
In other words, there no excuses.
"I think [defensive coordinator Derek] Mason might have been a little more tolerant with us last year, a little more patient," said safety
Jordan Richards
. "Not anymore. We've all been here and have a full season under our belts. This is on us -- and coach Mason is making sure we know that."
[+] Enlarge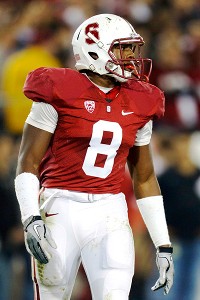 Jason O. Watson/US PresswireJordan Richards is one of many young Cardinal defensive backs that will have to replace three senior starters.
The back four -- two cornerbacks and two safeties -- have to be getting tired of hearing how good the front seven is going to be. They are so experienced. This guy is back and that guy is back. It gets old. And if the front seven is considered Stanford's defensive strength, by virtue of elimination, the back four can't be.
That perception is something the group is looking to alter. But first they'll need to settle some competition. Gone are safeties
Delano Howell
and
Michael Thomas
. Gone are cornerbacks
Johnson Bademosi
and
Corey Gatewood
.
Terrence Brown
and
Barry Browning
are back at cornerback, along with the highly-touted
Wayne Lyons
who is returning from a foot injury.
Usua Amanam
should also be in the mix and don't be surprised if Alex Carter makes an immediate impact when he arrives in the summer. Also returning are Richards and
Devon Carrington
at the safety spot along with
Ed Reynolds
, who is also returning from injury.
Kyle Olugbode
has also seen reps this spring.
Richards was one of the true freshman called into action when Howell went down for several games with a hand injury. He started three games for Stanford last year -- the most brutal stretch of the season that included at USC, at Oregon State and home to Oregon. Tough detail.
"It was, at times, a blur," Richards said. "And other times, I felt like I was in control and the game slowed."
The telling part of that quote is the "at times" portion. Richards notched eight tackles in his first start against USC. Then a couple of games later he watched Oregon run all over the Cardinal. Sometimes good, sometimes bad. In his second year, he's striving for more consistency. And having had the chance to learn behind Thomas and Howell, he thinks he's found it.
"I learned how to see the game from those guys," Richards said. "As a freshman, you come in with tunnel vision. You need to learn to see how things move around. Now it's a transition. You've been here for a year, you learn to read formational cues and the game slows down a lot more. You know what the offensive tendencies are. That's the biggest difference. You're not a deer in the headlights anymore. You just go out and play and try not to over think it."
Brown has the most experience at cornerback, followed by Browning who started three games last season. According to Richards, Brown and Reynolds have taken on the leadership roles vacated by the departed seniors.
"As a group, it's been TB and Ed," Richards said. "Those guys have been around. But we all know what's at stake, and we're all trying to be leaders and be on our game as a group because we know that we are going to be young and people are going to try to come after us."
Like in Week 3, when the Cardinal host USC -- a pass happy offense with the Heisman front-runner at quarterback, the top wide receiving duo in the country and possibly the No. 1-ranked team in the nation. So this group is going to have to find a way to come together quickly.
"That's what the spring is all about," Richards said. "We're working hard to be a cohesive group. Coach Mason is pushing us and I think we're going to come together."
November, 27, 2011
11/27/11
2:20
AM ET
STANFORD, Calif. -- On the volume meter, Stanford head coach David Shaw usually speaks at a three. On Tuesday, he spoke at an 11 (cue the "
This is Spinal Tap
" reference).
Shaw called for the national spotlight -- on his team, on his quarterback and on the entire Bowl Championship Series -- and, for better or worse, he got it.
The question, however, is whether
a 28-14 win
over Notre Dame on Saturday night at Stanford Stadium was enough to change anyone's mind -- either the BCS pollsters or the Heisman voters.
"I wasn't trying to change minds," Shaw said. "I wasn't bashing the BCS. I wasn't bashing any other teams. Just the explanations that I kept getting didn't make sense to me and I'm a common-sense person and I just don't understand the whys of where we were."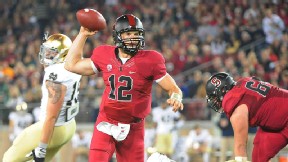 Kyle Terada/US Presswire"I've seen a lot of the other guys and there are a lot of really, really good football players," Stanford coach David Shaw said of quarterback Andrew Luck. "There's nobody like this guy."
As for the Heisman -- as expected --
Andrew Luck
said he doesn't care. You'd sooner get Condoleezza Rice to spill state secrets than to get Luck to talk about Heisman aspirations.
"I don't worry about what kind of impression I make on anybody," Luck said.
That's when tight end
Coby Fleener
interjected.
"Andrew Luck has my vote," Fleener said, raising his hand.
"Mine too," said safety Michael Thomas, raising his hand. "I think he's the best player in college football."
"Me too," said linebacker Chase Thomas, raising his hand.
Luck laughed off the moment, even though it encompassed everything that matters to the quarterback: the respect of his coaches and teammates.
"I don't have a vote," Shaw said. "We'll see what happens. I just know that he's one of a kind. He's one of a kind. It's apples and oranges in my opinion between him and everybody else and I've seen a lot of the other guys and there are a lot of really, really good football players. There's nobody like this guy."
Luck threw four touchdowns against the Irish -- three in the first half to help the Cardinal build a 21-0 lead at the break -- before closing out with a 55-yard touchdown to Fleener. The tight end finished with four catches for 97 yards and two touchdowns.
All three of Luck's touchdowns came against Notre Dame blitzes* and both of Fleener's scores came off of play-action. Against the blitz, Luck was 7-of-8 with three touchdowns, no interceptions and an average of 15.4 yards per completion. He finished the game 20-of-30 for 233 yards and an interception.
"I think, one loss, that's great," Luck said. "We've done a lot of good things. Someone just mentioned that we've been on a 23-2 run. I think that's very impressive. We put ourselves in position to be in a good bowl game and that's something we wanted to do."
Which bowl game remains to be seen. The Cardinal (11-1) needed this win to stay in the conversation for a BCS at-large bid. Stanford could climb into the top 4, assuring it a BCS berth.
"All we can do is play our butts off and prepare and let the voters or whoever else makes the stuff up choose," Fleener said. "All I know is you gotta win. That's all I understand. They want to see 12-0 and win out and that's how you go to the national championship. Other than that, I don't know how everyone else falls in the pecking order."
Speaking of pecking -- the defense spent most of the game pecking away at Notre Dame's quarterbacks. Chase Thomas led a relentless pass rush that sacked Notre Dame's quarterbacks five times. Thomas accounted for two while forcing a fumble and Ben Gardner, Josh Mauro and A.J. Tarpley all added one. In all, the Cardinal had eight tackles for a loss, holding Notre Dame to 57 yards on the ground. Michael Thomas and
Corey Gatewood
also logged interceptions.
"We went out and tried to play our game," Tarpley said. "Maybe [the voters] liked it. Maybe they didn't. You never really know what to think the way those things are. We played a good game. We could have played better. But we got the win. That's all that's important."
Stepfan Taylor
turned in his steady-as-always performance, rushing for 118 yards on 20 carries as the Cardinal accumulated 429 yards of offense.
Notre Dame mounted a minor second-half comeback -- cutting the score to 21-7 after getting a 6-yard touchdown strike from
Andrew Hendrix
to
Michael Floyd
. Notre Dame's big-game receiver had eight catches for 92 yards and the score.
Luck's first touchdown came on a 3-yard jump ball to 6-foot-8 tight end
Levine Toilolo
. The second was a 28-yarder to Fleener -- who pulled his defender into the end zone with him, and
Ty Montgomery
added an 11-yard touchdown reception with 10 seconds left in the first half.
Shaw's comments last week caused a national stir. The timing certainly seemed calculated. Whether his players' actions backed up the coach's words will linger until the BCS bowl games are announced.
"I'm behind coach Shaw 100 percent," offensive guard David DeCastro said. "He knows what he's doing. That's for sure. We don't care what anyone else thinks. We got the win. That's all we care about."
But was the win enough for the team and/or Luck? To be continued ...
*
Courtesy of ESPN Stats & Information.
November, 23, 2011
11/23/11
11:35
AM ET
Senior Day. Nike Pro Combat uniforms. BCS bowl game implications (or more?) on the line. Storied Notre Dame coming to town. There is no lack of storylines heading into Saturday's matchup between the Cardinal and the Irish. Which means there is no lack of distractions either. The pageantry should be fun and exciting as the Cardinal look to close out the regular season with a signature win over a BCS top-25 team. And they will.
Prediction
: Stanford 31, Notre Dame 21
Overall
: 10-1
Why they'll win
: Can anyone see
Andrew Luck
losing his final regular-season home game? Me neither. And when you take a team with a bad turnover margin (Notre Dame) and put it against a team with a good turnover margin (Stanford), the good usually outweighs the bad. Notre Dame's running depth took a hit with the loss of
Jonas Gray
, and Stanford might be getting injured tight end
Zach Ertz
back. Even if he doesn't catch a single ball, his presence forces defenses to significantly alter how they blitz and defend the Cardinal. And if Ertz doesn't return, we saw this past week what the Cardinal are capable of with
Ryan Hewitt
at the No. 3 tight end spot. Too many weapons and too many mismatches for the Irish to cover them all.
In the spotlight
: Assuming Oregon takes care of business against Oregon State, this will be the final game in Stanford Stadium for the fourth- and fifth-year seniors who helped turn Stanford football from a Pac-10 afterthought to a national powerhouse in just a few short years. Not just Luck but also tireless workers such as Michael Thomas, Delano Howell,
Griff Whalen
,
Corey Gatewood
,
Jeremy Stewart
, David Green, Jonathan Martin, David DeCastro,
Chris Owusu
, Johnson Bademosi, Chase Thomas,
Coby Fleener
, Max Bergen, Matt Masifilo and others. All of them will have their chance to take a bow. Luck gets a lot of the credit, but these guys should, too.
Out on a limb
: After David Shaw's fiery speech about Luck on Tuesday, my first out-on-a-limb thought was that Stanford would come out gunning and Luck would go for 375-plus and four touchdowns. He still might -- but only if that's how the game is being dictated. I'm going the other way. Stanford sticks with what it does best -- running the power, being balanced and using the play-action when the time is right. The Cardinal are more concerned about winning games than about Luck winning a Heisman. Shaw won't sabotage his game plan for an individual award. As always, that's just me going out on a limb ...
September, 6, 2008
9/06/08
9:26
PM ET
Posted by ESPN.com's Ted Miller
TEMPE, Ariz. -- Driving to Sun Devils Stadium for Arizona State's tilt with Stanford tonight, my car thermometer read 110 degrees.


The front page of the Arizona Republic says it's presently (6:15 p.m. PT) 105.
I plugged that information into my supercomputer, and it deduced this: It's really, really hot.
Enjoy, Stanford.
Last year about this time -- and temperature -- Colorado came to Tempe and jumped ahead 14-0 in the first quarter.
Colorado then simply wilted, surrendering 33 consecutive points to the Sun Devils.
"I like it when it's hot," Arizona State QB Rudy Carpenter said this week. "It's good for us."
Yes, it is.
A hour before game time and the student section is mostly full with gold-shirted Sun Devil adherents, and these hardy souls -- the sort who always call it "a dry heat" -- are flicking fans back-and-forth trying not to slow roast.
Plugging the on-field variables into that ol' supercomputer again, and it's hard to imagine Stanford prevailing this evening.
ASU is more talented in the first place. Oregon State's flop today at Penn State also took some of the gleam off the Cardinal's opening win over the Beavers last week.
And this is a heck of a home-field advantage.
Normally, this is when a sports media sort would talk about how important it is that Stanford start fast and establish confidence and take the crowd out of the game.
And that's true in this case, to an extent.
It's just hard to believe Stanford, not the deepest team in any event, can start fast enough that when exhaustion inevitably sets in, they can hold on in the fourth quarter -- particularly against a veteran QB like Carpenter, who can run any defense ragged.
Sure, the Sun Devils' offensive line is questionable, but the Cardinal secondary is just as uncertain, particularly with CB Corey Gatewood hobbled with a sprained ankle and free safety Austin Yancy out with a hamstring injury.
Unless ASU wide receivers Michael Jones (Achilles) and Chris McGaha (toe) also can't finish -- both are probable but banged up -- the Sun Devil advantage here is striking.
And probably decisive.