April, 11, 2013
4/11/13
5:00
PM ET
On Wednesday, the head coach and one player from each Big Ten Legends Division team participated in a
spring football teleconference
with the media. On Thursday, it was the Leaders Division's turn. Here are some notes and updates from the call:

Illinois
Head coach Tim Beckman said the junior college players he brought in helped with depth and age issues on his young team. "We have 40 football players that have never been in our spring football until this year," he said. Of the juco imports, Beckman said wide receiver Martize Barr has quick hands and good playmaking skills, both in the passing game and on kick returns; Eric Finney has earned a starting job at the Star linebacker position; Abe Cajuste is adding depth by playing both defensive tackle and defensive end; and Dallas Hinkhouse is making an impact at offensive tackle.
Beckman sung the praises of offensive lineman Corey Lewis, a sixth-year senior who has battled back from five knee surgeries and has become a team leader. "Corey Lewis comes to my office probably four or five times a week, just to talk," he said. "To me, he is what college football is all about." Beckman said that Lewis has "had a special spring" and hinted that he has earned a starting job.
Quarterbacks Nathan Scheelhaase and Reilly O'Toole will take most of the snaps in Friday's spring game so they can get more experience in the new offense. Beckman said Scheelhaase has "got a step in front" because of his experience, but the competition continues.
Scheelhaase on reasons for optimism in 2013: "Establishing an identity. That's something I don't know that we necessarily had last year, on offense or defense or as a team in general.

Indiana
Like many of you, head coach Kevin Wilson would like to know the new Big Ten division alignment. The reason? It's harder to recruit without being able to tell a prospect where he'll be playing his freshman season. Wilson added that if the league does indeed go to an East/West split, he'd like to see the Hoosiers placed in the East since they're located in the Eastern Time Zone.
Wilson said run defense and takeaways are two huge priorities for the Hoosiers' defense during the offseason. He noted that the Big Ten doesn't boast a large group of elite pass offenses, so IU must prepare better for run-driven attacks. Indiana finished last in the Big Ten in both run defense (231.3 ypg) and takeaways (13). Cornerback Greg Heban said the defense is working on takeaways every day in practice. "Every time the ball touches the ground, the defense is scooping it and scoring it," Heban said, "trying to give us a feel of what it's like."
Both Wilson and Heban praised the play of junior cornerback Tim Bennett this spring. Other spring standouts include linebacker T.J. Simmons, a freshman early enrollee, and Steven Funderburk, a junior-college transfer.
Heban called this "easily the best spring I've been around." He has seen more physical play and better effort on both sides of the ball, and the team also is having more fun than in past springs.

Ohio State
Head coach Urban Meyer said running back Rod Smith won't play in Saturday's spring game because he recently suffered a concussion. Before that, Meyer said Smith was one of the five most improved players on offense this spring. Meyer listed Carlos Hyde and Smith as the team's top two running backs, while Bri'onte Dunn and Warren Ball are even for the No. 3 spot.
Although the receivers have been better this spring -- especially Corey Brown and Chris Fields -- the depth is still nowhere near where it needs to be for Meyer's spread offense. "We're way behind on quality of depth at that position," Meyer said. "That's a major, major concern." Moving Jordan Hall to H-back should help, and Meyer noted that the Buckeyes boast two good tight ends in Jeff Heuerman and Nick Vannett.
Buckeyes offensive tackle Jack Mewhort paid close attention to the way John Simon and others led in 2012. He's ready to take on a greater load this season. "I welcome that," he said. "I see that as an honor, being compared to a guy like John Simon. I also see it as a challenge. I feel the pressure to step up and get guys going in the right direction." Mewhort also has seen quarterback Braxton Miller recognize his leadership responsibilities more this spring and get after teammates when he needs to.
Meyer said he puts more emphasis on spring practice and the spring game than most coaches. He has told his players that there will be a depth chart after spring ends, and while changes are possible in the summer, they're not likely. "In spring ball, you're trying to win a spot," he said. "During the fall, we're trying to win games."

Penn State

Purdue
Head coach Darrell Hazell said the Boilermakers have made major improvements in the last three and a half weeks. "Anytime you put in three different schemes, there's a little bit of a learning curve for the first couple weeks," he said. "You could see guys start to really get comfortable the last five or six practices."
Hazell said he has "three capable guys" right now at quarterback with Rob Henry, Danny Etling and Austin Appleby. He reiterated that he would keep the competition open until two weeks before the opener at Cincinnati. Of Etling, a freshman early enrollee, Hazell said: "For a young guy, a guy that should be at his prom, I think he's got tremendous poise. He's smart and really studies the game."
Hazell said backup tight end Justin Sinz and center Robert Kugler are two guys that have really caught his eye this spring. He called Kugler a "very much a leader on the offensive line."
Cornerback Ricardo Allen said Hazell has instilled an "all is one" mentality. "If one person does something, we all have to do it. We all wear black socks. We all wear the same uniform. We all tuck our shirts in. I feel like we're becoming closer as a team, and it's helping us build."

Wisconsin
Head coach Gary Andersen confirmed Curt Phillips and Joel Stave have separated themselves in the quarterback competition. It's a "mixed bag" of who takes snaps with the first-team offense, but both will continue to rotate through the rest of the spring and into fall camp. "The way they've separated themselves is simply production," Andersen said. "They know exactly where they sit and so does the rest of the team. … If they put all their friendships aside, their depth chart would look exactly like our depth chart."
Andersen praised the offensive line for tackling another transition, as the group works with its fourth position coach (T.J. Woods) since the 2012 Rose Bowl. The line has seen varying looks from the defense in practice and had players move around to different positions, in part because of injuries. Wisconsin had only seven healthy linemen a week ago, but Andersen is hopeful the number will rise to nine or 10 by next week's spring game. "Those kids have grinded through it every single day," Andersen said. "They're a tough-minded group."
Badgers senior linebacker Chris Borland said losing defensive end David Gilbert to recurring foot problems is a blow but the team has others to step in like Tyler Dippel, Brendan Kelly and Jesse Hayes, a redshirt sophomore who has stood out this spring.
Much like his old boss Urban Meyer, Andersen believes in constant competition and declares winners and losers in each practice. Andersen also mixes in some fun with a dance-off and throwing footballs into trash cans. "Some of them are a little bit quirky, but through the years establish some things we like," he said.
Borland said the strength program has brought the biggest changes in the transition to Andersen's staff. Cardiovascular work is stressed more, as is preventative care. Head strength and conditioning coach Evan Simon operates at a faster pace and uses more of an instructional approach than Ben Herbert, who stressed motivation.
November, 7, 2012
11/07/12
2:00
PM ET
The Big Ten hands out awards for practically everything at the end of the regular season, but the league lacks a comeback player of the year honor.
If it did, Illinois'
Corey Lewis
would be the obvious choice.
Most probably didn't notice Lewis trotting on the field for Illinois' third offensive series last Saturday against Ohio State. Despite being 6-foot-6 and 310 pounds, Lewis, like most offensive linemen, often goes unnoticed. But when he lined up at right tackle for the Illini, it completed one of the longest and toughest journeys back to the game field that you'll ever hear about.
"Not five," Illinois coach Tim Beckman said when asked if he had ever seen a player return from five knee surgeries.
[+] Enlarge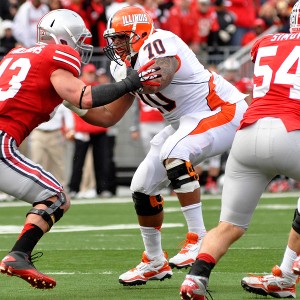 Photo/University of Illinois AthleticsIllinois offensive lineman Corey Lewis has come back from five knee surgeries to play.
That's how many Lewis has had to endure since tearing the ACL in his left knee for the first time in Illinois' spring game of 2010. He tore the same ACL two more times during workouts, needed another procedure when infection prevented a graft from healing in his leg, and underwent arthroscopic surgery on his right knee after overcompensating because of his left knee issues.
Yet all the setbacks never stopped Lewis from moving forward. And more than 1,000 days after he played his last game -- the 2009 regular-season finale at Fresno State -- he returned to the line at Ohio Stadium.
"When I did come on the field finally for my first rep in two and a half years, my heart was racing," Lewis told ESPN.com. "It was beating so fast. The adrenaline was going. It was just an exciting moment."
Lewis appeared in four games as a true freshman and played all 12 as a sophomore in 2009. Along with other talented young linemen like tackle Jeff Allen, Lewis looked to be part of the nucleus of Illinois' offensive line for years to come.
But everything changed once Lewis tore the ACL during a 2-minute drill segment in the spring game.
"I never thought I could be injured," he said. "I thought I was Superman. So it was rough for me. I always heard about people tearing their ACLs and going through stuff. I just never saw it happening to me. When it happened, it was just devastating."
The subsequent injuries proved to be even worse. Lewis' third ACL procedure, in March, was a low point.
Did he ever think about giving up the game?
"Stuff like that definitely creeps in the back of your head," Lewis said. "But I just looked at it like, I'm going to keep giving it a shot until all my years are up. What motivates me the most are my teammates.
"I didn't want football to be over for me."
He continued to attack his rehab, and by September, doctors cleared him to practice. Lewis hoped to return for Illinois' Oct. 27 game against Indiana but didn't get the final green light until last week.
The knee isn't quite 100 percent, Lewis said, but he's gaining more strength and more trust in it.
"You still have a little doubt at times because [the ligament tears have] happened multiple times, so that's in the back of your head," Lewis said. "But I think the more I keep playing, the more reps I get, the more I'll be able to trust it. That's the main thing, just knocking the rust off and being able to get back to my old ways.
"I'm only at like seven and a half months [since the last surgery], but over time, it will just continue to get better with the more I play."
Lewis intends to play a lot more at Illinois. Not just the rest of this fall, but he expects to return for a full season in 2013. He's seeking a sixth year of eligibility from the NCAA.
After all he has been through, it'd be a crime if he doesn't get it.
"That's what college football is all about," Beckman said. "A lot of people don't understand what all he's been through in the last two years, through rehab, through medically, getting himself prepared to step back out there on the field after an injury. That's why I coach, so you get to see those experiences.
"The best experience I had was him running off the field [last Saturday] after that series, seeing the smile on his face."
Despite Illinois' loss to Ohio State, the congratulatory messages for Lewis streamed in after the game, many of which can be found on his
Twitter page
. Former teammates like Allen, now with the Kansas City Chiefs, and current teammates like Illini center
Graham Pocic
were among those who acknowledged Lewis.
"I just learned I'm not a quitter," Lewis said. "I'm a dedicated person. Once I signed here to play here, that was my main goal, to play again, to play for Illini Nation and to play for this team. I love football. That's why I wanted to be able to get back."
June, 24, 2011
6/24/11
1:30
PM ET
The preseason position rankings march on with the offensive lines. Team rankings are below, and we'll take a look at the individual rankings for tackles, centers and guards early next week.
Looking at the league landscape, offensive line could be a major strength throughout the Big Ten this season. Although standout players such as Outland Trophy winner Gabe Carimi and All-American Stefen Wisniewski depart, I see improved depth for several teams as well as quite a few multiyear starters.
Honestly, there
aren't any bad lines in the league
; just some with more question marks than others.
Let's get to the rundown.
1. Wisconsin:
Talk about an ability to reload. The Badgers lose All-Americans Carimi and John Moffitt, plus the versatile Bill Nagy, and they still shouldn't take any steps backward. Injuries have allowed Wisconsin to build depth the past few seasons, and four of the five spots look extremely solid. Tackle Ricky Wagner, center Peter Konz and guard Kevin Zeitler lead a group that will block for the league's top running back tandem. Wisconsin's track record up front is impossible to ignore, and this year's line should continue the trend.
[+] Enlarge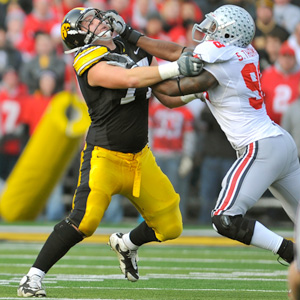 David Purdy/Getty ImagesWill arm length be an issue for former Iowa left tackle Riley Reiff in the NFL?
2. Iowa:
The line is undoubtedly Iowa's biggest strength and should be one of the nation's elite units in 2011. Iowa returns starting experience at all five positions and should have decent depth. Left tackle Riley Reiff, projected as a first-round pick in the 2012 NFL draft, will enter the fall as a leading candidate for the Outland Trophy. James Ferentz is one of the league's top centers, and Markus Zusevics is poised for a big year at right tackle.
3. Ohio State:
Depth is the only reason the Buckeyes' line isn't higher in the rankings. Ohio State boasts arguably the nation's top center in Mike Brewster, and first-team All-Big Ten tackle Mike Adams will be back after a five-game suspension to begin the season. The Buckeyes need big things from tackle Andrew Norwell during Adams' absence, and tackle J.B. Shugarts must play like a veteran. After struggling to put two sets of capable linemen on the field this spring, Ohio State has to find more depth in preseason camp.
4. Michigan:
This is another group that could climb up the rankings by season's end. Center David Molk is a terrific piece to build around, and if gifted players like Taylor Lewan and Patrick Omameh continue to develop, Michigan's line will be a major strength. The concerns are Molk's ability to stay healthy and an adjustment to a new offensive system under Al Borges. The line did an excellent job of protecting
Denard Robinson
in 2010, allowing a league-low 11 sacks.
5. Illinois:
The Illini flat-out punished opponents at the line of scrimmage on several occasions last season, and I really like the potential for the front five in 2011. The biggest reason? Left tackle Jeff Allen, one of the Big Ten's most experienced linemen. Allen and center Graham Pocic will contend for All-Big Ten honors, and if Corey Lewis gets healthy, this should be one of the league's top offensive lines.
6. Purdue:
Expectations are high for a line that coach Danny Hope thinks will be Purdue's strength in 2011. Left tackle Dennis Kelly is an All-Big Ten candidate with NFL potential who has started the past 24 games. Center Peters Drey and tackle Nick Mondek help anchor the group. The big question is whether mammoth guard Ken Plue, a multiyear starter, can get out of Hope's doghouse to help lead the way. Plue will be pushed by James Shepherd this summer. The combination of experience up front and the return of running back
Ralph Bolden
bode well for the Boilers.
7. Northwestern:
The Wildcats boast the nation's second most experienced line (137 combined career starts), but experience must start translating to production. This group still must prove it can spark a decent rushing attack after several years of decline. Left tackle Al Netter is an All-Big Ten candidate and center Ben Burkett enters his fourth season as the starter. If Northwestern gets more consistent play from right tackle Patrick Ward and others, it should be a solid group.
8. Penn State:
This is a big year for Penn State's O-line, which has heard the criticism and has vowed to erase it in 2011. The tackle spots look solid with Quinn Barham and Chima Okoli, but Penn State needs to shore up the interior after losing Wisniewski, a mainstay for the past four seasons. If veterans like Johnnie Troutman and DeOn'tae Pannell step up and turn in consistent performances, the line should hold up nicely.
9. Nebraska:
The Huskers ranked ninth nationally in rushing last season but have quite a few question marks up front. Center Mike Caputo is a building block and sophomore tackle Jeremiah Sirles is a returning starter, but Nebraska has little proven experience. The Huskers will benefit from a healthy Marcel Jones at right tackle, and Yoshi Hardwick adds depth. This could turn out to be a decent group, but the experience issue combined with a scheme change creates some uncertainty.
10. Michigan State:
Not to put too much pressure on the line, but arguably no position group will have more influence on Michigan State's season. The Spartans must replace both starting tackles and their starting center, never an easy task. All-Big Ten guard Joel Foreman returns to lead the group, but Michigan State needs immediate contributions from unproven players. The coaches feel they've upgraded the athleticism up front by moving players like Dan France and Blake Treadwell over from the defensive side.
11. Minnesota:
The Gophers boast a mix of veterans and youth, and it'll be interesting to see whether the group comes together this fall. Hopes are high for young tackles Eric Olson and Jimmy Gjere, but they'll need help from seniors like Ryan Wynn and Chris Bunders on the interior. Minnesota needs to regain its swagger as an elite rushing offense, and it starts up front this fall. This is a group that certainly has a chance to make strides.
12. Indiana:
I like some of Indiana's individual pieces, but as a group, the Hoosiers must show they can create space for the running backs. Indiana switched to the pistol offense in hopes of sparking the ground game but produced barely 100 rushing yards a game in 2010 (112th nationally). The line allowed only 12 sacks and must continue to protect its unproven quarterbacks this fall, but getting the run game going is paramount. Returning starters Will Matte, Justin Pagan and Andrew McDonald give Indiana hope.
June, 2, 2010
6/02/10
10:00
AM ET
Who are the most irreplaceable players in the Big Ten? These aren't necessarily the best players, but the guys who teams really can't afford to lose.
Let's take a team-by-team look at who they are:
Illinois: Offensive tackle Jeff Allen.
Illinois already has lost one starting offensive tackle to injury in Corey Lewis (ACL), placing a major burden on Allen to protect a young starting quarterback. Allen has started two seasons and should contend for All-Big Ten honors this fall. He drew praise from the coaches this spring for absorbing Paul Petrino's new offense, and he'll anchor the line at weak-side tackle. If he goes down, Illinois likely will turn to Craig Wilson, who has played mostly special teams in his career.
[+] Enlarge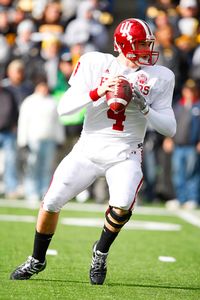 Scott Boehm/Getty ImagesBen Chappell finished last season with 17 touchdowns and almost 3,000 yards.
Indiana: Quarterback Ben Chappell.
History shows that for Indiana to have a chance at a bowl game, it needs to put up a lot of points. The running game has been inconsistent the past few years, but Chappell is poised to have a big senior season through the air. The Big Ten's third-leading passer in 2009 will have a bunch of weapons at his disposal, led by first-team, all-conference wide receiver
Tandon Doss
. Indiana has virtually no experience behind Chappell and would turn things over to a redshirt freshman (
Dusty Kiel
or
Edward Wright-Baker
).
Iowa: Quarterback Ricky Stanzi.
This isn't a knock against backup
James Vandenberg
, who certainly proved himself last fall at Ohio State. But Iowa is simply a different team with Stanzi on the field, drawing confidence from him through his ups and downs. You could see how much Stanzi meant to his teammates on offense after he went down against Northwestern last November. Although offensive tackle Riley Reiff, defensive end Adrian Clayborn or safety Tyler Sash certainly can make their case to be in this spot, Stanzi is the player who shapes Iowa's success more than any other player. He's got the 'it' factor.
Michigan: Cornerback Troy Woolfolk.
Woolfolk provides leadership and some experience in a Wolverines secondary that looks pretty shaky even with him on the field. The thought of Woolfolk being out would certainly raise the anxiety level among Michigan fans. Woolfolk had some good moments last fall and has a chance to be a very solid Big Ten cornerback this year. He also can play safety in an emergency. Given Michigan's lack of depth in the defensive backfield, Woolfolk's presence is crucial.
Michigan State: Linebacker Greg Jones.
This one is pretty obvious. Not only has Jones led Michigan State in tackles in each of his three seasons on campus, but he's the undisputed leader on defense. Without Jones' tackling and play-making ability in the offensive backfield, an average Michigan State defense would be a lousy one. Although the Spartans boast some depth at linebacker with Chris Norman, Eric Gordon and incoming freshmen William Gholston and Max Bullough, Jones is the one guy the coaches are counting on for a ton of production.
Minnesota: Safety Kyle Theret.
There's not an obvious choice for the Gophers, but the team's defense lost some major experience after safety Kim Royston broke his leg this spring. Theret, who was suspended during spring ball but should return, has started 32 games at safety. He ended the 2009 season on a strong note with two interceptions and a tackle for loss in the Insight Bowl. If Royston can't return or is limited, Theret will have to lead a young Gophers' secondary.
[+] Enlarge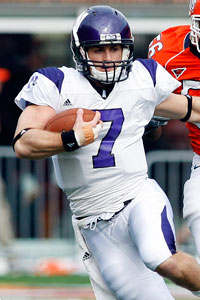 Jerry Lai/US PresswireDan Persa is the only Wildcats quarterback with any game experience.
Northwestern: Quarterback Dan Persa.
Persa hasn't even started a game for Northwestern, so how can he be labeled as irreplaceable? First off, no other Wildcats quarterback has game experience, while Persa appeared in 10 contests last fall. Backup
Evan Watkins
remains a bit raw, and Northwestern will have a true freshman, most likely Trevor Siemian, as its third-stringer this season. Persa already has established himself as a team leader, and he would create problems if he went down.
Ohio State: Quarterback Terrelle Pryor.
Another easy choice, as Pryor has started 22 of Ohio State's past 23 games at quarterback. Although the Buckeyes have won games without major contributions from Pryor, the offense will be shaped around him more this fall. He'll need to build off of what he showed on Jan. 1 in the Rose Bowl against Oregon. Backups
Joe Bauserman
and Kenny Guiton lack game experience, and Ohio State would need everyone else to step up around the quarterbacks to survive without Pryor.
Penn State: Running back Evan Royster.
An experienced running back can be a young quarterback's best friend, and Royster certainly qualifies as a veteran. He has started the past two seasons for the Nittany Lions, racking up 2,405 rushing yards and 18 touchdowns. Penn State needs big things from Royster this fall as an inexperienced signal caller takes over for
Daryll Clark
. Backup running back
Stephfon Green
has shown flashes, but he lacks Royster's consistency.
Purdue: Defensive end Ryan Kerrigan.
We'll find out if running back
Ralph Bolden
is replaceable this season, but Purdue doesn't want to see anything happen to Kerrigan. The senior is one of the nation's top pass rushers, and he's the most experienced member of a defensive line that loses standout tackle Mike Neal. Kerrigan led the Big Ten with 13 sacks last fall and will make life easier for those around him. Aside from Gerald Gooden, Purdue looks a little thin at D-end.
Wisconsin: Quarterback Scott Tolzien.
If Tolzien's value wasn't known after the 2009 season, it became even clearer during spring ball after backup
Curt Phillips
tore his ACL. Tolzien led the Big Ten and ranked 22nd nationally in pass efficiency (143) last season, completing 64.3 percent of his passes. He limits major mistakes and spreads the ball around well to his receivers. Redshirt freshman
Jon Budmayr
has talent but lacks game experience and looked shaky this spring. Wisconsin would much rather let Budmayr have more time to prepare.
Posted by ESPN.com's Adam Rittenberg
All the news that fits, I link.
October, 22, 2008
10/22/08
11:37
AM ET
Posted by ESPN.com's Adam Rittenberg
It's time to look inside five Big Ten teams.

Penn State -- Despite Navorro Bowman's emergence, there has been some concern about linebacker play this year, and the picture only got cloudier last Saturday. After Michigan's run game started strong, the Nittany Lions called for reinforcements and put freshman Michael Mauti and sophomore Bani Gbadyu in the game. The two young players stepped up, combining for 10 tackles, 2.5 tackles for loss and a forced fumble. Both Mauti and Gbadyu could once again see increased playing time in place of Tyrell Sales and possibly Josh Hull against No. 9 Ohio State (ABC, 8 p.m. ET). Mauti's speed on the edge should help against Buckeyes quarterback Terrelle Pryor.

Wisconsin -- A week after saying the 2009 season had no impact on his starting quarterback decision, Badgers head coach Bret Bielema certainly appears to be looking toward the future at that position. Junior quarterback Dustin Sherer will make his second consecutive start Saturday against Illinois, and sophomore Scott Tolzien will take more snaps this week in practice with the second-team offense. Fifth-year senior Allan Evridge, who started Wisconsin's first six games, has effectively been moved to third string. Sherer and Tolzien will compete for the starting job next season with Curt Phillips and James Stallons.

Illinois -- Freshman offensive tackle Corey Lewis could see increased playing time against Wisconsin after performing well in his debut against Indiana. Lewis can play either tackle spot and spelled left tackle Xavier Fulton for several series last week. Sophomore Ryan Palmer will remain sidelined for some time with a foot stress fracture, and Lewis likely will be needed against the Badgers. Lewis also can play on the defensive line. "I wanted to get Corey in there," head coach Ron Zook said. "We kind of joked about that when we told him we were going to play him because he's 18 now and old enough. He's excited about it and I noticed a little different intensity out of him."

Purdue -- Head coach Joe Tiller admitted this week that Purdue's offense has become too basic and needs to diversify after four straight losses. In previous years, the Boilermakers entered every game with two "deceptives" in the offensive plan. This season, the outside-the-box, high-risk, high-reward plays have not been included. That will change Saturday against Minnesota (ESPN Classic, noon ET). "From this point forward I want to see, when the game plan is presented later in the week, two deceptives," Tiller said. "Now, I'm not guaranteeing you they're going to get called, but we're going to have 'em as a possibility anyway, which we haven't had." Purdue ranks ninth in the league in scoring offense (22.3 ppg).

Michigan -- Despite a third consecutive loss, the Wolverines might have found their featured running back last Saturday at Penn State. Junior Brandon Minor had 117 rush yards and two touchdowns against the Big Ten's No. 2 rush defense (103.9 ypg). Minor's emergence allows head coach Rich Rodriguez to take pressure off of true freshman Sam McGuffie and, to a lesser extent, true freshman Michael Shaw. McGuffie has carried the load for much of the season but needs more time to grow into a top role. Minor's ability to run inside and grind out yards will benefit Michigan down the stretch. The junior claimed the top spot on this week's depth chart.