NCF Nation:

Corey Marshall
July, 30, 2014
Jul 30
3:00
PM ET
The ACC's Coastal Division is wide open entering the 2014 season. With six of seven teams receiving at least one first-place vote in the preseason media poll, the possibilities for how this race shakes out are seemingly endless. Here, we take a look at the six teams that garnered first-place votes, examining reasons that are working for and against them in their quests to get to the ACC title game.
Why Virginia Tech will win the Coastal
Defense.
If we were making the case for Virginia Tech every season, then we would start with defense just about every single time. You can always expect a solid defense in Blacksburg. Despite some losses on the defensive line and at linebacker, 2014 is no exception. Virginia Tech should have one of the
best secondaries
in the country, with
Kendall Fuller
,
Brandon Facyson
and
Kyshoen Jarrett
all returning. And the Hokies should also have one of the best interior linemen in the ACC in
Luther Maddy
, a preseason All-ACC selection.
Dadi Nicolas
made huge strides a year ago, and
Corey Marshall
had a great spring after
refocusing on his career
. Nobody expects this group to take a step back.
[+] Enlarge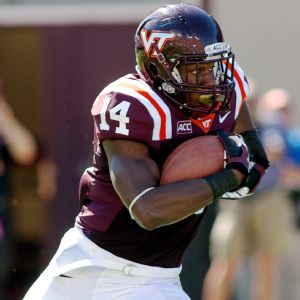 Jeremy Brevard/USA TODAY SportsVirginia Tech's Trey Edmunds rushed for 675 yards and 10 touchdowns last season.
Trey Edmunds.
Edmunds appeared to be turning a corner toward the end of last season, with solid performances in his final three games before breaking his leg against Virginia. You see why expectations around him have mushroomed headed into 2014. Virginia Tech has lacked consistency in the backfield over the last two years, a big reason why the Hokies have taken a step back. It has been well documented just how stuck this ground game has been, a rarity under Frank Beamer. But Edmunds provides hope for the running game as the unquestioned starter, a player with the ability to power through the line but also break tackles and make explosive plays.
Marshawn Williams
also drew praise for his play this spring, so his addition should help everybody take a collective step up.
Improved QB play.
So Virginia Tech has not settled on a starter here, but Beamer and offensive coordinator Scot Loeffler truly believe the offense will be better. That all starts with the quarterback.
Logan Thomas
took his share of criticism over his final two seasons. Perhaps Virginia Tech relied too heavily on him to make plays happen. When he forced the issue, he made mistakes. Just look at his TD to INT ratio -- 34 to 29 the last two years. While it is true Thomas did not have a lot of help around him, the default position was to have him do everything. That philosophy has to change. With that shift, the expectation is the overall offense will be more productive.
Why Virginia Tech won't win the Coastal
Offensive line.
As mentioned above, Virginia Tech has not had any real consistency at running back of late. But it also has not had any consistency along the offensive line, either. The position has not been an area of strength, which has helped contribute to the poor rushing numbers. Even though four starters return with a ton of game experience, there remain questions about this group. Not only are they going on their third offensive line coach in as many years, how do we know this will finally be the year they come together and play well?
Special teams.
Once an area of strength, this has
become a bugaboo
for Beamer in recent years. Virginia Tech kickers missed 11 field goals last season. It's a free-for-all to win the starting kicking job headed into fall practice, with nobody proven in the mix. Not only that, the Hokies gave up three touchdown returns last season (most notably the Alabama game) and had none of their own. So if the Hokies don't step it up in a hurry, special teams could cost them a game or two. Again.
Quarterback.
While there is a segment of fans who are happy to see Thomas go, just look at the bowl game after
Mark Leal
came in to replace him as the nightmare scenario that could unfold at quarterback.
Michael Brewer
appears to be the guy everybody wants to see start, but he left Texas Tech after failing to secure the starting job. How do we know he truly is the answer? Do any of the guys on the roster have what it takes to lead this team to another Coastal crown? That is the biggest unknown right now.
January, 1, 2012
1/01/12
9:00
AM ET
Early in the regular season, Virginia Tech's defense had already lost starting outside linebacker Jeron Gouveia-Winslow and starting defensive tackle Antoine Hopkins to season-ending knee injuries. Starting defensive end James Gayle had missed a couple of games, along with starting cornerback Jayron Hosley.
Just when it seemed it couldn't get much worse, Virginia Tech lost linebacker Bruce Taylor – arguably the leader of the defense and the unit's best player - to a season-ending mid-foot sprain. In a span of four games, the Hokies had lost three starters.
"That's when you said, 'Man, enough is enough,'" defensive coordinator Bud Foster said. "We haven't had as many injuries on the defensive side in, I don't know, forever, the 25 years I've been here."
[+] Enlarge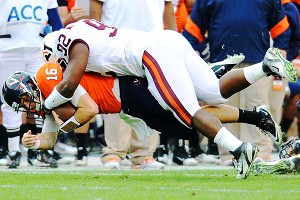 James Lang/US PresswireLuther Maddy, here bringing down Virginia QB Michael Rocco, is among the true freshmen contributing to Virginia Tech's improved defense.
And yet in spite of it all, with two true freshmen in the two-deep at defensive tackle, Virginia Tech enters the Allstate Sugar Bowl against Michigan with one of the nation's top defenses. And the Hokies are going to need it. Those who have paid close attention to Virginia Tech's defense under Foster would probably agree that this has been one of the best coaching jobs of his career. Not only did the Hokies make dramatic improvements from 2010, but they also did it with a young, inexperienced lineup forced into action because of injuries. Now they have to maintain that success against one of the nation's top quarterbacks in
Denard Robinson
.
"The most recent guy we've probably faced like him was Pat White a few years ago at West Virginia," Foster said. "I think he's very similar to that guy. He's a game-breaker. He's a big-time athlete. He can beat you running the ball, he can beat you throwing the football. He's just a dynamic football player, a dynamic athlete. And then he's got some good skill guys around him to take the pressure off of him.
"He makes people miss in the hole. He jukes him and he's off for a 40-yard touchdown. Those are things he does … and they're using him the right way – quarterback sweeps, quarterback powers, quarterback zone play, quarterback draws. They're doing everything. They've adapted to what they have and he's done it very, very well."
Then again, so is Foster's defense.
Last year, Virginia Tech's defense finished No. 52 in the country in total defense, allowing 361.5 yards per game. This year, the Hokies are No. 13 in total defense, allowing almost 50 fewer yards per game. Last year they were No. 26 in scoring defense. This year they're No. 8, holding opponents to 17.2 points per game. After putting the No. 64 rushing defense on the field in 2010, the Hokies improved to No. 17 this year, allowing just 107.8 yards per game.
"There's no question it was a heck of a job," coach Frank Beamer said. "I think the people we lost, and then the people replacing them – you've got two true freshmen defensive tackles – that's not the place you want a true freshman in there. You want some experience in there. And then I think (cornerback) Kyle Fuller had a tremendous year, but him being able to move around and play some different positions and come through, that made a difference. I think the guys we lost, who we lost, and then to play as well as we have defensively, the championship game was a tough game for us, but up until that point, we really played some fantastic football for what we've been through and the injuries we had on our defense."
For almost the entire Wake Forest game Oct. 15, the Hokies were playing without four opening-day starters, including Hosley (hamstring), and Gayle (ankle), in addition to Hopkins and Gouveia-Winslow.
By the third quarter against Boston College a week later, Virginia Tech was missing those four, plus Taylor and Gouveia-Winslow's backup, Alonzo Tweedy, who sprained his ankle. Two true freshmen — Luther Maddy and Corey Marshall — have taken over one of the defensive tackle positions on the two-deep. Two redshirt sophomores — Tariq Edwards and Telvion Clark — are holding down a linebacker spot.
"It all goes back to our players and our coaches," Foster said. "We were a young group, and I'm proud of them. We had an expectation, we talked about how we wanted to get back and play the kind of defense we're used to around here. We started that back in January. I'm proud of our kids that they stepped up and bought into that and knew that's what we needed to get back to. I still think we've got a lot of room to grow, which is exciting, but then to have the injuries on top of that, and some key players, and to have some young guys step up at various times, it's been fun to watch."
October, 13, 2011
10/13/11
10:15
AM ET
There are only five games in the ACC this week as Boston College and NC State are off, and it's an all-conference lineup. Here are two things worth watching in each game, in no particular order:
1. Quarterbacks in College Park.
Maryland starter
Danny O'Brien
was benched in favor of backup
C.J. Brown
last week at Georgia Tech. Neither of them passed very well, but Brown gave the offense the spark coach Randy Edsall was looking for with his 77-yard touchdown run. Who will start for the Terps? For Clemson, quarterback
Tajh Boyd
is expected to play after a hip injury knocked him out of last week's Boston College game. Will his hip be a factor against the Terps?
2. Maryland defensive tackle Joe Vellano.
If you haven't seen him yet, now is a good time to tune in. He had 20 tackles last week in the loss to Georgia Tech. That's almost unheard of for a defensive tackle. It was the most by a defensive lineman in the FBS since 2005. The Terps will need him to continue to be disruptive against Clemson's offense.
3. Miami's red zone defense.
The Hurricanes' defense has been a weak link this season, but they've been pretty stingy in the red zone, holding opponents to just 10 touchdowns in 23 drives. North Carolina, though, has flourished inside the 20-yard line and has scored 16 touchdowns in 19 red zone possessions.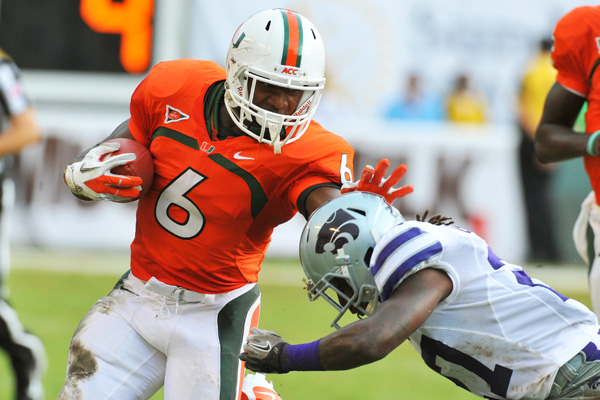 Al Messerschmidt/Getty ImagesLamar Miller has racked up 677 rushing yards and a 7.2 yards-per-carry average this season.
4. Running backs in Chapel Hill.
This game will feature two of the ACC's best in Miami's
Lamar Miller
and UNC's
Giovani Bernard
. Miller has had 100 yards or more in all five games, and Bernard leads all FBS freshmen in rushing yards (109.50 a game) and rushing touchdowns (eight). Miller leads the ACC in rushing (135.4/game) and Bernard is third.
5. Wake Forest running back Josh Harris.
Will he play? If he does, will he have another record-setting performance like he did last year against the Hokies with 241 rushing yards and two touchdowns? Harris has been bothered by a hamstring injury this week, but his chances of playing look good.
6. Virginia Tech's replacements.
This defense is banged up. Last week, true freshman Corey Marshall started for the first time in place of defensive tackle Antoine Hopkins and he had trouble lining up properly. Defensive end James Gayle's status is still uncertain (sprained left ankle). The defensive line has been hit the hardest, but the Hokies also have concerns about linebacker Jeron Gouveia-Winslow (sprained left foot). How will their backups and depleted rotation fare against the nation's No. 18 passing game?
7. Time of possession at Virginia
. You would think that Georgia Tech's offense has had an overwhelming advantage in time of possession, but the Jackets have scored quickly this year, so it's a bit deceiving. There is only a 22-second difference between Georgia Tech and Virginia's time of possession this year -- with the advantage going to the Hoos. Virginia's best defense will be to continue that trend and keep the offense on the field as long as possible.
8. Third downs in Charlottesville:
Georgia Tech leads the nation in third-down conversions (62.2 percent). Virginia is tied for third in the ACC in third-down defense (33.3 percent). Can the Hoos make the stops?
9. Turnovers in Durham.
Florida State turned it over five times in its loss to Wake Forest last week, with four interceptions and one fumble. The Seminoles are 114th in the country in turnover margin (-1.40). Duke did not have a turnover in its road win over FIU. The Blue Devils have lost six turnovers this year. FSU has lost 11.
10. Pass defenses in Durham.
Neither of these teams is running the ball very well this year, but both Duke and Florida State have passing games that rank among the top 16 in the country. How well the defenses fare against quarterbacks
EJ Manuel
and
Sean Renfree
will go a long way in determining the winner.