February, 18, 2014
Feb 18
7:42
PM ET
Georgia
announced the dismissal
of
Josh Harvey-Clemons
on Tuesday with a two-sentence press release.
[+] Enlarge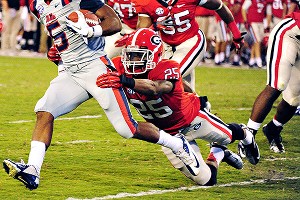 Scott Cunningham/Getty ImagesJosh Harvey-Clemons let a big opportunity get away after being dismissed from Georgia.
No "We wish him well" quote from Mark Richt. No olive branch for a player who was one of the Bulldogs' most-coveted signees in a strong 2012 recruiting class.
This was goodbye and good riddance, which is a genuine shame.
Nobody is happy to see a player's refusal to follow the rules result in his unceremonious exit from a program. This is somebody's life, and now it's in turmoil after rumors swirled for a couple of weeks about his status on the team. As in the case of another recent five-star Bulldog who departed Athens too early -- tailback
Isaiah Crowell
, the SEC's 2011Freshman of the Year whose arrest led to his dismissal before the next season -- this feels particularly galling when that player seems to be wasting such promise.
This kind of reaction wasn't limited to fans and media members after Georgia's announcement. Take what 2013 senior tight end
Arthur Lynch
tweeted in response to the news: "Just to be clear, those who decide not to do it the RIGHT way do not deserve to don the Red & Black. It is a privilege, not a right."
Harvey-Clemons is far from the first Georgia player to run afoul of the program's substance policy -- assuming such a violation was the last straw here, as in the previous suspensions involving the rising junior safety -- and he won't be the last. The program's strict rules regarding drug and alcohol issues mean that Richt consistently deals with suspensions related to substance problems.
Whatever the reason for Harvey-Clemons' departure, it is clear that Richt has had enough. He certainly wouldn't kick one his most talented players off the team, when the Bulldogs' shaky defense could certainly use all the help it can get, unless Harvey-Clemons left him no other option.
Harvey-Clemons will almost certainly land somewhere else -- he's too talented for this to be the end of his career -- but he will carry this label from now on. Whenever someone searches for his name on Google. At his next college stop. Whenever NFL teams evaluate his readiness to become a reliable professional.
He clearly wasn't a reliable college player, getting himself suspended at least twice before Tuesday's announcement. And that lack of reliability leaves Georgia in a lurch at one of its thinnest positions. The Bulldogs struggled at safety a season ago and now players like
Tray Matthews
,
Tramel Terry
,
Quincy Mauger
and
Corey Moore
face even more pressure to perform after a veteran who started 11 games last season has unexpectedly left the team.
Perhaps this is for the best in the long term, since Harvey-Clemons' absences and injuries to other safeties created continuity issues that impacted Georgia's secondary for much of last season. Perhaps starting fresh and knowing who will be available allows new defensive coordinator and secondary coach Jeremy Pruitt to better prepare his defensive backs this fall.
For now, though, this feels like a sad day -- one where someone who could have become a Georgia great instead became another castoff because he couldn't get his act together. It's a difficult lesson for Harvey-Clemons to learn just two days before his 20th birthday, but here's hoping that Richt's actions on Tuesday caused his message to finally resonate and that Harvey-Clemons takes better advantage of his second chance than he did with the opportunity he just squandered.
November, 4, 2013
11/04/13
7:00
AM ET
ATHENS, Ga. -- Todd Grantham made one point abundantly clear in 2010 as soon as he arrived at Georgia to become the Bulldogs' defensive coordinator. He was here to beat Florida, because beating the Gators is the jumping-off point for every goal the Bulldogs hope to achieve in any given season.
"When we go to recruit a guy, the first thing I ask is, 'Can we beat Florida with this guy?' Because if you beat Florida, your chance of winning the SEC East got a whole lot better," Grantham said after Saturday's
23-20 win over Florida
extended Georgia's series winning streak to three games.
[+] Enlarge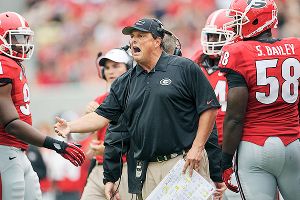 AP Photo/Paul AbellTodd Grantham's defensive unit is a big reason why the Bulldogs have won three straight games against Florida.
Let's put that in perspective. The Georgia-Florida rivalry wasn't even competitive when Grantham joined Mark Richt's staff. Even Florida's mediocre teams found ways to win in Jacksonville -- like when the 2002 Gators who would finish with an 8-5 record handed Georgia its only loss that season and cost the Bulldogs a chance to play for the BCS title.
Dating back to 1990, Florida had won 17 out of 20 games against Georgia when Grantham arrived and seven of nine since Richt took over in 2001. And in the last two games in the series that Willie Martinez served as Georgia's defensive coordinator, Florida's 2008 and 2009 teams beat Georgia by a combined 90-27 margin.
The common theme in each of Georgia's three straight series wins, however? Grantham's defense made big plays when it mattered most and kept Florida out of the end zone. Although they did not turn the ball over on Saturday, the Gators totaled eight turnovers in the teams' previous two meetings, and they have scored just three offensive touchdowns in the last three meetings in Jacksonville.
"Like I said when I first came here, I think I understand who the fans want to beat when you're playing here, and I know that Florida's one of the teams that they want to beat," Grantham said. "So that's why we make it a big game with our players. I think that's one of the reasons that we've had guys step up, meaning Jarvis [Jones] two years ago,
Corey Moore
made a play today. I've seen
Damian Swann
make a play, Amarlo [Herrera], Ramik [Wilson] – a lot of guys made some plays, but they know it's time to man up and go play."
Perhaps the biggest defensive play of Saturday's win came midway through the fourth quarter, when Grantham decided to blitz safety Moore when Florida faced third-and-12 against the reeling Bulldogs. Moore tracked down Gators quarterback
Tyler Murphy
and sacked him for a 14-yard loss at the Florida 43-yard line. That forced the Gators to punt, and Georgia's offense was able to run out the clock on the ensuing possession and protect its narrow advantage.
"I really almost said to Coach Grantham, 'Go sic em. Go get em,' " Richt said. "When I'm saying that, I'm saying, 'Bring the house. Bring more than they can block. Play man coverage with no safety help and let's just see what the heck happens.' Something big's going to happen one way or the other and I held my tongue on it, and he called the blitz. And I'm like, 'I'm with you 100 percent,' and I really was."
Maybe that was a glimmer of hope for Grantham's young defenders. Earlier in the season, maybe they would not have successfully made that play. He pointed to the overtime win against Tennessee, where the Bulldogs were unable to slow down the Volunteers as they mounted a second-half rally, as a time when his defense wasn't tough enough.
"The other team's going to make plays and they're going to do things," Grantham said. "But when that happens, you've got to have the mental toughness and the maturity to go put the fire out, and we preach to our guys all the time about, 'This is what you live for. Seize the moment. Enjoy the opportunity. Go make a play.' "
Believe it or not -- and the fourth-year coordinator's detractors within Georgia's fan base will likely be stunned by this revelation -- Georgia has held all but one opponent (Tennessee) below its season average for total offense. And after yielding 400-plus yards in four of the first five games, the Bulldogs have held their last three opponents below the 400-yard mark and to an average of 68.5 yards per game below their season averages.
They're dead last in the SEC in scoring defense (31.6 ppg), however, in part because of frequent special-teams meltdowns and offensive mistakes deep in Georgia territory.
Georgia ranks 112th nationally and last in the SEC in opponent yards per point -- a statistic that divides the number of points a team allows by the yardage its opponent covered to score. The five teams that rank immediately behind Georgia's average (12.1) on that list have a combined 7-35 record this season: Cal (1-8), Colorado (3-5), Idaho (1-8), UTEP (1-7) and Iowa State (1-7).
Of course, Georgia's defense could always have made more stops after being placed in those bad positions. And the Bulldogs certainly could stand to become more effective on third down (they're 12th in the SEC, allowing opponents to convert 42.5 percent of the time).
But little by little, Grantham's defense is beginning to show some promise -- and perhaps Moore's sack is another sign that the light is flipping on for Georgia's defenders who lacked on-field experience when the season began.
"Part of the job as a coordinator is you've got to be aggressive in those situations and let the players go win the game," Grantham said. "Individual performance wins the game. We put them in one-on-one matchups on that. We were in one-on-one matchups in coverage, we were in one-on-one matchups up front and the guys executed the call and we stopped them. ... In my mind, you want to end the game. That's what I wanted to do was end the game right there."
November, 2, 2013
11/02/13
9:50
PM ET
JACKSONVILLE, Fla. -- Mark Richt hardly seemed to be in a celebratory mood after Georgia's 23-20 win over Florida gave him three straight victories against the Gators for the first time since he became the Bulldogs' coach in 2001.
He had just watched the Bulldogs (5-3, 4-2 SEC) nearly melt down in the second half for the second consecutive game only to be saved by a late defensive stand and a clock-eating drive that ran out the remaining time in the fourth quarter. So perhaps it's understandable that Richt felt far more relieved than jubilant.
[+] Enlarge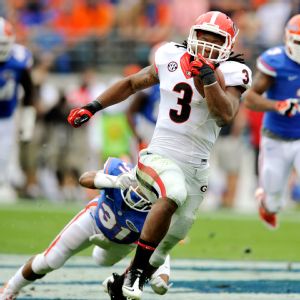 AP Photo/Stephen MortonGeorgia RB Todd Gurley ran for a pair of TDs and helped the Bulldogs win three straight over the Gators for the first time in 24 years.
"It's because we're winning 23-3 ... and then we about lost the doggone thing," Richt said. "That's why I'm subdued right now -- because I'm trying to get over it."
Imagine how Will Muschamp felt. Florida's coach saw his team claw back from a 20-0 deficit at the start of the first quarter, pull within three points at the start of the fourth and then ruin its comeback bid with regrettable penalties at the end of the game.
The Gators (4-4, 3-3) would have gotten the ball back for one final possession, but defensive lineman
Darious Cummings
was flagged for a personal foul -- illegal hands to Georgia center
David Andrews
' face -- to spoil a third-down stop with barely more than a minute remaining. Despite four personal foul calls between the two sides, the resulting first down after Cummings' penalty allowed Georgia to run out the clock and earn its first three-game winning streak in the series since 1987-89.
"We did have Coach [Vince] Dooley come by and speak to our team this week," Richt said, referring to the coach who led the UGA program from 1964-88. "That's one thing he mentioned. I didn't know the stat, but he said if we win, it would be the first time we got three in a row in like 30 years or something. I was frankly kind of embarrassed that was the truth. But that's where this series has gone. It's nice to at least, to this point, get it turned around a little bit."
Richt has been on Muschamp's side of this rivalry, too, however. The early days of Richt's tenure saw Georgia blow numerous winnable games, including a 2002 loss that might have cost the Bulldogs a chance to play for the BCS championship. Richt was 2-8 against Florida until the Bulldogs launched their three-game winning streak in 2011, but perhaps now they have permanently removed the Florida monkey off the program's back.
"Three in a row's awesome," said Georgia senior
Aaron Murray
, who threw for 258 yards and a touchdown and became just the third UGA quarterback since the 1940s to beat the Gators three times. "It's a great feeling and this is just such a great game. The environment's unbelievable. To be in that stadium, it's a true blessing. It's a great feeling to win three in a row -- something that hasn't happened in 24 years, and hopefully next year we'll keep it up."
Saturday's win wasn't pretty by any means. In fact it was symptomatic of Georgia's season thus far, with self-inflicted wounds, costly penalties and general breakdowns combining to place what looked to be an easy victory in jeopardy. Coming off a 31-27 loss to Vanderbilt, where similar problems allowed the Commodores to close the game with a 17-0 run in the fourth quarter, Georgia had to feel as though it was experiencing deja vu against the Gators.
"We just shot ourselves in the foot. I've said that 100 times," said Georgia receiver
Michael Bennett
, who had a team-high five catches for 59 yards. "It's just mental mistakes, I had a dropped pass. Stuff like that, you're going to end up having the other team start scoring points and giving them opportunities. You can't do that."
Tailback
Todd Gurley
-- who scored Georgia's first two touchdowns and finished with 187 yards of total offense -- fell short on a fourth-down run at the Bulldogs' 39 in the fourth quarter, with Georgia clinging to a 23-20 lead.
Florida's
Neiron Ball
was flagged for unsportsmanlike conduct after stopping Gurley, however, pushing the Gators back 15 yards. Their ensuing drive pushed the ball to Georgia's 43 before Bulldogs defensive coordinator Todd Grantham sent a third-down blitz at Gators quarterback
Tyler Murphy
.
Safety
Corey Moore
tracked Murphy down in the backfield for a 14-yard loss, forcing a fourth-and-26 midway through the final period that removed even the possibility that Florida would go for it on fourth down.
"I thought it was the right time to do it," Grantham said of the decision to blitz and leave his defensive backs vulnerable in one-on-one coverage. "We had to go end the game, and that's what we did."
Georgia took over with 8:17 to play and drove 67 yards in 15 plays -- including a huge third-and-7 conversion pass for 7 yards from Murray to
Rhett McGowan
and the Cummings penalty that produced another key conversion -- running out the remaining time.
The loss drops Muschamp to 0-7 in the Florida-Georgia series -- 0-4 as a Georgia player and 0-3 as the Gators' coach -- which undoubtedly creates a lonesome feeling with which Richt can identify.
Richt's team somehow held on for a win on Saturday, however, although the Bulldogs' stumbling style of late seems to be taking a toll on their coach.
"They must like it," Richt said of Georgia's numerous games that have been decided in the waning minutes. "I don't like it. It makes you wonder if this is really a good way to make a living."
September, 9, 2013
9/09/13
7:00
AM ET
ATHENS, Ga. -- Winning is the best salve in sports, so Georgia's defensive lapses aren't as painful as they would have been if the Bulldogs had lost to South Carolina on Saturday and entered their bye week with an 0-2 record.
That alone is a relief for the young defenders who allowed 34 points and 460.5 yards per game against Clemson and South Carolina, surrendering 6.7 yards per play to the two highly ranked opponents.
"It definitely would have stunk. We probably would have been in full pads every day, hitting," outside linebacker
Jordan Jenkins
said of the bye-week practices. "It wouldn't have been a fun environment in Athens for these next two weeks."
The members of Todd Grantham's defense realize that their shoddy tackling would have been the reason for the extra hitting, just as it was the reason they practiced in full pads twice last week leading up to the South Carolina game. They are simply nowhere near where they need to be if Georgia is to remain in the national championship conversation through the rest of the season.
[+] Enlarge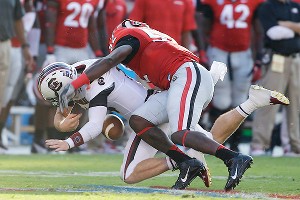 AP Photo/John Bazemore)Amarlo Herrera forces a fumble by South Carolina QB Connor Shaw.
The Bulldogs' offense has mostly bailed them out thus far, but there have been too many missed tackles and busted coverages preventing Georgia's defense from even being considered competent to this point.
"We've still got some things to fix," Jenkins said. "There were still some moments where some guys didn't know what to do. It still wasn't as much as it was last week, but we're just a defense that's coming along and we've just got to fix some small things. I know that's getting repetitive, but I feel like this week was really something that we needed as a defense."
South Carolina finished with 454 yards of total offense and actually averaged more yards per play than did Georgia -- 7.4 to 7.1 -- but there were a couple of bright spots for the Bulldogs in the second half.
For starters,
Amarlo Herrera
continued his difference-making play at inside linebacker. A week after notching 12 tackles against Clemson, Herrera made another 12 stops -- none bigger than when he met Gamecocks running back
Mike Davis
at the goal line on a fourth-down option run and forced a turnover on downs.
"They just came out in a formation that we knew and [South Carolina quarterback
Connor Shaw
] checked, so I kind of knew by the alignment what play they were going to run," Herrera said. "So I just ran to the running back."
Herrera also tracked down Shaw from behind in the third quarter and forced a fumble that
Josh Harvey-Clemons
recovered at Georgia's 25-yard line.
Because of those two giveaways, the Gamecocks mustered just six points in the second half on Saturday, despite generating 221 yards of offense and averaging 7.9 yards per play in the half.
Some of those yards played out in ugly fashion for the Bulldogs, such as when Davis broke a 75-yard run deep into Georgia territory, setting up a 3-yard touchdown run where he ran straight through tackle attempts by Herrera,
Ramik Wilson
, Harvey-Clemons and
John Taylor
. Or when
Nick Jones
twice burned freshman cornerback
Brendan Langley
for touchdown catches in the second quarter.
"It's not easy to play corner in this league, or any league for that matter, in college football," Georgia coach Mark Richt said. "You're going to get challenged, especially if you're a rookie. And he got challenged. He got beat once or twice, but he hung in there."
Certainly some of Georgia's early problems were to be expected. With a big group of inexperienced players taking over for 12 major contributors -- most notably NFL first-round picks Jarvis Jones and Alec Ogletree -- from the 2012 defense, naturally there have been some growing pains.
Langley is a true freshman who lined up against All-American
Sammy Watkins
and an array of other talented Clemson receivers in his first college game. Other new starters like
Leonard Floyd
, Harvey-Clemons,
Sterling Bailey
, Wilson and
Tray Matthews
intrigue the coaches with their talent, but sometimes frustrate them by not performing as consistently as they'd like.
"We're young and we're learning," Harvey-Clemons said. "A lot of us -- like me and Corey [Moore] -- this is our first time playing, so once we get together and get some games under us and get that chemistry going, I feel like there will be a lot of trouble for offenses to come."
The open date comes at a good time for the Bulldogs (1-1), allowing them to regroup from as tough a first two weeks as Georgia has ever faced in program history. With a week off followed by a visit from North Texas (1-1) before LSU (2-0) comes to Athens on Sept. 28, Grantham and company can use the rocky first two games as a teaching tool in a low-pressure environment before life gets difficult again.
LSU has diversified its offense this season and will present a bigger challenge than its run-heavy attacks of the past. And Tennessee's and Missouri's offenses will likely try to spread the field and tear holes in Georgia's defensive scheme, as well.
In short, this is a nice break, but the Bulldogs must be better prepared to be on the defensive soon. They know it as well as anyone.
"We find a way to make a play, make a turnover, keep grinding," Grantham said. "I think that I saw some improvement over last week. I thought our front guys were physically stout at the line of scrimmage. I think we've got to do a better job on the edges in the run game. … We've just got to keep working and if we do that, we'll be fine."
September, 5, 2013
9/05/13
8:00
AM ET
In a blink of an eye,
Mike Davis
was gone. Actually, it might have been less than a blink.
However long it took for people to realize that Davis had bullied his way through his line before bouncing off two North Carolina defenders, the 5-foot-9, 219-pound bowling ball of a running back cut right and was off to a race down the sideline for a 75-yard dagger of a touchdown in the third quarter of South Carolina's 27-10 season-opening win.
[+] Enlarge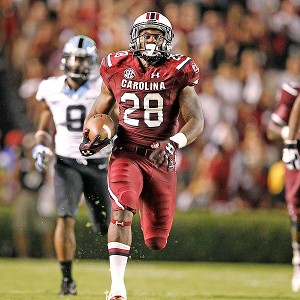 Gerry Melendez/The State/MCTMike Davis' showed some impressive breakaway speed in his 75-yard touchdown run against North Carolina.
Knocking UNC defenders around up front wasn't much of a surprise, but Davis' ability to throw on his track star legs to beat the Tar Heels' defense did. Head coach Steve Spurrier thought Davis would end up with a 25-yard run. Maybe 35. But when the Head Ball Coach saw the sophomore chugging down the sideline with two defenders nipping at his heels, he couldn't help but be impressed.
"One of them had a little bit of an angle on him," Spurrier said. "That was impressive."
With a year to immerse himself into South Carolina's offense, Spurrier's teaching and get some once-in-a-lifetime guidance from Marcus Lattimore, Davis has the DNA to be a special back. He went from being the backup's backup, to rushing for 115 yards on 12 carries in his first career start last Thursday.
"One thing that Mike has is really great vision and he has really great quickness," running backs coach Everette Sands said. "He can see (the hole) and he can get to it, which is very important for a running back."
For Davis' encore, he's headed to Athens, Ga., where the sixth-ranked Gamecocks (1-0) will take on No. 11 Georgia (0-1). As usual, this game has major SEC title implications, but this one will feel extra special for Davis. The Stone Mountain, Ga., native wasn't made available to the media this week, but his coaches expect a lot of emotions from Davis, who will be a little more than hour away from home Saturday.
Davis, who was recruited by Georgia but committed to Florida before signing with the Gamecocks, will have to monitor his emotions, Sands said. Controlling those emotions when things go well or go badly will be huge for the young back Saturday. Keeping his composure is key as he looks to direct South Carolina's running game, which has become the Gamecocks' M.O. under Spurrier, especially against the Dawgs.
During South Carolina's current three-game winning streak against Georgia, the Gamecocks have averaged 224 rushing yards. In those games, Lattimore rushed for 182, 176 yards and 109 yards, respectively, with four total touchdowns.
Lattimore might be gone, but Georgia coach Mark Richt said Davis is equipped with the talent to inflict the same sort of damage.
"Rarely will you see one guy take him down," Richt said. "It usually takes a group. He was always a pretty physical, punishing runner back in his high school days.
"There's no question in our mind that we thought he was a great player (in high school) and wanted him at Georgia."
But Davis is playing against Georgia a week after the Bulldogs' defense had a not-so-flattering showing in their 38-35 opening loss to Clemson.
According to ESPN Stats & Information, Georgia's defense registered 10 missed tackles (the Bulldogs totaled 106 all last season), while Clemson gained 112 rushing yards after contact and finished with 197 yards on the ground.
"It's concerning when you see people scoring a touchdown off of a play that should have been a 10-yard gain," Richt said. "That's a problem."
It'll be a major problem for if the Bulldogs hesitate against Davis, who Spurrier said is faster and stronger than he was last year. Davis can bulldoze ahead or cut to the outside and hurt you on the perimeter, where the Bulldogs are the youngest.
And Davis won't be alone with pounding partner
Brandon Wilds
(12 rushes, 64 yards last week) by his side. Davis is the focus, but Wilds will provide more punch while Davis' legs rest.
It'll help Georgia to get safeties
Josh Harvey-Clemons
(suspension) and
Corey Moore
(sprained knee) back, but they'll need help. It'll have to be a collective effort to contain this running game, especially Davis.
But as Richt knows, sometimes it's just hard to stop a train.
"Great backs are going to break tackles," he said, "I don't care good of a tackler you are."
April, 2, 2012
4/02/12
6:00
PM ET
ATHENS, Ga. -- Georgia's football team has the talent to have a very special fall, but the spring has come with unwanted hiccups.
Georgia has dealt with too much suspension and attrition. The most glaring issue for the Bulldogs is that they'll be without defensive starters
Sanders Commings
,
Alec Ogletree
,
Bacarri Rambo
and
Branden Smith
to begin the season due to suspensions.
The losses of key starters, especially Commings, Rambo and Smith, who all patrol a pretty thin secondary, have Georgia players and coaches frustrated, but they're pushing ahead as the second half of spring football bleeds into the true offseason.
[+] Enlarge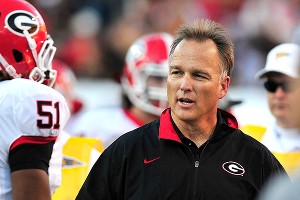 AP Photo/Stephen MortonSuspensions will leave Mark Richt thin in the secondary to begin the 2012 season.
"It robs some of the momentum that you're trying to build and trying to create," coach Mark Richt said. "It doesn't destroy it unless you let it, but it's just another thing that needs to be overcome."
Georgia has had a rash of off-the-field incidents in the past calendar year, and when asked if he thought there was an invincibility complex with some of his players, Richt said he hoped not, but didn't think that there was a discipline problem with his football team.
"The bottom line is that if there are things that need to be disciplined around here, we'll discipline them," he said. "We don't treat a starter any different than a walk-on. We'll discipline even if it hurts -- and it hurts sometimes."
Georgia's coaches are now having to plug more young players into first-team rotations on defense. While the Bulldogs have a handful of players to use at Ogletree's middle linebacker spot, the same can't be said for the secondary.
Georgia had to dip into its offense to get help at cornerback by inserting rising sophomore
Malcolm Mitchell
, who is coming off a solid SEC debut in 2011. Mitchell has received most of his work on defense this spring, and the consensus is that he's taking hold of his new position, but offensive coordinator Mike Bobo isn't ready to totally give Mitchell up to Todd Grantham and Georgia's defense.
"I don't plan on losing Malcolm Mitchell," Bobo said.
In the meantime, Mitchell is looking to help a relatively young secondary in Athens. Coaches and players agreed that two youngsters currently standing out are
Corey Moore
and
Damian Swann
.
The depth in the secondary isn't ideal, but Grantham said he isn't concerned about numbers, or talent. He's just looking for the development, and it's slowly coming.
"The guys that we've got here are capable," Grantham said.
Mitchell's absence on offense also means that Bobo and quarterback
Aaron Murray
are both looking for more from younger wide receivers. Murray gushed about rising seniors
Tavarres King
and
Marlon Brown
, who Murray said finally looks like he's putting things together and is actually healthy. Bobo and Murray both stated that sophomores-to-be
Michael Bennett
and
Chris Conley
should continue to be reliable targets this fall.
But one player really sticking out to Richt is redshirt freshman
Justin Scott-Wesley
. Though he sat out last fall and split time between track and throwing sessions before spring practice, Scott-Wesley has really impressed with his speed and athletic ability.
"He's a track guy, but he's a big, strong, physical guy," Richt said. "He's going to help out a lot this season. There's no doubt about it."
Where Georgia would really like to get more consistent this spring is on the offensive line. Bobo sees a lot of bodies there, but he's still worried about depth. Right now, he likes what he's seen from
Kenarious Gates
,
Kolton Houston
and
Chris Burnette
, but after that it's a bit of a mystery.
Bobo said the second half of spring will be crucial to finding capable depth up front.
"We have three guys we feel good about," he said. "We're looking to find some depth. We're actually trying to find five (linemen who can play)."