April, 26, 2013
4/26/13
2:58
PM ET
Remember two years ago, when Michigan created a lot of big plays by having
Denard Robinson
basically throw a jump ball that his receivers would somehow go up and grab? Well, by the looks of things, that might become a staple of the offense in the future. Only those receivers won't have to jump too high.
The Wolverines' strategy when it comes to recruiting receivers these days could be summed up in three words: super size me. On Thursday, Detroit wideout
Maurice Ways
became the latest player to commit to Brady Hoke. Ways is 6-foot-3.

He joins current Class of 2014 commits
Drake Harris
, a 6-foot-4 receiver, and
Ian Bunting
, a tight end who's been listed as tall as 6-foot-7. Meanwhile, Michigan's celebrated 2013 class included three skyscraper receivers: 6-foot-4
Jaron Dukes
, 6-foot-3
Csont'e York
and 6-foot-2
Da'Mario Jones
. They'll join current redshirt freshman
Jehu Chesson
(6-foot-3) and sophomore
Amara Darboh
(6-2) in Ann Arbor.
There's no secret to what's going on here. Michigan is moving on from its spread offense days and diving full bore back into the pro style system. Offensive coordinator Al Borges wants rangy, lanky athletes on the outside, both for the mismatches they create and their ability to block for the running game.
The Wolverines got great production out of the 6-2 Junior Hemingway the last two years, but their top returning receiver this year is
Jeremy Gallon
, who's only 5-foot-8. Gallon is an excellent player, but future Michigan receivers will likely look less like him and more like former great Braylon Edwards (6-3). Unlike the days of Rich Rodriguez's spread, the Wolverines appear to be valuing size over speed.
"Speed is overrated," receivers coach Jeff Hecklinski told reporters in February. "All of our guys, if you watch them on high-school film, they have great hands, they adjust to the ball, they track the ball very well in the air and they go up and they catch it. We can judge that on film, so let's get the best hand-eye coordination guys, guys that can catch the football, let's bring them in here and let's develop them in other areas."
Michigan's chief rival, and the other Big Ten team that's been cleaning up on the recruiting trail of late, is taking a different approach. Sure, Ohio State coach Urban Meyer wants guys with great hand-eye coordinator and catching ability, too. But he really wants blazing speed for his system. Just look at the receivers the Buckeyes landed in the 2013 class: Jalin Marshall (5-11), Dontre Wilson (5-10), James Clark (5-11) and
Corey Smith
(6-1). Receiver seems to be one position where Michigan and Ohio State are not in direct competition for the same players.
It will be interesting to see what kind of matchup problems the Wolverines' height at receiver poses for Big Ten defenses. Just take a look at the listed sizes of some of the top cornerbacks in the league the past two seasons:
Michigan State's
Johnny Adams
: 5-11
Purdue's
Ricardo Allen
: 5-9
Michigan State's
Darqueze Dennard
: 5-11
Ohio State's
Bradley Roby
: 5-11
Iowa's
Micah Hyde
: 6-1
Nebraska's Alfonzo Dennard: 5-10
Iowa's Shaun Prater: 5-11
Size, of course, doesn't always matter. There's also leverage, separation, route running, catching ability and several other factors that go into being great receivers. Former Michigan stars Desmond Howard (5-10) and Anthony Carter (5-11) did just fine without towering over people.
But Michigan is clearly taking its receiver position to new, um, heights. It will be fun to see how the strategy pays off in the near future.
April, 9, 2013
4/09/13
9:00
AM ET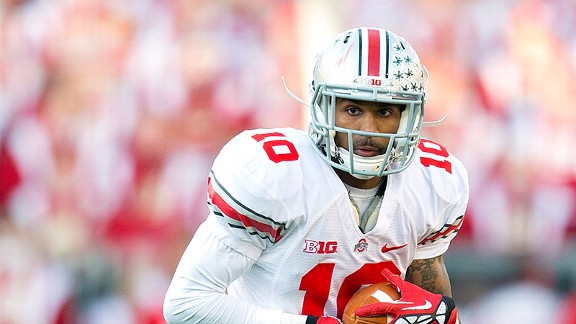 Jeff HanischThe Buckeyes are counting on WR Philly Brown to make the offense a more dynamic one in 2013.
COLUMBUS, Ohio -- Last year, Ohio State led the Big Ten in scoring at 37.2 points per game. Great, right?
Not in the minds of the Buckeyes, who thought they could have fielded a much better all-around attack.
"I feel like last year we didn't play a complete game as an offense," running back
Carlos Hyde
said. "Some games it was all running, while others it was just passing."
Head coach Urban Meyer rarely seemed happy with the offensive production last year, outside of the running skills of Hyde and quarterback
Braxton Miller
. He often expressed his dissatisfaction over a lack of speedy playmakers and an inconsistent passing game.
"I'd get frustrated," Meyer told ESPN.com. "But the bottom line is, name an offense that doesn't have guys who make people miss and are dynamic with the ball in their hands, and that's not a great offense. We don't have enough."
The names on offense haven't really changed much this spring. But the hope is that with another year of understanding the system, some improved throwing and catching and maybe some reinforcements from the recruiting class, the Buckeyes will come closer to fulfilling Meyer's vision of a truly great offense.
It all starts, of course, with Miller, whose efforts to become a more accurate passer this offseason have been well documented. Ohio State also needs continued development from its receivers, which is not a very deep group right now. Meyer singled out
Corey "Philly" Brown
, who led the team with 60 catches for 669 yards, as someone who's becoming one of those dynamic playmakers he's seeking.
"I've tried to work on my open-field running and body control so I could cut faster," Brown said. "It's really paying off for me right now."
Brown is the clear No. 1 receiver, but he needs more help. The team has only six scholarship receivers this spring, and offensive coordinator Tom Herman said he'd only feel comfortable playing four of them for a whole game.
Devin Smith
made some highlight-reel catches on deep balls early last year but was less effective down the stretch, as he had only 13 receptions in the final eight games.
"People, for lack of a better term, figured him out," Herman said. "He wasn't a very versatile guy. He did a couple of things really well, but the other things that he tried to do, he was very below average. He's starting to improve some of his weaknesses to be a more complete receiver, and he has a lot of physical tools and a great attitude."
Herman said
Chris Fields
has had a really good spring, and
Evan Spencer
is a reliable target. Sophomore
Michael Thomas
, the star of last year's spring game, has shown flashes of his talent but needs to progress in a lot of areas. Herman called the receiver depth "a bit scary right now." But the Buckeyes recruited several receivers in this year's class, including
Jalin Marshall
,
Dontre Wilson
,
James Clark
and Corey Smith. They're hoping at least one or two contributes right away.
"You hate to count on [recruits] because they're usually overrated," Meyer said. "But that's why we went out and recruited them."
"We're not asking them to come in and be Jerry Rice," Herman said. "We just hope they can provide some depth and maybe add some skills that we don't currently have in that room right now."
One area certainly not lacking in depth is at running back, where Hyde returns after rushing for 970 yards and 16 touchdowns last year.
Rod Smith
is having a good spring,
Warren Ball
appears to be coming on and if sixth-year senior
Jordan Hall
can ever stay healthy, he'll provide lots of versatility. There was a buzz last week in practice when the Buckeyes lined up with Hyde, Smith and Ball in the same backfield with Miller in a formation Meyer cribbed from the San Francisco 49ers.
"That can give a bunch of trouble to defenses," Hyde said. "They just see three big backs in the backfield and a quarterback who can also run the ball. They don't know who's getting the ball or who's going where."
Ohio State's offensive players do know where they're going, which is different than last spring. Now in the second year of the system, Herman says he can teach his guys not just what to do but why they're doing it.
"It's not just the memorization of, 'OK, I have to line up on the left here,'" he said. "I could train a monkey to do that. What separates really good offenses from average to below-average offenses is all 11 guys understanding the big picture, the entire concept and scheme we're trying to accomplish. It's been nice to kind of dive into that with all of our players this spring."
Knowing how to change a route against a certain defensive look, for instance, should help the Buckeyes play faster this year. The coaches have challenged the players to be a Top 5 offense in the nation this year. That's a lofty goal, but remember that this team is starting from an already high level despite its flaws.
"I definitely think we can be one of the top offenses in the country if everybody takes care of business and is mistake free," Brown said.
February, 27, 2013
2/27/13
9:00
AM ET
It was just a coincidence that our Big Ten
postseason Top 25 player rankings
wrapped up the same week when players were showing off their skills at the NFL combine.
But the convergence of the two raised one pressing question: Where are all the star Big Ten wide receivers?
Only one Big Ten product was invited to the NFL combine to work out as a wide receiver, and that was Michigan's
Denard Robinson
. He, of course, spent almost all of his career at quarterback, finishing with three catches during his four years as a Wolverine. Maybe he'll turn into a productive receiver at the next level, but he doesn't really count.
[+] Enlarge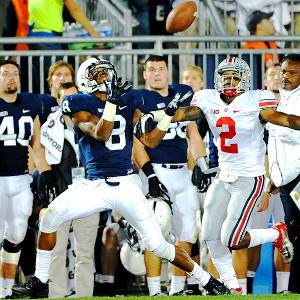 Rich Barnes/US PresswirePenn State's Allen Robinson was the lone wideout from the Big Ten to reach the 1,000-yard mark in receiving yards last season.
Meanwhile, our Big Ten player rankings contained only one receiver: Penn State's
Allen Robinson
, who
checked in at No. 11.
That shouldn't come as a surprise to those who watched the league this year. While Robinson had a huge breakout year with 1,018 receiving yards and 11 touchdowns, no other Big Ten player ranked among the top 71 FBS performers in
receiving yards per game
, the top 58 in
total receiving yards
or the top 50 in
receptions per game
.
In some ways, it was a transitional year for Big Ten receivers. The 2011 season saw four players top 1,000 receiving yards and two others go for at least 925. The NFL drafted six Big Ten receivers last April, including Illinois' A.J. Jenkins in the first round. Iowa's Marvin McNutt and Michigan State's B.J. Cunningham finished their careers as the most productive pass-catchers in school history.
So 2012 was just a blip after a bumper crop, right? Maybe, maybe not. While players from the 2011 group still have time to develop, none of them made much of an impact in the pros last year. Jenkins didn't catch a single pass for the San Francisco 49ers. McNutt spent most of the year on the Philadelphia Eagles' practice squad. The Miami Dolphins cut Cunningham a few months after drafting him. Michigan State's Keshawn Martin had the most successful rookie year of the bunch, catching 10 passes for 85 yards and a score for the Houston Texans. But we weren't exactly witnessing the second coming of Lee Evans, David Boston, Terry Glenn, Plaxico Burress or Braylon Edwards. Not yet anyway.
There are some promising young talents at receiver in the Big Ten. Robinson and Nebraska's
Kenny Bell
are both entering their junior years and could break most of their school records by the time they're finished. Indiana has a terrific trio in
Cody Latimer
,
Shane Wynn
and
Kofi Hughes
. Wisconsin's
Jared Abbrederis
has a chance to end his career with more than 3,000 yards despite arriving as a walk-on.
League wideouts were also no doubt hampered at least in part by a lack of prolific pocket passers in the conference. The two top quarterbacks in our rankings were Ohio State's
Braxton Miller
and Nebraska's
Taylor Martinez
, who are more athletes right now than precision throwers. Michigan's receivers were nearly invisible until
Devin Gardner
took over for Denard Robinson. And Allen Robinson was able to put up big numbers thanks in large measure to the pro-style passing offense Bill O'Brien installed at Penn State.
Still, while the Big Ten is never going to be the Big 12 when it comes to producing eye-popping passing stats, the league appears to be trailing other conferences in developing superstar receivers. That's a little troubling at a time when football at every level is becoming more and more reliant on the passing game.
Ohio State coach Urban Meyer talked about his program's lack of difference-makers at receiver last year, so it was good to see the Buckeyes land what ESPN.com ranked as the
top receiver/athlete haul in the 2013 signing class
. Recruits like
Dontre Wilson
,
Jalin Marshall
and
Corey Smith
could make an immediate impact. It was also encouraging to see Michigan, which has a great tradition at the position, bring in some big-bodied receivers in this class (though it was a bit odd to hear Wolverines receivers coach Jeff Hecklinski say "
speed is overrated"
for wideouts).
Michigan, Nebraska and Minnesota saw what a difference having stud receivers can make in their bowl games. Unfortunately, those star wideouts were on the other sideline. To beat the best teams in the country, it's essential that Big Ten teams recruit and develop standout players at the receiver position.
February, 25, 2013
2/25/13
4:00
PM ET
Both Ohio State (No. 3) and Michigan (No. 6) finished in the top 10 of ESPN Recruiting's
overall class rankings

for 2013. When it comes to specific position groups, however, both the Buckeyes and Wolverines top the chart.
ESPN Recruiting recently completed its team rankings for position groups in the 2013 class.
Not surprisingly, Ohio State finished
No. 1 in the defensive back category
. The Buckeyes signed five defensive backs ranked in the ESPN 300, including cornerback
Eli Apple
-- the Big Ten's highest-rated recruit overall at No. 11 -- and safety
Vonn Bell
. Ohio State's secondary haul is even more important as the Big Ten recently has slipped a bit in recruiting elite defensive backs.
In another clear choice, Michigan finished
No. 1 in offensive line recruiting
for 2013. Four of the six offensive linemen Michigan signed rank in the ESPN 150, including guards
David Dawson
and
Patrick Kugler
. This could be the class that solidifies Michigan's offensive line depth for years to come.
Ohio State also finished
No. 1 in the wide receiver/athlete category
. The late addition of
Dontre Wilson
, who originally committed to Oregon, along with wideout
Jalin Marshall
and junior college receiver
Corey Smith
put Ohio State over the top. This is another critical area to upgrade as the Big Ten has seen a significant drop-off in elite receivers the past year or so. Ohio State is positioning itself to have a major edge on the perimeter.
Michigan received honorable mention for its
running back haul
, headlined by
Derrick Green
. Ohio State earned honorable mention for its
defensive line
class.
No other Big Ten teams were recognized in the position group rankings.
February, 7, 2013
2/07/13
9:00
AM ET
The letters have all been signed and the faxes sent in. Signing day is officially over. So how did each Big Ten team do in fulfilling its most pressing needs?
Of course, the real answer to that question won't come for another one, two or even three years. But we'll take a stab now at figuring out how league teams addressed some glaring concerns, beginning with the Leaders Division. Adam will look at the Legends teams a little bit later in the blog.

INDIANA
Needs met:
It's no secret that the Hoosiers desperately needed reinforcements on defense. They focused on that in this class with 13 of their 22 signees on that side of the ball, plus four players labeled for now as "athletes." That includes six defensive linemen and four linebackers for a team that must improve its front seven.
Holes remaining:
After finishing with one of the worst rushing attacks in the Big Ten, Indiana signed only one true running back --
Daryl Chestnut
-- in this class.

ILLINOIS
Needs met:
After a disastrous 2-10 season where nothing went right, the Illini needed help everywhere, especially at the offensive skill spots. They signed five juco transfers for some immediate assistance and some speed to run the spread offense, including future starting quarterback
Aaron Bailey
.
Holes remaining:
Illinois lost linebacker recruit
Reggie Spearman
to Iowa and didn't sign anyone at that position, though it had two freshmen starters there last year.

OHIO STATE
Needs met:
Speed, speed, speed. Urban Meyer wanted a whole lot more of it, especially at the offensive skill positions. And that's exactly what he got in receivers
Jalin Marshall
,
Dontre Wilson
,
James Clark
and
Corey Smith
. The Buckeyes should also be able to stop the pass with defensive backs
Eli Apple
,
Gareon Conley
,
Vonn Bell
and
Cam Burrows
among the standouts in this class.
Holes remaining
: Very few, as you'd expect with one of the nation's top classes. Ohio State signed only two offensive linemen, but the Buckeyes addressed that position group in the 2012 class.

PENN STATE
Needs met:
The Nittany Lions had to get two quarterbacks in this class, and they managed to land the top-rated quarterback in the land in
Christian Hackenberg
as well as junior college transfer
Tyler Ferguson
. The team also needed to add some talent to the secondary and brought in four defensive backs.
Holes remaining:
The Lions are bringing in only one running back, though they have last year's signee Akeel Lynch, along with Bill Belton and Zach Zwinak returning. With severe scholarship limitations, Penn State's holes will revolve around depth. The team has to be selective and hope its run-on program produces some gems.

PURDUE
Needs met:
The Boilermakers needed reinforcements in the backfield after losing two senior quarterbacks and with a thin tailback corps. Their two top recruits in this class are pro-style QB
Danny Etling
and running back
Keyante Green
. The Boilers also added running backs
Keith Byars II
,
David Yancey
and
Dalyn Dawkins
.
Holes remaining:
Purdue signed just one offensive lineman in this class (
Jason Tretter
). That's an area new coach Darrell Hazell will have to address in next year's class.

WISCONSIN
Needs met:
The Badgers needed to restock the secondary after losing three starters from the 2012 team. They signed five defensive backs, including early enrollees
Keelon Brookins
and
Sojourn Shelton
. Wisconsin also got a potential impact defensive end in
Alec James
and possibly the latest in a long line of star running backs in
Corey Clement
.
Holes remaining:
Wisconsin could still use a bit more playmaking at the wide receiver position after struggling to find complements to Jared Abbrederis last season. The Badgers will hope
Robert Wheelwright
and
Jazz Peavy
provide some help. Neither was a highly rated recruit -- but then again, the highly productive Abbrederis was a walk-on. And although you wouldn't expect Wisconsin to need more offensive linemen, new coach Gary Andersen said the team is a couple of linemen short of the ideal number after signing three in this class.
January, 29, 2013
1/29/13
5:30
PM ET
Even if you only occasionally heard Ohio State coach Urban Meyer talk about his team last year, you most likely heard him address what he felt was the Buckeyes' biggest weakness: playmaking ability at wide receiver.

Devin Smith
made some highlight plays early, and
Corey Brown
evolved into a very dependable wideout. But Ohio State still lacked speed and depth at the position and had a difficult time stretching the field with its offense.
Which is why Tuesday afternoon's news should be encouraging to Buckeyes fans. Junior-college wide receiver Corey Smith, who had been committed to Mississippi State,
switched his pledge to Meyer and Ohio State

. The Akron, Ohio, product had 51 catches for 733 yards and nine touchdowns for East Mississippi Community College last season.
Here's a little of the scouting report on the 6-1, 180-pounder from ESPN's Recruiting Nation: "He is still lean and wiry with good height and very good body control. Smith works to get open with precision steps and spacing and has the feet and burst to gain separation out of the break. He is primarily an outside player in this scheme and uses his quick feet to set up defensive backs and runs crisp, short and intermediate routes. He takes little time to reach top speed and has the explosive first step to drive defenders off the ball."
Smith is the third wide receiver in Ohio State's 2013 class, joining
Taivon Jacobs
and
Jalin Marshall
. With Devin Smith and Corey Brown back, along with
Jordan Hall
, the youngsters could give Meyer and quarterback
Braxton Miller
more options next year. The tough part will be trying not to confuse Corey Smith with the two Corey Browns on the roster, and if the Buckeyes' three starting receivers are ever Corey Brown, Devin Smith and Corey Smith, pity the poor play-by-play man.
And the fact that Meyer swiped this latest commitment from an SEC school has got to bring a few smiles to Buckeye land.
Posted by ESPN.com's Heather Dinich
It's pretty quiet in ACC country today, but there were still a few links for you to chew on:
Miami coach Randy Shannon says he is "not a "hard-a--" like everyone thinks, and has loosened up the atmosphere around Coral Gables to prove it.
Former NC State player Corey Smith is still missing at sea.
Here's an inside peek at the "cruel and unusual punishment" Georgia Tech coach Paul Johnson puts his players through.
Posted by ESPN.com's Heather Dinich
They're ba-ack!
Sorry I missed you on Friday. I included a few extras today, just to make up for it:
Tail-Ler Jones, a highly touted receiver in the class of 2010, has scratched Georgia Tech off of his list of potential schools. Didn't think the triple-option offense would suit him. Demaryius Thomas, who averaged 16.1 yards on 39 catches last year, might beg to differ.
Clemson just added another recruit to its 2010 class, and Jake Nicolopulos might want to wait until he lines up next to his future teammates before he starts calling them "skinny."
"They want a big mike linebacker to start plugging up holes," Nicolopulos told the Columbia State. "The other linebackers are kind of skinny and get pushed around by the linemen."
You probably heard the news about the NFL players who went on a fishing trip and are missing. One of them was former NC State standout Corey Smith, who still shares the Wolfpack record for forced fumbles in a season with six in 2001. He played for State from 1998 to 2001.
Florida State pushed its spring start date back, and that should give offensive coordinator Jimbo Fisher more time to figure out who might catch the ball for the Noles this year.
Miami will miss the leadership of linebacker Glenn Cook, who is now busy auditioning for NFL scouts. Cook was one of 17 seniors to participate in a day-long combine at Miami.
While his younger brother is still in limbo regarding his college choice, Miami linebacker Arthur Brown is focused on his own career.
Here's an interesting one from Friday I missed that isn't dated -- Georgia Tech is sticking with Atlanta-based Russell Athletic, despite some accusations the company uses "improper business practices at a Honduras factory." Duke backed out of its agreement with the company.
December, 5, 2008
12/05/08
11:44
AM ET
Posted by ESPN.com's Brian Bennett
Rutgers was unbelievably impressive in destroying Louisville 63-14 on Thursday night, in a game it led 49-0 at halftime. Tom Luicci writes in The Star-Ledger that the Scarlet Knights put on quite a show in their final regular-season game.
Coach Greg Schiano described it as the "best offensive performance by a team I've been the head coach of -- maybe ever that I've been a part of."
Star-Ledger columnist Steve Politi says Rutgers deserves a good bowl game and should go to the Sun Bowl with the way it's playing. Won't happen, though.