NCF Nation:

Cornell Jackson
April, 4, 2012
4/04/12
7:00
PM ET
WEST LAFAYETTE, Ind. -- When Purdue leading rusher
Ralph Bolden
went down with another devastating knee injury in the season finale, the Boilermakers still had a pretty good backup plan.
Akeem Shavers
stepped into Bolden's place and earned MVP honors in the Little Caesars Bowl win over Western Michigan, rushing for 149 yards on 22 carries. That was just shy of doubling Shavers' output in any regular season game in 2011, yet he wasn't too surprised by his performance.
[+] Enlarge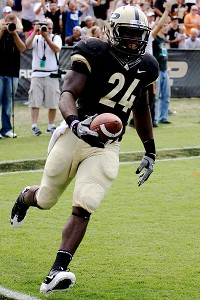 Brian Spurlock/US PRESSWIREAkeem Shavers stepped in for the injured Ralph Bolden last season, and the Purdue back says he's ready to step up again in 2012.
"I always knew I could do it," he said. "It was just a matter of getting out there and getting the amount of playing time that I got [in that game]. I was just waiting on my opportunity. I had no problem with the role I was playing, but I also knew I could do way better than what I had been doing."
This season, Shavers may no longer serve as merely a backup plan. Bolden is not practicing this spring as he tries to recover from his third torn ACL since his senior year, leaving Shavers as the team's No. 1 back. The team is hopeful Bolden can come back and regain his effectiveness, but no one is quite sure what to expect after from him so many injuries.
"I'm trying to stay optimistic in my mind that he'll come back and be fully recovered," Shavers said. "I try to tell him every time I see him, 'Bro we've got to get it . I don't care if your knee is messed up or not, we've both got goals to reach.' I try to keep him motivated, and he tries to motivate me."
Shavers was in this same position last spring as a mid-year junior college transfer, taking first-team reps as Bolden worked his way back from injury. The 5-foot-11, 200-pounder says he's a totally different player this spring.
"When I first got here, I could barely stay on my feet," he said. "I just tried to go as fast as I could, and I'd end up tripping or something. I've gotten a lot better with my balance, my patience and field vision."
Running backs coach Cornell Jackson put Shavers through several balancing drills and taught him finer points of the game, like how to read defensive ends. It was Jackson who played a big role in getting him to West Lafayette.
Shavers was lightly recruited out of Texarkana, Texas, which he attributes in large part to his high school coach and athletic director getting fired before his senior year.
"It was hard making connections and getting my film out there," he said. "Plus, I went to a small [Texas Class] 2A school, and a lot of people don't make it out of that division."
He eventually wound up at Tyler (Kan.) Junior College and sent out his film to FBS schools. Purdue's Jackson was the first coach to show serious interest. After the Boilers offered a scholarship, Shavers said, other schools like Baylor, Indiana and Texas Tech started pursuing him. But he felt loyal to Jackson.
Head coach Danny Hope calls Shavers "a fast, physical back who finishes runs." Purdue doesn't have a lot of other experienced running backs this spring with Bolden out and the offseason transfer of
Reggie Pegram
.
Akeem Hunt
, a sprinter on the school's track team who showed bursts of his potential as a true freshman, and redshirt freshman
Doug Gentry
are the main competitors for playing time in the backfield right now.
The Boilermakers finished fifth in the Big Ten in rushing last season but liked to spread the ball around. No one averaged more than 12 carries per game, and the return of mobile quarterback
Rob Henry
gives the backfield another rushing threat this season.
So it's doubtful that Shavers will emerge as a classic, workhorse-type No. 1 back. But if called upon, like he was in December, he'll be ready.
"We all just want a chance," he said. "It's hard for one guy to just make it through a whole game nowadays because there are so many different offenses and we play at such a high tempo and pace. But I know I can do it. I just need the opportunity."
July, 5, 2011
7/05/11
12:15
PM ET
Extremely sad news about Purdue running back
Sean Matti
, whose
body was recovered
from Lake Freeman on Tuesday morning. The walk-on joined the program in 2007. He was 22.

Here are some statements from Purdue athletic director Morgan Burke and head coach Danny Hope:
Burke: "On behalf of the entire Purdue Boilermaker family, our hearts go out to Sean's family -- Frank and Karen, Samantha, Kyle and Amanda -- and all those who knew and loved him. It is during difficult times like these that families must unite to grow stronger, and we extend our hands out to help however we can."

Hope: "Purdue football is a family, and I am terribly saddened by the loss of one of our young men. Sally's and my prayers continue to go out to Sean's family and all his friends and loved ones. He was a special young man whose positive spirit will be a part of our program forever."
Purdue officials said assistant coach Donn Landholm spent Monday in Monticello, Ind., with Matti's family, while assistants Sean Clark and Cornell Jackson arrived Tuesday morning. Marty Dittmar, a volunteer chaplain for the athletic department, also was at the scene.
The Boilermakers said that grief counselors were available on campus for Matti's teammates.
Thoughts and prayers go out to the Matti family and the Purdue program.
March, 11, 2010
3/11/10
10:43
AM ET
WEST LAFAYETTE, Ind. -- Purdue running back
Ralph Bolden
knows exactly how much room he needs to break away.
"All I need is 16 inches of daylight," Bolden told me Wednesday. "That's it. I'm gone."
Bolden proved it early last season, zooming to the top of the national rushing charts with 357 yards and four touchdowns in his first two games. On his very first carry in the opener against Toledo, his first touch as the Boilermakers' starter, Bolden raced 78 yards to the end zone.
[+] Enlarge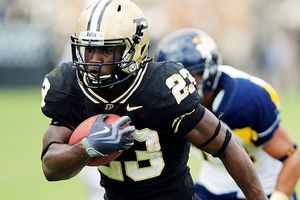 Andrew Weber/US PresswireRunning back Ralph Bolden looks to build on a solid 2009 season.
He showed flashes of his breakaway ability throughout the fall, finishing third in the Big Ten in rushing (77.9 ypg) with an impressive 4.7 yards-per-carry average. Bolden also was a factor in the passing game -- a must for a Purdue back -- with 20 receptions, 261 yards and two touchdowns.
Not bad for a freshman.
OK, Bolden technically was a sophomore in 2009, but the 5-foot-9, 194-pound Georgian wasn't much of a factor in 2008 as he recovered from a serious knee injury he suffered late in his high school career.
"He didn't play much his freshman year, but he didn't get redshirted, so they kind of wasted him," Boilers offensive coordinator Gary Nord said. "He didn't get to spend any extra time in the weight room, and then he didn't get to play and get the experience, either. He was like a freshman last year and will be like a sophomore this year."
After another full offseason under his belt, Bolden will hit the practice field March 24 with higher hopes.
"I wasn't able to do what I want [in 2009]," he said. "This year, I expect a lot more. I know how people are going to move, what to expect, so it's like, 'You know what to expect, you've got to do something.' A lot of times people just do stunts and slants and stuff. It caught me off [guard] last year, I looked for the cutback a lot. But I'm going to stick with my blocks and be more disciplined."
Bolden has been trying, mostly unsuccessfully, to bulk up a bit this offseason, but his breakaway speed isn't going anywhere.
Boilers running backs coach Cornell Jackson often tells his players that they only need 16 inches of room to burst through. Bolden proved the theory last fall, and Nord has bigger plans for the back in 2010.
"He's got a great first step, he can really take off fast," Nord said. "He's got very good vision, he got a lot better in the blocking part of it, in the protection schemes, and he's got extremely good hands. We move him out and play him at wideout, we put him at the top of the I, and we'll keep him as the 1-back.
"He's very valuable to us, and another year under his belt with maturity is going to be amazing for him."
January, 27, 2009
1/27/09
1:22
PM ET
Posted by ESPN.com's Tim Griffin
Good afternoon. Here are some Big 12 links to go with your lunch today.
January, 27, 2009
1/27/09
9:49
AM ET
Posted by ESPN.com's Adam Rittenberg
Purdue's hiring of defensive coordinator Donn Landholm on Monday likely marks the end to the major coaching moves in the Big Ten this year.
There have been no head-coaching changes -- Danny Hope was named Purdue's head coach-in-waiting last year -- and unless Iowa's Kirk Ferentz bolts for the Kansas City Chiefs, which isn't likely, all 11 teams will have continuity on top. But there were several key changes among coordinators and key position coaches.
Here's a summary.

ILLINOIS
Offensive coordinator: Mike Locksley left to become New Mexico's head coach. Illinois hired TCU offensive coordinator Mike Schultz as his replacement.
Defensive line: Ron Zook fired Tom Sims and hired Cincinnati's Keith Gilmore.
Offensive line: Eric Wolford left for the same post at South Carolina, and Zook hired Houston's Joe Gilbert as his replacement.
Notes: Arguably Illinois' biggest coaching move was one that didn't happen. Zook offered Penn State defensive line coach Larry Johnson the chance to be Illinois' defensive coordinator, but the ace recruiter opted to stay at State College.

INDIANA
No changes.
Notes: Despite a 3-9 season that saw regression on both sides of the ball, head coach Bill Lynch said he didn't expect to make any staff changes for 2009.

IOWA
No changes.
Notes: Ferentz is being mentioned as a candidate for the Chiefs' head-coaching vacancy because of his ties to new general manager Scott Pioli, but it appears likely he will remain at Iowa for an 11th season. He will hold a signing day news conference scheduled for Feb. 4 and has talked with athletic director Gary Barta about a contract extension.

MICHIGAN
Defensive coordinator: Scott Shafer resigned and later took the same job at Syracuse. Michigan hired former Syracuse head coach Greg Robinson as Shafer's replacement.
Notes: Head coach Rich Rodriguez took his time with the search, and Robinson actually reached out to him about the defensive coordinator vacancy.

MICHIGAN STATE
No changes.
Notes: Offensive coordinator Don Treadwell was in the mix for several head-coaching spots (Miami University, Boston College) but will stay put for 2009.

MINNESOTA
Offensive coordinator: Mike Dunbar resigned Jan. 6 to pursue other professional opportunities. Minnesota hired former Denver Broncos wide receivers coach Jedd Fisch as Dunbar's replacement.
Defensive coordinator: Ted Roof resigned Jan. 6 to take the same post at Auburn. Gophers head coach Tim Brewster hired former Nebraska and Wisconsin defensive coordinator Kevin Cosgrove, who will share coordinator duties with defensive backs coach Ron Lee.
Notes: Fisch will call the offensive plays, but he must collaborate with Tim Davis, the team's new offensive line coach and run game coordinator. Davis, who replaces Phil Meyer, was hired in late November to transform Minnesota's run game and return the team to its roots as a dominant rushing attack.

NORTHWESTERN
Offensive line: Bret Ingalls left for the New Orleans Saints. Head coach Pat Fitzgerald told me he's not concerned about naming a replacement until after signing day, but indications are Adam Cushing, the H-backs coach and recruiting coordinator, will be promoted to line coach.
Notes: Athletic director Jim Phillips wants to work out a contract extension for Fitzgerald and likely will announce one in the coming weeks or months.

OHIO STATE
No changes.
Notes: Some expected offensive coordinator/offensive line coach Jim Bollman to get the axe, and while it still could happen, head coach Jim Tressel is the primary playcaller and responsible for the unit's success. Co-defensive coordinator and linebackers coach Luke Fickell was mentioned as a candidate for the head-coaching vacancy at Bowling Green.

PENN STATE
No changes.
Notes: Penn State retained Larry Johnson despite Illinois offering more money and a coordinator position. Longtime defensive coordinator Tom Bradley also remains despite some rumors that he was a candidate for the top job at Syracuse.

PURDUE
Offensive coordinator: Ed Zaunbrecher was fired and replaced by Florida Atlantic offensive coordinator Gary Nord.
Defensive coordinator: Longtime Boilers defensive coordinator Brock Spack left to become Illinois State's head coach. Hope hired his former Eastern Kentucky staffer Landholm as Spack's replacement.
Running backs: Joel Thomas left for the same job at Washington, and Hope hired former Kansas State assistant Cornell Jackson as his replacement.
Offensive line: Hope handled the line in 2008 and hired his former Eastern Kentucky staffer Shawn Clark to replace him.
Special teams: Hope moved Mark Hagen from special teams to linebackers and promoted graduate assistant J.B. Gibboney to this post.
Notes: Tight ends coach John McDonnell was not retained for 2009, and a replacement hasn't been named. Terrell Williams will once again coach the entire defensive line this fall after working strictly with the ends in 2008.

WISCONSIN
No changes.
Notes: After firing veteran defensive coordinator Mike Hankwitz and seeing offensive line coach Bob Palcic leave for UCLA last year, head coach Bret Bielema is keeping his staff in place despite a very disappointing 2008 season.