NCF Nation:

Cort Dennison
January, 31, 2012
1/31/12
3:20
PM ET
Every team needs to hit every position group each recruiting season, but there are always priorities. It's not just positions where starters are lost or going to be seniors, it's about addressing weaknesses where a true freshman might be a better answer than a returning player.
Up next is the North Division.

California
QB
:
Zach Maynard
will be a senior, and it says something about the depth behind him that he never lost his job during his midseason swoon.
WR:
Keenan Allen
is back, but that's it in terms of returning production and experience.
S:
Three of the top four safeties from 2011 are gone.

Oregon
Skill:
In Chip Kelly's offense, you can never have enough fast guys. Sure,
Kenjon Barner
,
De'Anthony Thomas
and
Josh Huff
are back, but there's a lot of youth and uncertainty after that at running back and wide receiver.
TE:
His name is
David Paulson
, but he's gone.
Colt Lyerla
was a productive backup -- at least in terms of finding the end zone -- but after him things are uncertain. Tight end is one of the most underrated positions in the Ducks offense, so having more than one Kelly trusts is significant.
S:
Eddie Pleasant
is gone and
John Boyett
is a senior.
Avery Patterson
,
Erick Dargan
and
Brian Jackson
are next in line, but the young talent isn't as certain as it is at corner.

Oregon State
OL:
Oregon State lost three starters from a line that led the worst rushing attack in the conference and surrendered 27 sacks. Quarterback
Sean Mannion
has potential, but he needs time. And a running game.
DT:
The Beavers had the worst rushing defense in the Pac-12 in 2011. 'Nuff said.
LB:
The Beavers had the worst rushing defense in the Pac-12 in 2011. Almost enough said.
Cameron Collins
is gone, and all the contributors on the two-deep will be seniors, other than junior
Michael Doctor
.

Stanford
WR
: Perhaps the weakest position for the Cardinal in 2011, this need is augmented by the loss of
Griff Whalen
and
Chris Owusu
and the lack of up-and-comers other than sophomore
Ty Montgomery
.
DB:
Three of four starters are gone, including both safeties. In the Cardinal's two losses -- to Oregon and Oklahoma State -- an absence of top-end athleticism in the back half was exploited.
OL:
Three starters are back, but the losses are huge: Tackle
Jonathan Martin
and guard
David DeCastro
. And backup tackle
Tyler Mabry
and backup guard
Matt Bentler
also are gone. If coach David Shaw intends to remain a physical, downhill running team -- and he does -- he'll need to continuously stock up on linemen who can get the job done.

Washington
DB:
Lots of guys are back in the secondary, but the Huskies gave up 284.6 yards passing per game, which ranked 11th in the Pac-12. They couldn't cover anybody and often seemed out of position. So new blood might help.
DL
: (See if you can notice a theme here that ignores questions at wide receiver and running back). Two starters are gone from a line that consistently underperformed based on preseason expectations.
LB:
Second-team All-Pac-12 middle linebacker
Cort Dennison
is the only one of the eight men on the depth chart who won't be back, but he was the team's only consistent linebacker.

Washington State
DL:
Three of four starters are back, but all three will be seniors.
OL:
Three starters are back, but to make the next step on offense, the Cougars need to run the ball better. They ranked 10th in the conference in rushing offense. And that might reduce a conference-high 3.3 sacks per game. Mike Leach's quick-hit offense also might help.
RB:
170-pound sophomore
Rickey Galvin
is back, as is senior
Carl Winston
, but the backs need to share responsibility for a 3.1-yards-per-carry average, worst in the conference (of course, losing 237 yards to sacks doesn't help).
October, 20, 2011
10/20/11
12:00
PM ET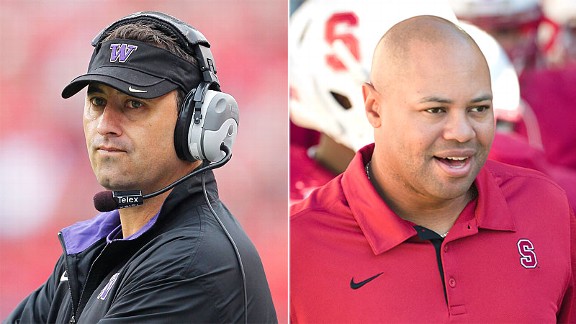 Getty ImagesWashington coach Steve Sarkisian, left, and Stanford's David Shaw both bring a physical brand of football into Saturday night's matchup.
Football folks often talk about a team being "physical." Or playing "physically." Yet those are general terms that don't tell us much, other than suggesting a team can run the ball and stop the run because it's solid up front.
You, of course, want specifics. What does it really mean?
"What's your deal?" That's what it means.
Harken back to the scene of beleaguered former USC coach Pete Carroll -- Carroll beleaguered! -- sharing an unhappy handshake in 2009 with former Stanford coach Jim Harbaugh, who had just aggressively run up the score on the Trojans in a 55-21 win. That was physical football writ loud and large and in your face with no apologies. The Cardinal rushed for 325 yards -- 178 yards and three touchdowns from Toby Gerhart -- and scored four fourth-quarter touchdowns. And on the third one, Harbaugh had opted to go for two.
"What's your deal?" Carroll asked Harbaugh.
His deal, Pete, was physical football, which is about a team mercilessly imposing its will at the expense of its opponent. New Stanford coach David Shaw was the Cardinal's offensive coordinator that day when USC's homecoming was ruined by its worst home loss since 1966, a beatdown that required only 144 passing yards from
Andrew Luck
.
Stanford is always called "physical" these days, and Shaw immediately cited the 2009 USC bludgeoning as his favorite example of that well-deserved reputation.
"It was 55 to whatever and we probably ran the same play 12 or 13 times in a row," he said. "And about 25-30 times in the game."
That play was Gerhart up the middle.
Washington also knows about Stanford playing physical football. The 25th-ranked Huskies visit No. 8 Stanford on Saturday with a 41-0 beatdown delivered in Seattle last year still fresh in their collective noggins. Stanford, which led 28-0 with 8 1/2 minutes left in the second quarter, outgained Washington 470 yards to 107, the lowest total for the Huskies under coach Steve Sarkisian.
"They just out-physicaled us," Washington linebacker Cort Dennison said. "Just beat us down. Plain and simple."
Harbaugh shared that take, gleefully gloating to his players afterward in the locker room, according to Bud Withers of
the Seattle Times
:
"Dominating!" Harbaugh hooted at his players. "We kicked their ass every which way! One hell of a job on both sides of the line! Dominant, dominant!"

Then Harbaugh referenced Pete Carroll, Lane Kiffin, Steve Sarkisian and the UW head coach's defensive coordinator, Nick Holt, and said, "What are you guys, 5-1, 6-1 against that group [in his four-year tenure]? That's the highest-paid coaching staff around!"
No one wants to hear that sort of talk from an opponent. But what could the Huskies say in return?
"You want to bring it to them, but they're bringing it to us," Dennison said. "It was hard."
Thing about that game, though, is the Huskies haven't been the same since. Sure, they got ripped the next week at Oregon, with some obscure quarterback named
Keith Price
recording his first career start for an injured Jake Locker. But they are 9-1 since the Oregon game, and clearly playing more physical football.
How did Stanford build a physical football team?
"It's really pretty simple," Shaw said. "You have really, really physical practices and the cream rises to the top. The guys who are physical and tough by nature, they stand out. And the guys that aren't, they start to wilt."
How did Washington take the same course?
"I think you have to practice it and you have to coach to it," Sarkisian said. "It has to be talked to and you have to give living examples of it. And you have to play the game that way, and I think you need to call the game that way. We've tried to dedicate ourselves to that."
And the Stanford game was a turning point, in large part because Sarkisian decided it would be, even if that didn't go over well with some of his players at the time. That included a fairly embarrassing film session showing guys getting pushed around. That included more hitting -- and yelling -- in practices.
"The coaches after that week definitely tested our will as a team," Dennison said. "But we didn't ever want to see that happen again. It was pretty embarrassing. We took it to heart."
It appears that is true. Stanford ranks third in the Pac-12 in rushing offense (181.7 yards per game). Washington ranks fourth (173.7 ypg). Stanford ranks first -- and second in the nation -- in run defense (59.5 ypg). Washington ranks third -- 17th in the nation -- (97 ypg).
Of course, being physical doesn't mean you don't throw the ball; these teams have combined for 40 touchdown passes -- it just means balance creates efficiency: Stanford is No. 1 and Washington No. 2 in the conference in passing efficiency.
Further, Washington isn't there yet. It's improved on both lines but it's not yet grading roads like the Stanford does. It starts in recruiting with an emphasis on linemen. Sarkisian surely looks enviously at the Cardinal's line, which includes guard David DeCastro, who is not only the nation's best run-blocker, but also a product of Bellevue (Wash.) High School, which is a short drive from Husky Stadium.
It just so happens that the two most talked about recruits in the state of Washington this year are a pair of offensive linemen:
Joshua Garnett
and
Zach Banner
. Both have offers from just about everyone, and Sarkisian needs to sign at least one. If he gets both, well, that would be quite a deal.
But that's the future. The present is the Huskies trying to win a "hello, world" game at Stanford, and the Cardinal trying to record a quality win that boosts its national-title contender Q-rating among those ranking teams in the national polls.
Both coaches will talk about turnovers and mistakes and execution and all of that. But the first question for the Huskies is if they can match Stanford's physical play.
Said Sarkisian: "They've done a nice job of that and they've dedicated themselves to being a physical football team. I think we have as well. We'll find out how far away we are on Saturday."
September, 23, 2011
9/23/11
9:00
AM ET
Stanford and Oregon were a combined 24-2 last year and both are presently ranked in the nation's top-10. They are the top of the Pac-12 North. The number of people who don't think one or the other will win the division is 17, and six of them are
Norwegian
, folks who as you well know are notoriously contrarian when it comes to college football analysis.
Looking up at the Ducks and Cardinal are four other the North teams, but the two top candidates for the three-hole will be in Seattle on Saturday scrapping it out for the right to become a "maybe" contender that could make the Norwegians look like giants of prognostication: California and Washington, neither of whom enjoy hearing about how great Stanford ("Blech," say the Bears) and Oregon ("Pfffftt," say the Huskies) are.
These two combined for 12-13 record last fall, with the Huskies managing to win seven games only because they pried No. 5 away from Cal on what suddenly -- wham! -- became the final play of the Bears season.
[+] Enlarge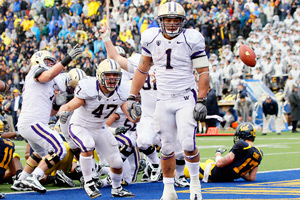 AP Photo/Marcio Jose SanchezChris Polk's 1-yard touchdown with no time left lifted Washington past Cal last season.
That dramatic finish -- a fourth-down, 1-yard TD plunge from Huskies running back
Chris Polk
as time expired on a 16-13 victory -- was the cornerstone of what is supposed to be a transformative season for Washington.
It was not greeted so warmly in Berkeley, where the Bears found themselves saddled with their first losing record in nine years under coach Jeff Tedford. Bears fans, suffice it to say, grumbled a bit, and the Bears themselves weren't exactly clicking their heels over the program's slide, either.
Tedford, however, is only willing to obliquely note that Cal might come to Seattle with an added chip on its collective shoulder.
"It was motivation through the whole offseason and the summer time, but this is a different team and they're a different team," Tedford said before adding. "It was odd how that game ended. It was somewhere we've never been before."
As if last year's game isn't enough of a poke in the eye, Cal adherents also might recall that the last time the Bears were inside Husky Stadium, they got bombed 42-1o, perhaps Jake Locker's career-best game.
These teams will come at each other with similarities: New starting QBs who have mostly exceeded expectations. And differences: Cal's defense ranks among the conference leaders; Washington's among the conference laggards.
As for Cal's
Zach Maynard
, this will be his SECOND -- not first, SECOND -- major road test. He mostly passed his first during an overtime win at Colorado, but Husky Stadium is notoriously tough on visiting foes, though it doesn't appear the house will be full.
"I think Zach is on track to become a very good player," Tedford said. "He has a lot of ability. He probably can use his legs better than any quarterback we've had here, so that is an added dimension to our offense."
While Maynard has been solid, sophomore
Keith Price
has been stellar for the Huskies. He leads the conference with 11 TD passes and ranks fourth in passing efficiency, ahead of some notables such as Arizona's
Nick Foles
and USC's
Matt Barkley
.
"He's playing phenomenal football for us right now," coach Steve Sarkisian said. "He's been lights out."
But Price will be playing against a tough Cal defense that has 11 sacks and ranks second in the conference in pass-efficiency defense.
Maynard will face a defense that ranks last in the conference in scoring (36.7 ppg) and 11th in total defense (452.0). Still, a review of the Huskies depth chart -- defensive tackle Alameda Ta'amu, defensive end Hau'oli Jamora, middle linebacker Cort Dennison, cornerback Desmond Trufant -- suggests this crew should be playing better.
Which is why much of the muttering in Seattle this week has been about well-compensated coordinator
Nick Holt
.
"I trust Nick Holt," Sarkisian said. "I believe in Nick Holt. I believe in our defensive staff. They are tremendous coaches. I've seen them coach for years. And we will get better."
How? Simple. Freaking stop dithering and go hit somebody.
"We're playing with some hesitation," Sarkisian said. "We're not letting loose and letting go. We're a little bit afraid to make a mistake."
The winner Saturday immediately announces itself as a top-half of the division team. And that is a necessary first step toward challenging Oregon and Stanford, who have finished one-two in the conference the previous two seasons.
The Norwegians have high hopes.
June, 8, 2011
6/08/11
9:00
AM ET
SMU's legendary "Pony Express" backfield, Craig James and Eric Dickerson, have teamed up again for an award that recognizes college football's best tandem -- on either side of the ball -- the "Pony Express Award."
[+] Enlarge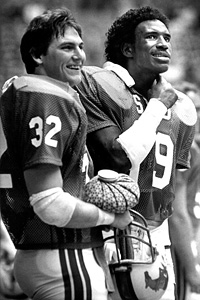 AP File PhotoRunning backs Craig James, left, and Eric Dickerson were dominant at SMU in the early 1980s.
The award, the press release said, "will look at two- and three-player tandems from across the nation, ultimately honoring the combination whose work ethic, desire, on- and off-field leadership and playmaking ability best fuel their team."
The award will be "voted on by a blue ribbon panel of experts that will form the award's board of directors," and will be announced at the end of the regular season.
"Eric and I were able to complement each other on the field in such a way that together we formed a much more potent weapon than even our individual talents would have suggested," James said in the release. "We have remained life-long friends, and each season we have always had fun talking about the great tandems that were making an imprint on the game that season. We decided someone should recognize these great combinations, and that really became the genesis of the Pony Express Award."
Said Dickerson: "You usually talk about football in terms of offensive and defensive units and the individual standouts on either side of the ball. But if you look at those units, usually there are a couple of guys who stick out and really form a very tough matchup. The most obvious would be a great quarterback and a standout receiver. In Craig and mine's case, it was two great running backs. On defense, it might be a pair of great safeties. These are the types of tandems we will be looking at."
The 48 tandems on the "Watch List" include seven from the Pac-12, including two from both Stanford and Washington.
Stanford
: QB
Andrew Luck
, WR
Chris Owusu
, TE
Coby Fleener
Stanford
: OT Jonathan Martin, OG David DeCastro
Arizona
: QB
Nick Foles
, WR
Juron Criner
Oregon
: QB
Darron Thomas
, RB
LaMichael James
, RB
Kenjon Barner
USC
: QB
Matt Barkley
, WR
Robert Woods
Washington
: DT Alameda Ta'amu, LB Cort Dennison
Wasington
: RB
Chris Polk
, WR
Jermaine Kearse
Some that might have been worth adding:
Arizona State
: LB Vontaze Burfict, DE Junior Onyeali
California
: LB Mychal Kendricks, S Sean Cattouse
Colorado
: RB
Rodney Stewart
, WR
Paul Richardson
Oregon
: CB Cliff Harris, S John Boyett
Stanford
: LB Shayne Skov, S Delano Howell
Washington State:
QB
Jeff Tuel
, WR
Marquess Wilson
March, 28, 2011
3/28/11
9:00
AM ET
On Friday, we looked at offensive three-headed monsters --
the best quarterback, running back, wide receiver troikas
-- so it also makes sense to also look at their defensive counterparts, the best threesomes from each of the three levels of defense: defensive line, linebacker and defensive back.
Here's the
tally from last season
, if you are interested.

1.
Arizona State
DE Junior Onyeali, LB Vontaze Burfict, CB Omar Bolden
The Skinny:
No question on No. 1 here. Onyeali was the Pac-10 Defensive Freshman of the Year. Burfict is the nation's best inside linebacker. Bolden was unanimous first-team All-Pac-10.

2.
Stanford
DE Matt Masifilo, LB Shayne Skov, SS Delano Howell
The Skinny:
Masifilo, the lone returning starter on the Cardinal defensive line, was honorable mention All-Pac-10, as was Skov, who was playing as well as any linebacker in the conference over the final third of the season. Howell was second-team All-Pac-10.

3.
California
DE Trevor Guyton, LB Mychal Kendricks, S Sean Cattouse
The Skinny:
Guyton had 8.5 tackles for a loss and 4.5 sacks despite being a part-time starter. Kendricks was second-team All-Pac-10. Cattouse earned honorable mention.

4.
Oregon
DE Terrell Turner, LB Josh Kaddu, CB Cliff Harris
The Skinny:
Two solid returning starters and a second-team All-Pac-10 cornerback who figures to be a preseason All-American after earning second-team honors from the Associated Press and Walter Camp Football Foundation in 2010.

5.
Washington
:
DT Alameda Ta'amu, LB Cort Dennison, FS Nate Fellner
The Skinny:
Ta'amu earned honorable mention All-Conference honors and seemed to find himself over the latter half of the season. Dennison had 93 tackles, 8.5 tackles for a loss and two interceptions. Fellner tied for second in the conference with five interceptions.

6.
Arizona
DT Justin Washington, LB Paul Vassallo, CB Trevin Wade
The Skinny:
Washington's numbers fell off when he got banged up, but he still had 11.5 tackles for a loss and six sacks as a redshirt freshman. Vassallo was honorable mention All-Conference. Wade had an off year last fall, but was second-team All-Pac-10 in 2009.

7.
USC
DE Armond Armstead, LB Chris Galippo, FS T.J. McDonald
The Skinny:
This actually could be one of the best threesomes in the conference, but Armstead and Galippo have injury issues and only put up middling numbers last fall. McDonald was second-team All-Pac-10 in 2010.

8.
Washington State
DE Travis Long, LB Alex Hoffman-Ellis, SS Deone Bucannon
The Skinny:
Long was honorable mention All-Conference, Bucannon, who started as a true freshman, and Hoffman-Ellis were the Cougars' top two tackles in 2010.

9.
UCLA
DE Datone Jones, LB Patrick Larimore, SS Tony Dye
The Skinny:
A solid threesome that is down here more because it gets an "incomplete." Jones missed all of last season with a foot injury, but, if healthy, he's an All-Conference sort. Larimore was solid in seven games before suffering a shoulder injury. Dye led the Bruins in tackles and earned honorable mention All-Pac-10.

10.
Colorado
NG Will Pericak, LB Jon Major, FS Ray Polk
The Skinny:
Pericak earned honorable mention All-Big 12. Major was the Buffaloes leading tackler before he blew out his knee in Game 7 (a knee injury also killed the junior's true freshman season). Polk was the second-leading tackler.

11.
Utah
DE Derrick Shelby, LB Chaz Walker, CB Conroy Black
The Skinny:
Honestly don't know how to rank the Utes here. Shelby and Walker are returning starters -- Walker earned second-team All-Mountain West honors. Black was the top backup cornerback last season.
But
Star Lotulelei might be the Utes' best defensive lineman, and Brian Blechen has moved from strong safety, where he was very good, to linebacker. How highly do the Utes think of him? They list him as an All-American candidate.

12.
Oregon State
DE Dominic Glover, LB Rueben Robinson, S Lance Mitchell
The Skinny:
Three returning starters, but none of them even earned honorable mention All-Pac-10 honors. Mitchell was the Beavers' third-leading tackler, Glover had 2.5 sacks, and Robinson split time with Tony Wilson.
October, 18, 2010
10/18/10
2:20
PM ET
A look back on the week that was.
Team of the week
: While Washington deserves recognition for its double-overtime win against Oregon State, it's hard to ignore what USC did to California. A week ago, many were questioning USC's fire, focus and motivation after consecutive last-second defeats in which the defense failed to stop game-winning drives. But the
48-14
win against Cal showed plenty of fire, focus and motivation. It might be premature to announce the Trojans are back, but that conclusion is more valid than at any time this season.
[+] Enlarge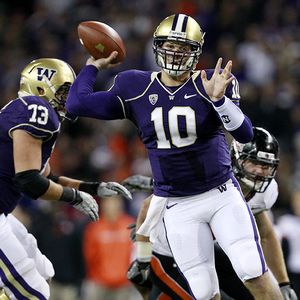 AP Photo/Elaine ThompsonWashington's Jake Locker threw five touchdown passes against Oregon State.
Best game
: The Huskies
35-34
double-overtime win against the Beavers was exciting. And strange. Washington jumped ahead 21-0. The rout is on! Oregon State ties the game at 21-21. The Beavers are going to roll! Then neither team could score -- only one second-half TD -- as the defenses stepped up. Then both teams scored two TDs in OT. Huskies quarterback
Jake Locker
and Beavers running back
Jacquizz Rodgers
turned in star performances. Great finish, though a bit happier for the home fans.
Biggest play
: No game is about one play, but a dropped 2-point conversion undid the Beavers when they made an aggressive move for the win in the second overtime. While H-back
Joe Halahuni
was covered tightly by Huskies linebacker Cort Dennison, the
Ryan Katz
pass was on the money and it would have won the game.
Offensive standout
: There were three Pac-10 games this weekend, and two featured quarterbacks throwing five TD passes in Locker and USC's
Matt Barkley
. But Barkley gets the nod for completing 25 of 37 for 352 yards against what was supposed to be a good Cal defense.
Defensive standout
: USC. You
can review the numbers here
-- no one player stands out -- but the Trojans held Cal to just 245 yards and 10 first downs. That's worthy of note, particularly for a unit that has struggled all season.
Special teams standout
: Kiel Rasp averaged 48 yards on four punts vs. Oregon State. You might recall that Rasp, a junior, only became the Huskies punter when Will Mahan was lost for the year to a knee injury. Rasp is presently 7th in the nation with a 45.91 yards per punt average.
Smiley face
: USC bounced back from consecutive last-second losses to announce that it will not be folding up its tent in Pac-10 play. And Washington, in desperate need for a win to keep its bowl hopes alive, outlasted Oregon State in Husky Stadium a week after a lackluster effort at home against Arizona State.
Frowny face
: There is no excuse, Cal. Even if USC's blowout win was about the Trojans playing great, the Bears shouldn't have rolled over that easily. 42-zip at halftime? That's just embarrassing.
Thought of the week
: With Arizona quarterback
Nick Foles
going down with a knee injury, the battle for first-team All-Pac-10 at quarterback looks like it will be between Barkley and Stanford's
Andrew Luck
. Or might Locker make a late run? Or might a darkhorse candidate -- Oregon's
Darron Thomas
-- still stake a claim?
Questions for the week
: The Pac-10 again has a muddled middle. Who will emerge from the gaggle of Arizona State, California, Oregon State, UCLA and Washington?