August, 8, 2014
Aug 8
9:00
AM ET
Former Louisville coach Charlie Strong recruited some ridiculously speedy football players, but his offensive and defensive schemes were not built on playing fast.
Strong wanted power football on both sides of the ball. So his players trained that way in the weight room. Players bulked up. They were never tested in the 40-yard dash, but rather on the mile. That way, they would have the physical power they would need to win one-on-one matchups, and the endurance they would need to outlast their opponents in the fourth quarter.
Philosophies have shifted now that Bobby Petrino has taken over the program. He wants to play fast, so the message in the weight room has been transformed. Under new strength and conditioning coach Joe Miday, the emphasis has focused on speed and power. Players are now tested on 110-yard sprints and 40-yard sprints. Linebackers train with skill position players to help improve their speed and quickness. Tempo is faster in the weight room, too, that way they can practice as fast as they will play once the games begin.
[+] Enlarge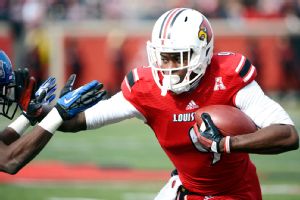 Jamie Rhodes-USA TODAY SportsDeVante Parker recently clocked 4.34 seconds in the 40-yard dash, the fastest time he has ever posted.
There have been immediate results in just a few short months. Receiver
DeVante Parker
, already
blessed with terrific size and strength
, clocked 4.34 seconds in the 40-yard dash -- the fastest time he has ever posted. The number surprised many observers, perhaps because Parker was never truly unleashed in the run-first offense Strong employed. Parker said his time is a direct result of the new strength staff.
"Oh yeah, I am a lot faster now than I used to be," Parker said. In detailing the reasons, he said, "The new staff likes to work on what you need to work on so you can improve, and it will show during the game. Last year, it was more on your body than it is now. Now, they want you to be fast, too. Last year, they just wanted us to be bulky -- we didn't really work on speed. But now we do and it's a big advantage for us."
One of the biggest reasons Louisville is now emphasizing the shorter distances as opposed to the mile is because players require a burst of speed to make plays. The average play lasts roughly 8 seconds. So if a player can maximize his speed in that window, he will have an advantage over his opponent and remain fresh into the fourth quarter. Louisville already has an edge of sorts here because Strong brought in so many fast players, from running back
Corvin Lamb
to cornerback
Charles Gaines
. Ten players posted
40-yard times of 4.46
or better in March.
Playing fast also requires a slimmed-down and toned-up player.
Left tackle
Jamon Brown
is the perfect example. Strong wanted him to bulk up, and he reached nearly 350 pounds last season. But Petrino ordered Brown to lose weight to become quicker on his feet. This is especially important for offensive linemen, who will be asked to go 80 or more plays per game (with about 15-20 seconds between snaps). By contrast, Louisville averaged 69 plays per game last season and ranked No. 2 in the nation in time of possession.
Brown is now down to 325 pounds, and has five more pounds to lose. Guard
John Miller
also is down nearly 15 pounds to 311. Miday has been working for years on emphasizing speed, first at up-tempo Marshall and then with Petrino last season at Western Kentucky. He has gotten results at both stops. Given the players already in place at Louisville, there is no doubt we will see one of the fastest teams in the ACC in 2014.
With the potential for more.
"I think I can hit 4.2," Parker says of his 40-time. "I just want to keep working on my legs so I can get faster."
May, 7, 2013
5/07/13
9:00
AM ET
Louisville running back
Dominique Brown
has the
potential for a breakout season
, all because he sat out last season.
Brown injured his knee and faced the prospects of competing for playing time in a crowded backfield. With
Senorise Perry
and
Jeremy Wright
forming a good 1-2 punch, the Cardinals decided it would be best to redshirt Brown, allowing his injury to heal on its own while he continued to learn the nuances of playing the position.
[+] Enlarge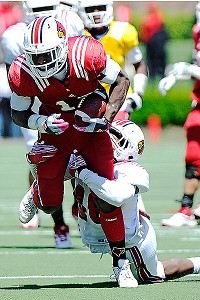 Jamie Rhodes/USA TODAY SportsLouisville's Dominique Brown says he's confident after grasping the nuances of playing running back.
Though Louisville could have used Brown late in the season when Perry went down with a torn ACL, the move to keep him out a year has paid off. With Perry still nursing his knee injury this spring, Brown emerged as a running back to watch, a natural to take Wright's spot in the rotation.
So how does Brown feel about his year away, and where he is better this year? I had a chance to catch up with him to find out.
On the time away: "
It's benefited me a lot. I'm playing much faster, and learning who's supposed to block who. My first year when I made the switch, my biggest downfall was I didn't know where to run, what to read, who to cut off of. My running backs coach said I was running blind. Now that I know where everybody is supposed to be, I'm running much better."
On the competition with Perry out this spring:
"It's a great opportunity not only for me but for the other running backs in the room.
Brandon Radcliff
and
Corvin Lamb
had a great spring. Once Senorise gets back, then it's back to square one for us all competing for the job."
On the feeling of getting back on the field:
"It's going to be tremendous. I'm going to be so excited to get back on the field. The practice field has motivated to get back to playing football."
On how he feels about playing running back now:
"I'm confident. I've got to tone up my game still so I can not only be a good back, but be a great back. There's a lot of room for improvement."
On his weight:
I lost 20 pounds when I got hurt. I'm working with a nutritionist, and getting my muscle back so I can be the downhill runner this offense needs me to be. I played my sophomore season at 235. Now I'm 210. I want to get up to 215-220 to be satisfied with where I'm at. I definitely feel more explosive to get to the second level."
February, 27, 2013
2/27/13
10:12
AM ET
UCF KNIGHTS

Spring start:
March 13
Spring game:
April 13
What to watch:
Bortles' progress: Blake Bortles threw for 3,059 yards with 25 touchdowns and seven interceptions last season, and he figures to be one of the better signal-callers in a Big East that has few consistent returning standouts outside of Teddy Bridgewater.
Replacing Ishmael and McDuffie: UCF loses arguably its two best players in Kemal Ishmael -- who was the Conference USA defensive player of the year and team MVP, notching 124 total tackles and three interceptions -- and Quincy McDuffie, who was the C-USA special-teams player of the year and offensive team MVP.
Beginning the transition: You voted UCF as the newcomer most likely to succeed in the Big East in 2013, and the Knights do seem to be the most ready of the C-USA newcomers. They won 10 games last season, play arguably the toughest nonconference schedule annually of the newcomers, and will have the most natural rival in USF.
CINCINNATI BEARCATS

Spring start:
March 1
Spring game:
April 6 (open practice), spring ends April 13
What to watch:
The Tommy Tuberville era kicks off: Tuberville's stint at Cincinnati got off to an unceremonious start publicly, but Cincinnati got a proven coach who has had plenty of offensive success. The school has usually been a step up the ladder for coaches -- the past three of whom left after three successful seasons each -- but the Bearcats have gone in another direction this time.
The ground game: Cincinnati faced the same question last year upon losing Big East offensive player of the year Isaiah Pead. George Winn ended up outproducing Pead. Who will replace Winn this year? Ralph David Abernathy IV is the most proven returner, but he does not fit the mold of an every-down back. Regardless, with all five offensive line starters back, the transition figures to be relatively smooth, if not as productive.
Defensive line production: Cincinnati got used to playing without Walter Stewart, but it also loses Dan Giordano, who had five sacks in 2012. Although its 31 sacks as a team were good for second in the Big East, the production was down from the previous season.
CONNECTICUT HUSKIES

Spring start:
March 11
Spring game:
April 20
What to watch:
Offense under T.J. Weist: The numbers were ugly -- 110th nationally in total offense, 118th in scoring -- resulting in George DeLeone being stripped of his duties. (He's still the offensive line coach.) Weist comes over from Cincinnati, where he coached receivers the past three years.
Defense under Hank Hughes: Conversely, UConn must now replace defensive coordinator Don Brown, who lifted the Huskies to 10th nationally in total defense last season. Hughes enters his 13th season on staff but is tasked with replacing a number of standouts at each position -- Trevardo Williams, Sio Moore and Blidi Wreh-Wilson, to name a few.
Whitmer's growth: Chandler Whitmer returns after passing for 2,664 yards with nine touchdowns and 16 picks in 2012. He had little help up front, and there is more depth at the position this year with Scott McCummings and incoming recruits Richard Lagow and Tim Boyle, both three-star prospects.
HOUSTON COUGARS

Spring start:
March 4
Spring game:
April 12
What to watch:
Quarterback competition: David Piland is the returning starter, having thrown for 2,929 yards with 16 touchdowns and 12 interceptions in 2012, but he will be challenged by juco transfer Billy Cosh and three-star recruit John O'Korn.
Defense under David Gibbs: The Cougars' defense really has nowhere to go but up after a 2012 season that saw it finish 115th nationally, 107th in scoring, 92nd in rushing and 115th in passing -- numbers that resulted in the ouster of Jamie Bryant. Gibbs most recently worked with the NFL's Houston Texans.
Building depth: The Cougars bring back 43 players from 2012, 14 of whom were starters. Throw in a 26-man recruiting class -- five of whom are currently enrolled -- and Houston can begin to build depth needed to sustain its level of play in a new, better conference.
LOUISVILLE CARDINALS

Spring start:
March 20
Spring game:
April 13
What to watch:
Backfield options: Senorise Perry, last year's starter, will not be in full-contact practice after tearing his ACL late last season. His backup, Jeremy Wright, is not enrolled in classes. Dominique Brown, Corvin Lamb and Brandon Radcliff are the next three guys on the depth chart, although Brown is the only one to have proved much thus far.
Teddy Heisman continuing arc: Bridgewater went from conference-known to nationally known in 2012, and his strong finish against Rutgers and Florida will only amplify the hype heading into this season. If Bridgewater's improvement resembles anything like that of this past season, those Heisman whispers will become much louder.
Clint Hurtt's shadow: Simply put, this is an issue that isn't going away anytime soon. AD Tom Jurich stands behind the defensive line coach, whom the NCAA says provided false or misleading information during its investigation of Miami, and the situation figures to linger until this never-ending Hurricanes case is complete.
January, 2, 2013
1/02/13
10:30
AM ET
Here are three keys for Louisville in the Allstate Sugar Bowl against Florida.


1. Protect Teddy Bridgewater.
UConn provided the perfect blueprint for how to slow down Bridgewater: pressure him, and take him down. Of course, that was a very similar blueprint to the one NC State used in the Belk Bowl last season. The Huskies sacked Bridgewater four times, and as a result, Bridgewater sprained his ankle and broke his wrist. Despite that, he nearly led the comeback win in overtime. In the Belk Bowl last season, Bridgewater was also sacked four times and threw three interceptions. Louisville lost both of those games. Now the Cardinals face the most physical, aggressive defensive front they have in the past two years. So protecting Bridgewater is a must.
2. Get the run game going.
It's no secret Louisville has struggled big time without starter
Senorise Perry
, who tore his ACL against Syracuse. Louisville closed the season 1-2 with a rushing game that failed to gain more than 50 yards in any of those three contests.
Jeremy Wright
has the high in those three games, with 43 yards against UConn. In its 9-0 start, Louisville went over 100 yards in each game. While Bridgewater is perfectly capable of winning a game on his own -- as we saw him do against Rutgers -- establishing the run against Florida will go a long way toward keeping the Gator defense off-balance. All eyes are on Wright and
Corvin Lamb
to step up.
3. Consistency on defense.
We have seen the Louisville defense alternate between tough and porous for most of the season. But there is no time for Louisville to allow Florida to gash 'em up the middle the way Cincinnati, Temple and Syracuse did earlier this season. The Gators' strength is in their rushing game -- they have just 26 pass completions of 20 or more yards, tied for 107th in FBS. So the Cardinals must do everything they can to stop
Mike Gillislee
and mobile quarterback
Jeff Driskel
and force the Gators into third-and-long and obvious passing situations.
November, 10, 2012
11/10/12
1:01
PM ET

SYRACUSE, N.Y. -- Louisville leading rusher
Senorise Perry
hurt his leg on the opening series against Syracuse and is out for the remainder of the game.
Perry went into the contest leading the team with 703 yards rushing and 11 touchdowns on the ground. The Cardinals use a two-back system with
Jeremy Wright
, who has 651 yards and nine touchdown runs. The bulk of the rushing load will now go to Wright and
Corvin Lamb
-- who showed just how explosive he is on a 53-yard touchdown catch off a screen pass late in the first quarter.
Lamb came into the game with two total carries for minus-1 yards.
October, 18, 2012
10/18/12
3:30
PM ET
The big question facing Louisville in the spring and fall: Who would emerge from the logjam at running back?
Would it be cornerback-turned-running back
Senorise Perry
?
Would it be the young but talented
Corvin Lamb
?
Would it be quarterback-turned-running back
Dominique Brown
?
Would it be the most experienced back of the bunch,
Jeremy Wright
?
Coach Charlie Strong never really singled anybody out, but they clearly knew something special was being developed on their practice fields. Because Louisville has done a terrific job turning its running game around behind a much improved offensive line and two of the aforementioned backs.
Perry and Wright.
[+] Enlarge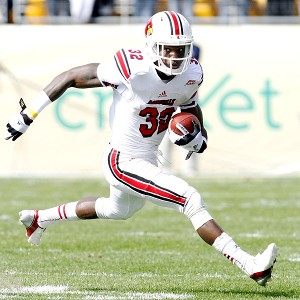 Charles LeClaire/US PRESSWIRESenorise Perry scored four or Louisville's five rushing TDs last week against Pittsburgh.
It was Perry who turned in the headline-grabbing performance last week against Pitt, running for a career-high four touchdowns in the Cardinals' 45-35 victory. Louisville ended up with five rushing touchdowns on the afternoon. The last time that happened was in 2007, against Murray State.
"With both of our running backs, Senorise and Jeremy, they're running behind their pads," Strong said this week. "Senorise has enough speed to get into open field and run away from defenders. Our offensive line did a great job of blocking. Senorise didn't get touched when going into the end zone because of what we're doing. We're able to move people at the point of attack."
Perry is one of the fastest players on the team, so you understand why the coaches decided to move him to running back in the spring in the hopes that he would give a jolt to the position. Louisville struggled to run with any consistency a year ago. The Cardinals only had one 100-yard performance from a back, and averaged 3.4 yards per carry.
That is not the way Strong likes to operate his offense.
For Perry, it was his third position change since arriving at Louisville. Though he played running back in high school, he came into Louisville as a receiver. But he was moved to cornerback and mainly just played special teams. Until this season.
"Once I ended up coming to play running back, it made me realize that I'm going to stay here," Perry said in a phone interview this week. "I love the position because of the things I did in high school. I feel very comfortable. Now I just have to get some of my techniques down and get better."
Perry and Wright have developed a healthy competition between each other to see who will end up with the most carries and the most yards when the season ends. Right now, Wright leads the team with 99 carries, while Perry leads the team with 559 yards. Wright has gotten three more carries than Perry on the season, rushing for 450 yards.
As for the other backs who were in contention before the year started, Brown has been out with a knee injury and Lamb has only played in four games with two carries.
So behind Perry and Wright, look at where Louisville has made its improvements this year:
Louisville is averaging 167 yards on the ground through the first half of the season. That is 45.5 yards better than last season, when the Cardinals averaged 121.5 yards on the ground. In addition, they have rushed for more than 125 yards in all six games after running for over 125 yards in six games all of last season. The Cardinals are 11-0 over the past two seasons when rushing for 125 yards or more.

After recording just one 100-yard rushing game last season, the Cardinals already have five this season. Perry has a team-high three, while Wright has two.

Last season, the Cardinals averaged 3.4 yards per carry and had just 13 rushing touchdowns. This season, Louisville is averaging 4.2 yards a carry and has 17 rushing touchdowns.
When asked why Louisville is so much better running the ball this year, Perry said, "Because of my great O-line and my great fullbacks, my quarterback making the great checks away from the blitzes so we can get into the open field and burst past the second level. Once you get past the second level, there's no one who can stop us because we're so dominant with our legs and our power."
USF will try Saturday in Louisville.
August, 29, 2011
8/29/11
1:14
PM ET
The Big East football coaches' call wrapped up a little bit ago. UConn coach Paul Pasqualoni was the only coach unable to make it because of disruptions from Hurricane Irene. Here are some news and notes from each coach:
Cincinnati
Coach Butch Jones confirmed that he has hired former West Virginia offensive line coach Dave Johnson as an assistant.
He also said Deven Drane is going to start at cornerback, with Dominique Battle right behind him. Jones also anticipates playing eight true freshmen.
On the makeup of the team this season: "I like the mentality of our football team. We've improved our toughness and mental state of mind."
Louisville
Coach Charlie Strong confirmed former Florida cornerback Adrian Bushell has enrolled in school. Bushell played at Coffeyville (Kan.) Community College last season and has only been on campus for two days, so it will take time for him to get up to speed before he can contribute.
Strong also said center Mario Benavides, defensive end B.J. Butler and freshman running back Corvin Lamb are out with injuries.
The Cardinals also plan on playing all three quarterbacks against Murray State on Thursday. Will Stein will start, but Teddy Bridgewater and Dominique Brown will get in as well.
Pitt
The only player out for the game is linebacker Dan Mason.
What is Todd Graham most eager to see about this team? "How we handle adversity. I'm anxious to see them get on the field and execute what we're doing. I feel good about where we're at. We've got an awful lot taught. I'm anxious to see how they respond and get them on the field in game day. I've told them I expect them to be better on game day than they were in the spring and summer."
At his news conference in Pittsburgh, Graham said walk-on freshman Trey Anderson would be the backup at quarterback and Shane Gordon would start at strongside linebacker.
Rutgers
Greg Schiano on playing N.C. Central: "I'm not worried about our team overlooking anybody. If you know about the type of season we had last year, we underachieved. We didn't meet expectations and our entire program can't wait to play a football game."
Schiano says running back Jeremy Deering should be able to play after missing practice time with a head injury. As for his running back rotation between Savon Huggins, DeAntwan Williams and Jawan Jamison, Schiano said, "Savon is definitely going to play. Depending on what we run the first play of the game, will it be Savon, DeAntwan Williams or Jawan Jamison? I don't know how it's going to go. Savon has done a good job in training camp. He's shown why he is the player that he is. He's a talented guy, very mature and worked hard to get ready."
Syracuse
Coach Doug Marrone said Phillip Thomas and Shamarko Thomas, and cornerback Keon Lyn are back at practice and would be able to play against Wake Forest on Thursday night.
Marrone threw out some stats in his opening remarks. Syracuse is 1-12 against ACC teams since 1996, including 0-8 at home.
He also addressed some of the problems with winning home games. Syracuse has not had a winning home record since 2004. The main thing is eliminating the distractions that come with playing at home.
USF
Skip Holtz talked a lot about the excitement of playing Notre Dame for his players, and the campus as well. Holtz spoke at a pep rally on campus and felt a buzz around the students, too. "There is a lot of excitement," he said. "It's fed by not only the way we finished the season last year, but the excitement to play Notre Dame on national television. These are big games for us."
Holtz also said he didn't expect any players to sit out with injuries.
West Virginia
Dana Holgorsen still has not decided on a running back rotation, but said all three freshmen -- Vernard Roberts, Andrew Buie and Dustin Garrison will play Sunday against Marshall.
On why he doesn't use a playbook: "The thought process is we don't want people staring at a piece of paper. We want them to understand it based on film, seeing how it's done right, how it's done wrong and doing it trial and error on your own. We put together a few mini-playbook stuff that's video related. It makes more sense to us."
Holgorsen also said Pat Eger is leading the race to start at right tackle. Quinton Spain is the backup to both tackles. He also expects Julian Miller to be cleared for Marshall.
On Bruce Irvin being an every-down player: "Whether he can be every down as good as he is on specific pass-rush things, I don't know. Time will tell. He set the bar pretty high being a third-down pass-rusher."