January, 1, 2011
1/01/11
11:09
PM ET
PASADENA, Calif. -- They say that sometimes it's better to be lucky than good. But more times, being good creates the luck.
Take TCU's winning play against Wisconsin for instance. The Badgers needed a two-point conversion to tie the Rose Bowl Game presented by Vizio with two minutes left. They lined up in the shotgun with four wide receivers.
[+] Enlarge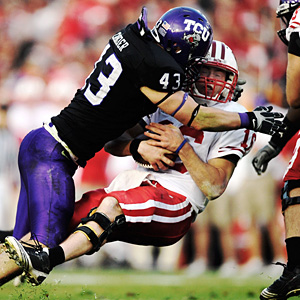 Kevork Djansezian/Getty ImagesTank Carder's two sacks and game-winning pass breakup earned him the Rose Bowl's defensive MVP award.
The Horned Frogs had a double blitz on, with a linebacker and a safety firing in. But the backside safety misread his coverage and left receiver
Jacob Pedersen
wide open in the end zone. To make matters worse, linebacker Tank Carder got stuffed on his blitz attempt.
But here's where the good part came into play. Carder, knowing he couldn't get to quarterback
Scott Tolzien
, decided to take a step back from his blocker and then jump. He timed it just right and knocked down the pass to seal the victory.
"We were lucky Tank was in the game," head coach Gary Patterson said.
And the Horned Frogs are lucky Carder is so good. The junior earned Rose Bowl defensive MVP honors for his efforts, which included the only two sacks in the game.
"He ate up the D-line and knew exactly where to fit," fellow linebacker Tanner Brock said. "He had an MVP day for sure."
Carder's second sack was crucial. TCU took the opening possession of the second half in for a touchdown and a 21-13 lead. Wisconsin came right back the next drive and had a third-and-6 on the Horned Frogs' 37. But Carder flew into the backfield and leveled Tolzien for an 8-yard loss to force a punt.
"I felt like it gave us a lift," Carder said. "I felt like it changed the momentum of the game."
Carder, a former youth BMX world champion, was the Mountain West Conference defensive player of the year in 2010. But he only had 2.5 sacks all season, a number he almost equaled in the Horned Frogs' biggest game ever.
"Somebody had to show up, and somebody did," defensive lineman Cory Grant said. "He had the game of his life at the right time."
A good -- and lucky -- time for TCU.
December, 29, 2010
12/29/10
3:55
PM ET
LOS ANGELES -- Now, it can be said. Or at least, TCU senior left tackle Marcus Cannon didn't mind revealing the truth on Wednesday: The Horned Frogs were a bit bummed out over last year's BCS matchup.

The 2009 team was a controversial Big 12 title game tick of the clock away from potentially playing for the national title. At the very least, the players wanted to prove themselves against a brand-name powerhouse like Texas or Alabama. Instead, they got matched up with Boise State in the Tostitos Fiesta (Non-AQ Super) Bowl. And, Cannon said, that disappointment affected their preparation.
"We didn't get ready last year," he said. "It wasn't on the coaches. It was on us, the way we were practicing, how we were looking at it.
"We didn't know how to act. We're at the Fiesta Bowl, we're at a nice little resort. ... I don't think we had much focus on winning. I think we were mostly kind of disappointed that we played Boise."
Cannon said the players didn't practice as fast, complained about little things and got a tongue-lashing from head coach Gary Patterson about their attitudes. The Horned Frogs looked flat in the game, too, losing 17-10 to the Broncos while dealing with a host of problems that including malfunctioning headsets.
"There were a lot of things that we weren't expecting in that game, even just with crowd noise," said quarterback
Andy Dalton
, who had one of the worst games of his career in Glendale, throwing three picks. "In the game we started using a silent snap count. We hadn't practiced it at all."
But that bad experience laid fertilizer for a potentially much better one. TCU players say they used the sour taste from last year's BCS debut to push them all through this season, and that's a big reason why they're 12-0 and squared off against Wisconsin for Saturday's Rose Bowl Game presented by VIZIO.
The most obvious sign of that motivation is center Jake Kirkpatrick's shaggy locks. The senior hasn't cut his hair since near the end of the Boise State loss and promised not to until TCU suffered another defeat. He said he still thinks about the Fiesta Bowl every day.
"It's been lingering over our heads since we left, since the clock struck zero-zero," defensive lineman Cory Grant said. "It was in the back of our minds through training camp, summer workouts, spring camp. We're going to do everything in our power not to repeat what we did last year."
The team has changed its approach this week. Seniors lobbied Patterson to come out to Los Angeles before Christmas to start prep work, and they had their first on-site practice on Christmas Eve. They also asked Patterson to install a tight curfew, and they say practices this week have been much more intense than in Arizona.Some players said they were overwhelmed by the atmosphere at University of Phoenix Stadium, which they had never entered before game day. They visited the Rose Bowl on Monday and will have a walk-through on Friday to acclimate themselves.
"Last year, we were complacent," Dalton said. "This year, we're on a mission to win."
It's telling that none of the Horned Frogs have complained about not getting a shot at the national title despite going 12-0. True, the Rose Bowl is one heck of a consolation prize. But they also know that they have something to prove in a BCS game after last year. Patterson has a pyramid of goals back in Fort Worth, and directly underneath the pinnacle -- a national title -- is winning a BCS game.
Last year showed them how not to achieve that goal. They've worked for 12 months to try a new way.
December, 29, 2010
12/29/10
9:30
AM ET
LOS ANGELES -- TCU free safety Tejay Johnson remembers a 6-foot-2 wide receiver showing up as a freshman, intent on becoming a star playmaker on offense. Johnson stunned the youngster by telling him his future: "You're going to be a safety."
Players who sign up with the Horned Frogs and coach Gary Patterson often learn that their high school position matters about as much as their astrological sign. That's one of the secrets to the program's sustained success. Patterson and his staff scour Texas for athletes first and figure out where to put them later.
"The one thing that we always look at is, can the young man run?'" defensive coordinator Dick Bumpas said. "And if he can, then that's a good basis to start for a lot of positions."
[+] Enlarge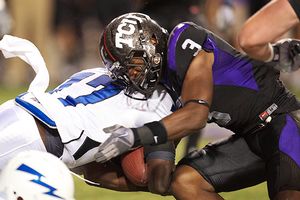 Dale Zanine/US PresswireTejay Johnson is the quarterback of a TCU defense made up players who have switched from other positions.
That philosophy is a big reason why the defense has consistently ranked as one of the nation's best, despite featuring mostly under-the-radar recruits. Patterson and his assistants have an uncanny ability to identify athletes and then teach them how to play defense, if necessary. Current NFL linebacker Stephen Hodge was converted from a high school quarterback to a safety for the Frogs. Last year's All-American defensive end, Jerry Hughes, starred at running back in high school.
Examples abound on this year's team as well. Safety Colin Jones was a prep running back. Starting cornerbacks Jason Teague and Greg McCoy were high school receivers. Defensive tackle Cory Grant came in as a tight end. Linebacker Tank Carder was known for being a former BMX world champion. Matt Anderson entered college as a safety and is now a backup defensive lineman.
"I honestly don't know how Coach P does that," senior defensive end Wayne Daniels said. "I don't think I've ever seen him miss with a position change."
Everything's bigger in Texas? It's more like everything's faster in Fort Worth. Patterson will gladly sacrifice a few inches of height and 20 or more pounds per player in exchange for speed. His 4-2-5 defense is by definition built on swiftness over bulk, with three safeties and one fewer linebacker on the field than the normal 4-3 alignment.
Some of the reason for playing a 4-2-5 is by necessity, Bumpas said. There are more cornerbacks and safeties out there than big guys who can play linebacker, and even in the talent-rich state of Texas, TCU often has to comb through the prospects that Texas, Oklahoma and Texas A&M don't want. Those schools usually want the big guys.
"We really look for potential, probably more so than a finished product," Bumpas said.
The 4-2-5 is a perfect base defense against spread offenses, as the Horned Frogs are basically in nickel all of the time. Of course, that might not be an advantage in Saturday's Rose Bowl Game presented by Vizio; Wisconsin's powerful attack is about as far away from a spread as you can find.
The keys to the 4-2-5 include flexibility and individual responsibility. TCU can put two safeties on one side of the field, bring one or two down for help against the run or send them on blitzes. The defensive front does a lot of shifting, and the pass coverage is divided into two halves of the field. Free safety Johnson is the quarterback of the defense, and weak safety Alex Ibiloye will make calls for coverage on his side.
"Free safety is definitely the hardest position," Carder said. "Coach Patterson gives us three or four different calls, and we've got to choose which one it is. We have a lot of responsibility to make the right calls, but they teach us well and line us up in the right spots."
At the end of each week, Patterson tests each defensive player on their assignments and coverages. He'll show a play on a video screen, pause it, then force each guy to show with a laser pointer exactly what his responsibility is in that situation.
"It's pretty intense," Jones said. "You get some instant feedback, and it's usually pretty negative if you mess up."
The Horned Frogs don't seem to mess up too much on Saturdays. Their defense has led the nation in yards allowed for the past three years and ranks No. 1 this year in points surrendered at just 11.4 per game. It's a senior-laden group that knows this system intimately.
"Structurally, they're a little bit different than what we see," Wisconsin offensive coordinator Paul Chryst said. "But what makes it different is how they play it. They play it really well, not just this year but for many years. They've got athletes that can move, they also know where they're going and what they're doing, so they don't play with hesitation."
Some incoming TCU players, like that freshman wide receiver, might hesitate at switching to a new position. But Johnson said that like most, the freshman quickly realized it was his best chance to get on the field and contribute.
At this point, why would anyone question TCU's winning formula?