November, 15, 2011
11/15/11
9:00
AM ET
See ya, high octane.
Welcome back, grind-it-out football.
If the Panthers' 21-14 win against Louisville this past weekend had a familiar look to it, that was not an accident. Coach Todd Graham has decided to slow down the offensive pace. No more rushing to snap the ball. No more rushing to get set. No more rushing players onto the field.
[+] Enlarge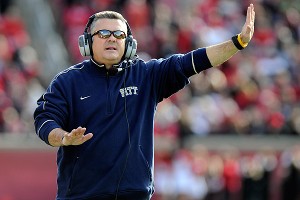 Jamie Rhodes/US PresswireCoach Todd Graham helped get Pittsburgh back on track by changing the tempo of his offense.
Pitt was effective at going at a slower tempo against the Cardinals, racking up 200 yards on the ground. They had no penalties, and
Tino Sunseri
looked more comfortable. Plenty of misdirection plays worked, and the offensive line had perhaps its best performance in a long time. They are going to have to repeat that performance in their final two games against West Virginia and Syracuse to not only get back to a bowl game, but keep their Big East hopes alive.
Graham singled out his line in particular for its play against the Cardinals. The Panthers used their seventh different starting lineup, as guard Lucas Nix was still unavailable. Pitt went with the combination of Greg Gaskins at left tackle, Ryan Schlieper at left guard; Ryan Turnley at center; Cory King at right guard and Jordan Gibbs at right tackle. Turnley is the only player who has started all 10 games at the same position.
"I'm just really proud of them," Graham said. "Greg Gaskins just sticks out to me up front, him and Turnley. We've now had a few weeks with just the same group of guys and they really responded. I thought we run-blocked really well, came off the football. We were able to be balanced in what we were doing. It's just repetition and having the same guys in the lineup helped. It's just reps and those guys being disciplined."
Pitt lost its two best players on the offensive line in Nix (hurt against USF) and Chris Jacobson (out for the season). Guys like Gaskins, King and Schlieper only have a handful of starts and were thrown into the mix to plug holes. As a result of that and an inability to pick up the hurry-up, Pitt has given up 42 sacks this season.
The injuries on offense and all the young players have played a big role in why Graham is scaling back the attack.
But if he gets another performance like the one against Louisville, it will hardly matter.
"The nature of football -- you're going to have injuries," he said. "We're not going to make excuses and whine about that stuff. But what you have to have is guys that have been in backup roles or some of our guys who've been third team. They can't play as replacements. They have to go out there like they're 9 feet tall and compete like they're the best offensive linemen in the country. To get that confidence takes repetition. Having a knowledge of what you're doing allows you to play fast and aggressive. It's been a process, obviously been a challenge with the injuries, but [I'm] really proud of how they responded. It's not how you start, but how you finish."
April, 5, 2011
4/05/11
5:15
PM ET
PITTSBURGH -- A few quick thoughts and observations from what I got to see of Pitt's spring practice on Tuesday:
I was looking forward to seeing just how high-octane this offense was, to use Todd Graham's description. While the usual drills and other periods were held at the same tempo as a lot of practices I've seen, when Pitt went to an 11-on-11 drill it was pedal to the metal. The offense was sprinting to the line of scrimmage and snapping the ball in under 10 seconds. That doesn't mean it was effective. There was a bad shotgun snap from Chris Jacobson and another one mishandled by backup quarterback Anthony Gonzalez. Throw in an incomplete deep ball, and the short team period looked a little disjointed. But fast.
In the past couple of years, Pitt was always what Dick Vitale would call an "All-Airport" team. That is, they looked awfully good in their uniforms. The Panthers don't look quite as physically imposing this spring, but perhaps that's just because guys like Jon Baldwin, Greg Romeus and Jabaal Sheard are not longer around. This team still has plenty of talent, though depth looks like it could be an issue.
Tino Sunseri has pretty clearly established his hold on the starting quarterback job as the incumbent. He had a little trouble hooking up with receivers on deep balls while I was watching, but the coaching staff loves his poise and experience. Remember that Graham has won with quarterbacks who weren't necessarily physical specimens but who were really smart. Sunseri, as a coach's kid and with a year under his belt, fits that bill.
Gonzalez got the first backup QB snaps on Tuesday, though he didn't throw as much as Mark Myers in some other drills. It's hard not to like Myers' skills; he's tall and throws a very tight spiral. Is he the right quarterback for this system? That's a good question, considering he looks like a prototypical pro-style signalcaller, which is one reason why he signed with Pitt.
Receiver Cam Saddler was back on the field after missing some time with a leg injury. The 5-foot-7 speedster has got to love this offensive system after not really getting used much by Dave Wannstedt. He's the kind of waterbug Graham found success with at Tulsa. Devin Street and Mike Shanahan look terrific as the top two wideouts. Pitt just has to find more guys behind them.
The first-string offensive line, for what it's worth, saw Lucas Nix and Jordan Gibbs at tackle, Greg Gaskins and Cory King at guard and Jacobson at center. Gaskins struggled last year when he was first given a chance to start but now he's a senior. After Gaskins made a nice block in a lineman drill, offensive line coach Spencer Leftwich yelled, "If you do that, you can play here."
As usual in these settings, it's hard to tell a whole lot about the defense when there's not much hitting. But Graham raves about his defensive line, saying tackle Chas Alecxih in particular has had a huge spring. He also says cornerback K'Waun Williams "can be special." Some currently injured players like Brandon Lindsey, Antwuan Reed and Todd Thomas will help when they're healthy.