NCF Nation:

Cotton Turner
May, 4, 2011
5/04/11
2:56
PM ET
Houston quarterback
Case Keenum
is doing well in his rehab from a torn ACL and should be ready to go when fall practice begins in August.
Coach Kevin Sumlin said in a phone interview Wednesday that he would defer to the doctors when it came to how much Keenum would practice. But he also noted that Keenum would be eased back in, and would most likely not participate both times on a day when there are two practices. Keenum still plans on organizing 7-on-7 drills with his teammates this summer, so that should help him get his timing back with his receivers.
There is a fine line facing Sumlin: He already knows what Keenum can do, but he also has to get Keenum ready to play in a game for the first time since he got hurt trying to make a tackle against UCLA on Sept. 18.
"Seeing the guy and how he's competed over the course of the last three years, you've got a pretty good feel for what he can do," Sumlin said. "We've seen him at his best. It's not like we're evaluating a guy for the first time based on his injury. If it looks funny or he's limping, practice wise we'll be very cognizant of that. I don't have the same concerns as I would have if it was a true freshman walking on the field."
Cotton Turner
and
David Piland
took all the reps in the spring. Turner was the backup last season but broke his collarbone against UCLA and also was lost for the season. Though he is older, he has less starting experience than Piland, who was a true freshman when he was forced to play with Turner and Keenum out.
Sumlin said he would not have a decision on who would be the backup to Keenum until the first week of the season.
"We went from the least experienced quarterback team in the country to the most experienced in six months," Sumlin said. "They need to prepare to start. I told them, 'If you learned anything from last year, you never know what can happen.' The competition is pretty stiff right now. Those guys understand that. If anything came out of spring, our team has confidence in all those guys right now."
April, 19, 2011
4/19/11
10:30
AM ET
Time to check in on Houston to see where the Cougars stand following spring practice.

Questions answered:
Houston lost three of its four starters in the secondary but have seemingly found replacements for its two starting cornerbacks after spring. Junior college transfers D.J. Hayden and Chevy Bennett made a quick impression after enrolling in January and are on course to start. Hayden and Bennett played on the same Navarro College team that won the national championship last season. Hayden, at 6 feet and 175 pounds, was particularly impressive and seemed to make plays every time the ball came near him. Safety Colton Valencia could also become a starter after a good spring. He transferred from Texas A&M and is eligible to play this season. There is also good depth at receiver.
Tyron Carrier
and
Patrick Edwards
return. Watch for redshirt freshman
DeAndre Perry
,
Justin Johnson
and outside receiver
Isaiah Sweeney
, who runs on the track team.
Questions unanswered:
The offensive line lost three starters, including center Jordan Shoemaker, left guard Isaiah Thompson, and right tackle Roy Watts. The starters come fall are still up in the air. Center Blake Sargent hurt his shoulder late in spring practice and the school was still waiting to find out the extent of the injury. Chris Thompson was moved from guard to center to help. The big question is whether the defense will be better. There is depth at linebacker, so that helps. But there are still questions about who will start on the line. New defensive line coach Carlton Hall did a good job during the spring, focusing more on teaching. Linemen worked at tackle and end. Kelvin King, a hybrid end/linebacker, has moved to end full-time. Eric Braswell had a nice spring and could be a contributor. Depth at defensive back is also an issue.
Of note:
Case Keenum
did not participate in spring practice, save for the occasional throwing drill. Keenum is recovering from a torn ACL and will not be cleared to practice until June at the earliest.
Cotton Turner
and
David Piland
took the majority of the reps. Defensive back Nick Saenz (shoulder) and defensive lineman Zeke Riser (knee) also sat out spring ball. ... Running back
Charles Sims
is expected to be back with the team in the fall after sitting out 2010 for academic reasons.
December, 15, 2010
12/15/10
11:00
AM ET
Houston is not going bowling for the first time since 2004. Here is a quick look at what went wrong this season.

How it happened:
Easy. Heisman hopeful
Case Keenum
tore his ACL in the third game of the season against UCLA, and backup
Cotton Turner
broke his collarbone in the same game, leaving Houston with a true freshman quarterback in
David Piland
. The Cougars tried to rely on the run to take the pressure of Piland, but teams were daring them to beat them with the pass. Piland was able to throw for a bunch of yards -- 2,641 -- but he completed less than 60 percent of his passes and threw 14 interceptions. The running game was inconsistent, and so was the defensive effort under first-year coordinator Brian Stewart. The Cougars ranked No. 104 in the country in total defense, only a very slight improvement over last season. They also gave up an average of 32 points a game, up two points from last season.
What needs to change:
Houston was thrown into an impossible situation with the injuries to Turner and Keenum. Coach Kevin Sumlin had every intention of redshirting Piland this season. The Cougars are awaiting word on Keenum's status for next season. They have applied to the NCAA for a sixth year of eligibility. So much rests on what happens at quarterback. The defense has got to show signs of improvement after switching to the 3-4. A transition period is expected, but Sumlin cannot wait much longer to see improvements with this unit.
Bowling next season?
Yes, with or without Keenum. This is a no brainer of Keenum returns, but even if Turner is in charge, the Cougars have a great shot at going back to a bowl game. The backfield will be loaded, too, with the return of
Bryce Beall
and
Michael Hayes
.
Charles Sims
should also be back after he was ruled academically ineligible for this season. Leading receiver
Patrick Edwards
also returns.
October, 12, 2010
10/12/10
7:00
AM ET
Houston Cougars
Record:
3-2 (2-0 Conference USA)

A season that started with incredibly high expectations has turned into one of survival.
Case Keenum
came into the year with Heisman buzz and the hope that he would become the NCAA career passing leader after back-to-back 5,000 yard seasons. But his season came to an abrupt end against UCLA when he tore his ACL trying to make a tackle following an interception he threw. Backup
Cotton Turner
broke his clavicle in the same game, leaving the Cougars with two true freshmen at quarterback.
Terrance Broadway
has started a game, and
David Piland
has started a game. Coach Kevin Sumlin says he will stick with Piland, who threw for 300 yards in a loss to Mississippi State last week. Meanwhile, a defense that is transitioning to the 3-4 is still struggling against the run, giving up an average of 212 yards a game, ranking No. 112 in the country. What once was going to be a fight to win the conference has now turned into a fight just to get to a bowl game.
Offensive MVP, RB Bryce Beall:
He had his worst performance of the season last week against Mississippi State with 17 yards on eight carries, but there probably is a reason for it. Teams are now going to be keying in on him to make Piland beat them through the air. Beall has had a nice season, running for 435 yards and nine touchdowns.
Defensive MVP, LB Marcus McGraw:
McGraw leads the team in tackles for the second straight year and has 47 so far, with 15 sacks and two forced and recovered fumbles. He topped 300 career tackles last week against Mississippi State. Mention also goes to cornerback Loyce Means, who has three interceptions this season.
September, 19, 2010
9/19/10
7:06
PM ET
Losing
Case Keenum
is bad enough. Losing his backup in the same game -- that is simply a cruel twist for the
Houston Cougars
.
A team that came into the season with such high expectations behind a Heisman Trophy candidate is now officially reeling after the news Sunday afternoon that both Keenum and
Cotton Turner
are done for the year. Keenum tore his ACL while trying to make a tackle on an interception in a 31-13 loss to UCLA on Saturday night. Turner broke his clavicle after getting hit following a pass.
[+] Enlarge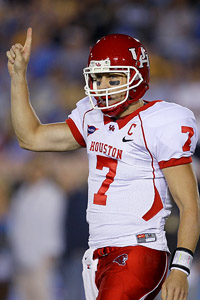 Stephen Dunn/Getty ImagesLosing senior Case Keenum is a huge setback for Houston.
The Cougars will most likely turn to freshman
Terrance Broadway
, who was supposed to be redshirted this season. Instead, Broadway came into the UCLA game in relief of both quarterbacks and went 5-of-8 for 84 yards and a touchdown despite getting no reps during practice. Coach Kevin Sumlin said he would decide between Broadway and another freshman,
David Piland
, who was also supposed to be redshirted as the team prepares to play Tulane.
"It's a blow to our team, really to lose both of them and I'm really disappointed for them personally -- particularly for Case," Sumlin said on a conference call Sunday night. "It's an unfortunate situation, but different things happen and we've got to have some guys who will step up and play. I thought Terrance Broadway coming in at the end of the game in those circumstances on the road and with very limited reps I thought he handled it very, very well for his first time out. We've got talented young players and our team's going to have to rally behind our young quarterbacks and continue to move on."
Keenum, of course, was the centerpiece of a team that has returned to national prominence thanks to his stellar play. He and Graham Harrell of Texas Tech are the only players in NCAA Division I history with multiple 5,000-yard passing seasons. Last season, Keenum set the school single-season record with 5,671 passing yards, the third-highest passing total in NCAA Division I-FBS history.
He was also poised to become the NCAA career passing leader going into this year. But now he faces the reality that his season is over. To make matters worse, this was the second game in a row he got hurt trying to make a tackle on an interception. Last week, he sustained a mild concussion against UTEP. Sumlin said the thought that ran through his mind when he saw Keenum trying to make a tackle was this: "You should not be doing that."
"We talked about it last week," Sumlin said of a conversation he had with Keenum. "We all know what kind of competitor he is."
As for how Keenum is handling the injury, Sumlin said, "I think you guys would know that this is a difficult time for him. He's the kind of guy that's resilient, but I do think things of this nature take time for guys to deal with."
Sumlin said his offense won't change much with two inexperienced quarterbacks now competing to lead such a wide-open attack. Both Broadway and Piland come from successful high school programs -- Broadway from Capital in Baton Rouge, La., and Piland from Southlake Carroll in Texas.
But still, they are going to obviously be without a four-year starter, a leader, the heart and soul of a team that has been rejuvenated because of him. The defense showed against UCLA it still is a work on progress and has a long way to go before becoming an elite unit. The running game, so good in the first two games, struggled against the Bruins. You can bet teams are now going to force Houston to try and pass -- something they wanted to avoid with Keenum there.
For the terrible news his team received, Sumlin is eager to see how his players respond.
"We're going to have to depend on some leadership from within," Sumlin said. "As I told the team after the game, we've got some experienced players who are going to have to pick up the slack. We do have people around who will surround our quarterbacks, and they've got to raise their level of play. We've got a long season ahead of us. All our goals are still out in front of us.
"Right now we're 1-0 in our conference and we're playing a conference game this week. We've got to turn our attention now to still reaching our goals and our players know that. This is another challenge for this team and for this program."
September, 19, 2010
9/19/10
10:00
AM ET
Now for a recap of five things we learned from the non-AQs after Week 3.

1. TCU is the best team in Texas. You might have thought so before, but after watching the Horned Frogs beat Baylor 45-10 and Texas struggle to beat Texas Tech 24-14, it is safe to say it now. Heck, TCU might even be better than Boise State at this point. The defense has come on strong despite losing Jerry Hughes, Daryl Washington and two experienced cornerbacks in Rafael Priest and Nick Sanders, turning back two vastly different offenses in Oregon State and Baylor. TCU held the Bears to 263 total yards of offense and sacked Robert Griffin three times. Andy Dalton, meanwhile, had only two incompletions the entire game, and running back Ed Wesley added a career-high 165 yards rushing with two touchdowns. For those skeptic s out there who think the Longhorns would beat TCU, my answer is this – both defenses are terrific, but a senior quarterback with 32 career wins takes it over Garrett Gilbert.

2. Boise State can win with style. But is that going to be enough to impress voters and computers? The Broncos easily handled Wyoming, scoring 37 straight points en route to the 51-6 rout in Laramie. But as we have so often heard, this game is simply one of many against "cupcakes" ahead for the Broncos. There are reasons to believe this schedule could prove to be more difficult than people realize. Oregon State is next, and several WAC teams have shown signs of life – Hawaii looked good in its first two games; Fresno State and Nevada are playing extremely well; and Utah State is much improved. These teams don't stack up to the SEC, but they aren't pushovers, either. Just ask California.

3. Conference USA is wide open. After Houston saw both Case Keenum and backup Cotton Turner go down with injuries against UCLA late Saturday night, the Cougars' fortunes have completely changed. Both players are out for the season, the school announced Sunday night -- Keenum with a torn ACL and Turner with a broken clavicle. That opens the door for the rest of Conference USA. They simply are a different team without their best player. This is two games in a row now that Keenum has been injured trying to make a hit on an interception. Coach Kevin Sumlin had talked to Keenum about trying to avoid making tackles, but the competitive nature got the best out of the former Heisman Trophy candidate.

4. Temple is living up to the preseason expectations – so far. You may not have thought that after the struggles in the first two games of the season, in which the Owls needed a field goal to win it at the end of regulation against Villanova and in overtime against Central Michigan. They had been outgained through the first two weeks of the season. Connecticut outgained them, too, but the Owls put together a dominating fourth quarter to come from behind and win 30-16. Temple is 3-0 for the first time since 1979. The win was its first against a team from an automatic qualifying conference since beating Syracuse in 2004 – when Temple was still in the Big East. Now comes a big litmus test to see how the Owls truly stack up – they hit the road to take on Penn State in Week 4.

5. This could be the year for another team to win the Commander-In-Chief Trophy. Navy has won the trophy seven straight years, but watch out for Air Force. Navy (2-1) put together a nice performance against Louisiana Tech in a 37-23 win, led by Ricky Dobbs' arm and not his legs, but the Midshipmen have had injury problems and looked inconsistent overall this season. Air Force (2-1) played Oklahoma extremely close in a 27-24 loss Saturday and has veteran leadership in Tim Jefferson, Asher Clark and Jared Tew, who are running the triple-option to near perfection. The defense is also improved. Air Force is at Wyoming this week and Navy has a bye before their huge game in Colorado on Oct. 2.
September, 16, 2010
9/16/10
12:41
PM ET
September, 14, 2010
9/14/10
4:53
PM ET
Injuries to quarterbacks at several non-AQ schools have started to mount. Here is a primer:
Houston
Injured:
Case Keenum
has mild concussion symptoms after getting hurt following an interception he threw against UTEP last week. His status is day-to-day.
Who's in: If Keenum can't play against UCLA on Saturday,
Cotton Turner
would get the nod. Turner went 9-of-10 for 69 yards with a touchdown in relief of Keenum against UTEP. "Our players, when he hit the field, there's a confidence level in him and Friday night can only help everybody's confidence level in him," coach Kevin Sumlin said.
Memphis
Who's injured:
Cannon Smith
sustained a concussion against East Carolina and is out for this week's game against Middle Tennessee.
Who's in:
Ryan Williams
, a true freshman, played well in relief of Smith last week, going 18-of-25 for 293 yards and three TDs. Williams has played in both games this season.

Middle Tennessee
Who's injured: The Blue Raiders are actually down to their third quarterback, following the suspension of starter
Dwight Dasher
.
Logan Kilgore
, who replaced him, missed last week's game against Austin Peay with a toe injury and is still in a walking boot.
Who's in:
Jeff Murphy
started last week and went 23-of-36 for 301 yards with no touchdowns and an interception. Both he and Kilgore are junior college transfers playing their first season at Middle Tennessee.
North Texas
Who's injured:
Nathan Tune
dislocated his hip in a loss to Rice, and is expected to miss the rest of the season.
Who's in:
Derek Thompson
. He has played sporadically and doesn't have much experience, but there isn't much depth here.
Riley Dodge
, the starter last season, moved to receiver because of elbow troubles but will go back to quarterback to help with depth.
Rice
Who's injured:
Taylor McHargue
sustained a mild shoulder separation against North Texas last week and is out for Saturday's game against Northwestern.
Who's in:
Nick Fanuzzi
, who started last season but lost his job to McHargue in the fall. Fanuzzi came in against the Mean Green and led the game-winning drive in the fourth quarter and finished 12-for-23 for 189 yards and a touchdown.
Utah
Injured:
Jordan Wynn
sprained the thumb on his throwing hand in the season opener against Pittsburgh and is listed as day to day. He missed last week's game against UNLV and his status is unclear for Saturday's game at New Mexico.
Who's in:
Terrance Cain
. He is a capable player, having started eight games last season. Against UNLV, Cain went 13-of-20 for 207 yards with two touchdown passes. "We're fortunate to have Terrance Cain as our backup," coach Kyle Whittingham said. "We had no panic, no concern because we knew Terrance was going to step in and get the job done."
September, 13, 2010
9/13/10
3:47
PM ET
Houston coach Kevin Sumlin has decided the only information he will share on the status of quarterback
Case Keenum
is that he is day to day with mild concussion symptoms. He declined to say whether Keenum will practice this week, and added whether Keenum plays at UCLA on Saturday would be a game-time decision.
Keenum got hurt in the third quarter of a 54-24 win over UTEP when he tried to make a block after throwing an interception.
Cotton Turner
came in and replaced him, playing very well, going 9-of-10 for 69 yards and a touchdown. Turner also played in the second half of the opener against Texas State, going 8-of-11 for 72 yards with a touchdown.
"I don't know that he could have played any better than he played," Sumlin said Monday of Turner's performance against UTEP. "He operated in a situation when the game was still up in the air and was able to extend our lead and closed out a win. ... During two-a-days and since the season started, we talk to our players all the time about your practice habits and having the other players around you and the coaches develop confidence in you. He has done that in practice with his reps and continued to get better. Our players, when he hit the field, there's a confidence level in him and Friday night can only help everybody's confidence level in him.
"He's comfortable with what he's doing and he responded in a great way."
Nothing will change in the offense if Keenum is out. But what will certainly help is a rediscovered running game, which has flourished behind
Bryce Beall
the past two games. Houston has 459 yards rushing through two games and is averaging 7.4 yards a carry.