NCF Nation:

Cougars-Horns-091011
September, 11, 2011
9/11/11
12:20
AM ET
AUSTIN, Texas -- Before he took the field,
Jaxon Shipley
had a decision to make.
Gloves or no gloves?
Facing a third-down near midfield with just under three minutes to play, offensive coordinator Bryan Harsin dug inside the most famous bag of tricks in college football.
This wasn't Boise -- Texas still has a ways to climb before it's back on the big stage -- but it looked like it.
[+] Enlarge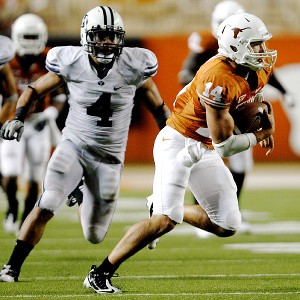 AP Photo/Eric GayQuarterback David Ash makes a key fourth-quarter catch thrown from receiver Jaxon Shipley.
A running back handed the ball to a streaking Shipley who tossed it downfield to dual-threat, zone-read specialist quarterback
David Ash
.
BYU didn't touch the ball again. Texas wins,
17-16
, after trailing 13-0 at half.
"That was something we tried to set up," said offensive coordinator Bryan Harsin. "Their third-down defense was pretty good, and we needed to get some kind of spark there. It was an opportunity -- we felt it would work in that situation."
That word -- spark -- seemed to come up a lot after Saturday's win. Quarterback
Garrett Gilbert
struggled early. Texas' offense needed a "spark." It won't be the last time that word comes up, but most often, it'll be aimed at the revolving door behind center that replaced Gilbert, filled by Ash and
Case McCoy
.
But on Saturday night, with Texas trailing 16-10, it was the true freshman receiver who provided it to help "spark" a go-ahead touchdown drive with two plays before the Boise-influenced razzle dazzle took over Darrell K Royal-Texas Memorial Stadium.
His first catch of the night? He made it in traffic for 14 yards -- and hurdled two defenders
as
he caught it. Not after he caught it.
As he caught it. Once his feet hit the ground -- and it was after awhile -- he looked up and ran upfield for a 14-yard gain.
"When he threw me that ball, I just thought, 'I'm not going to worry about my body right here,'" Shipley said. "I'm going to make a play no matter what."
He did, and people noticed.
"That was amazing. That was clean," said running back
D.J. Monroe
. "That looked like something Jordan would do. We're kind of used to it, but we didn't think it was time for him to do it yet."
It is. The comparisons to Jordan are inevitable and unavoidable. For all the talk of "The Return of McCoy to Shipley," the comparisons are far from forced.
"Jaxon made some clutch catches at the end. He does it every day in practice," Case McCoy said. "We know where he's going to be because he practices like that every day. ... On third down, he's a big target for us."
And for Jaxon Shipley, his brother Jordan isn't a bad guy to be compared with. He left Texas as the all-time leader in receptions (248) and second all-time in touchdown catches (33) and receiving yards (3,191).
But already, with a touchdown in his first game ever last week, Jaxon has done at least one thing Jordan never did.
"Coach Brown tells us all the time age doesn't matter," Shipley said. "If you don't have the mindset that you're a freshman, you're not going to play like a freshman."
Brown told a room of microphones on Saturday what he hasn't been shy about admitting. Texas isn't a great football team.
"We're probably even with every team we play from here on out, or more of an underdog," he said. "Our games are going to be 17-16 if we win, and 20-17, and that's what I thought we'd have last year, but we didn't do them in that fashion."
Games like those are decided on one or two plays. This year, Shipley is showing he can make them.
And Texas, at 2-0, is enjoying the warmth of a spotless start.
September, 10, 2011
9/10/11
11:24
PM ET
AUSTIN, Texas --
Case McCoy
had to laugh when the question came up, but with a self-aware smile, he made the confirmation.
McCoy and receiver
Jaxon Shipley
are, in fact, roommates.
"We've really dreamed of playing together for a long time, and that was fun tonight," McCoy said. "Hopefully, it'll be fun for the rest of the time we're here."
The players' older brothers, Colt McCoy and Jordan Shipley, were famously roommates and served up constant reminders during their years as Longhorns.
Both players' fathers were also roommates in college.
This will be the last mention of this factoid in this space.
But at this point, the only thing left to do is laugh.
September, 10, 2011
9/10/11
10:18
PM ET


AUSTIN, Texas -- Texas trailed by 13 at halftime, but showed major toughness in the second half to beat BYU,
17-16
.
Garrett Gilbert
was benched early in the second quarter for a rotation of
Case McCoy
and
David Ash
, but the Longhorns moved to 2-0 with a huge win.
Exactly what Texas needed, highlighted late by a gutsy pass to Ash from
Jaxon Shipley
on a trick play to convert a third down on the final drive.
I'm headed downstairs, but we'll have plenty more throughout the night.
September, 10, 2011
9/10/11
10:06
PM ET
AUSTIN, Texas -- Let's take a look at how the Texas quarterbacks have done with six minutes to play.
Neither McCoy or Ash have been asked to make a lot of difficult throws, but there's something to be said for completing passes.
Both have done it tonight, and the game is now in the hands of Texas' much more capable defense.
September, 10, 2011
9/10/11
9:55
PM ET
AUSTIN, Texas -- Texas has a whole lot of youth, but didn't have a lot of problems bouncing back from the fourth-down stop in its own territory.
Jaxon Shipley
, a true freshman, caught two passes for 34 yards. Fellow true freshman
Malcolm Brown
carried twice for 9 yards.
True freshman
David Ash
added a 1-yard run.
But senior
Cody Johnson
plowed through BYU's defensive line to finish the drive with a 4-yard run.
Texas has a new look, but at least for now, it's a good one.
September, 10, 2011
9/10/11
9:44
PM ET
AUSTIN, Texas -- For a couple drives, Texas looked like it had found some rhythm.
It scored on its opening drive and drove into the red zone on its second.
The offensive line struggles bit the Horns again, though. Faced with a fourth-and-1,
Cody Johnson
was stopped about six inches short for a turnover on downs. Not the most imaginative of play calls, but Texas would surely like to think it could move the pile with a yard to go and the game on the line.
It can't. Or didn't, at least.
Texas trails, 16-10 with just more than 12 minutes to play.
The Longhorns forced a three-and-out, but we'll see if it can continue to move the ball.
Case McCoy
and
David Ash
continue to rotate in and out, but the Longhorns have been much more productive this half.
September, 10, 2011
9/10/11
9:13
PM ET
AUSTIN, Texas -- Texas is sticking with its rotation of
David Ash
and
Case McCoy
, but with
Garrett Gilbert
on the bench, the Longhorn offense had its
best possession
to open the second half.
Don't focus too closely on the quarterbacks, though. This drive was powered by the running backs.
Malcolm Brown
and
D.J. Monroe
combined for 61 yards on five carries, and 250-pound battering ram
Cody Johnson
finished off the final yard of the march to bring Texas within 13-10 with just under 11 minutes left in the first half.
Texas doesn't know what it can get from its quarterbacks tonight, but the running backs are rolling and the offensive line has played well in most facets tonight.
September, 10, 2011
9/10/11
8:41
PM ET
AUSTIN, Texas -- Time to look back on a pretty eventful half.


Turning point:
After its first possession of the second quarter, Texas benched
Garrett Gilbert
, despite sticking with the junior through 10 touchdowns and 17 interceptions a year ago. By the time he was benched, he had completed 2-of-8 passes for eight yards and two interceptions.
Stat of the half:
Texas' first six possessions went punt, punt, interception, interception, punt, punt, with just one first down through the first quarter and a half.
Best player in the half:
Jake Heaps
, QB, BYU. Heaps has been efficient, made plays when given the opportunity and consistently found open targets while moving the Cougars offense up the field. He's only 14-of-24 for 153 yards, a touchdown and an interception in his own territory, but he helped BYU go 82 yards in eight plays for the game's lone touchdown. It's pretty slim pickings for this group, honestly. No one's dominated on defense.
What Texas needs to do:
Ditch the two-quarterback act and stick with either
Case McCoy
or
David Ash
in the second half, barring a stalled offense or turnovers. The Longhorns have a revolving door currently, with Ash coming in to use his legs and McCoy focused on the most complete version of the offense. Texas has no offensive identity right now, and somebody has to establish some rhythm. That's not going to happen if both guys are constantly sprinting on and off the field. Ash can offer a lot with his legs, but Texas needs its offense to settle down. Settling on one QB is a good way to get that started.
September, 10, 2011
9/10/11
8:16
PM ET
AUSTIN, Texas -- Texas waited through all of last season and more than a quarter of today's ugly start.
Case McCoy
will finally get his shot.
Garrett Gilbert
was benched with Texas trailing
13-0
midway through the second quarter.
Gilbert started Saturday's game just 2-of-8 for eight yards with two interceptions. He's traded his helmet for a headset for now.
McCoy starred on this field during the spring game, but has very little experience. We'll see what he has to offer. He entered the field to cheers and an ovation.
September, 10, 2011
9/10/11
8:05
PM ET
AUSTIN, Texas --
Garrett Gilbert
has struggled in the second game of his comeback tour.
Through the first 19 minutes, he has completed just 1-of-6 passes for 5 yards and two interceptions.
Texas trails 13-0.
But for now, despite getting
David Ash
a couple productive snaps (1 rush, 6 yards, 1-1 passing, 22 yards), both Ash and backup
Case McCoy
remain on the bench.
The crowd has turned on Gilbert, but Mack Brown is still with him for now. He was also booed when he returned to the field after the second interception.
September, 10, 2011
9/10/11
7:55
PM ET
AUSTIN, Texas --Texas' offense had a pair of three-and-outs and an interception to kick off its first three drives of the day.
It's initial first down of the game came courtesy of
Malcolm Brown
, who carried the ball for 13 yards on his first touch of the day.
Enter true freshman quarterback
David Ash
, who kept the ball on an option for six yards before hitting
D.J. Monroe
for a 26-yard swing pass.
But Texas went back to its normal package on the following play, and Gilbert threw his second interception of the game, a deep ball down the left side of the field that was underthrown into double coverage.
Texas trails
6-0
after the first quarter.
Gilbert left the field to even louder boos than before.
Case McCoy
is listed as the team's backup, and they plan on using Ash in specialized formations, but we might get to find out very soon who the coaches have the most faith in.
September, 10, 2011
9/10/11
7:34
PM ET
AUSTIN, Texas -- Texas led Rice by just a touchdown at halftime of last week's game, one it eventually won by 25.
But Mack Brown and the Horns emphasized all week the importance of starting much faster.
So far, it hasn't happened, and Texas trails 6-0 midway through the first quarter.
The offense has gone three-and-out on both possessions and quarterback
Garrett Gilbert
has already been booed after a missed throw while rolling out on third down of the second possession.
The defense has dealt with a short field on both of its possessions, but BYU has managed a field goal on both of its possessions.
The crowd is pretty lively on a 95-degree day, but it's looking for reason to cheer. Texas needs a big play to bring it alive and get into a rhythm on either side of the ball.
September, 10, 2011
9/10/11
4:59
PM ET
AUSTIN, Texas -- Iowa State coach
Paul Rhoads rudely delayed my arrival
, but I've made it inside a scorching hot Darrell K. Royal-Texas Memorial Stadium for Texas' matchup with BYU.


The Longhorns looked good in their opener, but Rice is Rice: Better known as a bed for various meats than a team that can beat Texas.
This week? It's going to be a lot different.
Texas is favored, but BYU is a quality team very capable of beating the Longhorns. I picked the Cougars to do it.
Jake Heaps
looked rough in the opener last week at Ole Miss, but he's better than that.
So, too,
Garrett Gilbert
will have to be after last week's solid performance against the Owls. He looked like a more confident player while meeting with the media on Monday, but that doesn't mean much if that confidence doesn't carry onto the field on Saturdays.
It's a big early season test for the Longhorns, and we'll get a good idea tonight at how far Texas can climb from last season's 5-7 finish.
Kickoff is at 7 p.m. ET on ESPN2.