NCF Nation:

Cowboys-Raiders-111112
November, 12, 2011
11/12/11
5:39
PM ET
LUBBOCK, Texas -- What more could Oklahoma State's defense possibly do?
At game's end, Mike Gundy had every right to rip his shirt off, grab a microphone and scream, "Are you not entertained?"
Texas Tech hadn't been shut out since 1987. Its defense had never given up more than 65 points. Oklahoma State, thanks to a second-half gift fumble returned for a touchdown,
beat Texas Tech, 66-6
.
Despite any devilish pleasure Gundy took in the gladiatorlike win, he declined any postgame theatrics.
"It got started with our defense -- a three-and-out," he said. "They played with a lot of energy and ran to the football. Even when [Texas Tech] did make a play, we tackled and we were very physical when we tackled."
Defensive coordinator Bill Young told his unit after the game what happened on Saturday might never happen again. Maybe so, but Oklahoma State did something that had never happened before, too. The Cowboys are 10-0 for the first time in school history and need wins over Iowa State and Oklahoma to play for the national title.
[+] Enlarge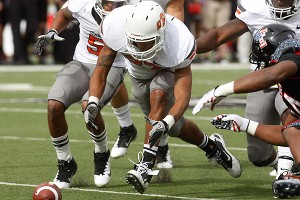 AP Photo/Sue OgrockiOklahoma State 's Josh Stewart, 5, and Lyndell Johnson chase a Texas Tech fumble in the second quarter. Stewart recovered and returned it for a touchdown.
Oklahoma State looked immune to the swirling winds, and
Brandon Weeden
stated his Heisman case with 423 yards and five touchdowns on 31-of-37 passing.
"When he spins it, it cuts through there pretty good," said Gundy, whose career-yardage mark Weeden surpassed on Saturday. Weeden also took home the school record for career touchdown passes. "Honestly, [the wind] didn't concern me one bit."
Gundy added that wind hasn't come up once this year. Such is life with Weeden taking every snap.
Saturday, though, was about defense. Gone were the gratuitous garbage gains of past games. So were the touchdowns providing misleading final scores.
"I was really happy for the guys on defense," Weeden said, making sure to note that the initial "6" on the scoreboard came courtesy of the offense. "They didn't give up a touchdown."
Oklahoma State hung a shocking score for the nation to see on Saturday, complete with an eye-popping 49-0 halftime score, complete with a touchdown on kickoff coverage.
"It was obviously a very well-played game in all three phases," Gundy said. "Offensively, we just kind of kept up with what we'd done this year, and defense played well. I thought we tackled as good as we had in any game."
Texas Tech quarterback
Seth Doege
was held to a season-low 169 yards on 25-of-43 passing. The Red Raiders had just 101 yards rushing on 30 carries. No Tech receiver had more than 41 yards receiving and no running back had more than 47.
Said safety Markelle Martin: "We flew around. We had fun. I think we were very excited making those plays, and there was no drop-off when backups came in. I'm proud of that."
This looked like a different defense after last week's last-second win over Kansas State, complete with 45 points allowed.
"That was enough [drama] for everybody for a while," Gundy said.
Oklahoma State countered Tech's offensive futility with two 100-yard receivers (
Justin Blackmon
,
Josh Cooper
) and a 100-yard rusher (Herschel Sims) with Weeden's 400-yard day through (more literal than most days) the air.
Josh Stewart
added 93 yards and two scores on two catches.
One trip to Ames awaits next week before two weeks of buildup to beat the bullies down South. Oklahoma State hasn't beaten Oklahoma since Les Miles did it in 2001 and 2002, but if Gundy wants to take his team to New Orleans for the national title game, the Sooners are the biggest -- and most fitting -- obstacle in the way.
Play defense like the Cowboys did out on the Plains, and those bullies might get a little bloody.
"They're playing better than what most people would think they are. It's hard to really grade this defense on paper, based on what happened on the other side of the ball," Gundy said, noting that his defense has faced far more plays than his offense. "We take a lot of pride in that side of the ball."
Gundy can say it all he wants. So can any of the players on his defense.
Performances like Saturday's make folks start believing.
November, 12, 2011
11/12/11
3:26
PM ET
LUBBOCK, Texas -- It's safe to call this one a no-doubter.
Oklahoma State forced a three-and-out on the first possession and took eight plays to score on its first offensive possession. As much as it can possibly be said that early ... the rout was on.
Oklahoma State rolled to an easy 66-6 win over Texas Tech and reached 10-0 for the first time in school history. The 66 points were the most ever scored on a Texas Tech team surpassing, yes, Oklahoma, which scored 65 on the Red Raiders in 2008.


It was ugly from start to finish for Texas Tech, whose small crowd got even thinner after halftime, when Tech trailed 49-0.
Brandon Weeden
sat for the fourth quarter after throwing for 423 yards and five touchdowns on 31-of-37 passing. If
Andrew Luck
's Stanford team loses to Oregon tonight, that's a mighty fine stat line to have Heisman folks glance at when they reconsider ballots.
Oklahoma State got the job done. Lots more to come later today.
November, 12, 2011
11/12/11
2:31
PM ET
STILLWATER, Okla. -- Oklahoma State leads
56-6
midway through the third quarter, but
Brandon Weeden
is still handing off to
Joseph Randle
.
Both are likely All-Big 12 selections and, most importantly, starters.
Weeden isn't taking any deep drops, so don't look for him to take too many hits. He's mostly handing it off and whipping the ball out to receivers for quick screens.
Justin Blackmon
appears to be done for the day.
Randle, though, is a valuable piece, and Oklahoma State's gambling a bit by keeping him on the field.
November, 12, 2011
11/12/11
1:47
PM ET
LUBBOCK, Texas -- Well, that was ... something.


Oklahoma State scored a touchdown on kickoff coverage.
Brandon Weeden
has three touchdown passes and five incompletions.
OSU is winning the turnover battle, 3-0.
There's
your ball game
. Time for what I'll tentatively call analysis.
Turning point:
Oklahoma State's arrival at the stadium.
Stat of the half:
Weeden threw five incompletions, but one was a
Justin Blackmon
drop and another was a ball purposely thrown out the back of the end zone. He's been on the money and pretty unstoppable on a windy day in Lubbock. The Texas Tech defense looks helpless.
Stat of the half II:
Texas Tech hasn't been shut out for 60 minutes since 1987.
Best player in the half:
Weeden. He passed his coach, Mike Gundy, on the OSU all-time passing leaders list and became the school's all-time leader in touchdown passes in the first half. Not bad. Not bad at all.
What Oklahoma State needs to do:
Keep the Gatorade iced and the conversation light. It's going to be a downright jovial atmosphere on the sidelines for the Cowboys starters in the second half.
What Texas Tech needs to do:
Watch the game tape of its 41-38 win against Oklahoma in the team meeting room instead of coming out for the second half. I don't think the Tech fans, which have already flooded to the exits, would be too disappointed. It'd be a lot more fun for the players, too.
November, 12, 2011
11/12/11
1:08
PM ET
LUBBOCK, Texas -- The wind has picked up in Lubbock, with a few articles of debris making their way on the field and both goalposts wiggling.
There's a thin layer of dust looming over the downtown area, too, which can be seen from the top of the stadium.
Oklahoma State quarterback
Brandon Weeden
hasn't seemed to notice. Texas Tech's
Seth Doege
's accuracy has been spotty, but Weeden's playing as well as he has all season.
Oklahoma State leads
35-0
after scoring a touchdown on a fumbled kickoff.
Weeden has thrown the short passes well. He's been precise on intermediate throws, and he's completed long balls to receivers blanketed in coverage (28-yard TD to
Isaiah Anderson
) and wide-open receivers lost in coverage (27-yard TD to
Josh Stewart
).
This has been domination, and once again Weeden has been at the center of it.
He's 16-of-18 for 188 yards and three touchdowns in 16 minutes of play.
Sounds like a Heisman-type performance to me.
November, 12, 2011
11/12/11
12:43
PM ET
LUBBOCK, Texas -- Texas Tech didn't have to play perfect to snag an upset against Oklahoma State.
It needed a good start, though, and needed to play relatively mistake-free.
So far, at Jones AT&T Stadium, it's been none of the above for the boys in black.
The Red Raiders went three-and-out on their opening possession. Then they were gashed for an easy touchdown drive for Oklahoma State, finished by another touchdown pass on a fade route from
Brandon Weeden
to
Justin Blackmon
.
Now, thanks to three big mistakes, Texas Tech trails
14-0
in the first quarter.
Alex Torres
muffed a punt. The Red Raiders were flagged for a face mask and then flagged for a pass interference in the end zone on a third-and-5.
Simply put, that's way, way, way too many mistakes if the Red Raiders hope to make this a game.
Oklahoma State has outclassed Texas Tech to this point. Kansas State erased an early 14-0 lead to make last week's game against the Cowboys competitive, but there's going to have to be a whole lot of change if Texas Tech is going to do the same.
November, 12, 2011
11/12/11
11:41
AM ET
LUBBOCK, Texas -- Oklahoma State has forged an identity with its 48 jersey combinations, but Texas Tech will have a special jersey of its own today.
A day after Veterans Day, Texas Tech will wear jerseys featuring camouflage to support
the Wounded Warrior Project
, which provides help to wounded servicemen.
Last year, rather than taking questions, Texas Tech quarterback Taylor Potts read a statement about what the week meant to him.
The Red Raiders have spent time this week with Sal Giunta, who received the Medal of Honor, the armed forces' highest decoration for valor, for rescuing several of his squad members in Afghanistan.
Giunta will be an honorary captain today, and it'll be interesting to hear what Tech players learned from him this week.
Texas Tech's jerseys will draw plenty of attention to the cause Wounded Warrior champions.
November, 12, 2011
11/12/11
10:47
AM ET
LUBBOCK, Texas -- It's perfect football weather here in West Texas. It's a little windy -- as expected -- with a chill in the air, but you couldn't ask for a better atmosphere for Senior Day in Jones AT&T Stadium.


There are a few clouds, but even with the morning kickoff, the Tech fans are fired up with No. 2 Oklahoma State in town.
Pregame Raider Walk had a good crowd, and with a basketball game last night, there are a few weary-eyed fans roaming the campus, but they'll be ready to go by kickoff.
Texas Tech has one of the most raucous atmospheres in the league, and Oklahoma State will be right in the middle of it. For OSU, this is the second quirk in its schedule from the Big 12 shift from 12 to 10 teams.
Oklahoma comes to Stillwater in consecutive years, but Oklahoma State made back-to-back trips to Texas and Texas Tech.
The Cowboys won last season.
Both teams have arrived, and we'll be here all day with plenty more coverage.