September, 30, 2011
9/30/11
10:27
AM ET
The always hustling Doug "Let me hear you" Haller was able to chat with Arizona State's
mercurial, media-shy linebacker
Vontaze Burfict on Thursday.

Burfict has had an interesting season. He's made a lot plays and not as many penalties as in the past, but the general feeling is he's not playing as well as he could. Pretty well, but not super-scary-Burficty, which is what Sun Devils fans (and fans of super-scary linebackers in general) want to see.
He told Haller:
"It's funny," the Arizona State junior linebacker said Thursday in a rare interview. "Since I'm not getting all these personal fouls, everybody's like, 'Oh, what's wrong with Vontaze? Vontaze isn't playing very well. But when I was getting all those personal fouls, everybody was criticizing me then, too."
Funny thing is, the latest criticism didn't come from media or fans. It came from defensive coordinator Craig Bray, who told Haller he thinks Burfict is trying too hard to avoid penalties, and that is hurting his play.
"We still want him to be a violent person, but he has done too good a job of controlling himself this year," Bray said after last Saturday's USC win. "Hopefully, he'll find that intensity back between the snap and the whistle that he's had in the past."
Burfict doesn't have too much to say about the whole "
Matt Barkley
said Vontaze was dirty" non-controversy-controversy. He did enjoy his interception of Barkley, but didn't have much to say about his interaction with the Trojans quarterback, which included helping him up after the pick -- Barkley tackled Burfict, in an odd turn of events -- and
this outstanding photo
.
"It wasn't a big deal to me," Burfict said of the situation, which ended with a Pac-12 reprimand for Barkley.
When they make that photo into a poster, please alert the Pac-12 blog.
February, 17, 2011
2/17/11
7:12
PM ET
Scott Brown, who's coached the past four seasons at Colorado State, is Arizona State's new defensive line coach. He replaces Grady Stretz, who left to take the same position with the Tampa Bay Buccaneers.
Brown, 59, was at Duke 12 years before arriving at Colorado State. He's also coached at Minnesota and TCU.
"Scott Brown brings a wealth of knowledge to Arizona State on coaching defensive line play," head coach Dennis Erickson said in a statement. "Everyone I spoke with talked about his work with the players and how much they learned from him. Scott will be a tremendous help to Craig Bray in our game planning during game week. I was extremely impressed with his ideas and concepts of a defense. He brings us so much more than just a position coach in that regard. He gave us a very impressive interview. Our defensive linemen, who met with Scott while he was on his interview, were very impressed with his style and his passion for the game. They were ready to play immediately."
Erickson also cited Brown's recruiting experience in Texas.
"He has recruited the state of Texas for 30 years," Erickson said. "He has extensive contacts there and not just in a certain area, but in the entire state of Texas. Trying to get into the state of Texas with no connections is difficult. With Scott's connections we will have instant credibility in that state."
The
Arizona Republic
reported that "Brown likely won't replace Stretz as recruiting coordinator. Those duties could fall to receivers coach Steve Broussard or running backs coach Bryce Erickson."
September, 14, 2010
9/14/10
11:02
AM ET
Wisconsin offensive coordinator Paul Chryst will drop a few F-bombs in practice this week, but not the kind you think.
OK, probably the kind you think, too. But Chryst will relay a clear message to his players as they prepare to host Arizona State on Saturday
(ABC, 3:30 p.m. ET)
.
"You can use finish in a lot of ways," Chryst told me Monday. "Finishing the play means making the play. Finish means playing hard the whole play. Finishing drives means you're putting the ball in the end zone. And finishing games."
[+] Enlarge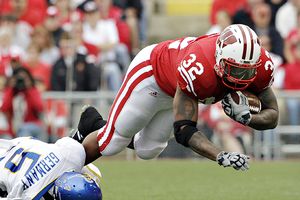 AP Photo/Morry GashJohn Clay has rushed for 260 yards through the Badgers' first two games this season.
Wisconsin sits at 2-0 after wins against UNLV and San Jose State, and the Badgers haven't found themselves in real danger of losing either game. The offensive numbers have been good, as Wisconsin ranks in the top 40 nationally in rushing (245 ypg), scoring (34 ppg), pass efficiency (144.3 rating) and total yards (439 ypg).
But when it comes to finishing, the Badgers are struggling a bit. And for a program with higher aspirations than another nine- or 10-win season, it's unacceptable.
Wisconsin has come up empty three times in the red zone in its first two games, matching its total from all of last season, when it tied for third nationally in red zone efficiency (53-for-56, 94.6 percent). Although one of the empty possessions took place with a kneel down at the end of the San Jose State win, the Badgers' red zone numbers don't include a
Nick Toon
fumble at the 2-yard line on a play that began outside the red zone.
Last year, none of Wisconsin's empty possessions in the red zone ended with a turnover.
"That'll get you beat," Chryst said. "You point out, 'This is why we didn't finish. Or you do this, and you do finish drives.' If it's a negative, often times it's just a small detail. Take care of that, pay attention to those details, and then we have a chance for the results to be different."
Chryst will stress red zone efficiency this week in practice, but he'll also point out examples where Wisconsin finished in a positive manner. After San Jose State drew to within 13 points last Saturday, Wisconsin killed the final 5:42 off the clock behind running backs
John Clay
and
Montee Ball
, and a veteran offensive line.
Clay has been a bright spot so far this season, rushing for 260 yards and four touchdowns in the first two games. Ball and dynamic freshman
James White
also look good, although White is responsible for a red zone miscue as he tried to reach the ball across the goal line against San Jose State, only to have it knocked away for a lost fumble.
"They've done some good things," Chryst said of the backs, "but that group's no different than any of our groups. We can get a lot better. I feel like we've left a lot of yards on the field. We've got to be a lot better at all spots, and running back's no different."
Badgers head coach Bret Bielema said Monday that the Arizona State game "couldn't be better timing," as Wisconsin needs to test itself before Big Ten play begins Oct. 2 at Michigan State. Chryst has plenty of respect for Sun Devils defensive coordinator Craig Bray and calls the ASU defense "athletic and explosive."
If Wisconsin doesn't tidy up its play, it might fall short of the finish line Saturday.
"Guys know what finish is," Chryst said. "When they don't, you make sure they understand what it is. You try to make it a habit."