December, 20, 2011
12/20/11
5:00
AM ET
1. Michigan State fifth-year senior Arthur Ray Jr., spent the 2009 and 2010 seasons fighting bone cancer in his left leg. After spending nearly two years on crutches, Ray returned to play in three games this season. The Football Writers Association of America named Ray the winner Monday of the Discover Orange Bowl-FWAA Courage Award. Someone should create an award for Spartans; left guard Joel Foreman, who gave up his streak of 22 straight starts so that Ray could start the 2011 opener against Youngstown State.
2. Former ESPN announcer Craig James announced Monday that he is running in the Republican primary for the 2012 U.S. Senate in Texas. If the former SMU tailback is elected, he will join a very short list of senators who played college football. Sen. Joe Manchin (D.-W.Va.) went to West Virginia on a football scholarship but got hurt. Former senators John Culver of Iowa and the late Ted Kennedy of Massachusetts were teammates at Harvard. I know I must be missing others. Let me know at
Ivan.Maisel@espn.com
.
3. Coaches love to use bowl practices as a pre-spring practice for next season. At Boise State, for example, sophomore
Joe Southwick
and freshman
Grant Hedrick
prepared for replacing
Kellen Moore
, the winningest quarterback in FBS history. Brent Pease, the Broncos' quarterback coach, said he must figure out what they know and how well they know it. "What [will] they understand in the heat of the moment?" Pease asked. "None of them have really been [in when] the game's on the line."
June, 8, 2011
6/08/11
9:00
AM ET
SMU's legendary "Pony Express" backfield, Craig James and Eric Dickerson, have teamed up again for an award that recognizes college football's best tandem -- on either side of the ball -- the "Pony Express Award."
[+] Enlarge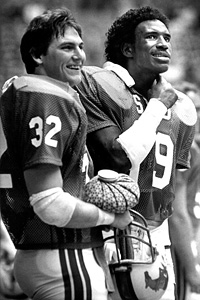 AP File PhotoRunning backs Craig James, left, and Eric Dickerson were dominant at SMU in the early 1980s.
The award, the press release said, "will look at two- and three-player tandems from across the nation, ultimately honoring the combination whose work ethic, desire, on- and off-field leadership and playmaking ability best fuel their team."
The award will be "voted on by a blue ribbon panel of experts that will form the award's board of directors," and will be announced at the end of the regular season.
"Eric and I were able to complement each other on the field in such a way that together we formed a much more potent weapon than even our individual talents would have suggested," James said in the release. "We have remained life-long friends, and each season we have always had fun talking about the great tandems that were making an imprint on the game that season. We decided someone should recognize these great combinations, and that really became the genesis of the Pony Express Award."
Said Dickerson: "You usually talk about football in terms of offensive and defensive units and the individual standouts on either side of the ball. But if you look at those units, usually there are a couple of guys who stick out and really form a very tough matchup. The most obvious would be a great quarterback and a standout receiver. In Craig and mine's case, it was two great running backs. On defense, it might be a pair of great safeties. These are the types of tandems we will be looking at."
The 48 tandems on the "Watch List" include seven from the Pac-12, including two from both Stanford and Washington.
Stanford
: QB
Andrew Luck
, WR
Chris Owusu
, TE
Coby Fleener
Stanford
: OT Jonathan Martin, OG David DeCastro
Arizona
: QB
Nick Foles
, WR
Juron Criner
Oregon
: QB
Darron Thomas
, RB
LaMichael James
, RB
Kenjon Barner
USC
: QB
Matt Barkley
, WR
Robert Woods
Washington
: DT Alameda Ta'amu, LB Cort Dennison
Wasington
: RB
Chris Polk
, WR
Jermaine Kearse
Some that might have been worth adding:
Arizona State
: LB Vontaze Burfict, DE Junior Onyeali
California
: LB Mychal Kendricks, S Sean Cattouse
Colorado
: RB
Rodney Stewart
, WR
Paul Richardson
Oregon
: CB Cliff Harris, S John Boyett
Stanford
: LB Shayne Skov, S Delano Howell
Washington State:
QB
Jeff Tuel
, WR
Marquess Wilson
December, 10, 2010
12/10/10
3:00
PM ET
The next in a long line of terrific 30 for 30 ESPN documentaries takes aim at SMU. "Pony Excess" tells the story of the program's rise and fall and will air Saturday night at 9 p.m. ET on ESPN after the Heisman Trophy presentation.
Dave Wilson, of ESPN.com's Page 2, had a chance to
catch up with famed running backs Eric Dickerson and Craig James
to talk about how they ended up at SMU and the subsequent perception that they were the poster children for the sanctions that ended up nearly destroying the program.
Here is one exchange between Dickerson and James:
The old teammates talked about the film this week at ESPN and still easily work as a tandem. They finish each other's sentences, laugh at each other's jokes and perhaps even keep each other's secrets. Some of them, you would expect they'd keep after 30 years. Like the mystery of where the new Trans Am came from that Dickerson started driving shortly before arriving at SMU.

"My grandmother bought that for me," Dickerson says softly, smiling and shaking his head.

"I said in the film, Eric will be underground with concrete on top of him ... and he's not saying anything," James said.

"There's nothing to tell," Dickerson repeats, again with a smile.
Both insist they went to SMU because of coach Ron Meyer, and that they were made to be scapegoats for the eventual penalty that was handed down to the program after it was discovered players were paid.
"We were the two name guys that came out of there, everybody knows who we are," James told Wilson. "But I think what the film does is it depicts that it wasn't us, which we've known forever."
Plenty more in the article, so be sure to check it out. And don't forget to tune in Saturday night.
December, 6, 2010
12/06/10
2:23
AM ET
Nevada Wolf Pack (12-1) vs. Boston College Eagles (7-5)
Jan. 9, 9 p.m. ET (ESPN)

Nevada take by nation blogger Andrea Adelson
: The Wolf Pack have put together the best season in school history: 12-1, WAC co-champs and a No. 15 national ranking. Quarterback
Colin Kaepernick
has to be one of the most underrated players in the country. This past Saturday, he became just the third player in NCAA history to rush and pass for 20 touchdowns in the same season, joining Tim Tebow of Florida and Cam Newton of Auburn. Kaepernick had 155 yards rushing in a 35-17 win over Louisiana Tech, becoming the third quarterback in NCAA history to run for over 4,000 yards. He also had three rushing touchdowns, giving him 59 for his career, tied atop the NCAA rankings with Eric Crouch.
Nevada has had its breakout season because Kaepernick is running the Pistol offense to perfection. The Pistol has in fact become all the rage across the country, and that is because of inventor -- Nevada coach Chris Ault. Running back
Vai Taua
and Kaepernick have combined to be the most prolific rushing duo in NCAA history, passing Craig James and Eric Dickerson of SMU. After beating California earlier this year, it would send a strong statement to close out the season with yet another win over a team from an AQ conference. But keep in mind -- Nevada has lost four straight bowl games. Of course, those teams weren't as strong as this one. I'll come right out and say it -- Nevada can compete with anybody in the country right now.
---

Boston College take by ACC blogger Heather Dinich
: Under the direction of true freshman quarterback
Chase Rettig
, Boston College became the first ACC program to follow a five-game losing streak with a five-game winning streak, and for that the Eagles have been rewarded with their 12th straight bowl appearance. BC reversed its fortunes with the proven formula of running the ball and playing stingy defense. Even with leading rusher
Montel Harris
sidelined for the final two games of the regular season, the Eagles were able to establish their ground game, thanks to true freshman backup
Andre Williams
, who helped lead the team to wins over Virginia and Syracuse.
Equally as important as their ability to run the ball this year has been BC's ability to stop it. The Eagles lead the nation in rushing defense, and have allowed just 962 rushing yards, seven rushing touchdowns, a 2.7 average per carry and only 80.2 yards per game on the ground. Much of that can be attributed to the exceptional play of linebacker Luke Kuechly, who led the nation in tackles this year and was named the most outstanding defensive player in the same bowl game last year. The Eagles have also been helped by the return of linebacker Mark Herzlich, who made a full recovery from Ewing's Sarcoma cancer after missing the entire 2009 season.