NCF Nation:

Craig Kuligowski
December, 3, 2014
Dec 3
12:00
PM ET
Missouri didn't get to the SEC championship game for a second consecutive season by accident.
Contrary to how some might feel about the Tigers' deservedness, they simply did what they had to do – win the SEC East – and earned the right to square off against No. 1 Alabama on Saturday at the Georgia Dome.
It's also becoming a habit that the Tigers are here, again, in a conference championship game. This season marked the fifth time Missouri has won at least a share of a division title in the last eight seasons and it will be Missouri's fourth conference championship game appearance since 2007. Three of those division titles and two of the conference title game appearances occurred in the Big 12; the last two of each have been in the SEC.
Only two Power 5 conference teams can match Missouri's five division titles since 2007: Alabama and Florida State. The kicker is that they're still seeking their first conference championship since 1969.
[+] Enlarge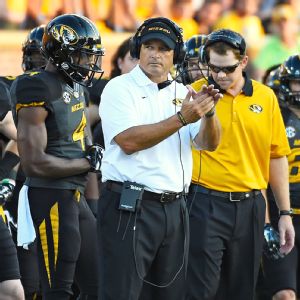 Jasen Vinlove/USA TODAY SportsContinuity has Gary Pinkel and Missouri in yet another conference championship game. Now the challenge is to win one.
"We haven't won a championship in the Big 12 or the SEC," Missouri coach Gary Pinkel said. "That's my responsibility. Hopefully we can play well and have an opportunity to do that."
How have the Tigers sustained success? There are several factors, but coaching stability means a lot to Missouri's ability to win divisions and punch tickets to conference title games.
Of Pinkel's nine full-time assistants, five have remained at Mizzou with Pinkel since he arrived in 2001: defensive coordinator Dave Steckel, cornerbacks coach Cornell Ford, quarterbacks coach Andy Hill, running backs coach Brian Jones and defensive line coach Craig Kuligowski. Ford, Jones and Kuligowski were also with Pinkel at Toledo and Hill was at Mizzou before Pinkel arrived and is in his 19th season in Columbia.
Only one of the other four assistants – offensive line coach A.J. Ricker – is in his first season with the Tigers. Offensive coordinator Josh Henson is in his sixth season, safeties coach Alex Grinch is in his third and receivers coach Pat Washington is in his second year at Missouri.
"I think it's been really important," Pinkel said of the staff stability. "I've had five coaches leave, one of which retired, in the years that I've been here. That's very, very unusual. I would say it's one of the least numbers in the country.
"Certainly the consistency of staff, the consistency of attention to detail, how we do things in our program -- we have certain ways we do absolutely everything. Having that continuity also in recruiting has been really important for us."
It also helps when the consistency starts at the top. Since 1991, Pinkel has coached at only two places: Toledo and Missouri. In an era when it's common to see coaches jump from job to job, climbing the ladder (or in some cases, getting fired for not living up to expectations), it's noteworthy to see a coach stay in one place as long as Pinkel stayed at Toledo and now, Missouri, where he is finishing his 14th season.
He has the sixth-most wins of any active FBS head coach with a 185-102-3 record. At Missouri, Pinkel is 112-65.
Notably, Pinkel has achieved that record without highly regarded recruiting classes. Since 2006, when ESPN began its recruiting rankings, the Tigers haven't had a signing class ranked in the top 25 nationally. Their last two classes, ranked 33rd in 2014 and 38th in 2013, were 12th and 14th in the SEC, respectively.
Conversely, Alabama is annually at or near the top of the rankings.
"I've never looked at a recruiting ranking since I've been coaching," Pinkel said. "We have an evaluation system we use. ... We never talked about stars on any player, ever.
"We do a thing called 'Mizzou Made' here. We think we've developed players as good as anybody in the country. We have a plan and infrastructure set in to do that -- professionally, personally, academically, player development. We have our system. It's a system that I learned from Don James when I was a coach with him at the University of Washington. We tweaked it a little bit. You always try to make it better. ... We just do what we do. I think it would be hard to say that we haven't had a little bit of success doing it our way."
The Tigers have been on an ongoing journey to earn respect in their new league, and Pinkel knows winning is the way to do it.
"It's a consistency of winning, winning at a high level, in a very, very difficult league, very competitive league; I've always sort of brought up [that] you earn respect; that's how you get it," Pinkel said. "Hopefully we've gained some respect. We'll see how it goes from here."
January, 23, 2014
Jan 23
1:30
PM ET
Recently,
Michael Sam
let members of the media in on a little secret behind Missouri's impressive season along the defensive line in 2013: They felt disrespected.
"Everybody thought our D-line was doomed because
Sheldon Richardson
was gone," Sam
told reporters during Senior Bowl practices
. "I kind of took that as disrespectful."
After 2012's unsatisfactory 5-7 SEC debut, on the outside it looked like the Tigers could be in more trouble in 2013 with Richardson, a first-round NFL draft pick, gone. What was left was a lot of potential but no proven playmakers.
[+] Enlarge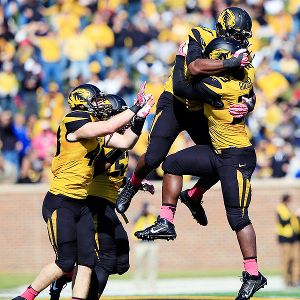 Jamie Squire/Getty ImagesMarkus Golden, right, and the rest of the Missouri defensive line had plenty of reasons to celebrate in 2013. With Michael Sam and Kony Ealy gone, Golden could be the star of the show this fall.
Then the actual football started, and the Tigers were a menace up front, leading the SEC with 41 sacks and 107 tackles for loss during their fantastic SEC Year 2 turnaround. Sam, who was one of the nation's biggest surprises, led the SEC with 11.5 sacks and 19 tackles for loss. Fellow linemen
Kony Ealy
and
Markus Golden
combined for 14.5 more sacks and 27 tackles for loss.
That was a ton of production from arguably the SEC's best defensive line. Now, most of it is gone, as Sam graduated and Ealy declared for the NFL draft. But Tigers fans certainly shouldn't fret -- Missouri still has a lot of talent to work with in the trenches in 2014.
It starts with Golden, who didn't get as much love as Sam or Ealy but still managed to record 6.5 sacks and 13 tackles for loss this past season. He has the makings of being a star in the SEC this fall. It was a bit of a surprise to even see him stay, which is a huge win for the Tigers but a loss for the rest of the league. You should be hearing his name a lot this fall.
And you can't double-team him, either. Not with the soon-to-be-not-so-unknown
Shane Ray
, who collected 4.5 sacks and nine tackles for loss last season, coming back at the other end position. He was also second on the team behind Ealy with 11 quarterback hurries. Yep, that was even better than Sam.
Ray, who will be a junior this fall, was a solid reserve for Mizzou last season and flashed signs of being a real handful for offensive linemen to handle. He went five straight games at one point during the season with being a part of a sack and has the chance at a nice breakout season in 2014.
Inside, Mizzou still has
Matt Hoch
,
Harold Brantley
and
Lucas Vincent
. All of these guys have what it takes to clog the middle yet again, and all of them have seen a good amount of time on the field. Brantley, who was a redshirt freshman last fall, could be someone to really keep an eye on going forward. He added around 20 pounds last year to get strong inside yet showed his athleticism and speed on a nifty 26-yard run on a fake punt against Ole Miss. Hoch is an underrated player who somehow figures out how to find the ball on plays, while Vincent has played in every game of his three-year career. Hoch and Vincent combined for 64 tackles, including 10 for loss, last year.
So while the Tigers will no doubt miss Sam and Ealy, they'll be just fine in 2014 with the players returning. This school has churned out defensive line studs in the past, thanks to the developmental skills of defensive line coach Craig Kuligowski. With his track record, it appears he knows exactly what he's doing up front. Expect that to continue this fall.