NCF Nation:

Cullen Christian
April, 21, 2011
4/21/11
8:54
PM ET
My apologies for posting this late -- flying to California to visit family and actually posting this from somewhere over Iowa -- but Michigan reportedly has lost another cornerback.
Cullen Christian told Superprep.com that he's requested a transfer and will play football elsewhere. Christian appeared in 10 games last season as a true freshman, recording six tackles.
"Coach [Brady] Hoke is a great guy and I have no issues with him at all," Christian told Superprep.com. "I had meetings with my other coaches and I just didn't like the direction that they had me going in. I think it is best that I move on and finish my career elsewhere."
He said he felt he performed well in spring practice until a back injury sidelined him for a scrimmage and the spring game.
Christian is the second player to depart since Hoke became coach. Safety Ray Vinopal transferred to Pittsburgh.
Although Michigan could be fine at cornerback if Troy Woolfolk and J.T. Floyd get healthy and perform to their capabilities, it's amazing what has happened to this position in recent years. Here's a look at
all the issues the Wolverines have had at cornerback
.
October, 9, 2010
10/09/10
5:40
PM ET
ANN ARBOR, Mich. -- Michigan built its 5-0 record on big plays, especially those involving
Denard Robinson
.
But through the first two-plus quarters today, Michigan State is making all the noise.
All three of the Spartans' touchdowns have stretched longer than 40 yards, the last a 41-yard pass from
Kirk Cousins
to
Mark Dell
to put Michigan State up 23-10. The Spartans made a statement on the first drive of the second half, continuing to exploit the holes in Michigan's defense.
Cousins stayed in the pocket nicely despite pressure from Craig Roh and made a beautiful throw to Dell, who beat true freshman Cullen Christian. Christian had entered the game after an injury to James Rogers.
Michigan needs to resurrect its big-play offense before it's too late. The Spartans lead 24-10 early in the third quarter, but Michigan is driving.
August, 18, 2010
8/18/10
1:17
AM ET
If you asked me Tuesday morning to form a short list of players Michigan must have on the field this fall, Troy Woolfolk's name would be right at the top.
Woolfolk isn't Michigan's best player, nor is he the team's most talented. By most measures, he was an average Big Ten cornerback for the half season he spent there in 2009.
[+] Enlarge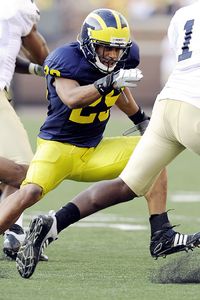 Eric Bronson/Icon SMITroy Woolfolk, who was in line to be Michigan's No. 1 cornerback, reportedly suffered a dislocated ankle and a broken bone in his leg in practice on Tuesday.
But Woolfolk brought leadership and experience to a secondary that severely lacks both. Plus, he eased some concern (not all) at a position that has gone through a major talent drain in the last 10 months.
That's why the news that
Woolfolk reportedly suffered a dislocated ankle and a broken bone in his leg
at Tuesday's practice is so painful for Michigan to endure. Head coach Rich Rodriguez hasn't said much about the situation, only that it was a lower body injury and that Woolfolk went to the hospital from practice.
But Woolfolk's high school coach, Jim Creech, told colleague Joe Schad that "it looks like [Woolfolk will] miss the season." Woolfolk was treated and released from University Hospital on Tuesday night, and his father told multiple media outlets that
a decision on surgery will be made later
.
Woolfolk posted on his
Twitter page
late Tuesday night: "Even though T-Woolf will be absent, Troy will be on sidelines coaching&cheering for Michigan till all air has vacated my lungs." T-Woolf, for those who don't know, is Woolfolk's alter ego.
Fortunately, Woolfolk has a redshirt season and could return in 2011, but his injury leaves Michigan young and thin at cornerback. Considering how well Michigan has recruited the cornerback spot in recent years, it's amazing to think that the program could get to this point.
Remember these guys?
Donovan Warren: First-team All-Big Ten selection in 2009 declared for the NFL as a junior but wasn't drafted in April.
Boubacar Cissoko: Blue chip recruit started the first four games in 2009, missed two games because of a suspension, returned for a game and then was dismissed for violating team rules. In a truly sad story, Cissoko is now in jail serving time for his role in multiple robberies.
Demar Dorsey: The Big Ten's top-rated recruit signed with Michigan in February but was denied admission in June, a decision that didn't sit well with the coaching staff. Dorsey is still waiting to see whether he gets admitted to Louisville.
Adrian Witty: Signed with Michigan in 2009 but never made it to Ann Arbor because of academic issues. He eventually landed at Cincinnati, where he has been impressive in training camp.
J.T. Turner: Decorated recruit was granted his release from the team last week and intends to transfer.
It's quite a list, and Michigan certainly could use the help this fall.
I wonder if Pacman Jones has any eligibility left. Or Charles Woodson.
Michigan feels good about J.T. Floyd at one corner spot, but the other spot is a mystery and the overall depth is very shaky. The Wolverines have been fighting a numbers game on defense since Rodriguez's arrival, and the situation at cornerback has exacerbated the problem.
One thing is clear: youth will be served in 2010, and freshmen like
Cullen Christian
and
Courtney Avery
had better grow up fast.
April, 30, 2010
4/30/10
2:00
PM ET
During his two-plus seasons at Michigan, Rich Rodriguez often has mentioned the numbers game on defense, a game that the Wolverines have been losing.
Rodriguez isn't talking about numbers of points allowed or yards allowed, although it's all connected to the larger problem the Wolverines' defense has endured. Michigan simply hasn't had enough capable players to succeed on that side of the ball. And without the numbers, or adequate depth at certain positions, the defense has plummeted. In the last two seasons, the Wolverines have finished 67th and 82nd in yards allowed, and 84th and 77th in points allowed, respectively.
[+] Enlarge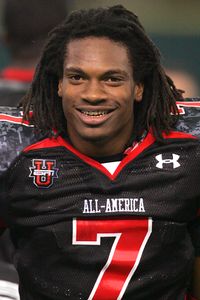 Cliff Welch/Icon SMIThe Wolverines will likely be counting on highly touted cornerback Demar Dorsey to contribute right away as a freshman.
High attrition has certainly played a major role, and of those who left, many were top defensive prospects. Recruiting also has played a significant role, much of it before Rodriguez's arrival, as Michigan signed small classes with not enough defensive recruits. Mgoblog has a great breakdown of the problems
here
and
here
.
Heading into a pivotal season, can Michigan survive the numbers situation on defense?
"It's still limited, to an extent, this spring," defensive coordinator Greg Robinson told me earlier this month. "Now there's going to be 14, 15 guys walking in the door [in the summer]. How many can you count on as freshmen? Time will tell that. Craig Roh played as a freshman [in 2009].
"So it can be done."
Michigan's incoming freshman class will be a huge factor in the defense's results, one way or another. Unlike past classes, the 2010 crop is both sizable and filled with defensive players.
Cornerback Demar Dorsey, the Big Ten's highest-rated recruit according to ESPN recruiting, will contribute right away as long as he qualifies for admission. Other defensive recruits like Cullen Christian and Marvin Robinson also are good bets to see the field this fall.
"We may have some young guys come in this fall and provide some competition, which is a little scary when you're talking about true freshmen," Rodriguez said. "But we want to play more people defensively and offensively."
Several defenders who stepped up this spring also should help in the numbers game.
Safety Cameron Gordon, a converted wide receiver, was arguably Michigan's top spring performer. The coaches also singled out linebacker Kenny Demens, cornerback J.T. Floyd, Teric Jones, defensive linemen Adam Patterson and Renaldo Sagesse and others for their play. Redshirt freshmen like Cameron Gordon and safety Thomas Gordon drew more attention during the spring session.
"You notice them," Robinson said, "and that is good. It's just the numbers aren't there yet. There will be a real infusion in August. We're going to get it done, but I know where the work is. It's about developing young players as quickly as we can. You've really got to count on 18, 19 guys, so the depth is what we have to establish."
Robinson admits Michigan never truly had adequate depth in 2009, and the results showed.
"We lacked depth, we lacked maturity at times," he said. "But that's last year. It doesn't really matter. There's no reason to be putting rose-colored glasses on it. At the same time, can it be an improved defense? Yep. It's the year 2010 and it's the 131st defense to perform here at Michigan.
"And doggone it, we're going to find a way to be better."
February, 4, 2010
2/04/10
12:29
PM ET
Michigan Wolverines
The class
Recruits:
27 (all high school seniors, seven early enrollees)
Top prospects:
Safety
Demar Dorsey
is the top-ranked recruit in the Big Ten, according to ESPN's Scouts Inc. Quarterback
Devin Gardner
, an ESPNU 150 selection, will compete for snaps right away. Defensive recruits like
Marvin Robinson
,
Cullen Christian
and
Richard Ash
might be able to help the beleaguered unit early on.
Sleepers:
Safety is a huge need for Michigan in 2010, and
Ray Vinopal
and
Carvin Johnson
both could factor into the mix there. Linebacker
Jake Ryan
, a late bloomer during recruiting, also is a player to watch.
Needs met:
Arguably no Big Ten team needed to bolster a particular position like Michigan needed to bolster its secondary. The addition of Dorsey gives the Wolverines a possible immediate contributor in the back four. Rich Rodriguez added the quarterback he needs in Gardner, and Michigan also stocked up at wide receiver, defensive line and linebacker.
Analysis:
Michigan started quickly, lost a bit of ground with elite prospects and then finished strong by adding Dorsey on National Signing Day. Rodriguez signed a large and important class that must help a struggling defense this fall. Gardner will push
Tate Forcier
at quarterback, and the early enrollees at both wide receiver and running back will be fun to watch this spring. If this class doesn't bolster Michigan's defense immediately, the Wolverines will be in trouble.
Scouts Inc. grade:
B-plus
What Rich Rodriguez said:
"Demar is a very athletic guy. Very fast. Has indicated he may run track as well. So it will be good news for our track program. A fast guy. He can play corner and safety. We'll probably start him at corner first, eventually teach him the back end stuff as well. Also returns kicks. Runs very well."
(on Devin Gardner) "It helps he got in early. I don't know if 15 spring practices can really give you a whole thing. But I know it helped Tate [Forcier] last year. Devin is going to have pieces around, veterans that know what we're trying to do offensively and all that. But again, until I see him at spring practice and how quickly he picks up the plays and all that, I couldn't tell you. I know he's very competitive. He's one of those guys eager to learn."
"Our back-end guys, linebackers and safeties and corners, are guys we felt we needed to play in space. And so we tried to address that with the athleticism. Again, these guys are young. Let's not put too much on too soon. They have to come and earn a spot and all that. But immediately the competition has risen on the defensive side of the football."