February, 16, 2012
2/16/12
3:54
PM ET
As disappointing as last season was for Tennessee, particularly the way it ended with the loss to Kentucky, it wasn't a total loss for Volunteers coach Derek Dooley.
He learned a lot about himself, learned some hard lessons along the way and also feels like he goes into the 2012 season with a much clearer picture of what has to happen if the Vols are going to make a move in the Eastern Division.
"The number one thing is that we have to do a much better job of coaching at all levels," said Dooley, whose Vols have suffered through back-to-back losing seasons.
[+] Enlarge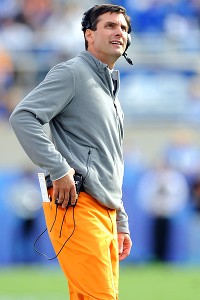 Jim Rinaldi/Icon SMIDerek Dooley says he learned a lot about himself last season.
"I watch these cut-ups of what we're doing. What we were doing schematically was good. How we were doing it was not good. Where I think I failed more than anything, and I told the team this, was making too many excuses for our players. It's so important as coaches that you set a standard and demand it and hold everybody accountable to it. That's what the players ultimately want."
The Vols' players will have a lot of new faces to learn from going into next season. Six of the nine assistant coaches are new, including defensive coordinator Sal Sunseri.
"We have to do a better job of teaching and holding our players accountable to what we're teaching, and we have to improve our teaching," Dooley said. "Look, I put it on us as coaches and me as the head coach. Sometimes, I used the youth and inexperience as too much of an excuse for allowing things to happen we shouldn't have allowed to happen."
Dooley thinks the Vols have the talent and the experience to compete now on a consistent basis in the SEC. He's equally convinced that the staff dynamic is also in place now with the six new assistants and thinks the coaching turnover was actually an energizer for the program.
"I think it's going to be very healthy," Dooley said.
That said, he concedes there may be some early growing pains with the Vols moving to a base 3-4 defense under Sunseri.
"It will be an adjustment. It always is," Dooley said. "But at the end of last season, I felt we were going to need to do more of that anyway [the 3-4 defense] even if we didn't have a change at coordinator."
The reason being is that the Vols' defensive tackles are more in the 275-pound range, and now those guys will become defensive ends in the 3-4 scheme.
"Our defensive ends were 245 pounds, and when you're playing a 4-3, those are two undersized positions," Dooley explained. "When you stand the defensive end up and he becomes an outside linebacker, he's a perfect size, and you move that 3 technique out to a 5 technique, and he's the perfect size.
"What's the challenge? You've got to find a noseguard in the middle who has some mass, and your inside linebacker's got to be a little more physical."
The Vols hope they've found that mass in 6-foot-6, 380-pound junior college transfer Daniel McCullers.
Maurice Couch
is another bigger junior college product who played last season for the Vols and should be even better his second year in the program.
Former Alabama defensive end Darrington Sentimore is already on campus and will go through spring practice after spending last season in junior college. He's played end in the 3-4 before when he was at Alabama, and Dooley thinks rising sophomore
A.J. Johnson
will be a perfect fit inside at linebacker and rising sophomore
Curt Maggitt
a perfect fit as a stand-up outside linebacker.
"I felt our personnel was more suited for the 3-4 on base downs, but we're still going to run some four-man front stuff," Dooley said.
December, 21, 2011
12/21/11
3:30
PM ET
Now that you've seen our
SEC West surprises
from the 2011 season, it's time to take a look at the surprises in the SEC East:

FLORIDA
The offense didn't take a step forward:
Even though quarterback
John Brantley
appeared better suited for Charlie Weis' pro-style offense, the Gators didn't look much better after last year's ugly offensive output. Things looked better during the first four weeks, but the more SEC defenses the Gators saw, the worse they got. A complete turnaround wasn't expected, but improvement was and Florida just didn't have it.
Weis leaving for Kansas:
Staying with the offensive theme, Florida received quite the surprise when Weis left Florida to take over as Kansas' head coach. People around the program were pretty surprised when they received the news, but it seemed especially odd considering how outspoken he was about staying at Florida for the long haul.

GEORGIA
Jarvis Jones:
Anyone unfamiliar with Jones' situation would have never guessed that Jones didn't play a down of football last year. After sitting out 2010 because of transfer rules, the USC transfer linebacker was an absolute beast in his first season of SEC football. Jones was named an All-American after leading the SEC in tackles for loss (19.5) and sacks (13.5).
Georgia's resolve:
The Bulldogs had recently been marred by seasons of under performing, but after a 0-2 start Georgia pulled off 10 straight wins and made it back to the SEC title game for the first time since 2005. Not a lot of people outside of that locker room thought Georgia would dig itself out of its early hole, but the Bulldogs did and found a way to have a very successful season.

KENTUCKY
Morgan Newton:
Remember when it appeared as though Newton was primed for a solid career after a successful freshman season? It seems so long ago, now, especially after such a poor 2011 season. Newton never looked very sharp all year, and after a late-season ankle injury he lost his starting job to freshman
Maxwell Smith
. Newton finished the season with 793 passing yards with eight touchdowns and seven interceptions.
Kentucky beat Tennessee:
For all of the Wildcats' offensive struggles, they found a way to finally beat Tennessee after 26 straight years of losing to the Vols. The win not only stopped a lot of suffering for the Wildcats, but it eliminated Tennessee from bowl contention.

SOUTH CAROLINA
Surviving without Marcus Lattimore:
The moment the news hit that Lattimore, South Carolina's most consistent offensive weapon, was lost for the season with a knee injury, most felt the Gamecocks' season was doomed. But the Gamecocks stayed on course. South Carolina lost just one game after and finished the regular season with 10 wins for only the second time in school history.
Brandon Wilds:
When Lattimore went down against Mississippi State, Wilds was thrust into the starting spot. For someone who started the season as the fifth-string running back and a redshirt candidate, Wilds did a heck of a job. He averaged 82.2 yards in South Carolina's final five games and eclipsed 100 yards three times during that span.

TENNESSEE
A.J. Johnson and Curt Maggitt:
It's not every day that a team has a standout true freshman at linebacker. Well, Tennessee had two of them. Both were named to the SEC All-Freshman team after combing for 136 tackles and 10 tackles for loss. The season was pretty rough, but these two were major bright spots.
Tennessee's collapse in the finale:
All the Vols had to do was beat Kentucky and a season full of injuries and agony would have been saved by a bowl berth. But Tennessee fell flat against a Kentucky team that was eliminated from a bowl berth the week before. Tennessee turned the ball over three times and couldn't muster more than seven points, snapping a 26-year win streak over the Wildcats.

VANDERBILT
Vandy's attitude:
James Franklin promised things would be different and they were for the Commodores. The defense was aggressive, the offense was exciting and the Commodores didn't back down from anyone. There were postgame outbursts from Franklin and teams learned early on that this wasn't the same Nashville pushover.
Zac Stacy/Vandy's defense:
Stacy started as a relative unknown, but finished the season third in the SEC in rushing with 1,136 yards and was second with 13 touchdowns. He had five 100-plus-yard games, averaging 162.8 yards in each. As for the defense, it had to replace three starting linebackers, but finished the year sixth in the SEC in total defense.
December, 13, 2011
12/13/11
10:51
AM ET
It was a big year for freshmen in the SEC, and some of the most hyped newcomers turned out to be the most productive.
Here's our ranking of the top 15 true freshmen this season based on their productivity and overall impact on their teams:
1. Jadeveon Clowney, DE, South Carolina:
The nation's No. 1 prospect coming into the season made a big splash with six sacks and 10 tackles for loss, leading all SEC freshmen in both categories. His five forced fumbles tied him for second in the league among all players.
2. Isaiah Crowell, RB, Georgia:
Had it not been for injuries and durability issues, Crowell was on his way to a 1,000-yard season. He had only 36 carries in his past five games but still managed 837 rushing yards and had 100-yard games against four SEC opponents -- Auburn, Mississippi State, Ole Miss and South Carolina.
3. A.J. Johnson, LB, Tennessee:
He started in 10 of the Vols' 12 games and led all SEC freshmen with 80 tackles, which was second on Tennessee's team. He had his best games against the best teams with 11 tackles against LSU, 12 against South Carolina and 13 against Alabama.
4. Malcolm Mitchell, WR, Georgia:
One of the most explosive players on Georgia's team, Mitchell emerged as the Bulldogs' top deep threat, catching 38 passes for 614 yards and four touchdowns. He averaged 16.2 yards per catch.
5. Reese Dismukes, C, Auburn:
A mainstay on Auburn's offensive line, Dismukes started all 12 games at center and helped pave the way for the Tigers to rush for 2,097 yards this season, ranking them fourth in the SEC.
6. Curt Maggitt, LB, Tennessee:
One of the more promising big-play defenders in the league, Maggitt tied for third on Tennessee's team with 56 total tackles, including 5.5 tackles for loss. He started in eight games.
7. Anthony Johnson, DT, LSU:
His numbers weren't eye-popping, but part of that is because the Tigers rotate so many defensive linemen. Johnson was a force in the middle and has three tackles for loss heading into the national title game.
8. Brian Randolph, S, Tennessee:
He started in eight games and led all Tennessee defensive backs with 55 total tackles. Randolph was a safety for most of the season but started at cornerback against Alabama.
9. Donte Moncrief, WR, Ole Miss:
One of the Rebels' top playmakers, Moncrief led the team in catches (31), receiving yards (454) and touchdown receptions (4). He averaged 14.6 yards per catch.
10. Kenny Hilliard, RB, LSU:
The Tigers didn't really unleash Hilliard until the Auburn game on Oct. 22, but he's been LSU's best power back since. He has nine touchdowns and is averaging 5.6 yards per carry.
11. Trey Flowers, DE, Arkansas:
With Jake Bequette and Tenarius Wright both suffering through injuries, Flowers stepped up in a big way with 5.5 tackles for loss, including a sack.
12. Vinnie Sunseri, DB, Alabama:
He jumped right in as a valuable cog in an Alabama secondary that was one of the best in the country. Sunseri ranks eighth overall on the team with 31 total tackles.
13. Marcus Roberson, CB, Florida:
He suffered an injury late in the season but held down one of the Gators' starting cornerback jobs up until that point. Roberson has all the tools to be a great one in this league.
14. Tevin Mitchel, CB, Arkansas:
He emerged as one of the Hogs' starters at cornerback late in the season and wound up sixth on the team with 53 total tackles. He had 13 in the comeback win over Texas A&M.
15. De'Ante Saunders, S, Florida:
One of two true freshmen in the Gators' starting secondary, Saunders intercepted two passes and broke up two passes this season from his safety position.
August, 19, 2011
8/19/11
6:50
PM ET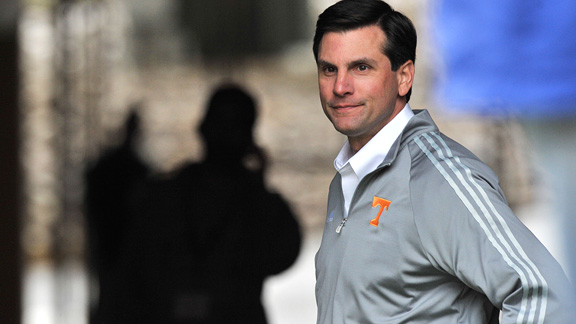 Jim Brown/US PresswireDerek Dooley's young Volunteers will face a brutal schedule this season.
KNOXVILLE, Tenn. -- Derek Dooley finally feels like a football coach again.
Not that the hard part is necessarily behind him as he enters his second season at Tennessee, but the tedious and often times frustrating task of establishing the kind of infrastructure he wants within his program is all but complete.
Now, it gets down to football, and more specifically, winning a few more football games.
"We were able in this preseason camp to do what we were hired to do, and that's to go coach and motivate and teach our team instead of dealing with a lot of drama and explaining to everybody that that's not how we're going to do it here and that we're going to do it a certain way here," Dooley said. "There's a lot less emotion and drama with this year's team, and that's good."
It's also a more talented team thanks to back-to-back top-15 recruiting classes nationally.
Dooley is convinced the Vols have upgraded height, weight, speed and athleticism at every position.
But they had to. Only four seniors are slated to start this season, and as many as 14 of the 22 position starters are projected to be freshmen or sophomores. That goes for both of the kicking specialists, too.
[+] Enlarge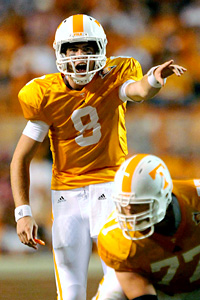 Jim Brown/US PresswireTyler Bray is now expected to lead Tennessee's offense.
Two of the three starting linebackers will be true freshmen -- Curt Maggitt on the weak side and A.J. Johnson on the strong side.
"We feel like we're better. We feel like we're a lot better," Dooley said. "But I don't know if we're any good … if that makes sense."
For one thing, Dooley knows what he's up against in taking such a young team into the teeth of the SEC gauntlet.
The Vols are the only Eastern Division team this season that has to face all three of the highest-ranked Western Division foes: No. 2 Alabama, No. 4 LSU and No. 14 Arkansas.
They do trade Oregon for Cincinnati in the nonconference schedule, but as Dooley is quick to point out, they trade a home game against Ole Miss for a road date at Arkansas in league play.
After going 6-7, including a controversial loss to North Carolina in the bowl game, in what Dooley calls "Year Zero" last season, what are realistic expectations for the Vols this season?
Dooley, a former lawyer, is too slick to be pinned down on that one.
He doesn't dare toss out a number. Instead, he points to a sign hanging up in the Vols' Neyland-Thompson Sports Center.
"It goes back to what our whole core value is: 'Relentless pursuit of continued improvement,'" Dooley said.
The translation: The Vols sure can't take a step backward this season, and just about anybody in orange would tell you that another 6-6 finish in the regular season would be a step backward.
At Tennessee, you're always going to be measured by how well you do against Alabama, Florida and Georgia. And here lately, you could probably throw South Carolina into that mix.
Beating one or two of those teams and finishing above. 500 in the regular season would go a long way toward living up to that standard of relentless pursuit of continued improvement.
It would also be a nice segue to a 2012 season in which the Vols will be expected to compete for the SEC title.
The Tennessee players are clearly motivated by so little being expected of them this season. They're also tired of hearing their youth being used as an excuse as to why they won't be a factor in the Eastern Division race.
"We're going to shock a lot of people this year, so just be on the lookout for Tennessee. Old Rocky Top is coming back," said sophomore defensive end Jacques Smith, who has a chance to be one of the real breakout players in the league this season.
The Vols have several of those players, especially on offense. Six of their projected starters on that side of the ball either started or played extensively a year ago as true freshmen, including quarterback
Tyler Bray
.
Dooley said it will be a completely different ballgame for those guys this season.
"We didn't have any pressure last year [on offense]," Dooley said. "Our two receivers (
Justin Hunter
and
Da'Rick Rogers
) had no pressure. They had two seniors ahead of them. They'd go into a game, and if they couldn't make a big play, would get out. They didn't have any pressure. The quarterback [Bray] came in and we were 2-6. If we lost a game, there was no pressure.
"Now, we start over. It's their team. It's a different story."
Dooley said it's imperative that the Vols run the ball more effectively this season, and he's seen signs of being able to do that in the preseason. It's helped having a deeper stable of running backs, and true freshman
Marlin Lane
has added the speed element to the equation.
Defensively, Dooley's two biggest areas of concern remain the interior of the defensive line and cornerback.
The good news is that senior end Ben Martin has come back from a pair of Achilles tendon injuries, and Smith is a budding star at the other end.
"It's nice to have Ben Martin back," Dooley said. "He's got some size and stature and provides leadership. That's been a little bit of gravy that we weren't counting on.
"What we're seeing is that we're not where we need to be at certain positions. Our concerns are at defensive tackle and cornerback. Austin Johnson is the new mike (middle) linebacker, but we're showing signs that we're going to get a lot better pressure with four guys, which we didn't last year. And we're showing signs that we're matching patterns and covering better.
"So we're showing signs that we're going to make offenses work a little bit more to score points, and that's encouraging."
June, 29, 2011
6/29/11
2:00
PM ET
Now that we are done looking at 10 true freshmen from the SEC West who could make impacts on their teams this fall, it's time to look at the youngsters in the East.

FLORIDA
Marcus Roberson, CB/S:
With Janoris Jenkins gone, Roberson could come right in this fall and compete for solid playing time. He's a bigger corner at 6 feet, 170 pounds and could wind up at safety, where the Gators are pretty thin. He has great field instincts and will play somewhere this fall.
Ja'Juan Story, WR:
Story was a raw athlete in high school and played more quarterback than receiver during his senior year, but at 6-foot-3, 190 pounds, he will be one of Florida's biggest receiving targets. He'll need some time to develop, but should be a nice, lengthy weapon in Charlie Weis' offense.

GEORGIA
Isaiah Crowell, RB:
He arrives in Athens with a ton of hype. Georgia has yet to find its feature back and Crowell has all the talent to be that player. Some think he could start by the midpoint of the season. He was the nation's top running back and in 2010 he rushed for 1,721 yards and 18 touchdowns.
Malcolm Mitchell, WR:
Mitchell played both sides of the ball in high school, but Georgia's staff really likes what he could do at receiver. He's a tremendous athlete and will get a chance to earn playing time for the fall, especially with some unproven receivers already on Georgia's roster.

KENTUCKY
Josh Clemons, RB:
Raymond Sanders
might have left spring as the starting running back for the Wildcats, but Kentucky is still looking for help at the position. Clemons will get a chance to get in the backfield rotation after rushing for more than 2,000 and have 25 touchdowns during his senior year of high school.

SOUTH CAROLINA
Jadeveon Clowney, DE:
Clowney will enter preseason camp with a mound of expectations. He was the country's top high school player last year, and even though there is a lot of talent on South Carolina's defensive line, it will be hard to keep him off the field with his freakish ability. He recorded 162 tackles, including 29 tackles for loss, 29.5 sacks, 11 forced fumbles, six recovered fumbles and scored five touchdowns last fall.

TENNESSEE
A.J. Johnson, LB:
He has the size and strength to play in the middle, but has the athleticism to play off the edge as well. With Tennessee needing a lot of help at linebacker, Johnson will get a shot at playing time. He registered 186 tackles, 12 tackles for loss, one sack and one interception during his senior year.
Curt Maggitt, LB:
He's another linebacker who will be in the mix for playing time this fall. He played outside in high school and has great speed coming off the edge. He'll need to add some pounds, but should be one of the fun youngsters to watch this fall in Knoxville.

VANDERBILT
Jake Bernstein, OL:
Bernstein was a solid tackle in high school, but with so many questions surrounding Vanderbilt's offensive line, he could move around once preseason camp begins. He could line up at center or guard.
Josh Grady, QB:
Vanderbilt coach James Franklin is very excited about getting Grady out on the practice field. He comes in as a quarterback, but he's dynamic enough that he could play other positions as well. He accounted for 3,061 yards of offense and 26 touchdowns. He also had five interceptions.