January, 7, 2013
1/07/13
11:24
AM ET
As everyone knows by now, Penn State coach Bill O'Brien was courted by NFL teams in the past couple of weeks. He admits to have "had conversations" with a couple of those teams.
But O'Brien hasn't gone anywhere, and he said on Monday that he did not use those talks to leverage more money for himself out of Penn State. The (Harrisburg) Patriot-News reported last week that Nittany Lions booster Terry Pegula had donated $1.3 million for an increase in O'Brien's salary. O'Brien denied that.
[+] Enlarge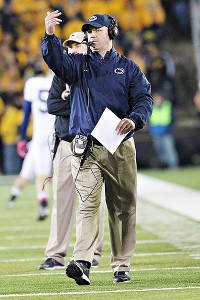 Reese Strickland/US PresswireCoach Bill O'Brien said he's hoping that support areas around the Penn State football program receive an upgrade.
"You can ask anyone that knows me," he said. "In 20 years of coaching, I have never asked for a raise. The last thing I'm about is money. If I was about money, I probably wouldn't be sitting here. I never asked anybody for a raise. It gets my blood boiling when people say this is about money."
O'Brien did say, however, that he is working with athletic director Dave Joyner and president Rodney Erickson on upgrading support areas around the program like recruiting, academics and strength and conditioning. He didn't offer many specifics, but expect some additional staff members in those areas.
The Philadelphia Eagles and Cleveland Browns were two teams that reportedly talked to O'Brien. He said he was never offered a job.
"I'm a coach, it's something that I love, and out of respect for my profession, the NFL is the highest level of my profession," he said. "But I made the decision to stay here, and I'm very proud to be head football coach here."
O'Brien also shot down speculation that he was looking to leave State College because he wasn't told how severe the NCAA penalties would be when he took the job.
"Nobody gave me bad information," he said. "It was just no one really knew. I took a leap of faith, and Penn State took a leap of faith, and I shook their hand to become the next head coach."
O'Brien didn't rule out talking to NFL teams again after next season or coaching at the next level someday. "I'm not a genie," he said when asked about his long-term future. He said he had no intention of coaching at one place into his 80s like his predecessor, Joe Paterno. Fact is, NFL teams will continue to be interested in O'Brien, and he would be foolish not to consider any and all opportunities.
But he'll be coaching Penn State in 2013. And credit him for having this news conference today and at least talking about the situation. Not all coaches would do that in the offseason, and Penn State hasn't always been the most open place.
Some other notes from O'Brien:
Tight end Kyle Carter, who injured his wrist late in the season, may not be ready for the start of spring practice.

Backup running back Curtis Dukes will not return to Penn State for his
senior season. Dukes rushed for only 98 yards this season and did not get a carry after the Sept. 29 Illinois game.

O'Brien said seven incoming players have enrolled for the spring semester, most notably star tight end recruit Adam Breneman and junior college quarterback transfer Tyler Ferguson.
October, 18, 2012
10/18/12
11:10
AM ET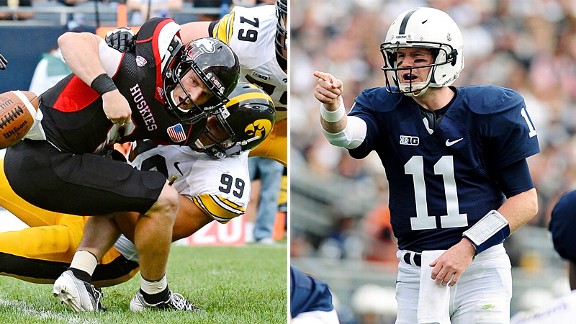 US PresswireJoe Gaglione and Iowa's staunch defense will try to stop Matt McGloin's surprisingly effective offense.
Image No 1: Penn State quarterback
Matt McGloin
dives into the end zone for the go-ahead touchdown in the fourth quarter against Northwestern, his
fifth
rushing score in six games, as the Lions score 22 fourth-quarter points to rally for a 39-28 win. McGloin celebrates with the Aaron Rodgers championship belt move ... also
known as the discount double check
.
Image No. 2: After forcing two overtimes behind the strength of its defense, Iowa seals a 19-16 win against Michigan State when sophomore defensive lineman Louis Trica-Pasat deflects an
Andrew Maxwell
pass, and cornerback
Greg Castillo
comes down
with it for an interception
.
If you predicted either of these things happening two months ago, you might put Miss Cleo out of business. Or just hop the first plane to Vegas.
Expectations for both Penn State's offense and Iowa's defense were tempered before the season.
Penn State had the nation's 110th-ranked scoring offense in 2011 and this summer saw its top running back (
Silas Redd
) and top receiver (
Justin Brown
) transfer to other schools.
Rob Bolden
, the team's opening-day starting quarterback in each of the past two seasons, also transferred. The Lions' leading returning receivers were a running back (
Curtis Dukes
) and a fullback (
Michael Zordich
), who each had five catches in 2011. Their leading returning rusher, Dukes (237 yards), missed spring practice for academic reasons -- the time when new coach Bill O'Brien installed his NFL-style scheme. Penn State had zero proven offensive weapons entering the season.
Iowa's defense also featured more no-names than usual. The Hawkeyes, who had four defensive linemen selected in the NFL draft the past two years, turned to two seniors with limited production (
Steve Bigach
and
Joe Gaglione
) and another coming off of a serious knee injury (
Dominic Alvis
) to lead their front four. Freshman and sophomore defenders filled Iowa's preseason depth chart, particularly at the line positions. "This is our youngest team," Hawkeyes coach Kirk Ferentz said at preseason media day.
Yet midway through the season, both Penn State's offense and Iowa's defense are two of the more pleasant surprises in the Big Ten. The two units have been instrumental in Penn State's and Iowa's 2-0 starts to league play, and they'll match up against each other Saturday night when the Lions visit Kinnick Stadium.
"I'm not really surprised at all," McGloin told ESPN.com "I knew we had the talent on this team, and guys who were willing to put in the work to get the job done and learn this offense. I'm not really surprised at what I've done, or what
Kyle Carter
has done, or
Allen Robinson
or [Zach] Zwinak or [Michael] Zordich or the line."
McGloin leads the Big Ten in passing average (249.8 ypg) and is tied for the league lead in touchdown strikes with 12, four more than he had all of last season as Penn State's primary quarterback. With 1,499 pass yards through the first six games, he needs just 73 more to eclipse his season total from 2011.
Robinson, who had a grand total of three receptions as a true freshman for Penn State last fall, leads the Big Ten in receptions per game (6.8) and touchdown receptions. Penn State's other offensive standouts include Carter, a redshirt freshman tight end with 23 catches for 279 yards; and Zwinak, a former walk-on who had three carries for seven yards last year and now leads the team in carries (68) and rush yards (320). Zordich, a senior fullback, is a more familiar name but someone who hasn't had much of a chance to contribute until this season (37 carries, 167 yards, 10 receptions).
"It's an NFL offense," McGloin said. "This offense definitely gives guys an opportunity to showcase their ability and gives them a lot more recognition."
O'Brien's arrival has modernized Penn State's offense. Iowa, meanwhile, hasn't gone through dramatic scheme schedules defensively, although secondary coach Phil Parker moved into the coordinator role in the offseason following Norm Parker's retirement.
The defense has been better than expected from the start, holding Northern Illinois to 12 first downs and 201 total yards in the season opener. Iowa has surrendered 17 points or fewer in five of six games and allowed fewer than 350 yards in five of six games. While Penn State's offense isn't the strongest unit on its team, Iowa's defense undoubtedly deserves the label as the Hawkeye offense is still finding its identity.
"We're making progress," Ferentz said. "We were hopeful that we could during the course of the season. Some weeks have been a lot better than others, obviously, but the group's growing."
The defensive line, a major area of concern in August, has been a strength. Gaglione boasts eight tackles for loss, four sacks and two forced fumbles, while other linemen like Trinca-Pasat (three tackles for loss, two quarterback hurries) and Bigach (one sack, one forced fumble) have contributed.
Iowa has surrendered just five rushing touchdowns in six games.
"I knew they were going to go in there and be a help to the defense," linebacker
Christian Kirksey
told ESPN.com. "Coach Ferentz always talks about the next man in. As soon as Joe Gaglione and Steve Bigach jumped in, they were just eager and hungry to help out the defense."
The linebackers also have done their part. Veterans
James Morris
and Kirksey have combined for two interceptions, two fumble recoveries, three sacks and 7.5 tackles for loss.
Anthony Hitchens
, a converted safety in his first season as a starting linebacker, leads the nation with 13 tackles per game (78 total).
"Iowa defense is built on one thing," Kirksey said. "Way back when Bob Sanders was here, way back when Adrian Clayborn was here, it was all still the same focus. We all grew around the tradition and we just took it to the field.
"We're a new group, but Iowa teaches the same lessons throughout the years."
McGloin sees it, too, calling the young Hawkeyes "a typical Iowa defense." O'Brien's system certainly isn't a typical Penn State offense, but that has been a good thing.
Although McGloin expected the unit to perform, his contributions as a rushing threat -- he had no rushing touchdowns in 2011 and just two in his career before this season -- are a bit of a surprise.
The only bad news: the discount double check is probably a thing of the past.
"I think I'm done with that," McGloin said, laughing. "That was just a one-time thing."
September, 15, 2012
9/15/12
7:06
PM ET
STATE COLLEGE, Pa. -- Penn State rebounded from an 0-2 start behind a strong offensive effort and opportunistic defense Saturday.


The Nittany Lions (1-2) forced three turnovers and finished with 341 total yards in
a 34-7 victory over Navy
. The Midshipmen's secondary couldn't adjust to
Matt McGloin
, who found eight different receivers and threw for 231 yards.
The win comes at a critical time for Penn State, which hasn't started 0-3 since 2001. Navy drops to 0-2 with the loss.
It was over when
: McGloin connected with
Allen Robinson
on a 45-yard touchdown strike in the first quarter. McGloin threw the pass about 20 yards, but Robinson faked a defender, cut inside and sprinted another 25 yards for the score. That put Penn State ahead 14-0 and set the tone with PSU's passing game. Navy never recovered.
The game ball goes to
: Robinson. He made three big plays, all three of which occurred on touchdown drives, and helped PSU threaten with the deep ball -- something it hadn't yet done entering this game. He finished with five catches for 136 yards and three touchdowns.
Stat of the game
: Two, the number of turnovers that Penn State turned into touchdowns. The Nittany Lions couldn't capitalize last week off four turnovers but did better with three turnovers against Navy -- including a 74-yard fumble return by linebacker
Mike Hull
.
Unsung heroes
:
Curtis Dukes
and
Michael Zordich
. They weren't flashy, they didn't have a lot of stats, but they made the most out of each of their 22 combined carries. The bruising duo helped fill the void of Penn State's top two tailbacks,
Bill Belton
and
Derek Day
, who were both out with injuries. Dukes ran for 47 yards and averaged 4.3 yards per carry, and Zordich had 11 carries for 50 yards.
What it means
: Finishing around .500 remains a possibility. A loss here would have shut the door on Penn State finishing 6-6. It drove downfield against Virginia but couldn't find the end zone. Here, it finally put everything together and looked good against an overmatched Navy squad. Penn State showed it can impress offensively; the only question left is whether it can do that consistently.
August, 20, 2012
8/20/12
9:30
AM ET
Before leaving Penn State for a new home at USC, running back
Silas Redd
left
Bill Belton
with a simple message.
"He said, 'It's your time now. You've got to move forward and prepare yourself for the big games coming up this year,'" Belton recalled.
Belton has done just that.
Football is a game of opportunity, whether it comes by virtue of injury, academic missteps or, in Penn State's case, historic NCAA sanctions that prompted a wave of transfers. Redd, a second-team All-Big Ten selection in 2011, was among those to depart Happy Valley, leaving Penn State with a sizable void in the backfield.
Belton is working to fill it for the 2012 season. Despite little experience as a primary running back, Belton locked up the starting job in preseason camp.
"He's definitely cemented himself as a starter at this point," coach Bill O'Brien said last week. "Other guys will play, but Billy will start the game. ... Billy's a good football player."
[+] Enlarge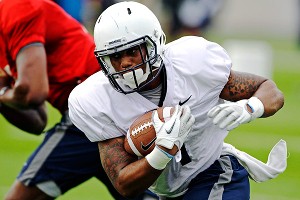 AP Photo/Gene J. PuskarBill Belton saw time as a receiver and Wildcat quarterback last season but will start at tailback as a sophomore for Penn State this fall.
After playing wide receiver and some Wildcat quarterback as a true freshman in 2011, Belton transitioned to running back this spring. Little did he know how much his move would mean. Redd's departure, along with the losses of Stephfon Green and Brandon Beachum, leave Penn State without a back who recorded more than 50 carries in 2011.
Curtis Dukes
, who missed spring practice because of academic issues, logged 41 carries for 237 yards last fall. Penn State's next-most-productive ball-carrier? Belton, with 13 carries for 65 yards, many as the speedy triggerman for the Wildcat offense.
Regardless of his inexperience as a primary running back -- Belton played quarterback for Winslow Township High School in Atco, N.J. -- he impressed O'Brien this spring and continued to do so after
Redd's departure July 31
.
"Sy was big here," Belton said of Redd, who rushed for 1,241 yards and seven touchdowns last fall. "Silas is a great friend of mine and I wish him the best of luck. But I'm definitely ready for the opportunity moving forward."
Belton prepared himself in the weight room this summer with new strength and conditioning coach Craig Fitzgerald. Running backs coach Charles London told Belton about the physical toll pass protection takes on running backs. Like Redd, who transformed his body between the 2010 and 2011 seasons to take the pounding, Belton "leaned up" and added muscle mass.
Although he actually was a bit heavier in 2011 and hopes to play around 203 pounds this season, Belton is confident in his progress.
"I feel like I'm in the best shape of my life right now," he said.
Penn State will lean on Belton for carries behind a potentially improved offensive line, but the sophomore's versatility could be his biggest asset for the offense. The receiver position returns almost no experience, and while Belton recorded only one reception in 2011, he can help the passing game.
"That adds a dimension to the game," Belton said. "You've got to account for the backs, too."
O'Brien said Belton recorded an 80-yard touchdown run in a scrimmage early in camp and has improved his pass protection. Asked how many carries he can handle, Belton said as many as the coaches give him.
"You strive to be the best," he said. "That's basically what I'm trying to do this year. I'm definitely looking forward to September 1st "
July, 31, 2012
7/31/12
6:44
PM ET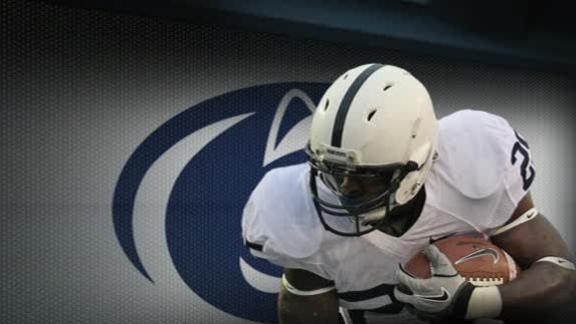 Go ahead and mount that dartboard with Lane Kiffin's (usually) smug mug on it.
Place it next to the one of NCAA president Mark Emmert or any others considered villains in the fallout from the severe sanctions placed on Penn State's football program. Ask how and why the NCAA cleared the way for a star player to transfer from one program on probation to another.
But don't blame
Silas Redd
. He's no Benedict Arnold or Brutus. He's an extremely talented football player who had to make the best decision for his future.
As expected, Redd confirmed Tuesday that
he's transferring from Penn State to USC
. The second-team All-Big Ten running back in 2011, who ran for 1,241 yards and seven touchdowns, will be eligible to play immediately for the Trojans, who, like Penn State, have quite a tradition at running back. While Penn State is just beginning its penalty phase, which includes no postseason play for the next four years, USC is emerging from some of its own sanctions and will be eligible to compete for a national title for the first time since 2009.
[+] Enlarge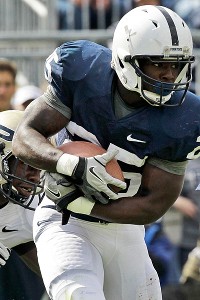 AP Photo/Gene J. PuskarSilas Redd, who rushed for 1,241 yards and seven touchdowns at Penn State last season, is transferring to USC.
The NCAA made it as easy as possible for Penn State players to transfer without penalty. Kiffin came calling, and Redd, after visiting USC's campus during the weekend, accepted the invitation.
Redd ultimately had two good options.
1.
Stay at Penn State, play in an NFL-style offense under new head coach Bill O'Brien, be the clear-cut featured back and have an excellent chance to turn pro after the season.
2.
Go to USC, compete for the starting job, play behind the nation's top quarterback in
Matt Barkley
and compete for a Pac-12 title and quite possibly a national championship.
You can't fault a guy for wanting to play for a championship. Redd has that opportunity at USC, which likely will be the preseason No. 1 team in the polls.
This isn't a case of a cocky kid looking for the next best thing. Any Penn State fan who knows Redd or has read about him knows he's humble, hardworking and extremely classy. He comes from a terrific family and has earned everything that has come his way. His decision was extremely difficult, and he's leaving behind many close friends in State College.
Here's the full statement
Redd issued about his decision
, and here's an excerpt:
"Playing football at Penn State has been a dream of mine since I was seven years old, and I will be forever grateful that this dream became a reality," Redd's statement reads. "This is the reason that the decision I have made is so difficult for me: I will transfer to USC to complete my education and my college football career, beginning in the 2012-2013 year. Penn State gave me a phenomenal opportunity to become part of a legendary football program. My teammates, my coaches -- past and present -- and the staff have provided me with a tremendous amount of guidance and support since I arrived on campus, and I can't thank them enough for their time, their advice, and their friendship. They have given me such a strong foundation from which I can continue to grow."
Sure, he could have echoed the pledge made by several of Penn State's older players last week. He could have stuck it out in State College. But the NCAA sanctions changed things at Penn State, and the liberal transfer policies opened doors everywhere, even to other programs on probation, like USC. Is that debatable? Highly.
"I think it is important to say that this situation is not something that I wished for myself, but it has happened, nonetheless," Redd's statement reads.
Redd also finds himself in a different situation from most Lions players. He has two years of eligibility left, and likely will face an NFL decision after the season. He also plays a position where a transition to a new team, even just a month before the opener, shouldn't be overly dramatic.
His departure certainly stings. If Redd isn't Penn State's best player, he's a close second behind first-team All-Big Ten linebacker
Gerald Hodges
.
Who takes over at running back for the Lions?
Bill Belton
will be a key player to watch in preseason camp. He ran the "Wild Lion" offense at times last season and possesses good speed.
Curtis Dukes
, a big back who missed spring ball because of academics, is
weighing whether or not to stay in State College
. Redd's decision could impact that of incoming running back recruit
Akeel Lynch
, who is considering Iowa as a possible transfer destination.
Running back suddenly has become a compelling position battle for Penn State, which kicks off fall practice Monday.
It'll be interesting to see the reaction to Redd's transfer. His exit is another setback for a program and a fan base dealing with plenty of them. More departures likely will come, including the possibility of linebacker
Khairi Fortt
heading to Cal.
But if you're looking for someone to blame, Redd isn't the answer.
March, 26, 2012
3/26/12
4:39
PM ET
Earlier today, I
had a Q&A
with new Penn State head coach Bill O'Brien where he talked about spring practice. O'Brien met with the media this afternoon and gave out some new information on the Nittany Lions spring, including the news that wide receiver
Curtis Drake
is moving to cornerback.
Drake played a big role in the win over Ohio State late in the season as a Wildcat quarterback, but he did not make the trip to the team's bowl after getting into a locker-room altercation with quarterback
Matt McGloin
. O'Brien said Drake had a "clean slate" as far as discipline and that he was needed to bolster the numbers in a secondary where all four starters graduated.
"What I saw with Curtis on the football field was good size, good feet, good hips, instinctiveness, and I think that he's a guy that can contribute over there," O'Brien said. "He's got to keep up his end of the bargain by doing well in school and keeping his nose clean, and then we'll give him a shot to play over there this spring."
Some other notes from O'Brien:
He reiterated again that there is no starter at the quarterback spot right now and that he might not name a starter until the night before the season opener against Ohio.
Linebacker Michael Mauti (ACL) won't participate in contact drills this spring, but O'Brien said Mauti "has had a heck of a winter just in the things that he has been able to do. He's definitely obviously one of the core players on this football team, just both from his leadership and from his work ethic, his family."
Running back Curtis Dukes will sit out the spring to concentrate on academics. That will leave Derek Day as the backup to Silas Redd. Incoming freshman Akeel Lynch will be given a long look this summer at tailback as well.
O'Brien said he didn't watch much film of Penn State last season and when he did, he mostly watched the defense. He said he wanted all the players to have a clean slate and preferred to focus his time on academics, recruiting and conditioning aspects of the program. He'll get his hands-on work done this spring. "The spring is about, in many ways, just like mini-camps in the National Football League," he said. "The spring is about experimentation, maybe practicing a guy at one spot for about five practices and then moving him to another spot and seeing how he does in different areas and trying to get your best players on the field."
October, 13, 2011
10/13/11
9:00
AM ET
Big Ten play has been no match for us so far, as we're 21-for-22 in predictions for league games (Bennett's miss on Iowa-Penn State being the only blemish).
But Week 7 certainly has the potential to trip us up. It's by far the most difficult set of games we've had this season. The teams, the location, winning/losing streaks, rivalries and other factors all could play into what takes place Saturday afternoon and evening. There are at least three potential toss-up games on the Week 7 slate.
Let's get picky ...
NO. 11 MICHIGAN at NO. 23 MICHIGAN STATE
Brian Bennett:
Denard Robinson
's mistakes finally catch up to him against a nasty Michigan State defense, which comes up with three turnovers.
Kirk Cousins
and
B.J. Cunningham
hook up early and often, and the Spartans make it four Bunyans in a row. ...
Michigan State 24, Michigan 20
Adam Rittenberg:
Four Bunyans? Sounds nasty. I wrestled with this one all week, as there are so many interesting subplots, all of which could go by the wayside because it's a rivalry game. Although Michigan is undefeated, I think this game has greater significance for Michigan State. The Spartans do enough to slow down Robinson and get enough from running backs
Le'Veon Bell
and
Edwin Baker
. Michigan State rallies in the fourth quarter and wins on a last-minute field goal. ...
Michigan State 23, Michigan 21
PURDUE at PENN STATE
Adam Rittenberg:
Purdue will hang around in this one, but the Boilers make too many mistakes (8.6 penalties per game) to win in a place like Beaver Stadium. Penn State's defense bends but doesn't break, and the Lions' offensive line builds on its performance from last week as
Silas Redd
and
Curtis Dukes
both reach the end zone. ...
Penn State 24, Purdue 13
Brian Bennett:
The Lions could have a little letdown after an emotional win over Iowa last week. But Purdue just doesn't have enough playmakers to puncture that Penn State defense. Devon Still introduces himself to
Caleb TerBush
a couple of times, and the formula of defense and just enough offense gets it done for JoePa again. ...
Penn State 20, Purdue 7
INDIANA at NO. 4 WISCONSIN
Brian Bennett:
Not quite 83-20, but it's still ugly. A struggling IU team is no match for the Badgers' freight train. Four more touchdowns for
Montee Ball
in a Wisconsin laugher. ...
Wisconsin 58, Indiana 17
Adam Rittenberg:
Yeah, I can't see Wisconsin hanging 83 on Indiana again (or the Hoosiers laying down like they did last year). The Badgers won't be sweating this one out, as Ball adds to his touchdowns total and
James White
reaches the end zone twice.
Russell Wilson
has a short day as Wisconsin can start gearing up for the Michigan State showdown. ...
Wisconsin 54, Indiana 10
OHIO STATE at NO. 16 ILLINOIS
Adam Rittenberg:
Upset special! Yes, Ohio State is fragile and Illinois is rolling. But the Buckeyes are desperate, and Illinois hasn't paid for some of its miscues (turnovers, penalties, forgetting the score). It catches up to the Illini this week.
Dan Herron
scores two touchdowns in his return, and Ohio State's defense does just enough to slow down
Nathan Scheelhaase
and
A.J. Jenkins
. ...
Ohio State 21, Illinois 20
Brian Bennett:
What? No love for the Zooker, Adam? I agree this will be a tough test for the Illini, but I'm not convinced
Braxton Miller
will be able to move effectively on his sprained ankle. And if he can't elude Whitney Mercilus, Jonathan Brown and the rest of Vic Koenning's defense, it will be another long day for the Buckeyes' offense. ...
Illinois 17, Ohio State 14
NORTHWESTERN at IOWA
Brian Bennett:
I went with history with last week's Iowa-Penn State pick and it let me down. But I was a history major in college. So I'll try it again and say Northwestern continues its dominance in this series. The Wildcats look close to breaking through, and
Dan Persa
tortures the porous Hawkeyes defense in an Iowa City shootout. ...
Northwestern 38, Iowa 35
Adam Rittenberg:
History was
one
of my majors, Bennett, but this is the Year of the Opposites -- Penn State beats Iowa, Iowa beats Northwestern, you're amazingly beating me in picks. Both defenses will struggle, but
James Vandenberg
and his receivers get well against a Northwestern team that can't stop anyone. Iowa feeds off of the home crowd and rallies in the fourth quarter for a win. ...
Iowa 27, Northwestern 24
BYE:
Nebraska, Minnesota
SEASON RECORDS
Bennett:
46-11 (.807)
Rittenberg:
44-13 (.772)
August, 20, 2010
8/20/10
11:13
AM ET
The position rankings march on with one of the Big Ten's strongest units: running backs and fullbacks. I looked not only at featured backs like
John Clay
and
Evan Royster
, but also tried to identify teams with more than one solid option in the backfield.
[+] Enlarge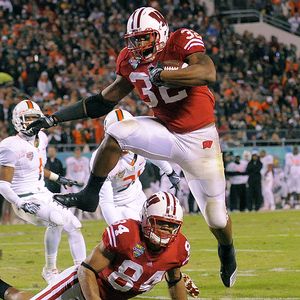 Scott A. Miller/Getty ImagesJohn Clay rushed for 1,517 yards and 18 touchdowns last season.
1. Wisconsin:
Everyone knows about Clay, the 2009 Big Ten Offensive Player of the Year and a fringe Heisman Trophy candidate entering the fall. But the Badgers also boast good depth here with promising sophomore
Montee Ball
and veteran
Zach Brown
. Ball had 98 rushing attempts as a freshman, and he and Brown combined for seven touchdown runs.
2. Penn State:
I'm tempted to put Penn State at the top, since the Lions' overall depth at running back could surpass Wisconsin's by the end of the season. Royster enters his third year as the starter and will become Penn State's all-time leading rusher barring injury. Junior
Stephfon Green
is waiting in the wings after rushing for 319 yards in 2009.
Brandon Beachum
also returns, and Penn State is excited about freshmen backs Silas Redd and
Curtis Dukes
.
Joe Suhey
is an experienced fullback.
3. Ohio State:
There might not be a true featured back in Columbus yet, but Ohio State boasts more depth at running back than any Big Ten team. Senior
Brandon Saine
and junior
Dan Herron
once again top the depth chart, and Saine has a chance to emerge as the team's go-to runner. Behind them is
Jordan Hall
, who showed some flashes last fall, and heralded recruit
Jaamal Berry
looks ready after dealing with leg problems in 2009. Freshman Carlos Hyde has looked good in practice, and the Buckeyes have two good fullbacks in
Zach Boren
and
Adam Homan
.
4. Illinois:
The Illini boast one of the league's best 1-2 punches at running back in juniors
Mikel Leshoure
and
Jason Ford
. The coaches maintain that the two likely will share carries, but Leshoure certainly looked like a featured back toward the end of last season. Both Leshoure and Ford averaged more than 6 yards a carry in 2009, and they complement each other well in the offense. Don't forget about
Justin Green
and
Troy Pollard
, two solid reserves.
5. Iowa:
The
Brandon Wegher
situation and a clavicle injury to freshman Marcus Coker have raised concerns about the group, but
Adam Robinson
and
Jewel Hampton
still provide two solid options. Hampton had an excellent freshman season in 2008 and will be very effective if healthy this fall. Robinson grew up fast in 2009 and showed tremendous toughness in his quick recovery from a high ankle sprain. If Wegher returns to the team, Iowa has three capable ball carriers.
Up next:
Wide receiver/tight end
More rankings ...