December, 9, 2014
Dec 9
12:00
PM ET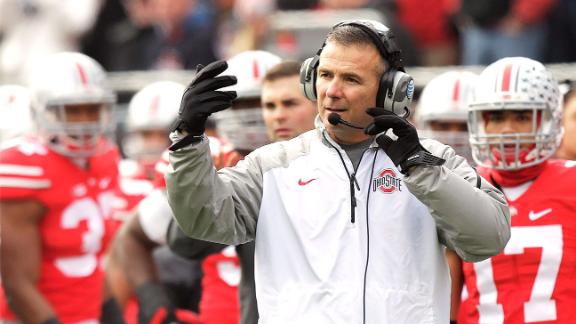 COLUMBUS, Ohio -- A year ago, Ohio State's emphasis on stuffing the run came at the expense of a horrific pass defense.
As recently as a couple weeks ago, the mandate to shore up the secondary seemed to be damaging what used to be the Buckeyes' strength up front stopping the run.
Finally, after nearly three full seasons under Urban Meyer, the No. 4 Buckeyes found the balance their coach had been looking for, just in time for a four-team College Football Playoff that could throw everything from smash-mouth football to a high-flying spread offense at his team as it contends for a national championship. And on the heels of what was effectively a perfect game on the defensive side of the ball in the Big Ten championship, it appears the Buckeyes are finally ready for anything -- and more than capable of shutting it down.
[+] Enlarge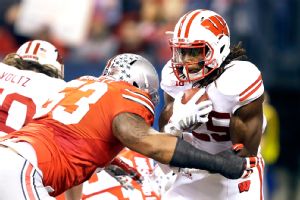 AP Photo/Darron CummingsOhio State's defense bottled up Melvin Gordon in the Big Ten title game, finally showing the balance desired by Urban Meyer just in time for the College Football Playoff.
"[Saturday] helped, because I had my reservations during the year, like everybody did, about stopping the run," Meyer said. "Because we really installed a backward approach, a back-end-first approach to pass defense. Work the back end first and then move forward. We've always been a front-end first and then coverage-wise, we've added a lot of coverage principles.
"After last week's performance, I feel like we're still a little too young to say we're a finished product. We're not a finished product, there are too many young players out there. The future is very bright, though."
The present isn't too shabby for the Buckeyes, either. And suddenly it's not just their offense and a seemingly endless supply of quarterbacks that could give a team like No. 1 Alabama some problems in the semifinal at the Allstate Sugar Bowl.
The Buckeyes were anemic in the secondary as Ohio State unraveled late in the season a year ago, but the more aggressive approach to pass coverage installed by co-defensive coordinator Chris Ash has cut down the yardage allowed dramatically while also generating more interceptions than any other unit in the Big Ten.
Gashed for three consecutive weeks in November by some of the top rushers in the league, the Buckeyes bottled up the best in the nation against Wisconsin in the
conference title game
, holding Heisman Trophy finalist
Melvin Gordon
to just 76 yards on 26 carries.
The combination of those improvements produced utter dominance for the Buckeyes on the field in a 59-0 shutout victory. And off the field, it's taken the self-belief of a defense that has been under intense scrutiny for the last two seasons to another level as it prepares for a stiff challenge from a versatile Alabama offense -- with another chance to show off its improvement waiting with a victory.
"The confidence is very high, and you can't play this game without confidence," Ohio State senior linebacker
Curtis Grant
said. "Just to go out and make a statement like that, it gives you more confidence and it makes you more hungry to come out and just keep getting better. If you can do that one week, why not keep continuing that?
"I can't even explain it. I watched the first half of the game and I was shocked. Just to see how hard that we were playing, everybody looks super fast on film and we were just getting to the ball. It was just crazy. I can't really put it into words."
Meyer had found and used plenty of colorful words to describe the defense before this past weekend, and he reflected again hours after the game on how "abysmal" the pass coverage was heading into the postseason at this time a year ago.
But after a long wait, and nearly three years of work, he subtly slipped in a nickname that has come to define the traditionally stout defenses Ohio State has long been known for. After Saturday night's performance it was impossible to argue it hadn't been earned.
"Best effort we had since we've been here," Meyer said. "There's always been games where the defensive line played well, maybe the back end was giving up some plays.
"This was a complete, thorough effort by our defense.
"Everybody was waiting for the Silver Bullets to come back, including the head coach."
They appear to be back, all right, and the timing couldn't be any better for the Buckeyes.