NCF Nation:

Curtis Porter
March, 28, 2013
3/28/13
9:00
AM ET
CORAL GABLES, Fla. -- Miami coach Al Golden can rattle off the names of just about every rookie who played defense for the Canes in 2012.
It's not a quick conversation.
The Canes were the second-youngest team in the BCS behind Boston College, and a total of 21 freshmen played last year, including 16 true freshmen -- six of whom started at least one game on defense.
"There are so many," Golden said. "There were so many young guys who had to play before they were really ready to play. Although there were some really tough moments on defense, everybody's back, and everyone should be more mature and stronger and grown up. I expect them to really rise to the challenge now."

They're going to have to if Miami is going return to the top of the Coastal Division standings. Miami's defense was one of the worst in the country last season, as it finished 116th in total defense, 112th in rushing defense and No. 82 in scoring defense, allowing 30.5 points per game. Those within the program are hoping last year's growing pains pay dividends in experience this fall, as 10 starters return to the defense, including all four starters on the defensive line.
There were games last year in which Miami rotated about 27 players.
"We had to make a commitment to do that so we have an opportunity to win games in the fourth quarter and not get tired out," said defensive coordinator Mark D'Onofrio. "In the long run, I think that will help us. I don't see us having to be as deep this year, to be honest with you."
There was also a significant increase in defensive plays last year. Some of that could be attributed to Miami's offense scoring quickly, but it was also a product of Miami not getting off the field quick enough. The Canes were No. 82 in the country in third-down conversion defense. Miami was also one of the most penalized teams in the country (No. 107).
"We had more defensive penalties last year than any team I've ever been around as a defensive coordinator or a head coach," Golden said. "A lot of that is just having too many young guys."
That will change this year. Miami's defensive line is expected to be a veteran group, led by junior defensive end
Anthony Chickillo
, senior defensive tackle
Curtis Porter
, junior tackle
Olsen Pierre
and senior defensive end
Shayon Green
. Golden said Pierre has developed physically, blocks well laterally and might be the most improved player of the group.
"We had so many guys that it was their first time playing," Chickillo said. "College football is tough. We had a lot of guys making mental errors, not being in their gap when they were supposed to be there, blown coverages, too many things that really hurt us. Just not playing assignment football. It's frustrating, but we're going to be better for it in the future. So many guys got playing time and got to see what it's like. Some young guys experienced success. We're going to be better for it in the future."
March, 1, 2013
3/01/13
10:30
AM ET
Buried beneath pounds of paperwork from the NCAA is the fact that Miami's depth chart should be good enough to win the Coastal Division in 2013. With so much attention focused on the NCAA investigation, Nevin Shapiro has gotten more ink (unfortunately) than quarterback
Stephen Morris
. And Morris is going to be very, very good.
As Miami begins spring practices on Saturday, the Canes do so underneath a cloud for the third straight preseason under coach Al Golden. If those within the program, though, can focus on their on-field goals and avoid the distractions once again, Miami should pick up right where it left off in 2012 -- at the top of the division standings. Miami returns 10 starters on offense
and
defense. Golden and his staff brought in the No. 15 recruiting class in the country, coupled with the experience of 21 freshmen who played in 2012.
[+] Enlarge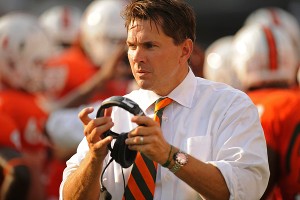 Kevin Liles/US PresswireAl Golden and the Hurricanes enter the spring with experience on the offensive and defensive lines.
This Coastal Division race is going to be tight. Expect every team in the division to be better. Trying to predict the division winner right now is like trying to predict when the NCAA will hand down its verdict. On anything. Miami fans, though, have reason to believe that if the program is eligible to play in the postseason, the pieces are in place to get them to Charlotte.
Here are three reasons why Miami is my way-too-early pick to win the Coastal Division:
1. QB Stephen Morris and running back Duke Johnson:
This dynamic duo is going to be a highlight in the ACC. As a true freshman, Johnson had arguably the greatest freshman season in the program's history. He was named the ACC's Overall and Offensive Rookie of the Year after racking up 2,060 all-purpose yards and 13 touchdowns in 12 games. And Morris can be good enough to push Clemson quarterback
Tajh Boyd
as the ACC's best quarterback in 2013. Morris finished 2012 on a hot streak, as he threw for 1,131 yards and 11 TDs – with zero interceptions -- in his final four games. Morris finished the season with a program-record 3,415 yards of total offense, eclipsing the previous mark of 3,412 held by Bernie Kosar.
2. Experience up front:
Miami returns all five starters on the offensive line (
Malcolm Bunche
, started 12 games at left tackle;
Jon Feliciano
, started 12 at left guard;
Shane McDermott
started 12 at center;
Brandon Linder
started 12 at right guard;
Seantrel Henderson
started seven at right tackle and
Ereck Flowers
started four at right tackle). Miami also returns all four starters on the defensive line (
Anthony Chickillo
12 at defensive end,
Curtis Porter
the last three at defensive tackle,
Olsen Pierre
11 at defensive tackle, and
Shayon Green
at defensive end). How many schools in the country can say they return every starter on both their offensive and defensive lines? Granted, the defensive line is Miami's unit most in need of improvement this offseason, but considering the group only had 13 sacks a year ago, it should only be better.
3. A favorable schedule:
Miami has an entire month to prepare for league play, as its first ACC game isn't until Oct. 5 against Georgia Tech. It doesn't even have to leave the state until Oct. 17, when it travels to North Carolina, and even then the Canes have a bye week to prepare for the Thursday night game against the Tar Heels. Yes, they have to play rival FSU on the road, but they do get Virginia Tech at home. Winning at Pitt on a Friday in November won't be easy, but getting Virginia Tech and Georgia Tech at home helps compensate for it.
January, 14, 2013
1/14/13
11:30
AM ET
Miami starting offensive linemen
Seantrel Henderson
and
Brandon Linder
and defensive lineman
Curtis Porter
will return for their senior seasons, bolstering a team that should be a preseason favorite to win the Coastal Division.

The trio announced their intentions to return Monday.
"I think it means a lot to the team," Henderson said. "It means a lot to everybody as far as the team and the coaching staff. I think everybody on the team and the coaching staff loves us and I think they would love for us to stay as long as we can."
Henderson, a first-team Freshman All-American in 2010, has had an up-and-down career with the Hurricanes and still has yet to live up to his full potential. He had to work his way back into the starting lineup in 2012 after dealing with a few personal issues, and ended up starting the final seven games at right tackle.
Linder started all 12 games at right guard in 2012 and has made 24 consecutive starts. In three seasons on the offensive line, he has played all 36 games and has made 29 starts. After two-plus injury-plagued seasons, Porter was finally healthy during the latter part of the 2012 season. He played in the Hurricanes' final four games, starting the last two contests against USF and Duke.
In all, Miami returns a whopping 20 of 22 starters for 2013. You see why expectations are high in Coral Gables.
Coach Al Golden released the following statements on all three players.
Golden on Henderson:
"I'm really proud of Seantrel. He exhibited patience and self-restrain and approached this business decision with transparency and maturity. Instant gratification and leaving would have been easy for Seantrel; Instead, he's accepted the challenge to become the best person and player he can be.
"I believe that Seantrel is really enjoying his teammates and wants to be a part of bringing the Canes back. There is room for growth with respect to Seantrel's game. He has started 18 games in his career, suffered through some injuries, has endured personal tragedy as well as created a number of self-inflicted distractions which we believe he has left in the past. It's essential that he continue to keep trusting our process, make great choices and surround himself with the right people. If he does this, the sky is the limit for Seantrel."
Golden on Linder:
"We're blessed to have Brandon returning to our football team. He has clearly grown over the last year and has been a beacon of consistency for our student-athletes during an extraordinarily turbulent time. He's not only the most experienced Miami Hurricane having started 29 games in his career, possessing at 24 consecutive games started streak, but he is a tremendous student and one of our finest leaders.
"You can see in his demeanor that he has unfinished business on his mind and is excited about returning to Coral Gables for the 2013 season. Brandon will be considered among the best at his position in the ACC, if not the country."
Golden on Porter:
"We're excited to have the opportunity to work with Curtis for an entire year. He's had some unfortunate injuries which have encumbered his development over the last couple of years; however, he really came on strong during the last half of the year for us.
"He exhibited to everyone associated with our program a glimpse of what he can become. Curtis is talented - he's smart, strong, powerful and explosive yet has room for development on and off the field. If he continues to trust his coaches, cultivates his position skills and develops consistency in his daily approach to football, he will undoubtedly develop into the type of player he wants to become. Our hope is that Curtis will start to 'enjoy the journey' as he deserves this opportunity and every measure of good fortune in 2013. We're excited that he will be joining us for his final year."
April, 3, 2012
4/03/12
2:30
PM ET
Andrea Adelson had a chance to sit down with Miami coach Al Golden during a recent visit to Coral Gables. Here is a little of what he had to say.
I know depth is an area of concern. How are you working to address that this spring?
Al Golden
: Any time you're bringing in a class of 33, that's three starting units. Obviously, those guys are going to have an impact somewhere on your depth. You never want to have a year where you take six receivers or seven defensive backs, but the symmetry at those positions was not good. It was not vertical depth. It wasn't fifth-year seniors, fourth-year seniors, juniors, sophomores, freshmen, then incoming guys. It didn't exist. So that was a blanket approach of trying to bring in a lot of guys to fix a depth issue. Between the depth and those guys challenging for playing time as starters, that's going to improve our team. I'm not worried about playing young guys. We'll find a way to get them in a game if they're talented and they learn it and they're in good condition. I don't care whether they're freshmen or seniors, I just need guys who want to execute.
You lost some senior leaders. How is that aspect of your team developing?
[+] Enlarge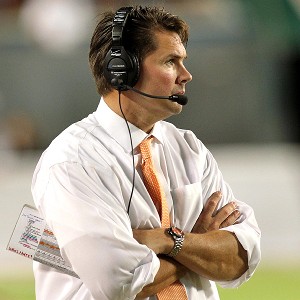 Robert Mayer/US PresswireCoach Al Golden has been impressed with the physicality of the linebacking corps this spring.
AG
: So far it's been good.
Mike James
and
Eduardo Clements
at running back,
Stephen Morris
at quarterback. (Brandon) Linder on the offensive line has been very good.
David Perry
at tight end has been a nice surprise for us.
Allen Hurns
at wideout has done a nice job with the leadership. Defensively, (Ramon) Buchanan will be a leader for us, Ray Armstrong will be a leader for us, Jimmy Gaines has been and will be a leader for us. It's been positive in terms of that. We just have to continue to develop leaders and give them opportunities to lead.
How about some questions that have been answered about your defense so far?
AG
: I think the one thing that jumped out in the (first scrimmage) is we had a lot of linebackers that played physical. So that part of it was good. Even the young guys, [Raphael] Kirby was physical,
Gionni Paul
was physical, Denzel [Perryman] was physical on top of [Tyrone] Cornileus and Jimmy Gaines and those guys. Seeing that was good. We tackled a lot better in Scrimmage 1 this year than Scrimmage 1 a year ago, which was important, and we're still trying to develop our depth on the defensive line and at cornerback. Those are two positions we need to bolster this spring.
Speaking of the defensive line, you don't have many players with starts or experience. What do you want to see out of that group this spring?
AG
: I want to see, like
Curtis Porter
, I'd like to see him take his game to the next level.
Darius Smith
has got to continue to improve. Then we're going to have a host of other guys at the defensive tackle position that need to compete and improve their game. At defensive end,
Shayon Green
's had a good spring for us so far, and really at defensive end, we're going to have in addition to what we have right now, we're going to have three defensive ends coming in that are going to have to compete for starting jobs and also add depth.
Right now, do you have any idea of what team you will have in the fall?
AG
: We have a long way to go. I just think before these other 23 players come in, because 10 are here now, you have to assess where you are at every position and see how they come out of it. We have a long way to go to get through spring ball, and then from April 14 until Aug. 5 there's a great opportunity for them to grow and develop. It's too early to assess where we are right now as a team.
A year into the job, what are your impressions of coaching at Miami, a place where championships are always expected?
AG
: We're not at that level right now. The first order of business when you're trying to fix something or you're trying to build something is to recognize where you are and then to not only plot a course but then to follow that path, follow that strategy and execute it. I'm glad the standards are where they are, and I'm glad we produce NFL players, and I'm glad we have so many things to offer young people. It's the reason why you take the job. But we can't jump from where we are right now to there without taking all the steps we need to take in between. We're just trying to implement our schemes and our system and follow the process on a daily basis.