August, 16, 2010
8/16/10
9:45
AM ET
After Minnesota ran a multitude of plays but very few of them well last season, new offensive coordinator Jeff Horton came in with a simple plan.
Step 1:
Identify a feasible package of plays for the Gophers execute well.
Step 2:
Stick to it!
In preseason camp, he's seeing the desired results.
"We're really close to that point right now," Horton told me after Friday's practice. "They're even calling the plays along with me. They're anticipating what's going to happen because they've seen a variety of looks from the defense to what we're doing.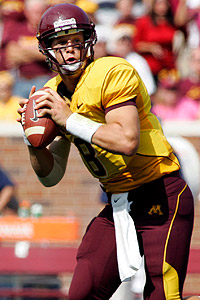 AP Photo/Paul BattagliaMinnesota quarterback Adam Weber is a three-year starter.
"There's still a lot we've got to clean up, but the effort is there and guys are working really hard to be good."
Minnesota didn't dramatically change its offense after Jedd Fisch returned to the NFL, but Horton spent most of the spring installing his plan. He needed the players to continue the process on their own in the summer to make sure they had it down for the season.
So far, Horton has seen "great carryover" in practice, thanks in large part to senior quarterback
Adam Weber
, a three-year starter who had to reclaim the top job this spring after beating out
MarQueis Gray
.
"He always approached it like he was going to be the starter, and he did a great job leading the workouts this summer, getting guys ready for camp," Horton said of Weber. "He gets a bad rap. I'm his fourth offensive coordinator in four years. I don't know many people who can work for four bosses in four years. He's doing a great job."
The easiest way for Minnesota's offense to keep it simple in 2010 is to effectively run the ball, something haven't done well in a while. One of the nation's premier rushing offenses just five years ago, Minnesota has finished 111th and 104th nationally in the past two seasons, ranking last in the Big Ten both times.
Horton expects to use multiple backs this season --
Duane Bennett
and
DeLeon Eskridge
can be considered co-starters, while Horton said freshman
Donnell Kirkwood
is performing well -- and he's thrilled to have fullback
Jon Hoese
back in the fold. But it won't matter who carries the ball if Minnesota's line doesn't markedly improve.
The experience is there, but Horton, head coach Tim Brewster and others have challenged the line to be tougher and more physical.
"They've played a lot of football for us, all five of them," said Horton, who singled out center D.J. Burris for his leadership. "I told them when we started camp, 'It's on you guys. You have to take charge.'"
Minnesota also has to survive without record-setting receiver Eric Decker, whose foot injury last fall coincided with the offense's nosedive. Horton joked that he almost expected Decker to be on the field for camp -- "That's one of the reasons I took the job as offensive coordinator," he said -- but acknowledged the major production void left by No. 7.
Horton doesn't expect a receiver to catch 70-80 passes like Decker used to, but he likes the variety he has with players like
Da'Jon McKnight
,
Troy Stoudermire
and
Bryant Allen
.
"From what we put in in the spring, those guys worked on it in the summer, and you can see a big improvement running those plays in the fall," Horton said. "They're not thinking as much. And if you're thinking, you can't play fast. They know what they're doing, and that brings confidence."
April, 22, 2010
4/22/10
11:12
AM ET
D.J. Burris doesn't need to be reminded of the way it used to be at Minnesota.
The Golden Gophers weren't just a good rushing offense, but a record-setting one. Minnesota didn't just produce good offensive linemen, but great ones like All-Americans Greg Eslinger and Ben Hamilton.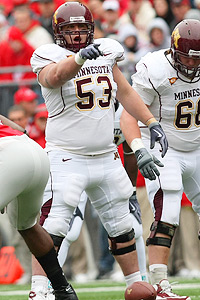 Aaron Josefczyk/Icon SMID.J. Burris & Co. are looking forward to running an offense that emphasizes the power run.
The team's history isn't lost on Burris and his linemates this spring.
"We're definitely aware of the tradition here about running the football," said Burris, Minnesota's starting center. "That's why we're taking it upon ourselves to get it back."
Pride is the word Burris and even non-linemen like quarterback
Adam Weber
use to describe what's happening up front this spring in Minneapolis. The team's running game hasn't merely slipped off its perch, but plummeted to the bottom of the Big Ten.
The last two seasons have seemed extremely un-Gopher-like:
2008: Minnesota finished last in the Big Ten and 104th nationally in rushing offense (103.8 ypg)

2009: Minnesota finished last in the Big Ten and 111th nationally in rushing offense (99.5 ypg)
Part of the problem has been a lack of continuity. Minnesota ran the spread offense under Mike Dunbar in 2007-08, and then switched to a pro-style system, designed to emphasize the power run, under Jedd Fisch last season.
The Gophers are adjusting to another new coordinator this spring, as Jeff Horton takes over the offense. But Horton's top goal, one the players clearly appreciate, is simplifying a convoluted system and identifying the hallmarks for the unit to succeed.
"We know where we're going as an offense," said Burris, who started at guard as a freshman before moving to center the last two seasons. "Our playbook's a lot thinner, and we know exactly what we're doing on every play now, so it's nice. Every season, it's been something new, something new, and then this year we simplified it with what we've already been doing.
"That makes us a lot more comfortable."
Head coach Tim Brewster didn't hide the fact he wanted more toughness from the line this spring, and he has seen the group respond. All five starters are back and continuing to work in the top spots, but they're being pushed by players like Ed Olson and Brooks Michel. Returning starters like Matt Carufel and Jeff Wills are healthier, and massive tackle Jeff Wills has slimmed down a bit.
During an April 10 scrimmage, the line started slow but got stronger as things went along, creating holes for backs
DeLeon Eskridge
and
Duane Bennett
.
Weber, who has a vested interested in the line's performance, has seen a difference this spring.
"They're playing with confidence and they're playing with pride," he said. "You can definitely tell, when it's third-and-1, when it's fourth-and-1, they can sense that they need to pick up their game a little bit, and we've been winning a lot of those battles."
After being pushed around too much the last two seasons, Burris and his crew expect to turn the tables this fall.
"As an offensive line, that's where your pride comes from, when you can walk into a game and you can run the ball up and down the field," he said. "That's when you feel good about yourself."
August, 19, 2008
8/19/08
9:16
AM ET
Posted by ESPN.com's Adam Rittenberg
Game week is almost here, and coaches around the league have some big decisions to make. Your only decision is to keep reading.
Rejus Benn could use a shave, particularly if he ends up on stage accepting an award or two in December. But the Illinois sophomore wideout isn't concerned about his preseason hype, Bob Asmussen writes in The (Champaign, Ill.) News-Gazette. Sirod Williams' season-ending knee injury put Illini defensive tackle Josh Brent in the mix to start, Mark Tupper writes.

No one at Indiana has said much about the reasons behind quarterback Kellen Lewis' spring suspension. But Lewis finally opened up Monday, saying he had thrown himself into "a party lifestyle," skipping classes and team meetings, Terry Hutchens writes in The Indianapolis Star. Very candid stuff from the junior:

"There were times when they called me and couldn't get a hold of me for three days. I had gone out and partied and then missed two classes and didn't wake up until 12:30. ... When you start believing in your own hype a little bit, you start thinking you can slide in a little bit later than everybody else. And now that you don't have to follow the same rules, you can bend this rule or that one. 'The essay is due on Thursday, but I can just e-mail it to [the instructor] later that night,' that kind of thing. And then it all just kind of caught up with me and my grades slipped to a point they had never slipped to before."
Also, some notes from Hoosiers practice, as wideouts Andrew Means and Brandon Walker-Roby returned to the field.