December, 22, 2012
12/22/12
10:30
AM ET
Three things to watch in today's MAACO Bowl Las Vegas between Washington and Boise State:


1. Red zone production
: Once you get there, you better get points. That's been an issue for Washington and quarterback
Keith Price
this season. After ranking second in FBS last year with an 80.8 red zone touchdown percentage, the Huskies have dropped to 66 percent. Last year Price was among the nation's leaders in red zone completion percentage and touchdowns with 74.1 and 25, respectively. This year he's only completing 57.6 percent in the red zone with 14 touchdowns. The Broncos have allowed just three receiving touchdowns all year and rank in the top 10 nationally in pass defense and pass-efficiency defense. They also rank seventh in red zone defense. Both teams are in the bottom half of the country in red zone offense.
2. Bring the heat
: Boise State is one of the best teams in the country at protecting its quarterback. The Broncos rank seventh nationally, allowing less than a sack per game, which makes life a lot easier on quarterback
Joe Southwick
. The Huskies are middle of the road when it comes to creating pressure, averaging about two sacks per game. Washington's sophomore ends
Josh Shirley
and
Andrew Hudson
both check in with 6.5 sacks on the year.
3. Run, then gun
: Both teams boast 1,000-yard rushers this season:
Bishop Sankey
for Washington (1,234 yards 15 touchdowns) and
D.J. Harper
for Boise State (1,065 yards, 15 touchdowns). Both have similar compact frames and both possess home run potential. Look for each offense to get their guys established on the ground and then cut it loose to their marquee receivers. Price is actually at his best when he goes deep -- tossing six touchdowns with no interceptions on throws of 15 yards or more. He'll look to either Mackey Award finalist
Austin Seferian-Jenkins
or wide receiver
Kasen Williams
. Southwick's favorite target is
Matt Miller
, who has 60 catches and five touchdowns on the year.
March, 26, 2012
3/26/12
9:00
AM ET
Boise State running back
D.J. Harper
felt good about his chances of getting a sixth season granted. But when dealing with the NCAA, you never know anything definitively until a ruling is made.
So during January, when Harper was in limbo, he kept peppering the training staff. "Have I been cleared yet?" he would ask, over and over.
Nothing.
[+] Enlarge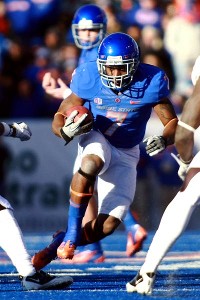 Brian Losness/US PresswireEntering the upcoming season, D.J. Harper will be the Broncos' featured running back.
It was the end of the month and Harper was sitting at home when a text message came through on his phone. The answer he was waiting on had arrived. Harper was indeed granted his sixth season of eligibility -- a saving grace not only for himself, but for the Boise State football team.
With
Doug Martin
gone, Harper is the lone experienced running back returning to the team. The lack of experienced depth at the position is one of the team's concerns this spring. Harper is being limited in the spring, because of his injury history, but there is little doubt who the starter is headed into the season.
"It definitely feels great," Harper said in a recent phone interview. "I was blessed with the opportunity to get my sixth year back, now that I have gone through the system for six years, my knowledge has increased, and obviously maturity-wise, I've grown up. So I'm excited for it."
Harper has had to earn the opportunity the way nobody wants to earn an opportunity -- because major knee injuries in consecutive seasons set him back. Harper emerged as a true freshman in 2007 -- the same season
Kellen Moore
spent redshirting. In that first year, Harper had the fourth-best rushing season by a true freshman, with 376 yards and five touchdowns.
He also became the first Boise State true freshman since 1988 to rush for more than 100 yards in a game when he had 153 yards and a touchdown against Fresno State. Harper continued in a backup role the following season and seemingly had his shot to really star in 2009 with great performances in the first three games of the season.
But he tore the ACL in his left knee in the middle of an impressive game against Fresno State in Week 3 and was forced to sit out the rest of the season. The following year, healthy and ready carry the load with Martin, Harper tore the same ACL -- again in Week 3 against Oregon State.
"When I tore it again, of course I was upset, but it didn't faze me too much," Harper said. "I've been through it once, so I knew I would bounce back from it again. I knew what to expect, I knew how to approach the rehab. It wasn't a big deal to me."
Those two lost seasons gave Harper a mental toughness he may not have had before the injuries.
"Just being able to deal with adversity was big. In games when things don't go the way you planned, you just shake it off, come back and make a play," he said. "With my knee, unfortunately it's an event that happened, but I wanted to make the most of the adversity. I got myself in the weight room to get stronger and faster."
Harper returned last season and was healthy for most of the year, but Martin was the unquestioned featured back. When Martin got banged up in the latter part of the season, Harper stepped in with back-to-back 100-yard games against UNLV and TCU. But Harper hurt his ankle against TCU in the fourth quarter and was forced to sit out the following week.
Though it was not his knee last season, Harper has yet to play an entire season without an injury. Staying healthy is of utmost importance this season, especially with all the senior leadership the Broncos lost. Harper has to take on an increased role there, especially for an offense that is without Moore and Martin -- the two workhorses from a season ago.
"I definitely want to take on that leadership role for that offense, and for the team, to be a guy people can turn to, be that guy coaches can turn to," Harper said. "When a play needs to be made, they can trust me. I will make that play."
Boise State will need all the plays it can get from him this season.
January, 31, 2012
1/31/12
4:45
PM ET

Boise State running back
D.J. Harper
was
granted a sixth year of eligibility
by the NCAA, the school announced Tuesday.
Though the news was expected, it is still big for the Broncos, who are losing starting running back
Doug Martin
. Depth has been an area of concern, but that is alleviated now that Harper will officially return.
Injuries have taken a toll on Harper throughout his career at Boise State. He has torn his ACL twice, limiting him to three games in 2009 and three games in 2010. A sprained ankle hobbled him last season, but Harper still had 557 yards and nine touchdown runs.
November, 15, 2011
11/15/11
3:00
PM ET
There are heartbreaking ways to lose. Then there are the ways Boise State has lost the past two years.
Crushing. Agonizing. Dream shattering.
Missed field goals, missed opportunities, blown leads. These are generally not the things Boise State does. But in two losses to Nevada and TCU, the Broncos could not hold on when they needed to most. That means BCS hopes are dashed, and the debate about the worthiness of the Broncos will not be put to rest.
[+] Enlarge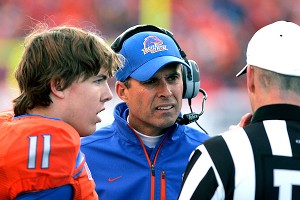 AP Photo/Matt CilleyChris Petersen, Kellen Moore (11) and the Broncos need to regroup after last week's defeat.
It may be cruel, but those two losses may end up defining a group of seniors who have won an incredible 46 games -- and counting. Because so much more was expected of a group led by quarterback
Kellen Moore
, future NFL running back
Doug Martin
and what was supposed to be one of the top defensive lines in the nation.
The Broncos have beaten teams like Virginia Tech, Georgia and Oregon. But who remembers that when you lose to teams from non-AQ conferences. These are the must-win games, the ones you are expected to dominate.
Injuries played a major role Saturday against TCU. Martin and running back
D.J. Harper
were hurt. The top three cornerbacks were hurt. The starting center was hurt. But everybody has injuries this time of year. Boise State did not have enough to respond.
So here the Broncos sit for a second year in a row, trying to come to terms with a season that will end away from the national spotlight.
"We're definitely bummed about it," senior safety George Iloka said in a phone interview. "We're not used to losing, but I feel the mood is a little different this year. Last year, the depression was a lot longer. It was a full-out depression. But now guys know what we have to do to bounce back. We have a lot more seniors this year, so as veterans if we have our heads down, there is no way the younger guys are going to have their heads up. We have to lead by example. It's about the next game and getting better and proving we are better."
This a group that has lost three total games by a combined five points. Crushing to be sure. But the Broncos still have a chance to set the school record for wins by a senior class. They need to win out to make that happen. They have been to and won a BCS game, in 2009. They have had a player in Moore become the first Heisman finalist in school history. They beat a team from the SEC for the first time in history.
Iloka has been trying to emphasize those positives as the Broncos prepare to move forward at San Diego State on Saturday.
"This loss doesn't define us," he said. "The loss from last year doesn't define us nor does any win define us. It's a body of work. That's why we keep our heads held high. We've only lost three games. We can't be down in the dumps, and we've got to get better to prepare for San Diego State. They're a good team. We definitely can't be hungover from last Saturday."
Coach Chris Petersen expects Martin and Harper back for the game, but said the Broncos will be without their top three cornerbacks -- Jerrell Gavins, Jamar Taylor and Ebo Makinde. True freshman Lee Hightower and sophomore Quaylon Ewing-Burton will start.
Boise State has three games left in the regular season before going to either the MAACO Las Vegas Bowl or the San Diego County Credit Union Poinsettia Bowl. Not the way the Broncos envisioned closing the season.
"All the losses are crushing," Petersen said during his news conference Monday. "People don't understand how tough these losses are to the coaches, to the kids. You put your heart and soul into it year-round, and when you don't get it done, it's hard."
September, 29, 2010
9/29/10
11:10
AM ET
Really tough news for Boise State running back
D.J. Harper
. For the second straight year, Harper has torn the ACL in his left knee and is
out for the season
.
Harper was injured against Oregon State last week, but he did return to the game. Tests showed the tear in the same knee he hurt last year, the school said Tuesday. He also got hurt in the third game of last season and redshirted.
This season, Harper had 160 yards and two touchdowns behind
Doug Martin
, who has emerged as the starting running back. Luckily, Boise State has depth at the position.
Jeremy Avery
will now assume a greater role with Harper out.
May, 6, 2010
5/06/10
11:30
AM ET
2009 overall record
: 14-0
2009 conference record
: 8-0
Returning starters
Offense: 10, defense 10, punter/kicker 2

Top returners
QB
Kellen Moore
, OL Nate Potter, DE Ryan Winterswyk, DT Billy Winn, S Jeron Johnson, WR
Titus Young
, RB
Jeremy Avery
, CB Brandyn Thompson, WR
Austin Pettis
, S Winston Venable
Key losses
CB
Kyle Wilson
, TE Richie Brockel, OL Kevin Sapien
2009 statistical leaders (* denotes returners)
Rushing:
Jeremy Avery * (1,151 yards)
Passing:
Kellen Moore * (3,536 yards)
Receiving:
Titus Young * (1,041 yards)
Tackles:
Jeron Johnson * (91 Total; 54 UA, 37 Asst)
Sacks:
Ryan Winterswyk * (9.0 sacks/48 yards)
Interceptions:
Brandyn Thompson * (6 INT, 67 Yards, 1 TD)
Spring Answers
1. Filling in for Wilson:
The only void in the secondary is the one left at cornerback by first-round draft pick Kyle Wilson. There's an abundance of young talent available, including Jerrell Gavins, Jamar Taylor and Ebo Makinde, who had a terrific spring.
2. Depth at receiver:
Boise State returns four receivers who had 20 or more catches last year, but this spring was about the development of young players such as sophomores
Chris Potter
and
Mitch Burroughs
and freshmen
Aaron Burks
and
Geraldo Hiwat
. The Broncos have mainstays in Austin Pettis, Titus Young and
Tyler Shoemaker
, but these young players, including
Kirby Moore
, will give the Broncos even more depth.
3. D-line looks strong:
The Boise State defensive line was one of the best in the country last season and should be just as good, if not better, in 2010. During scrimmages this spring, the defensive line got pressure on Moore and forced him into uncharacteristic mistakes. While there were some injuries on the line, it should be better and deeper than 2009.
Fall Questions
1. What to do with the running backs?
The Broncos have nine running backs who could fight for time this year. Nine. But realistically, Jeremy Avery,
Doug Martin
and
D.J. Harper
will be the main backs while the others sit or fight for carries. This isn't anything new. Boise State has had multiple backs before; it's just a matter of determining how to divvy up the carries.
2. Offensive line shuffle:
The good thing about playing so many offensive linemen the past couple of years is that there is no lack of depth. However, there could be a lack of consistency, which is why the Broncos are trying to settle on a permanent offensive line. It didn't help that some of the main guys were out this spring, but the Broncos should have a nice group from which to choose.
3. Replicating special teams:
The Broncos have had great special teams for quite some time, but with Kyle Wilson gone, the Broncos need a new threat to fill the void. Titus Young was great on kick returns and Chris Potter can help out with punts. Doug Martin and Jerrell Gavins also will be options on returns.
September, 21, 2009
9/21/09
4:13
PM ET

Posted by ESPN.com's Graham Watson
Boise State coach Chris Petersen announced to the local media Monday that leading rusher
D.J. Harper
suffered a torn ACL against Fresno State last week and would
miss the rest of the season
.
September, 4, 2009
9/04/09
1:37
PM ET

Posted by ESPN.com's Graham Watson
BOISE, Idaho -- As the traditional crowd chant of "overrated" started to fill Bronco Stadium at the end of
Thursday's 19-8 Boise State
win over Oregon, all I could think was it was so true.
The "epic" matchup between No. 14 Boise State and No. 16 Oregon was supposed to be a classic way to start the season. Instead it was a rocky Boise State team beating up on a dysfunctional Oregon team in a game that ended with punches being thrown.
The game was epic, but more for its postgame melee than the play on the field.
How many believed Oregon was a Top 10 team let alone Top 20 is beyond me, and a glaring example of why preseason polls are ridiculous. Don't get me wrong, Boise State played well -- at times -- but Oregon was not the competition that the Broncos had been preparing for all summer, which was mildly disappointing.
Here are a couple things I took away from the game:
Kellen Moore was sharp in the game especially early. Not sure what happened on the ball that slipped out of his hand and I'm sure he was as upset about it as anyone. He was out of sync with his receivers a couple times, but he did a nice job of reading the defense and finding the gaping holes. Boise State probably should have had a couple more touchdowns, but for an opening game it wasn't a bad start to the season.
The running game was cause for concern in the first half, but in the second it really came on with 112 yards as opposed to 54 in the first half. Boise State offensive coordinator Bryan Harsin said he liked the two-headed attack of D.J. Harper and Jeremy Avery and said they worked best when they got carries in chunks and were able to gain a rhythm.
I was a little shocked about the number of turnovers Thursday. There was about a 10-minute stretch between the third and fourth quarters where the two teams combined for five turnovers. Boise State ranked 82nd in the country last season with 26 turnovers. Of those, 16 were fumbles. The Broncos have a three-fumble head start on 2009.
The Boise State defense was an unexpected surprise. Granted, some of their success was because of Oregon's ineptitude, but as coach Chris Petersen said, it's a confidence builder and that's all the team was looking for. And holding a dynamic offense like Oregon's to just 14 yards and no first downs in the first half is pretty amazing no matter how you slice it.
It's unfortunate that this game will mostly be remembered because of the fist of Oregon running back
LeGarrette Blount
. His actions are still shocking, and let's be honest, Boise State's Byron Hout wasn't guiltless in the altercation. Chris Petersen was pulling him away for a reason when Blount sucker-punched him. There have been a lot of words since last year's game and it boiled over into a terrible situation. It will be interesting to see
if any punishment is handed down
on the Boise State side.
But fisticuffs aside, Boise State should be proud of its effort and relived to get the first one under its belt. There's no doubt that this will only paint a big blue bulls-eye on the Broncos' backs for the rest of the season, but how is that any different than past seasons?
September, 4, 2009
9/04/09
12:23
AM ET

Posted by ESPN.com's Graham Watson
BOISE, Idaho -- Boise State has not taken its foot off the gas. It came out of the locker room and added another touchdown.
It was good to see the score come on the ground because the Boise State running backs had been pretty quiet this evening. Obviously, there was a little concern about the Broncos' running game coming into this season with Ian Johnson gone, but
D.J. Harper
and
Jeremy Avery
have found their legs early in the second half.
Through the first half, the Broncos had 28 carries for 52 yards. They had 56 rushing yards on the first drive of the second half and Harper scored the first rushing touchdown of the season.