January, 19, 2012
1/19/12
9:00
AM ET
The coaches announced their All-Pac-12 team
here
, and the Pac-12 blog followed shortly thereafter
here
.
We even created an
All-Underrated Team
.
Now we recognize our Most Improved Players on both offense and defense.
[+] Enlarge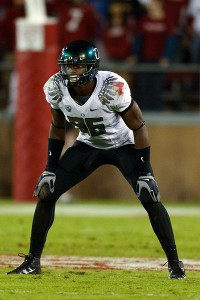 Jason O. Watson/US PresswireAll-Pac-12 junior defensive end Dion Jordan collected 7.5 sacks in 2011.
Defense (tie): Dion Jordan, DE, Oregon
Jordan went from single-game starter in 2010 to first-team All-Pac-12 as a junior in 2011. Jordan had 5.5 tackles for loss and two sacks in 2010, when he showed promise after converting from tight end. He lived up to that promise in 2011 with 13 tackles for loss and 7.5 sacks. Jordan figures to be a leading candidate for Pac-12 Defensive Player of the Year in 2012, particularly if he gets his skinny butt into the weight room and eats a lot of steak.
Star Lotulelei, DT, Utah
Lotulelei started the final three games of the 2010 season and finished with 21 tackles with 2.5 tackles for loss and 0.5 sacks. In 2011, he won the Morris Trophy as the Pac-12's best defensive lineman, as voted on by his peers -- the guys who had to block the 325-pounder. He earned first-team All-Pac-12 honors and was the lineman of the game in the Utes' Sun Bowl victory over Georgia Tech. He finished with 44 tackles, including nine for loss, but his main job was occupying two blockers so linebackers could make tackles. The Utes ranked third in the Pac-12 -- and 20th in the nation -- in run defense.
Honorable mention
:
Conroy Black
, CB, Utah;
Ben Gardner
, DE, Stanford;
Trevor Guyton
, DE, California;
D.J. Holt
, LB, California;
Josh Kaddu
, LB, Oregon;
C.J. Mizell
, LB, Washington State;
Nick Perry
, DE, USC;
Eddie Pleasant
, S, Oregon;
Jordan Poyer
, CB, Oregon State; Nickell Robey, CB, USC;
Trevin Wade
, CB, Arizona
Offense
:
Gerell Robinson, WR, Arizona State
Robinson went from bust to bust-out in 2011. In 2010, the once-touted recruit caught just 29 passes for 387 yards. He was best known for inconsistent hands. And at the start of 2011, he also caught an early case -- or two -- of the dropsies. But Robinson caught fire just as the rest of the Sun Devils started to tank, hauling in more than 100 receiving yards in six of the final eight games, including 13 receptions for 241 yards in the Las Vegas Bowl loss to Boise State. He finished with 77 receptions for 1,397 yards and seven touchdowns. His 107.5 yards receiving per game ranked ninth in the nation, and his 18.1 yards per catch was tied for first in the Pac-12. His late-season surge earned him a spot in the Senior Bowl.
Honorable mention
:
Mark Asper
, OG, Oregon;
Matt Barkley
, QB, USC;
Matt Kalil
, OT, USC;
Brock Osweiler
, QB, Arizona State;
Isi Sofele
, RB, California;
Markus Wheaton
, WR, Oregon State;
Marquess Wilson
, WR, Washington State;
Robert Woods
, WR, USC
April, 11, 2011
4/11/11
8:29
PM ET
BERKELEY, Calif. -- California has something sort of old and something sort of new this spring on both sides of the ball.
On defense, Clancy Pendergast is back for his second season coordinating the Bears defense. On offense, Jim Michalczik is back in town after spending a couple of years with the Oakland Raiders. Pendergast turned in a successful first campaign, with his more aggressive version of a 3-4 scheme ending up ranked third in the Pac-10 in scoring and first in total defense. And from 2002-2008, Michalczik might have been the best offensive line coach in the conference.
Here are some notes from chats with both coordinators as well as head coach Jeff Tedford.
Other than a blowout loss to Stanford, the Bears defense turned in its best work in November, most notably holding Oregon to just one offensive touchdown in a 15-13 Ducks win. Pendergast didn't think that was a coincidence: "I think our guys trusted the system, trusted each other. Had better eyes. All those things." As for year two, the longtime NFL coach, probably has a better grasp on some of the quirky offenses he'll face in the conference. "Anytime you go into a second year, you're going to be more comfortable," he said.

Pendergast on former defensive end Cameron Jordan, who is expected to be a first-round NFL draft pick on April 28: "He'll be solid, consistent player at next level who can do a lot of different things."

[+] Enlarge

Chris Morrison/US PRESSWIRECal's Clancy Pendergast expects to be more comfortable coaching against Pac-12 offenses in his second season.

Pendergast is clearly high on the incoming freshmen. He repeatedly mentions them -- first and last names -- when talking about his potential depth chart. When asked if he expects a handful to play, he said, "No question." Names he -- and later Tedford -- mention: defensive tackle Todd Barr, defensive tackle Viliami Moala, defensive end Brennan Scarlett, and cornerbacks Stefan McClure, Joel Willis and Kameron Jackson.

The top three defensive ends are Trevor Guyton, Deandre Coleman and Ernest Owusu. At nose tackle, both Aaron Tipoti and Kendrick Payne are out with shoulder injuries. Guyton has had a good spring, while Tedford said, Coleman "should be much better this year."

The inside 'backers are Mychal Kendricks, who put up huge numbers last fall playing outside, and D.J. Holt, also a returning starter. As for Kendricks move inside, Pendergast said, "He's probably a better fit as a stack inside linebacker than an outside linebacker."

There will be two new starters at outside linebacker. At present, Ryan Davis and David Wilkerson (strongside) are with the ones, with Chris McCain, Cecil Whiteside and Lucas King providing depth.

In the secondary, Marc Anthony and Steve Williams are the corners. The depth appears unsettled -- see Pendergast and Tedford both listing three freshmen who are not on campus yet as being in the mix. Pendergast seemed most pleased with Anthony, whom he said was playing physically and with a lot of confidence. At safety, there's Sean Cattouse and D.J. Campbell, with Adrian Lee, C.J. Moncrease, Alex Logan and Michael Coley earning note. It's hard to say if true freshman Avery Walls, who's participating in spring practices, will get into the mix.

On offense, Michalczik is mostly focused on the offensive line. Tedford will call plays this fall and is working with the quarterbacks as well, while receivers coach Eric Kiesau is the passing game coordinator and running backs coach Ron Gould is the running game coordinator. So there will be plenty of input on offense.

Michalczik wouldn't commit too much on the offensive line: "We've got some young guys and we've got some time," he said. Left tackle Mitchell Schwartz and center Dominic Galas are likely starters, but both are sitting out with injuries. Matt Summers-Gavin has bounced from guard to right tackle. Brian Schwenke and Justin Cheadle are the No. 1 guards at present. Youngsters to watch include Chris Adcock and Mark Brazinski at center, as well as Alejandro Crosthwaite, Bill Tyndall and Tyler Rigsbee.

Marvin Jones and Keenan Allen are set at receiver, but the No. 3, 4 and 5 options are not. Michael Calvin -- yes, him again -- Coleman Edmond and Kaelin Clay earned note from Tedford, who said of Clay, "He's been very good, very fast, brings big-play potential."

Tedford isn't very happy at running back behind Isi Sofele. His highest praise goes to walk-on Mike Manuel, who was impressive in the scrimmage Saturday. Injuries are a big issue at the position, but it seems as though Tedford isn't happy with the group, which includes a number of touted recruits. "As of right now, it looks like to me we are going to have to rely on younger guys who are coming in," he said.

Quarterbacks? It's still wide open, but it shows how serious Zach Maynard's candidacy is that Tedford said he doesn't expect to announce a starter until well into fall camp, specifically because he wants to give Maynard, who transferred from Buffalo last year, as much time as possible to digest the offense. Said Tedford, "He does have some athleticism. He can make plays with his legs. He throws the ball accurately. He can throw all the balls on the field. He's a lefty. He can throw the deep ball. He's got zip on the ball. His main thing is just going to be the mental part of understanding our offense and understanding what we're looking for."

As for Brock Mansion, who started the final four games after Kevin Riley went down, Tedford said, "You can tell that Brock is better because of the experience he had last year. He's more comfortable. And he's even learned some things physically. You can see the maturity there a little bit. Still not where we need to be."

As for Allan Bridgford, the question might be athleticism. Said Tedford, "Smart guy. Can throw the ball. He can throw all the balls on the field. Escape dimension? Haven't seen that yet. That's a concern, but he's not a led-foot by any means."

One problem for the Bears this spring is injuries. There are a lot of them, which makes it more difficult to give the QBs full-tilt, looks. "That's a challenge, to get QB's enought reps without beating up the whole team," Tedford said.
October, 8, 2010
10/08/10
4:33
PM ET
California has played dominant defense on Saturdays this season. But as Bears fans know, there is a catch.
The Bears gave up 497 yards at Nevada in a 52-31 loss on a Friday night.
In the other three games, they've given up just 20 total points, and they've been good enough to still rank 15th in the nation in total defense (282.5 yards per game) while yoked with the Nevada numbers.
[+] Enlarge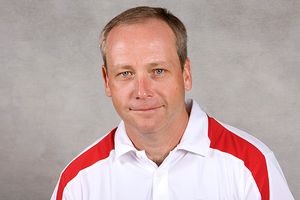 NFL Photos/Getty ImagesClancy Pendergast's defense is ranked No. 15 in the country despite getting gashed by Nevada to the tune of 497 yards.
It's fair to say that new coordinator Clancy Pendergast, a longtime NFL coach, is doing a pretty good job -- other than when he's faced a pistol offense, which isn't terribly popular in the NFL.
And, of course, Pendergast and the Bears get a second crack at the pistol on Saturday when UCLA comes calling.
Seemed like a great time to check in with Pendergast to get his take on "Pistol II: Redemption?"
You guys have had three strong weeks of defense, and one bad one: Was it a case for you of having a short week of practice to prepare for an offense you never game-planned for in the NFL?
Clancy Pendergast
: We are not making any excuses. We didn't play well that night. We didn't play with a good gap integrity. We didn't get off blocks. And we didn't tackle well. So those were most of the shortcomings, things we had wrong that night against Nevada.
I'm not trying to give you an excuse, but there aren't many pistol offenses in the NFL. You had to look at it as something different, right?
CP
: There are some neat things about it. It's very similar to the "Wildcat" offense that was a craze in the NFL two years ago, which started with the Miami Dolphins. I spent a whole offseason and 2009 studying the Wildcat and how to defend it, just because it became so popular in the 2008 season. We looked at how a lot of NFL teams defended it, and looked at some of the college teams that ran it and studied some of them and how teams defended them. But in the true Wildcat, the element of the quarterback not being under center to throw the football is really the biggest difference.
That said: You've guys have been mostly lights out on defense otherwise. Who is playing well for you?
CP
: I think [DE] Cameron Jordan has been our most consistent guy. Linebacker D.J. Holt has played really well, at mike linebacker inside. He's been our most consistent linebacker week in and week out. In the secondary, [safety] Chris Conte has been pretty consistent.
How much will it help to get linebacker Mike Mohamed back healthy?
CP
: Well, he's obviously one of our best players, so having him back in the lineup on a full-time basis will make us a better defense. He didn't play against Nevada because of the (toe) injury. He played part-time against Arizona. We expect to see him a lot on Saturday. That should boost our defense a little bit. Anytime you get one of your better players back, it obviously helps your group.
When you guys have not played well, what goes wrong?
CP
: It's been more the fundamental things -- guys not reading their keys and doing their job. That's the one thing we didn't do against Nevada. We had guys out of position, and guys not doing their job. Generally, when you don't play well on defense, that's what transpires. That night was like no other game.
How is UCLA's pistol different than Nevada's?
CP
: Very similar. It's very similar.
As a competitor, are you excited about getting a second crack at a specific scheme?
CP
: It's just another game plan, but we're excited by the opportunity to play against a very well-coached, talented UCLA team. It's our second week in the Pac-10, and we're just focusing on the next game at hand.
The Bruins have run the ball well this year. What do you see when you look at game film of UCLA?
CP
: It's pretty well-documented that they do a nice job in the running game. They've been able to move the football and control the clock. The line does a good job of working together. I think they work real well in terms of the blocking schemes they use. Both running backs have been a nice one-two punch for them. The quarterback obviously keeps you honest. They can run and throw it. They have a lot of weapons on the offensive side of the ball. They are going to be tough to deal with.
You've got a few games under your belt: How is coaching in college different than in the NFL?
CP
: It's just like I've said from day one: Coaching is coaching. I enjoy the opportunity to teach. You get a chance to do that every day. The biggest thing is the limited meeting time [in college]. So you've got to utilize your time as much as you can. But from a pure coaching standpoint, I've always enjoyed working with young players. In the NFL, that's how you build your team. You develop young players. It's no different at this level. It's just getting the players familiar with the techniques you want to use, the techniques within the scheme, the different calls they need to utilize between the linebackers, defensive line and secondary. That's how you play good defense.
TOP 25 SCOREBOARD
Thursday, 12/5
Friday, 12/6
Saturday, 12/7