NCF Nation:

D.J. Shockley
July, 22, 2014
Jul 22
9:40
AM ET
By
ESPN.com staff
| ESPN.com
The Big 12 media days continue on Tuesday in Dallas, as Oklahoma's Bob Stoops and new Texas coach Charlie Strong each take the stage. Keep this page open throughout the day's proceedings as we bring you the latest from our reporters, who will cover all 10 teams at the event.
November, 22, 2013
11/22/13
11:00
AM ET
ATHENS, Ga. -- In the days after Georgia's loss to Vanderbilt, with his team's season unraveling,
Aaron Murray
received a text message from exactly the right person.
"Keep them boys believing, man,"
D.J. Shockley
's message read. "Make them answer the bell. This is your legacy. Remember that: how do I want to be remembered when things get a little tough."
[+] Enlarge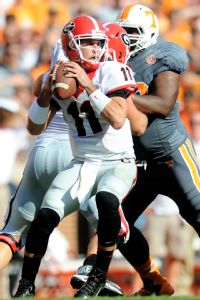 Randy Sartin/USA TODAY SportsGeorgia QB Aaron Murray has leaned on past Bulldogs QBs for support and advice throughout the years.
Such words of support were nothing new from Shockley, who preceded Murray as Georgia's quarterback by four years and now serves as a confidante for the Bulldogs senior, but the timing was perfect. Murray was understandably down in the dumps after crushing injuries and defensive inconsistency caused the Bulldogs to tumble from their top-five ranking earlier in the season. Murray returned for his senior season to win championships, and that goal was on life support after the loss to Vandy.
He desperately needed to hear Shockley's message, and was so appreciative that he saved the text as the screen saver on his cell phone so that it would be a constant reminder of his role as a team leader.
"It's the first thing I see every morning when I hit my phone," Murray said. "I look at it and that little thing right there just meant the world to me. It's awesome to get those kind of supporting text messages from him and
[David] Greene
and other guys who have played here."
Circle of support
Murray has a large circle of supporters, ranging from family to teammates to quarterbacks across the country with whom he has formed a bond at various events. But he has a special relationship with those who played quarterback at Georgia before him -- Shockley and Greene, in particular -- because he had the foresight to reach out before taking his first college snap.
"He embraced the guys that have come before him and wanted us to just kind of help him at the very beginning, work with him," Greene said. "It wasn't ever a relationship where we were talking every day or anything like that. It was more of like a big brother kind of role, I guess. It wasn't like we touched base that often.
"

If you just look at stats, you say, 'Since he's been quarterback, Georgia has not won a big game.' I get it, I agree. But does it mean that I could win the big game because when we played in the SEC championship, we only gave up three points [to Arkansas in 2002]? Does that mean that I could win the big game and he couldn't? No, of course not. It's not fair to compare the two. ... The way that he has played this year I think has completely erased any doubt of whether or not he could play big in big moments.

"

-- Former Georgia QB David Greene
"But during the season at times, like after this weekend [when Auburn spoiled a fourth-quarter comeback by scoring the game-winning touchdown with 25 seconds to play], I definitely shot him a text and basically just said, 'Look, I admire the way you play the game.' As a former player that knows what it's like to be in those situations, as much adversity as he faced, you could tell that he wore his heart on his sleeve. He wanted that game and he fought tooth-and-nail to get it back, and he's done that his whole career."
There are several reasons why Georgia's ex-quarterbacks have developed relationships with the current players on the roster.
One is that the Bulldogs have had the same quarterback-centric head coach and position coach, Mark Richt and Mike Bobo, for the last 13 seasons, which helps maintain continuity between generations. Another is an event that Richt brought from Florida State -- the "Quarterback Classic" -- which serves as a reunion between Richt's ex-Seminoles quarterbacks and current and former Bulldogs signal-callers.
While Murray joked that there is heated competition in events like ping pong, bowling, air hockey, bocce ball and horseshoes, he said that it provided a tremendous outlet.
"I think that's one of the best times of the year, getting together with those guys and playing all these crazy games that only the old guys win because they know how to play them," Murray said.
Bobo agreed on its value.
"It's a chance for those quarterbacks to meet those older guys and they get contact info from them and they kind of stay in touch," he said. "Greene and Shockley have been real good about staying in touch with all those guys."
Murray's legacy
With 108 passing yards Saturday against Kentucky -- Murray's final home start as a Georgia player -- he can become the first quarterback in SEC history to pass for 3,000 yards in all four seasons. He's already the only one to do it three times.
He owns the SEC career records for passing yards, total offense, touchdown passes and completions, and could break the marks for pass attempts and touchdown responsibility before season's end.
Statistics are not the only way we measure quarterbacks, though. The glaring hole in Murray's resume is that, unlike Greene (2002) and Shockley (2005), he never won a conference title. It's a painful reality, particularly because of last season's near-miss against Alabama in the SEC championship game, where Murray and the Bulldogs fell just short of a spot in the BCS title game.
"There's also a piece of me that feels a little bad for him because I think there's been a couple of times throughout his career where he's kind of had a legacy moment kind of taken away from him," Greene said.
Murray would be the first to point out the things he should have done better in games that didn't turn out in Georgia's favor, but Greene is quick to offer a counterpoint of sorts.
Consider the brilliance with which Murray performed in wins against LSU and South Carolina, how he led the last-minute comeback to force overtime against Tennessee with nearly all of his most important playmakers sidelined by injuries, how he dove for the go-ahead touchdown against Auburn, and the argument that he shrinks under the spotlight seems silly.
"If you just look at stats, you say, 'Since he's been quarterback, Georgia has not won a big game.' I get it, I agree," Greene said. "But does it mean that I could win the big game because when we played in the SEC championship, we only gave up three points [to Arkansas in 2002]? Does that mean that I could win the big game and he couldn't? No, of course not. It's not fair to compare the two. … The way that he has played this year I think has completely erased any doubt of whether or not he could play big in big moments."
Murray has Shockley have been there. Better than nearly anyone else, they understand the demands Murray faced for the last four seasons – and they remain impressed by how he thrived under those circumstances.
"I think people will say he was arguably one of the best quarterbacks to play at the University of Georgia, but … There's an asterisk right there. They didn't get that championship and that kind of stuff," Shockley said. "But in my book, he's No. 1. He's done it all. The numbers don't lie. He's put them in position, and obviously he can't play defense and special teams. He's definitely had a great career and worthy of being one of the best."
September, 27, 2013
9/27/13
7:00
AM ET
ATHENS, Ga. – As an SEC West school, LSU is hardly a fixture on Georgia's annual football schedule. But when the Tigers and Bulldogs do get together, the results are almost always memorable.
Just think back over the past decade. Two meetings in the SEC championship game – one won by each school. The phantom celebration penalty against Georgia receiver A.J. Green in 2009, helping pave the way for LSU's comeback victory. Georgia putting huge point totals on LSU's defending BCS champion teams in 2004 and 2008.
There's a lot to remember – and just like in Saturday's meeting between No. 6 LSU (4-0, 1-0 SEC) and No. 9 Georgia (2-1, 1-0) – there are often major SEC and BCS implications in play.
"[I told the younger players] any game can go down to the last second, but what kind of fight that they're going to have to be ready for," said Georgia fifth-year senior receiver
Rantavious Wooten
, one of the few Bulldogs who were on the team when LSU last visited Athens in 2009. "They've got aspirations just like we do. They want a championship and we want a championship and this game right here, this is the game for it. So I just let them know what to expect and how it's going to be and just to get ready for it."
Georgia coach Mark Richt is 3-4 against LSU since arriving at UGA in 2001 and Tigers coach Les Miles is 2-2 against the Bulldogs. Let's take a look at the last five times their programs squared off:
[+] Enlarge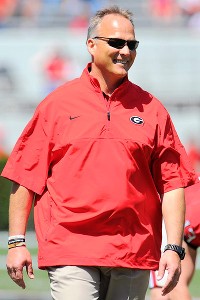 Dale Zanine/USA TODAY Sports Mark Richt and the Bulldogs hope to give LSU its first loss of the season on Saturday.
2011 SEC Championship Game (Atlanta): No. 1 LSU 42, No. 16 Georgia 10
In one of the most bizarre games of Richt's tenure, Georgia's defense thoroughly dominated the first half. LSU didn't muster a single first down and was in danger of falling down by a big margin, but Georgia receivers dropped a pair of potential first-half touchdown passes and LSU punt returner Tyrann "Honey Badger" Mathieu took a kick back for a touchdown to make it 10-7 Georgia at halftime. The second half was a completely different story, as the Bulldogs committed a couple of turnovers, LSU's pounding rushing attack began to have its intended effect and Todd Grantham's defense seemed helpless as the Tigers rushed for 202 yards and three touchdowns after intermission, turning the game into a rout.
Oct. 3, 2009 (Athens): No. 4 LSU 20, No. 18 Georgia 13
This one will forever be remembered among Georgia fans for a referee's questionable decision to penalize Georgia superstar Green for excessive celebration following his leaping, go-ahead touchdown catch with 1:09 to play, giving Georgia its first lead at 13-12. The penalty forced the Bulldogs to kick off from their own 15 and LSU return specialist Trindon Holliday made them pay by returning the kickoff to the Georgia 43, with a 5-yard penalty against the Bulldogs on the kickoff moving LSU even closer to the UGA end zone. Two plays later, Charles Scott rushed for his second touchdown of the fourth quarter, a 33-yard run with 46 seconds to play allowing LSU to improve to 5-0.
Oct. 25, 2008 (Baton Rouge): No. 7 Georgia 52, No. 13 LSU 38
As wild as the ending of the 2009 game was, this one was crazy from the very beginning. Georgia linebacker Darryl Gamble returned an interception for a 40-yard touchdown on the first play from scrimmage and added a 53-yard pick six in the game's closing minutes as the Bulldogs hung half-a-hundred on LSU's porous defense. The Tigers surrendered 50-plus twice that season – the first time in school history that had happened – leading Miles to dump co-defensive coordinators Doug Mallory and Bradley Dale Peveto after the season in favor of former Tennessee coordinator John Chavis, who has been in Baton Rouge ever since.
2005 SEC Championship Game (Atlanta): No. 13 Georgia 34, No. 3 LSU 14
Although fellow receiver Sean Bailey caught a pair of first-quarter touchdowns from D.J. Shockley that got Georgia off on the right foot, Bulldogs senior Bryan McClendon – now the team's running backs coach – might have delivered the play of the game when he blocked a punt midway through the second quarter deep in LSU territory. That helped Georgia score to take a commanding 21-7 halftime lead which LSU never threatened. The Bulldogs' defense also did its job that day, limiting an LSU rushing attack that dominated in their 2003 meeting in Atlanta to just 74 rushing yards.
Oct. 2, 2004 (Athens): No. 3 Georgia 45, No. 13 LSU 16
Nick Saban's final game against Georgia while at LSU ended with a humiliating loss, as the Tigers surrendered the most points allowed by an LSU defense since Florida hung 56 on them in 1996. Georgia quarterback David Greene threw only 19 passes, but set a school record by completing five of them for touchdowns. The Bulldogs had lost twice to Saban's Tigers in 2003 – 17-10 in Baton Rouge and 34-13 in the SEC Championship Game – but they quickly exacted a degree of revenge by jumping out to a 24-0 lead before LSU could answer. The Bulldogs also generated three turnovers and sacked LSU quarterbacks Marcus Randall and JaMarcus Russell five times.
Both teams have been ranked in the top-20 in all seven of their meetings in the Richt era, and this will be the second time they've both been in the top-10. While not every meeting between the two has produced a close contest, they've all been memorable – and almost always impacted their respective championship chases.
"They've been great games. ... Just about every one of them, both teams are ranked teams and at least in the Top 25," Richt said. "It is a cross-conference rival, so it doesn't hold quite the weight of an Eastern Division [game] when it comes to who plays in Atlanta. We could lose the game and still control our destiny, and they could lose the game and still control their destiny, so it's not do-or-die as far as league play, but it's very important for any national title hopes."
April, 3, 2009
4/03/09
12:36
PM ET
Posted by ESPN.com's Chris Low
We check in around the league to see what all is making headlines: