NCF Nation:

Dallas Cowboys
January, 18, 2013
1/18/13
5:46
PM ET
Though it started getting reported early this week that Clancy Pendergast would be USC's next defensive coordinator, the Trojans waited until Friday afternoon to issue a news release making the hiring official.

Pendergast, a longtime NFL coach, coordinated California's defense the previous three seasons. He replaces Monte Kiffin, who has been hired by the Dallas Cowboys.
"Clancy is a perfect fit for us," coach Lane Kiffin said in a statement. "He is a very experienced and successful defensive coordinator. He plays an attacking-style defense with multiple looks and, having spent the last three years in the Pac-12, he knows how to defend the various kinds of offenses that we see in this conference.
"What was particularly appealing to me was how he took a Cal defense that was seventh in the Pac-12 in total defense the year before he arrived and then led the league his first two years. That's our goal here, to have that same kind of impact. I also liked that he has coached at the highest level, getting to the Super Bowl in the NFL."
Pendergast, 45, also has previously coached at USC. He was a defensive assistant in 1992.
You can hear more of
our thoughts on the hiring here
.
And the
complete news release is here
.
October, 19, 2011
10/19/11
10:00
AM ET
Some games you want to win because you want to win every game. Others games feature highly ranked teams and therefore generate national interest. Some are rivalry games. But Notre Dame-USC is something else entirely, even if the 83rd game of the storied intersectional contest on Saturday features two unranked teams for just the 10th -- and second consecutive -- time in the series.
The battle for the Jeweled Shillelagh is a showdown of national programs. Top recruits across the country who don't feel pinned down to a home-state school or region watch it to test their allegiances. Most of the elite players who are recruited by USC are recruited by Notre Dame and vice versa.
And if you're looking for a marker for which direction either program is going, it's this game. Lou Holtz went 9-1-1 against USC. Pete Carroll went 8-1 against Notre Dame. Where do their tenures rank among their program's histories?
So that's why USC's 20-16 defeat last year resonates, particularly considering how it went down. Start with the obvious: Two rookie coaches who'd both been burned by off-field controversies, trying to make their marks during uncertain times for their programs.
[+] Enlarge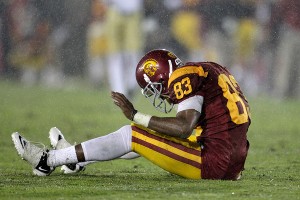 AP Photo/Jae C. HongRonald Johnson missed a touchdown catch that could have made the difference for USC in last season's loss to Notre Dame.
And then Trojans receiver Ronald Johnson dropped a sure touchdown pass with 1:17 remaining, and Notre Dame ended an eight-game losing streak in the series. Brian Kelly became 1-0 against USC. And Lane Kiffin fell to 0-1 against Notre Dame.
"It was a horrible feeling because of the streak and how long it was and how much work goes into that," Kiffin said. "And there it is right there, one fluke play and all those years are over with."
"Fluke" plays can lead to sea changes. In Holtz's first game against USC in 1986, Notre Dame overcame a 17-point fourth-quarter deficit to stun USC 38-37. The Fighting Irish went from a losing season in 1985 to a national title in 1988. In 2001, Carroll lost by 11 at Notre Dame. The next season, his Trojans handed the Irish a historically bad 44-13 whipping, outgaining them 610 yards to 109. And away USC went.
And then there's last year's game, which ended a run of 19 consecutive nonconference victories for USC.
"We knew that if a talented receiver like that was going to drop a ball like that in a situation like that, it's definitely our night," Notre Dame linebacker Manti Te'o said after the 2010 game. "Things like that don't happen without a reason. It's a huge night for this program and in our lives."
Te'o, of course, is the player that broke USC's hearts on national signing day in 2009. Long considered the next in a long line of elite Trojans linebackers, the top-rated player switched to Notre Dame seemingly out of nowhere.
When considering last year's game, USC takes heart from knowing that it lost in the waning moments without two key injured players: offensive tackle Tyron Smith and quarterback
Matt Barkley
. While Smith was the ninth overall pick in the 2011 NFL draft and now plays for the Dallas Cowboys, Barkley is back and healthy and playing well. He and receiver
Robert Woods
are one of the nation's best pass-catch combinations.
And another streak is on the line: USC has won 13 consecutive nonconference road games. That, by the way, is the last of many winning streaks established during the Carroll era.
The Trojans this year have been mostly about Barkley and Woods and a notably mediocre defense. But it was the defense that stepped up in the Trojans' 30-9 win over California on Oct. 13, while Barkley and Woods struggled to find their rhythm.
"We needed a game that our defense won for us," Kiffin said.
That defense will need to step up again because Notre Dame won't be easy to move the ball against. Other than an implosion against Michigan, the Irish have played well on defense, surrendering just 21 points per game.
USC went 8-5 in Kiffin's first season, which was mostly given passing grades because of the circumstances. If Johnson had caught that pass, however, most would have viewed the season as a success.
Going forward, Kiffin's Trojans will be saddled with severe scholarship reductions -- each of their next three recruiting classes can only include 15 signees instead of 25 -- which almost certainly will reduce the number of wins the program produces.
But on Saturday, there won't be any real excuses. This game is a national measuring stick, and the Trojans don't want to fall short again and see power and esteem in the storied intersectional rivalry shift back to the Midwest.
Said Kiffin, "We've got to go back and start a new streak this year."
May, 1, 2011
5/01/11
12:26
PM ET
The Pac-12 provided 37 players to the NFL draft over the weekend, one fewer than the SEC, which led all conferences.
If the six combined picks from Colorado and Utah are taken away from the conference, the old Pac-10 provided NFL teams 3.1 draft picks per team, also just behind the SEC at 3.17.
Here's where the Pac-12 players went:
First round
No. 8
Jake Locker
, QB, Washington: Tennessee
No. 9
Tyron Smith
., OT, USC: Dallas
No. 17
Nate Solder
, OT, Colorado: New England
No. 24
Cameron Jordan
, DE, California: New Orleans
No. 27
Jimmy Smith
, CB, Colorado: Baltimore
Second round

7.
Akeem Ayers
, LB, UCLA: Tennessee
10.
Brooks Reed
, DE, Arizona: Houston
13.
Rahim Moore
, FS, UCLA: Denver
21.
Stephen Paea
, DT, Oregon State: Chicago
24.
Shane Vereen
, RB, California: New England
Third round

13.
Jurrell Casey
, DT, USC: Tennessee
20.
Mason Foster
, LB, Washington: Tampa Bay
25.
Shareece Wright
, CB, USC: San Diego
29.
Christopher Conte
, S, California: Chicago
33.
Sione Fua
, DT, Stanford: Carolina
Fourth round

5.
Jordan Cameron
, TE, USC: Cleveland
19.
Casey Matthews
, LB, Oregon: Philadelphia
21.
Jalil Brown
, CB, Colorado: Kansas City
27.
Owen Marecic
, FB, Stanford: Cleveland
Fifth round

8.
Brandon Burton
, CB, Utah: Minnesota
9.
Gabe Miller
, DE, Oregon State: Kansas City
14.
Jacquizz Rodgers
, RB, Oregon State: Atlanta
23.
Richard Sherman
, CB, Stanford: Seattle
Sixth round

2.
Ryan Whalen
, WR, Stanford: Cincinnati
14.
Caleb Schlauderaff
, OG, Utah: Green Bay
17.
Ronald Johnson
, WR, USC: San Francisco
19.
David Carter
, DT, UCLA: Arizona
22.
Allen Bradford
, RB, USC: Tampa Bay
24.
Mike Mohamed
, LB, California: Denver
32. Ricky Elmore, DE, Arizona: Green Bay
38. Zach Williams, C, Washington State: Carolina
Seventh round

12.
D'Aundre Reed
, DE, Arizona: Minnesota
24.
Scotty McKnight
, WR, Colorado:
New York Jets
30.
Lawrence Guy
, DT, Arizona State: Green Bay
37.
Stanley Havili
, FB, USC: Philadelphia
38.
David Ausberry
, WR, USC: Oakland
39.
Malcolm Smith
, LB, USC: Seattle
By Pac-12 school:

Arizona (3)
Arizona State (1)
California (4)
Colorado (4)
Oregon (1)
Oregon State (3)
Stanford (4)
UCLA (3)
USC (9)
Utah (2)
Washington (2)
Washington State (1)
The final tally by automatic qualifying conferences
:
SEC... 38
Pac-12... 37
Big Ten... 36
ACC... 35
Big East 22
Big 12...19
Nebraska was a big swing to the Big Ten from the Big 12 with seven picks. With Colorado and Nebraska, the Big 12 provided 30 selections.
This was the tally through three rounds
:
SEC: 20
ACC: 19
Pac-12: 15
Big Ten: 13
Big 12: 9
Big East: 4
October, 2, 2010
10/02/10
2:42
PM ET
If things stay the way they are at TCF Bank Stadium, the storyline is pretty clear.
It can be summed up by one stat: 21 points off turnovers.
Northwestern might be better than Minnesota, but the Wildcats can't beat two teams, as coach Pat Fitzgerald often says. And today, Northwestern is beating itself. Quarterback
Dan Persa
continues to complete passes but also committed his second turnover in the red zone, just as the Wildcats were poised to take the lead.
Minnesota's offense continues to avoid the major mistake, and
DeLeon Eskridge
and the offensive line came to play in a big way.
I can't see Northwestern winning this game unless it forces at least one turnover, but Minnesota needs to show it can finish.
February, 17, 2010
2/17/10
9:32
PM ET
There was a way for California defensive coordinator Bob Gregory's
departure to Boise State
to not raise more than an eyebrow or two: If Gregory had bolted Berkeley for Boise on the day after national signing day and became the Broncos defensive coordinator, replacing Justin Wilcox, who was hired at Tennessee.
Such a move would have felt more seamless.
While few would call it a promotion to jump from the Pac-10 to the WAC -- even for a national power such as Boise State -- it would have seemed perfectly reasonable for Gregory to move on after being at Cal for eight seasons.
Sometimes change for the sake of change makes sense.
But the timing of Gregory's departure -- just over two weeks before spring practices begin on March 6 -- is hardly ideal, and it suggests this was a separation, even if it was an amicable one.
Moreover, Boise State hired Gregory as a "defensive assistant," not as the coordinator, a job that presently belongs to Pete Kwiatkowski, who was promoted from defensive line coach after Wilcox's departure.
Perhaps Gregory will get a "co-coordinator" slot. He was the Broncos defensive coordinator for a single season (2001) before being hired by Tedford, by the way. It will be interesting to see how it plays out. As for money, it's possible Boise State can match the $241,000 Gregory was making at Cal (before bonuses), at least when the salary is adjusted for cost of living.
Still, the vagueness suggests a hastily made deal.
Gregory did a good job at Cal. He rebuilt the Bears defense and his units were among the Pac-10 leaders in 2004, 2005, 2006 and 2008.
You could argue, in fact, that Cal has had the conference's second-best defense during his tenure, though obviously rating well behind USC.
Still, there's a building sense of urgency that the Bears need to take another step forward after a disappointing season, and coach Jeff Tedford has been fairly frank this offseason about needing to be
more aggressive on defense
.
It's hard to believe that Tedford outright pushed Gregory out the door, and it's clear that both men don't want that to be the perception. Gregory didn't return a message left on what now may be an outdated cell phone, and Tedford didn't immediately reply to a text message.
Said Tedford in the official statement: "This was coach Gregory's decision all the way to make what he feels is the best move for his family."
Said Gregory: "This decision is a great move for my family."
Not to be insensitive on this, but let's consider the recent case of Dave Ungerer, who was
hired this week
to be Washington State's new special teams/running backs coach.
Last February, Ungerer "left" Oregon State, reportedly to be
closer to his family on the East coast
. He coached at Elon College in North Carolina in 2009.
Beavers coach Mike Riley replaced Ungerer with Bruce Read, a longtime Riley assistant -- and friend -- who had been fired by the Dallas Cowboys at the end of the 2008 season.
Sometimes coaches make tough decisions and they'd prefer not to go into the details why.
January, 22, 2010
1/22/10
10:11
AM ET
By
Tim Griffin
| ESPN.com
The Big 12 just concluded an eventful decade: two national championships, seven trips to the BCS national title game and a spectator-friendly offensive attack earned the league national notoriety.
But you haven't seen anything yet.
I dusted off my crystal ball and looked ahead to see some of the major events that we could see during the upcoming decade.
We'll see some realignment in the league as Missouri leaves for the Big Ten and TCU is added to fill the Tigers' place. That move will give Big 12 leaders an excuse for realignment, which will be decided by a blind draw of plans desk. The Osborne Division will have Nebraska, Colorado, Baylor, Texas Tech, Oklahoma State and Texas A&M. The Royal Division will give a home to TCU, Texas, Oklahoma, Iowa State, Kansas and Kansas State. After four years of play, that grouping will prove so unpopular that the old divisional format will be adapted with TCU joining the South Division and Oklahoma State moving to the North.
Mike Leach eventually will return to the Big 12 -- but this time as a television analyst. His quirky conversational style will be panned by the critics but embraced by fans. And he'll also appear on television in good friend Donald Trump's series, "The Apprentice."
After being rebuffed by the major television networks, the Big 12 and Pac-10 will strike out on their own with a television network jointly owned by both. It will give us a late game every Thursday night from the Pac-10, along with an early Big 12 game every Saturday at noon. The two conferences will share the prime Saturday afternoon programming window and games on Saturday night, building national awareness for both conferences.
The most intriguing part of the Pac-10/Big 12 programming association will be the "Kickoff Classic," a week-long start of the season where the Big 12 teams will meet their counterparts from the Pac-10 in a series of eight games each year. The series starts off with a bang when USC beats Texas in 2015 at the Cowboys Stadium in Arlington, Texas, earning a measure of revenge for losing to the Longhorns in the national championship game in 2006.
By that time, Will Muschamp will have taken over at Texas. Mack Brown will remain at Texas through the 2012 season, celebrating as Garrett Gilbert leads the Longhorns to the national championship with a victory over Ohio State in the BCS title game. After that game, Brown announces his resignation, with Muschamp taking over and naming Major Applewhite as his offensive coordinator and Kirby Smart as his defensive coordinator in his first series of personnel moves.
Bob Stoops' association with Oklahoma will end in the middle of the decade when he accepts an offer to become the head coach of the Dallas Cowboys. It will end the longest association of any Big 12 coach with his school. He'll be replaced at Oklahoma by Houston coach Kevin Sumlin.
After Bo Pelini leaves for the vacant LSU job after the 2014 season, former Cornhusker Turner Gill takes over the Nebraska program after developing his Kansas program into a solid bowl contender. His hiring is one of the last acts that Nebraska athletic director Tom Osborne orchestrates before his retirement.
Much to the chagrin of football fans, the BCS will endure. We'll see one alteration, however. A "plus-one" model will be added with one game added for the national championship. Texas, Nebraska and Oklahoma all will win national championships during the upcoming decade. With Boone Pickens' influence lessening, Oklahoma State will fall back into a lesser position in the South. And Colorado will go through two head coaches in the decade before hiring Kyle Shanahan in 2018.
Thanks to huge seasons from Robert Griffin and national interception leader Ahmad Dixon, Baylor will end its bowl drought with an appearance in the 2011 Texas Bowl. To celebrate, the Dr Pepper bottlers in Waco will release a commemorative bottle that becomes a prized collectors' item.
One change in the BCS will affect the Big 12. The Cotton Bowl eventually will become the fifth bowl in the national title rotation. To fill that hole, the Alamo Bowl will move to New Year's Day as the destination for the top Big 12 team that doesn't make the BCS.
April, 28, 2009
4/28/09
1:00
PM ET
Posted by ESPN.com's Tim Griffin
We just thought the Texas Tech-Texas A&M rivalry couldn't get any more vituperative and nasty.
Tech coach Mike Leach, who in the past has teased the Aggies with his plans of starting "Mike's Pirate School," modeled along the lines of A&M's Corps of Cadets, has added some more fire this week with his comments about A&M quarterback Stephen McGee.
Leach was angry about how his own quarterback, record-breaking Graham Harrell was not drafted while McGee was picked by Dallas in the fourth round of the draft. McGee saw action in only three games as a starter last season.
Leach's barbs at the Aggies and McGee provided much fodder for day-after draft stories across the Big 12.
Leach remained unapologetic about his remarks about McGee, Texas A&M coach Mike Sherman and McGee's draftability, Dallas Morning News reporters Brian Davis and Chuck Carlton report.
Bryan Eagle columnist Robert Cessna writes that Leach was wrong in his pointed criticisms of McGee and A&M's handling of the quarterback.
And Austin American-Statesman beat writer Randy Riggs has Sherman's response to Leach, where the A&M coach says the Tech coach is in no position to comment about his relationship with McGee.
All of this only ensures that the Oct. 24 game in Lubbock between the two bitter rivals will be that much more anticipated.
Here are some other stories from across the conference, with a lot less indignation.
The Des Moines Register's Randy Peterson reports that some ticket prices to the Iowa-Iowa State game on Sept. 12 in Ames will be going down to $60 per seat.
Gregg Doyel of CBSSports.com wonders if Harrell was too productive for his own good.
Colorado's season-ticket sales are holding steady, despite a rise in some ticket prices and the declining economy, the Boulder Daily Camera's Kyle Ringo reports.
The Omaha World Herald's Tom Shatel weighs in on the alleged Cody Glenn ticket- scalping case and the free-agent competition between Chase Daniel and Joe Ganz for playing time with the Washington Redskins.
Sam Bradford and Zac Robinson shared their faith together at the Fellowship of Christian Athletes Banquet in Oklahoma City and also planned an upcoming golf game, the Daily Oklahoman reports.
The Columbia Tribune's Dave Matter reports that Chase Daniel went against his rooting instincts as a fan when he opted for a contract offer from the Washington Redskins.
Iowa State tackle Doug Dedrick had already agreed to a free-agent contract with the Houston Texans before the NFL draft was completed, Ames Tribune reporter Bobby La Gesse writes.
Nebraska officials told the Lincoln Journal-Star's Brian Christopherson they found no evidence to back up Cody Glenn's claims of ticket scalping.
It was understandable that former Kansas linebacker Mike Rivera ended up signing with the Chicago Bears, the Kansas City Star's Brady McCullough reports. Rivera has owned a jersey of Bears linebacker Brian Urlacher since high school.
Oklahoman columnist Berry Tramel reports that Sam Bradford is the clear No. 1 pick among quarterbacks in the 2010 draft.