January, 26, 2015
Jan 26
11:00
AM ET
Boston College exceeded expectations once again in Year 2 under Steve Addazio as the Eagles rode a potent rushing attack and a hard-nosed defense to a bowl performance. There will be a lot of turnover on offense, though, which means there is ample opportunity for a receiver to emerge.
Position to improve:
Wide receiver.
Why it was a problem:
There were not many receptions among the receivers last season, but that's not a product of the receiving unit having played poorly. With
Tyler Murphy
and a stable of talented running backs, Addazio, the former offensive line coach, was intent on utilizing his team's strength. The Eagles just didn't throw the ball often. When they did throw, the Eagles weren't overly explosive in the passing game.
Shakim Phillips
had an impressive 21.7 yards per catch, but it comes on only 13 receptions.
Josh Bordner
, who led the team with 27 catches, averaged 12.81 yards per reception, which ranked 19th in the ACC. Bordner and Phillips will not return in 2015, though. The receivers had a letdown in the loss to Clemson, too, as the Eagles dropped a potential game-winning touchdown pass.
How it can be fixed:
The Eagles are not going to become a team predicated on the downfield pass, so it's not as if there needs to be an overhaul at the position. It would obviously help open up running lanes and ease the pressure on quarterback
Darius Wade
if he can find a receiving security blanket and a consistent deep threat. Rising sophomore
Sherman Alston
already provides a nice spark, although he stands only 5-foot-6. A look at the receivers Addazio has recruited shows there is no set model; he recruits shorter, shiftier receivers and physical, bigger-bodied players. Any are capable of stepping up into a highlighted role.
Early 2015 outlook:
Alston is a big catch waiting to happen, and he has already made quite the name for himself by making a handful of special plays.
Dan Crimmins
finished second on the team with 25 catches, and the 6-5, 237-pound rising senior has the frame to be a go-to option when the Eagles are in need of a first down.
Charlie Callinan
showed flashes of being a solid receiver in the Clemson loss. Addazio has done a very good job recruiting and putting together a complete team, so there should be reason for optimism.
August, 26, 2014
8/26/14
12:00
PM ET
Tyler Murphy
's path to Boston College has been unconventional, to say the least. But the Connecticut native and former Florida quarterback has come full-circle as he enters his final year of college ball, reunited with head coach Steve Addazio, who had recruited to Murphy to the
Florida Gators
when Addazio was an assistant in Gainesville.
ESPN.com caught up with Murphy recently to touch on a number of topics.
What has the acclimation process been like at BC?
[+] Enlarge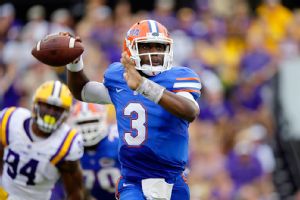 AP Photo/Gerald HerbertQB transfer Tyler Murphy on the offense BC will run this season: "We're still trying to find our identity."
Murphy:
It's been going very smooth. As soon as I got here in the spring the team welcomed me with open arms. I was able to get to know some of the guys, allow them to get to know me, so we've been building a bond since I've gotten here. We've been working really hard on and off the field, knowing coach Addazio and some of the coaches from before, like (offensive line) coach (Justin) Frye and (tight ends) coach (Frank) Leonard, they've really made it smooth, knowing some of the guys and having some familiarity with the offense.
Were you familiar with any of the players before?
TM:
No, I really didn't know anyone really before I got here. I came up with Ian (Silberman), me and Ian helped each other with the process. But I was able to get to know the guys quickly and build relationships really fast, which made everything easy for both of us.
What did you remember about Addazio from recruiting and from Florida?
TM:
He's a very passionate guy, I remember that from the recruiting process. He loves what he does, he takes pride in what he does. Not only does he try to make you the best football player that you can, he also tries to develop you as a person and make you the best man off the field as well. That really stuck with me. That's something I really look for when trying to find a new program, and knowing that coach Addazio had that instilled in him, it made my decision very easy.
Did you watch BC at all last season? Were you surprised by the jump they made in Addazio's first year?

TM:
I definitely followed the team a little bit last year, especially with coach Addazio being the offensive coordinator my freshman year. You always kind of root for guys that you know, so any time BC was playing I'd definitely tune in and watch. It shows what kind of guy coach Addazio is and the leader he is, and the seniors last year did a great job of turning things around and building a culture. You have to give them credit, and it's something that I really look for when choosing a new school, and it's a great culture, it's something I'm happy to be a part of. And I'm just going to do my best to help this program, help this team and find a way to lead, get us a few "Ws" and take the next step for this program.
Coach Addazio said you are a BC guy and that you fit into the culture there. How so?
TM:
When you think of Boston College you think of a high-standard program with lots of great people that really do the best to try and excel and help the community around them. The people academically and athletically are all very nice. They all go out of their way to try to help people and uplift people. When I got here you could also see that with the team. Guys were really a close-knit bunch of guys and they were sacrificing for one another and doing things that that they probably wouldn't do for themselves, but they would push through things because they didn't want to let the guy down next to them. When I saw that and felt that, I was really happy and I felt like I made the right decision.
How would you describe the offense you are running?
TM:
Right now we're in heavy sets, we're in spread sets, we're a little bit of everything right now. We're still trying to find our identity. We're trying a bunch of things out to see what we're good at and we're just going to really try and excel once we find out what we are good at. We're just trying to be successful with everything the coaches throw at us and try to execute everything, because the more things we have, the more versatile we can be and the more pressure on the defense. So we're just trying to make things easy for us, and the more things we can do, the better. We're just trying to go out there, execute, fly around, have some fun.
Who are some of the receivers you think will step up this year?
TM:
I think all of the receivers are doing a great job. Starting with
Charlie Callinan
to
Dan Crimmins
to
Drew Barksdale
, those guys have really stepped up and are finding roles. And we also have
Shakim Phillips
with some experience,
David Dudeck
and
Josh Bordner
, he's been doing a good job lining up and doing some things outside. So I think our fans should be excited, because these guys can make some plays and they work hard and they do a lot of the little things right to help this offense go. They're going to do some things and surprise some people, and hopefully they'll be able to have great careers while they're here.
How did you and (NC State quarterback) Jacoby Brissett help each other throughout the transfer process?
TM:
We both played at Florida and we both didn't play much, so we kind of would try to keep each other up. Sitting on the bench isn't fun, it could be difficult. We tried to build a friendship where we keep each other up, keep each other motivated, and each and every day find a way to go into the office and get better, and so we both decided we needed to move on. We both talked to each other, and when it was his time and he wanted to leave I sat down with him and we both tried to break things down and what his options were and what was the best option. And it was vice versa, he did the same thing with me. So we have a really good relationship. We still talk to this day. We talk, if not every day then maybe every other day, just to check up on each other and see how things are going, because it can be a tough transition. And as friends you always want to see your other friend do well, and we both look forward to competing against each other when we do line up and play this year.