April, 25, 2012
4/25/12
9:00
AM ET
EAST LANSING, Mich. --
Andrew Maxwell
can predict with absolute certainty at least one thing that will happen this season. No matter what he does, he will be compared to
Kirk Cousins
.
"I've gathered that, yeah," he says, smiling.
It's only natural. Cousins started the past three years at quarterback for Michigan State, leaving his stamp on the program as arguably the top signalcaller in school history. Now Maxwell will take over the huddle for the Spartans and try to keep the success going.
[+] Enlarge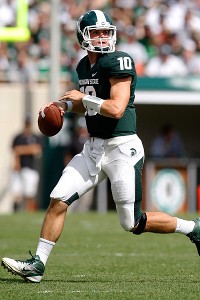 AP Photo/Al GoldisAndrew Maxwell is expected to open the season as Michigan State's starting quarterback.
Both have much in common. They're both 6-foot-3. They're both very good students who are eloquent in interviews. They both have strong leadership skills, and count their faith as essential parts of their being.
"They're the same kind of people," Michigan State left tackle
Dan France
said. "Andrew is just like Kirk back there."
Yet Maxwell is his own person and player. He has learned a lot by serving as Cousins' understudy, but he will not simply provide a carbon copy for the Spartans.
"I can't let the comparisons overwhelm me," he said. "I can't get too caught up in trying to be Kirk's replacement. I just have to focus on being Andrew Maxwell, on being the starting quarterback for Michigan State."
Maxwell sprained his right knee in a scrimmage 10 days ago, and will miss the rest of the spring. The injury is not considered serious, however, and Michigan State has every expectation that Maxwell will start the season opener.
When he does, it will be the culmination of a long waiting process for the fourth-year junior. He was an Elite 11 quarterback in high school who came to Michigan State after Brian Hoyer completed his career. Cousins and
Keith Nichol
were competing for the starting job that year, so Maxwell knew he might have to sit for a while. A while ended up lasting three years.
"It was something I prepared myself for when I committed," he says. "But I don't know if I actually knew how long three years was."
Many players with his talent would have looked to transfer or sulked about playing time. Maxwell did neither.
"He's an extremely patient young man," head coach Mark Dantonio said. "There's never been a feeling of entitlement or a need to be playing from him. He's never once come in and said, 'I need reps, I need this, I need that.'"
Instead, Maxwell bided his time on the sidelines, trying to soak up as much knowledge as he could.
"Everything I learned from watching Kirk in the games -- the mistakes he made on the field, the good things he did -- I could learn all that from a distance," he said. "Whereas those are things I would have had to learn the hard way if I had played as a younger player, making mistakes on the fly. Instead, I made those mistakes kind of in the dark behind Kirk.
"I'm not saying I'm not going to make mistakes. But I have gained a lot of learning experiences from sitting."
For all their similarities, there are some key differences between Maxwell and Cousins.
Maxwell is a little more athletic than Cousins. He was a high jumper in high school, at one point clearing 6 feet, 7 inches. Which basically means he jumped over
William Gholston
, though he's not apt to try that in practice. ("I don't know if the Fosbury Flop would work as well against Will," he jokes).
That extra mobility means Michigan State can do a few different things with Maxwell.
"I think he can extend plays," offensive coordinator Dan Roushar said. "I don't know that he's a guy we can run a lot of option football with, but he can get out of the pocket, move around, extend a play and keep his eyes downfield. He can make a throw on the move, but he'll also look to run it."
Cousins was as comfortable delivering keynote addresses as he was screen passes. Maxwell isn't quite as outgoing, so he's had to work on that. As soon as last season ended, he said, he tried to assert himself vocally during winter conditioning. He's been around the team long enough that he was easily accepted.
"You can tell he's been studying his playbook for four years," center
Travis Jackson
said. "His knowledge of the game is incredible, and the way he comes out and leads the team is really exciting."
The Spartans won't dumb down the offense any with Maxwell at the helm. Dantonio says Maxwell is "fully functional" and can execute everything that Cousins did. The drawbacks for him are a lack of game experience and a young receiving corps that might need some time to find its sea legs.
So the early comparisons to Cousins might not be fair. But while they are inevitable, they are not insurmountable. Maxwell looks ready to make this team his own.
April, 18, 2012
4/18/12
9:00
AM ET
EAST LANSING, Mich. -- Michigan has garnered a lot of positive attention this offseason thanks to its Sugar Bowl victory and success in attracting highly-ranked recruits to Ann Arbor.
Up the road in East Lansing, however, Michigan State shrugs off talk about the Wolverines regaining their superpower status under Brady Hoke. The Spartans are confident of their own standing and future prospects.
"We're laying in the weeds," Michigan State head coach Mark Dantonio says with a half smile. "We've beat Michigan the last four years. So where's the threat?"
Truth is, the rest of the Big Ten had better be on high alert for these Spartans in 2012. There's a quiet sense of self-assurance around the team this spring, borne of recent success, coaching cohesion and a deep well of talent.
[+] Enlarge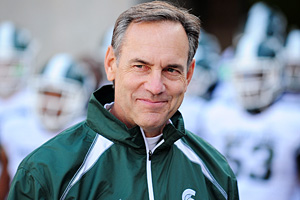 Andrew Weber/US Presswire"We're laying in the weeds," Mark Dantonio said with a half smile. "We've beat Michigan the last four years. So where's the threat?"
Dantonio's team has gone 22-5 over the past two seasons, winning a share of the Big Ten title in 2010 and claiming the first Legends Division championship a year ago. The program finally got over the postseason hump in January, beating Georgia in the Outback Bowl for the school's first bowl win since 2001.
It's the best two-year run by the Spartans in nearly half a century, and only six other FBS teams have won more games since the start of the 2010 season. Of course, one elusive goal remains: Michigan State's first trip to Pasadena since 1988. Rose Bowl logos are plastered all over the team's football facility, serving as a constant reminder.
Even with a small senior class and the losses of three-year starting quarterback
Kirk Cousins
, all-time leading receiver
B.J. Cunningham
and All-America defensive tackle
Jerel Worthy
, this year's team believes the Rose is within reach.
"Our goals keep climbing every year, and I think they're very attainable," new starting quarterback
Andrew Maxwell
said. "I feel like we have all the pieces in place."
That's a tribute to both the building job and the stability Dantonio has carefully constructed.
While other Big Ten staffs have undergone tumultuous turnover the past couple of years, the Spartans coaches have mostly stayed intact. Dantonio, defensive coordinator Pat Narduzzi and several key assistants are entering their ninth straight season together, dating back to their time at Cincinnati. The benefits of that constancy can really be seen on defense, where Dantonio and Narduzzi have been able to reinforce their philosophy year after year without changing terminology or schemes. The Spartans finished No. 6 nationally in total defense in 2011.
"That helps a lot," junior middle linebacker
Max Bullough
said. "So much of the game is mental, and having [the same coaches] allows you to just focus on getting better as a football player and not having to learn new things every year or two."
Dantonio said the continuity means that if he turns to, say, a redshirt sophomore, that player has received the same teaching in the same system for three years. And few teams in the Big Ten have redshirted as many players as Michigan State, which put only two of its 2011 signees on the field last season.
That patience, along with very few recruiting mistakes, has led to a situation that every other Big Team would envy: terrific depth, especially in the trenches. The Spartans have eight starters back on defense, plus
Anthony Rashad White
, who started the bowl game at nose tackle. The talk of the spring has been about young guys making a move behind the starters, like linebacker
Darien Harris
, defensive end
Joel Heath
and cornerback
Trae Waynes
-- all redshirt freshmen.
"When we go against the twos [the second string defense], I feel like those guys would start at a lot of places in the Big Ten," offensive tackle
Dan France
said. "We definitely have a lot of depth on both sides of the ball."
Defense has been a hallmark under Dantonio, but he may now have the deepest and best offensive line of his tenure. After a season of shuffling and injuries, that unit returns six players who have started, along with some promising newcomers. Ask Dantonio about either line, and he says what every coach would love to say about those positions: "We've got numbers."
Like every team in the spring, Michigan State has its questions, too. Maxwell is well-groomed to take over at quarterback after three years in the system, but he'll have to prove he's as unflappable under adversity as Cousins was. The receiver position is barren tract for experience, though there are plenty of athletes trying to emerge. And while the Spartans feel they can go seven- or eight-deep at defensive tackle, they have yet to discover someone there who can take over a game the way Worthy could when he was switched on.
"I didn't realize what a difference he made until he left," defensive end
William Gholston
said. "The first couple of practices I was like, 'Man, it's not the same.'"
Still, this is a team that's loaded at the most important positions and with a strong sense of its identity. Michigan's rise may be a fact; the Spartans don't plan on going away any time soon.
"People should be looking forward to Michigan State being one of the top teams every year," safety
Isaiah Lewis
said.
April, 13, 2012
4/13/12
2:30
PM ET
EAST LANSING, Mich. -- A funny thing happened to Michigan State on the way to Indianapolis last year.
The Spartans finished 11th in the Big Ten in rushing yet came within a running-into-the-punter penalty of potentially going to the Rose Bowl. Teams aren't supposed to win big in the Big Ten without a powerful running attack.
But Michigan State did things a different way last season, relying on a seasoned quarterback (
Kirk Cousins
) and two senior receivers (
B.J. Cunningham
and
Keshawn Martin
) to make up for a subpar ground game. Mark Dantonio's team doesn't have the luxury of experience in the passing game in 2012, but the Spartans could lean on a more effective running game this season.
[+] Enlarge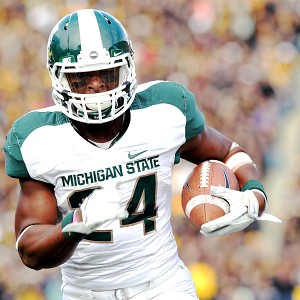 Reese Strickland/Getty ImagesRunning back Le'Veon Bell (6-foot-2, 242 pounds) is a load for defenders to take down.
"I definitely feel like that will happen," lead tailback
Le'Veon Bell
said.
That's more than just the usual spring optimism. The Spartans struggled to produce rushing yards early last season in large part because of an inexperienced offensive line that was plagued by injuries. It was easier to get that group to pass block for a few seconds, which was all the time Cousins needed to unload the ball.
Those early 2011 troubles, though, have led to an advantageous 2012 situation for the offensive line. Six players who started games last year are back and healthy this spring, allowing the unit to concentrate more on run blocking.
"We want to show everyone that we can run the ball and be a great O-line, one of best in the Big Ten," senior guard
Chris McDonald
said. "So we're trying to focus on that and put it on our shoulders. If we can do that, our running backs can do great things."
Michigan State has runners who are capable of greatness. Even with
Edwin Baker
unexpectedly leaving early for the NFL, the backfield is in good hands with Bell, senior
Larry Caper
and sophomore spark plug
Nick Hill
. Bell's potential in particular gives reason for excitement.
He got off to a strong start as a freshman before fading down the stretch and reversed that curve as a sophomore. Bell took over as the Spartans' primary back late last season, running for at least 86 yards in five of the last eight games, including a 106-yard effort against Wisconsin in the Big Ten championship game. He led the team with 948 yards on the season.
Baker's departure cleared the way for Bell to be the unquestioned starter this spring, but Dantonio raised eyebrows earlier this month with comments about "complacency" when asked about his junior running back. Dantonio told ESPN.com that his remarks were misinterpreted, but they sure made their way to Bell's ears no matter the intent.
"I definitely took that as motivation," Bell said Thursday. "Coach D doesn't really direct his words toward anyone, but he makes sure people know they don't have a starting job locked up. I don't want to be complacent, and I see myself as a leader of the running backs."
By all accounts, Bell has turned up his play in recent days. Teammates were buzzing about his performance in Thursday's practice, in which they said he ripped off several long runs.
"Le'Veon is juking people out of their shoes and jumping over people," tackle
Dan France
said. "It's pretty impressive to watch."
His moves are especially impressive given his size. Offensive coordinator Dan Roushar said the 6-foot-2 Bell is up to 242 pounds this spring, though Bell said that measurement came "after a big dinner." He plans to play more in the 235-pound range. Still, that is a load to bring down in the open field.
"I don't know how he does it, to be that big and move like that," safety
Isaiah Lewis
said. "He's just gifted."
Roushar said Michigan State will have the capability of putting both Bell and Caper, a 211-pounder who was one of the team's top rushers in 2009, in the backfield together at the same time. The 5-foot-8, 190-pound Hill can offer a change of pace with his quickness.
"We've got to get our tailbacks touches this season," Dantonio said.
And if so, the Spartans should finish higher than 11th in the league in rushing.
January, 31, 2012
1/31/12
3:16
PM ET
Earlier today, we took a look at the recruiting needs of every team in the Big Ten Leaders Division. Now it's time to turn our attention to the Legends Division and see what positions each team needs to restock before next week's signing day:
Iowa

Running backs:
Iowa's problems with keeping running backs in school has been well documented, and the Hawkeyes lost leading rusher Marcus Coker and backup
Mika'il McCall
after off-the-field problems last season. The team really needs some more depth in the backfield, and don't be surprised if incoming freshman Greg Garmon pushes for playing time immediately.
Defensive linemen:
Iowa had three defensive linemen drafted off the 2010 team and now loses its top two guys up front in departing seniors
Broderick Binns
and
Mike Daniels
. That's an awful lot of talent to replace in a couple of years, and the Hawkeyes can't expect to improve their defense without doing so. Finding some more pass rushers off the edge will be key.
Wide receivers:
Marvin McNutt
had a wonderful senior season, but the passing game often stalled whenever he couldn't wiggle free. Now he's gone, leaving a void at the position.
Kevonte Martin-Manley
and
Keenan Davis
have shown promise, but
James Vandenberg
could use some more weapons. Iowa has secured commitments from three receivers in this class.

Michigan
Wide receiver:
The loss of Darryl Stonum, who was dismissed following another run in with the law, created a void at receiver, especially with top pass-catcher
Junior Hemingway
out of eligibility. The Wolverines will have to hope
Roy Roundtree
can bounce back with a big season, because all other wideout options are unproven at this point. Three receivers are committed to Brady Hoke in this class.
Defensive line:
Mike Martin
and
Ryan Van Bergen
were key cogs in Michigan's run to the Sugar Bowl title in 2011, and they have both moved on, along with starter
Will Heininger
. Hoke and defensive coordinator Greg Mattison are defensive line coaches at heart and will want to grab as many difference makers as they can at that key position. Ondre Pipkins, a 325-pound tackle, is the highest rated defensive lineman in the Wolverines' class right now.
Offensive line:
While the Wolverines should be fine on the O-line in 2012, even without Rimington Trophy winner
David Molk
and starting right tackle
Mark Huyge
, they signed only four offensive linemen total in the past two classes. Since linemen are often slow to develop, they need to refill the cupboard now. Michigan has four offensive linemen committed in this class, including standout Kyle Kalis.

Michigan State
Offensive tackles:
Thanks in large part to injuries, Michigan State had to move a defensive lineman (
Dan France
) to tackle last summer and plug in a junior-college transfer (
Fou Fonoti
) into the other tackle spot. That the Spartans won the Legends Division title despite that is kind of amazing in retrospect. France will be a junior in 2012 and Fonoti will be in his final year of eligibility. They need more depth at the position, and they've got commitments from two offensive tackles so far in this class.
Wide receivers:
Two of the most successful receivers in school history are gone as
Keshawn Martin
and
B.J. Cunningham
finished off wildly productive careers. Tennessee transfer
DeAnthony Arnett
is seeking a waiver to play immediately and will help the future even if he has to sit out a year. Michigan State is looking to sign three other receivers in this class to fill out the future two-deep.
Running back:
Edwin Baker
's early entry to the NFL draft came as a surprise. Michigan State is still in good shape at tailback for 2012 with
Le'Veon Bell
and
Larry Caper
. But after not signing a running back in last year's class, Mark Dantonio could use at least one more option in the backfield.

Minnesota
Defensive backs:
It was no secret that Minnesota's pass defense was brutal at times in 2011, and top tackler
Kim Royston
leaves a hole at safety with his graduation. Getting Troy Stoudermire back for an extra year helps, but Jerry Kill needs to upgrade the talent in the secondary. That's why he has signed three junior-college defensive backs and secured commitments from four high school safeties so far.
Defensive tackle:
One of the reasons the pass defense was so bad was a lack of pass rush applied by the front four. The Gophers had only 19 sacks this season, a year after registering just nine. Making matters worse, both starting tackles were seniors this season. Kill signed a junior-college defensive tackle and has two prep tackles committed. He needs to find guys who can find their way to the quarterback.
Overall talent and depth:
Kill has said there are gaps in the Gophers' classes, and depth issues could plague the team during his rebuilding efforts. Including six junior-college players signed to help right away, Minnesota has a class of 28 right now. Minnesota simply needs more bodies everywhere.

Nebraska
Linebacker:
Lavonte David
leaves some rather large cleats to fill. Not only was he Nebraska's leading tackler the past two seasons, he was the only linebacker who played at a consistently high level. The Huskers' starters at the other two linebacker spots will be seniors this year, and depth is thin behind them. So it's little wonder why Bo Pelini has used four spots so far in what is expected to be a small class to fill that position, led by four-star prospect Michael Rose.
Tight end:
Three of the top four options at tight ends will be seniors in 2012, leaving very little behind them. Sam Cotton, son of offensive line coach Barney Cotton and younger brother of current Huskers tight end Ben, is on his way to help.
Quarterback:
Taylor Martinez
is entrenched as the starter going into his junior year, and Nebraska never had to worry about playing
Brion Carnes
in a big spot this year after Bubba Starling opted for baseball. Still, it's dangerous to not have depth at quarterback, and so the Huskers need to add at least one signal caller in this class.

Northwestern
Defensive backs:
The Wildcats were burned repeatedly in the passing game in 2011, and their best defensive back (safety
Brian Peters
) won't be around next season. Head coach Pat Fitzgerald has commitments from three safeties in this class already.
Defensive playmakers:
Northwestern was shockingly short on guys who could blow up another team's offensive play in 2011, so Fitzgerald's main mission had to be finding more guys who played like he did in college. That aim got a big boost when stud defensive end Ifeadi Odenigbo committed to play in Evanston. That's a good start.
Wide receivers:
Highly productive star receiver
Jeremy Ebert
is gone, along with starter
Charles Brown
.
Venric Mark
and
Christian Jones
have a lot of potential as the next big passing targets, but Northwestern's spread offense feeds off of speed and depth at the receiver position. Four receivers have given the Wildcats their pledge in this class.
October, 31, 2011
10/31/11
1:00
PM ET
What a crazy weekend in the Big Ten. It's worth a second look.
Team of the week:
Nebraska. The Cornhuskers made an emphatic statement with their 24-3 pasting of Michigan State in Lincoln. They now control their own destiny in the Legends Division race and are the league's highest-ranked team. If they can keep playing defense like they did Saturday, look out. Honorable mention to Ohio State and Minnesota.
[+] Enlarge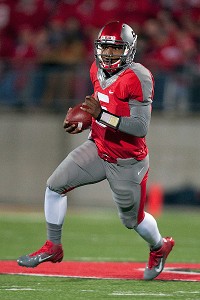 Greg Bartram/US PresswireBraxton Miller and Ohio State pulled out a thrilling win against Wisconsin.
Game of the week:
Ohio State 33, Wisconsin 29. For the second straight week, Wisconsin was involved in a thriller. For the second straight week, the Badgers didn't like the outcome. The Buckeyes, who had only three points at halftime, rallied for 30 points in the final two quarters, including the game-winning pass with 20 seconds to go. That overshadowed, for the second straight week, what had been an excellent fourth-quarter comeback by Wisconsin, which trailed 26-14 with 4:39 left but took a 29-26 lead a little more than three minutes later.
For the second straight week, Bret Bielema committed the sin that gets you beat in video-game football: scoring with too much time left. On Saturday, the Badgers left 1:18 on the clock for Ohio State, a week after giving Michigan State 1:26 to get in position for the Hail Mary. Wisconsin needs to work on taking a knee in the red zone late in games. Kidding, of course, but if Badgers fans can't laugh, they'll probably cry.
Biggest play:
Braxton Miller
's 40-yard touchdown pass to
Devin Smith
for the win against Wisconsin, obviously. The true freshman somehow had the presence of mind in that situation to keep his eyes downfield while scrambling and to let the heave go just before he crossed the line of scrimmage. The Badgers' coverage broke down to leave Smith ridiculously open in the end zone, but the defense had to react to Miller's running ability. Amazingly, in the previous win against Illinois, Miller had completed only one pass for 17 yards.
Best call:
Jerry Kill's decision to go for an onside kick with 8:22 left in the game against Iowa. Minnesota had just scored to cut the lead to 21-16, and Kill thought his defense needed a break. What made the call even gutsier was that walk-on kicker Jordan Wettstein was in the game in place of injured regular kicker Chris Hawthorne. But the Gophers are well-schooled on this particular play."I actually wrote a paper about how we teach it," Kill said after the game. "We've been doing that particular onside kick for 13 years. We've practiced it every day since I got here."
The Gophers gave no indication before the kick that they were going for the onside try, and Wettstein executed it perfectly. Kim Royston recovered and Minnesota went in for the winning score to notch its first Big Ten victory. Iowa was not prepared for the trickery, even though the Gophers had nothing to lose. Hawkeyes coach Kirk Ferentz called Kill's gamble "not totally surprising," yet he didn't think it was worth putting his hands team in the game at that time. In large part because of that play, the Gophers had their hands on Floyd of Rosedale after the game.
Big Man on Campus (Offense):
Northwestern tight end
Drake Dunsmore
. He set a school record with four touchdown catches
against Indiana, finishing with a total of seven catches and 112 yards. Plus, Drake Dunsmore is a fun name to say. Special shoutouts to
Rex Burkhead
and Braxton Miller for their performances as well.
Big Man on Campus (Defense):
Penn State linebacker Gerald Hodges. He earns his second straight player of the week award after recording 19 tackles, a sack, two pass breakups and a forced fumble against Illinois. Linebacker whew. It was a big week for big tackle numbers in the Big Ten. Wisconsin's Mike Taylor had 22 against Ohio State, and Michigan State's William Gholston recorded 15 stops while returning from suspension.
Big Man on Campus (Special teams):
Minnesota's Jordan Wettstein. We already talked about the onside kick, and Wettstein also made a field goal in his first career attempt.
Worst hangover:
Iowa fans aren't feeling that great right now, a fact made obvious as I listened to the Hawkeyes' postgame call-in show on the drive from Lincoln to Omaha on Saturday evening. (And the fact that the first caller was"Randy on a tractor" made it priceless). But Wisconsin gets the nod for the starring role in "The Hangover: Part II."
It's not just that the Badgers lost on a long pass in the final minute for the second straight week, though that certainly is a punch in the groin. And it's not just the little what-ifs that accompany each loss -- what if, for instance, Dan France doesn't recover that fumble for Michigan State, or Wisconsin doesn't let two punts get blocked or Miller takes one more step before releasing his throw ...
No the real downer in this situation is how well the season would have been set up for a Wisconsin title run. Clemson and Kansas State became the latest unbeatens to go down over the weekend, and the Alabama-LSU duel will reduce the number further. Oklahoma State still must play Oklahoma, while Stanford has to get past Oregon. It's quite possible that the Badgers would have been in prime position for spot in the BCS championship game had the past two games lasted only 59 minutes in regulation.
I know Halloween is a big event in Madison, but Badger backers must be feeling a little cursed this Oct. 31.
Strangest moment:
Let's just go ahead and say the entire Illinois-Penn State game was just plain weird.
First, there was the freakish snow storm
on Oct. 29
that turned Beaver Stadium into a whiteout without any help from the fans.
Then we had a game that was 0-0 until midway through the third quarter.
Penn State trailed 7-3 with three minutes left and had done nothing in the passing game. Matt McGloin was 5-for-22 for 40 yards at that point. Yet McGloin then completed four passes for 58 yards to lead the team on an 80-yard touchdown drive. Receiver
Derek Moye
, who wasn't supposed to play because of a broken foot, came into the game for the first time on the final drive. He made a catch and drew a pass interference penalty on fourth down.
Illinois tried to answer, but Derek Dimke's field goal attempt as time expired hit the right upright and bounced away, while students ran through the snow-packed stands and threw snowballs. Dimke hadn't missed a field goal all year.
It was all a little crazy, even to the man who earned his Division I record-breaking 409th win.
"To all the fans out there, thank you for sitting through that today,"Joe Paterno said."You've got to be nuts."
September, 20, 2011
9/20/11
2:30
PM ET
Coach Mark Dantonio's message to Michigan State's offensive line hasn't changed.
"Pound green pound," Dantonio said Tuesday.
Dantonio isn't going to deviate from his desire to run the football despite a very rough performance (29 yards on 23 attempts) in Saturday's loss to Notre Dame. But the Spartans' offensive front will need to get it done with some new faces as the injury bug has arrived.
A day after Michigan State announced starting right tackle
Skyler Burkland will miss the rest of the season
following left ankle surgery, Dantonio said starting center
Blake Treadwell and backup tackle Jared McGaha will be sidelined
with knee sprains.
Michigan State will get Travis Jackson back this week, and Jackson is expected to start Saturday against Central Michigan. Micajah Reynolds, who has moved from defensive line back to offense to help with the depth issues, is listed as the No. 2 left tackle behind Dan France.
Junior college transfer Fou Fonoti will start in Burkland's spot against the Chippewas.
But depth is a significant question for a group replacing three starters from 2010. While sparking the run game is paramount and Michigan State allowed only two sacks against Notre Dame, the line also must protect senior quarterback
Kirk Cousins
.
"We've got to get the right players in the right positions," Dantonio said. "It's such a fundamental game, but it's also tied to schematics. It's not just brute strength there."
It's essential the line builds some confidence and chemistry against Central Michigan before visiting Ohio State.
June, 24, 2011
6/24/11
1:30
PM ET
The preseason position rankings march on with the offensive lines. Team rankings are below, and we'll take a look at the individual rankings for tackles, centers and guards early next week.
Looking at the league landscape, offensive line could be a major strength throughout the Big Ten this season. Although standout players such as Outland Trophy winner Gabe Carimi and All-American Stefen Wisniewski depart, I see improved depth for several teams as well as quite a few multiyear starters.
Honestly, there
aren't any bad lines in the league
; just some with more question marks than others.
Let's get to the rundown.
1. Wisconsin:
Talk about an ability to reload. The Badgers lose All-Americans Carimi and John Moffitt, plus the versatile Bill Nagy, and they still shouldn't take any steps backward. Injuries have allowed Wisconsin to build depth the past few seasons, and four of the five spots look extremely solid. Tackle Ricky Wagner, center Peter Konz and guard Kevin Zeitler lead a group that will block for the league's top running back tandem. Wisconsin's track record up front is impossible to ignore, and this year's line should continue the trend.
[+] Enlarge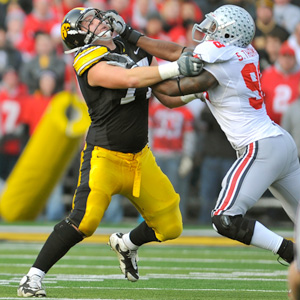 David Purdy/Getty ImagesWill arm length be an issue for former Iowa left tackle Riley Reiff in the NFL?
2. Iowa:
The line is undoubtedly Iowa's biggest strength and should be one of the nation's elite units in 2011. Iowa returns starting experience at all five positions and should have decent depth. Left tackle Riley Reiff, projected as a first-round pick in the 2012 NFL draft, will enter the fall as a leading candidate for the Outland Trophy. James Ferentz is one of the league's top centers, and Markus Zusevics is poised for a big year at right tackle.
3. Ohio State:
Depth is the only reason the Buckeyes' line isn't higher in the rankings. Ohio State boasts arguably the nation's top center in Mike Brewster, and first-team All-Big Ten tackle Mike Adams will be back after a five-game suspension to begin the season. The Buckeyes need big things from tackle Andrew Norwell during Adams' absence, and tackle J.B. Shugarts must play like a veteran. After struggling to put two sets of capable linemen on the field this spring, Ohio State has to find more depth in preseason camp.
4. Michigan:
This is another group that could climb up the rankings by season's end. Center David Molk is a terrific piece to build around, and if gifted players like Taylor Lewan and Patrick Omameh continue to develop, Michigan's line will be a major strength. The concerns are Molk's ability to stay healthy and an adjustment to a new offensive system under Al Borges. The line did an excellent job of protecting
Denard Robinson
in 2010, allowing a league-low 11 sacks.
5. Illinois:
The Illini flat-out punished opponents at the line of scrimmage on several occasions last season, and I really like the potential for the front five in 2011. The biggest reason? Left tackle Jeff Allen, one of the Big Ten's most experienced linemen. Allen and center Graham Pocic will contend for All-Big Ten honors, and if Corey Lewis gets healthy, this should be one of the league's top offensive lines.
6. Purdue:
Expectations are high for a line that coach Danny Hope thinks will be Purdue's strength in 2011. Left tackle Dennis Kelly is an All-Big Ten candidate with NFL potential who has started the past 24 games. Center Peters Drey and tackle Nick Mondek help anchor the group. The big question is whether mammoth guard Ken Plue, a multiyear starter, can get out of Hope's doghouse to help lead the way. Plue will be pushed by James Shepherd this summer. The combination of experience up front and the return of running back
Ralph Bolden
bode well for the Boilers.
7. Northwestern:
The Wildcats boast the nation's second most experienced line (137 combined career starts), but experience must start translating to production. This group still must prove it can spark a decent rushing attack after several years of decline. Left tackle Al Netter is an All-Big Ten candidate and center Ben Burkett enters his fourth season as the starter. If Northwestern gets more consistent play from right tackle Patrick Ward and others, it should be a solid group.
8. Penn State:
This is a big year for Penn State's O-line, which has heard the criticism and has vowed to erase it in 2011. The tackle spots look solid with Quinn Barham and Chima Okoli, but Penn State needs to shore up the interior after losing Wisniewski, a mainstay for the past four seasons. If veterans like Johnnie Troutman and DeOn'tae Pannell step up and turn in consistent performances, the line should hold up nicely.
9. Nebraska:
The Huskers ranked ninth nationally in rushing last season but have quite a few question marks up front. Center Mike Caputo is a building block and sophomore tackle Jeremiah Sirles is a returning starter, but Nebraska has little proven experience. The Huskers will benefit from a healthy Marcel Jones at right tackle, and Yoshi Hardwick adds depth. This could turn out to be a decent group, but the experience issue combined with a scheme change creates some uncertainty.
10. Michigan State:
Not to put too much pressure on the line, but arguably no position group will have more influence on Michigan State's season. The Spartans must replace both starting tackles and their starting center, never an easy task. All-Big Ten guard Joel Foreman returns to lead the group, but Michigan State needs immediate contributions from unproven players. The coaches feel they've upgraded the athleticism up front by moving players like Dan France and Blake Treadwell over from the defensive side.
11. Minnesota:
The Gophers boast a mix of veterans and youth, and it'll be interesting to see whether the group comes together this fall. Hopes are high for young tackles Eric Olson and Jimmy Gjere, but they'll need help from seniors like Ryan Wynn and Chris Bunders on the interior. Minnesota needs to regain its swagger as an elite rushing offense, and it starts up front this fall. This is a group that certainly has a chance to make strides.
12. Indiana:
I like some of Indiana's individual pieces, but as a group, the Hoosiers must show they can create space for the running backs. Indiana switched to the pistol offense in hopes of sparking the ground game but produced barely 100 rushing yards a game in 2010 (112th nationally). The line allowed only 12 sacks and must continue to protect its unproven quarterbacks this fall, but getting the run game going is paramount. Returning starters Will Matte, Justin Pagan and Andrew McDonald give Indiana hope.