January, 12, 2012
1/12/12
11:00
AM ET
Let's take a look back at some of the top moments from the non-AQs in 2011, both good and bad.
[+] Enlarge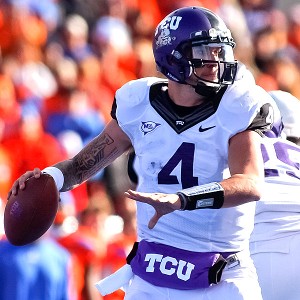 Otto Kitsinger III/Getty ImagesQB Casey Pachall and TCU stopped Boise State's 65-game regular-season home win streak en route to a third straight Mountain West title.
1. A missed field goal strikes again.
Everybody knew the Boise State-TCU game would have major implications in the national picture. No. 5 Boise State came in undefeated, with a 65-game regular-season home winning streak and veteran
Kellen Moore
leading the way. But the Horned Frogs are never an easy out, as Boise State has learned through the years.
Casey Pachall
rallied his team from a fourth-quarter deficit with 1:05 to go when he threw a 25-yard touchdown pass to
Brandon Carter
. Rather than go for the extra point to tie the game at 35, Gary Patterson went for 2. It was a bold move, but it was one he felt was necessary if he wanted to win in regulation. Pachall converted with a pass to
Josh Boyce
and TCU went up 36-35. Moore wasn't done. He guided the Broncos into position for the game-winning field goal. But for the second straight year, they missed. This time, it was Dan Goodale's 39-yard kick sailing wide right, denying Boise State a shot at a BCS game. TCU left the Mountain West with its third straight conference title.
2. Houston collapses.
All Houston had to do to secure its first BCS berth was beat Southern Miss in the Conference USA title game. The Cougars were the favorite, having gone undefeated in the regular season with
Case Keenum
behind center. Southern Miss had lost to UAB. So yeah, most everybody expected the Cougars to romp. Instead, the Golden Eagles pulled one of the biggest upsets of the season, shutting down Keenum and winning 49-28 in a game they dominated from start to finish. Keenum threw two interceptions and was harassed all day long. The end result: Houston ended up in the TicketCity Bowl, a far cry from one of the major BCS games. Southern Miss won its first C-USA title game.
3. Records broken.
The two best non-AQ players this year ended up breaking two of the most meaningful stats for quarterbacks. Moore ended his career as the NCAA all-time wins leader with 50, passing Colt McCoy of Texas; Keenum ended his career with several NCAA marks -- 19,217 passing yards; 20,114 yards of total offense; 155 passing touchdowns; and 1,546 completions. They both did all they could to lead their teams with maturity and class, and were great representatives for their respective programs.
4. No BCS.
For the first time since the BCS expanded to five games, there were no non-AQ teams represented. Much was made about a one-loss No. 7 Boise State team getting passed over for an at-large selection in favor of two teams ranked lower in the BCS standings (Michigan and Virginia Tech). Though four non-AQs finished the season ranked in the AP poll (Boise State, TCU, Houston, Southern Miss), this season will be remembered as one in which there were no undefeated non-AQs for the first time since 2005.
5. Expansion.
One of the biggest storylines to eclipse the entire season was expansion, and its impact on the non-AQs. The Mountain West and Conference USA announced they were forming an alliance in the hopes of gaining an automatic bid, and bolstering itself in the event they lost teams. Well, the inevitable happened and they both lost teams. Boise State and San Diego State are leaving the MWC for the Big East, along with UCF, Houston and SMU of C-USA. With TCU going to the Big 12, you can say the non-AQs have been stripped of nearly every single one of their most consistently good teams. There is no word on the future of the alliance between the MWC and C-USA.
[+] Enlarge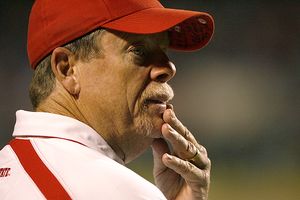 AP Photo/Gary KazanjianPat Hill won 112 games and made 11 bowl appearances in 15 seasons at Fresno State.
6. End of an era.
Pat Hill had become an institution at Fresno, guiding the Bulldogs to some of their most important victories in the past 15 years while putting this program on the national map. But this team has slid in recent years and hit rock bottom in 2011 -- going 4-9, tying the mark for most losses in school history. The administration decided it was time for Hill to go and
fired him
after winning 112 games and going to 11 bowl games in his career there.
7. End of an era, Part II.
Many wondered how good TCU would be this season with Andy Dalton headed to the NFL. After a few early-season struggles, the Horned Frogs proved they would be just fine. TCU ended its Mountain West reign with its third straight conference title; 11 victories; and yet another top 15 ranking. In fact, TCU is one of just four schools (Alabama, Boise State and Oregon) to finish in the top 15 of both major polls over the past four seasons. On top of that, TCU and Boise State are the only schools to win at least 11 games each of the past four years.
8. Navy streak ends.
For the past eight years, we have come to expect Navy in a bowl game. But it was not meant to be this season. The Midshipmen lost one heartbreaking game after another -- five games by three points or fewer. The last one of those was a 27-24 setback to San Jose State in the second-to-last game of the season. Navy led going into the fourth quarter, but could not hold on. A victory in that game would have ensured a bowl appearance, because Navy finished the season with its 10th straight win over Army.
9. Got any D?
The wildest game in college football happened in the MAC this year, between Northern Illinois and Toledo. Now this game is what MAC-tion is all about. The Huskies outlasted the Rockets 63-60 in a game that featured eight lead changes, 1,121 combined yards of offense and a MAC-record 17 touchdowns.
Chandler Harnish
won the game when he threw a 4-yard touchdown pass to
Perez Ashford
with 19 seconds left. The victory gave Northern Illinois the MAC West title, and allowed the Huskies to make it to the conference title game, where they won their first title since 1983. They also ended up tying the school record with 11 victories.
10. Turn it around.
This season, the Sun Belt literally turned itself upside down. Louisiana-Lafayette, Arkansas State and Western Kentucky went a combined 9-27 in 2010. This season, they went 26-12 and each finished with a winning record. Arkansas State won the league and finished 10-3; ULL went 9-4. Both teams made bowl games. Western Kentucky, which went winless in 2009, finished 7-5 but was left out of a bowl.
December, 6, 2011
12/06/11
8:32
PM ET
By
Gregg Found
| ESPN.com
There were 770 games played in the 2011 college football season. We give you the 10 plays that shaped the BCS Championship race.

1. Tyrann Mathieu returns fumble for TD
LSU 40, Oregon 27
Significance: These top-five teams were locked in a 6-3 game. The Tigers went three-and-out and punted, but
Kenjon Barner
fumbled the return at the three and LSU's playmaker snapped it up and went into the end zone for a momentum-shifting score.
2. Kirk Cousins completes 44-yard Hail Mary to Keith Nichol
Michigan State 37, Wisconsin 31
Significance: Wisconsin had its eyes on a perfect regular season and a spot in the title game. But after a last-second heave, ricochet, catch and then video review, that dream was dashed.

3. Oklahoma misses 28-yard field goal vs Texas Tech
Texas Tech 41, Oklahoma 38
Significance: The Sooners were preseason No. 1 and still undefeated, but trailed 31-7 at home. They mounted a comeback, but after Michael Hunnicutt's missed FG from 28 yards out there wasn't enough time left to overcome a 10-point deficit.
4. Tajh Boyd gets intercepted in the end zone
Georgia Tech 31, Clemson 17
Significance: Down 14 points, Clemson had just intercepted Georgia Tech, getting the ball at Georgia Tech's nine-yard line. But on the first play, Boyd was picked by Jemea Thomas, ending the Tigers' comeback and dashing their national-title hopes.

5. LSU's Eric Reid intercepts Alabama at the 1-yard line
LSU 9, Alabama 6 (OT)
Significance: In a 6-6 game in the fourth quarter, LSU's Eric Reid wrestled the ball away from Alabama TE
Michael Williams
at the one-yard line for an interception, preventing what could have been the winning score. LSU would win it in overtime.
6. Boseko Lokombo picks off Andrew Luck and returns it for TD
Oregon 53, Stanford 30
Significance: This was Stanford's last major obstacle to a perfect regular season. Down 16 points, Luck had Stanford driving. But the pick ended those hopes, putting the game out of reach and handing the Cardinal its only loss of the season.

7. Boise State misses 39-yard field goal as time expires
TCU 36, Boise State 35
Significance: Playing on the home turf where they had been dominant for so long, the Broncos went down a point after TCU made the gutsy call to go for two. But Boise drove down the field before Dan Goodale sailed his kick wide right as time expired and the Broncos were no longer unbeaten.
8. Brandon Weeden's pass intercepted in first play of second overtime
Iowa State 37, Oklahoma State 31 (2 OT)
Significance: The Cyclones came back from a 24-7 deficit to tie the game at 24 heading into overtime. But on the first play of the second overtime, Brandon Weeden was intercepted. Three plays later Iowa State scored to end Oklahoma State's dream.

9. Oregon misses 37-yard field goal as time expires
USC 38, Oregon 35
Significance: Even after their season-opening loss, the Ducks still had a shot at the BCS Championship. But USC, ineligible for postseason play, gave the Ducks a battle at Autzen Stadium. Down three, Oregon had the chance to send it into overtime. But Alejandro Maldonado missed a 37-yarder.
10. Robert Griffin III completes 34-yard TD pass with :08 left
Baylor 45, Oklahoma 38
Significance: Just like Oregon, Oklahoma still had a chance to sneak back into the title picture despite a loss. But Baylor's Heisman candidate Griffin shocked the Sooners with a game-winning touchdown pass with eight seconds left.
To see images of these plays,
click here
.
August, 22, 2011
8/22/11
10:36
AM ET
Boise State, TCU and BYU all had scrimmages this past weekend. Here are a few notes:
Boise State:
The backups had their time to shine in the Boise State scrimmage on Saturday. Running back
Malcolm Johnson
, who recently returned to the team, had 10 carries for 41 yards and scored on a 9-yard run.
Kellen Moore
was 7-of-12 for 116 yards and threw two touchdowns in red zone drills. The kicking competition appears to be a two-man race between Dan Goodale and Michael Frisina. Also, Chadd Cripe of the Idaho Statesman reports the Broncos are going to use a
six-man rotation at receiver
:
Tyler Shoemaker
,
Chris Potter
,
Mitch Burroughs
,
Geraldo Boldewijn
,
Kirby Moore
and
Matt Miller
.
BYU:
The first-team offense played just one series and the first-team defense did not play at all in BYU's final scrimmage of preseason camp. There are just
two open starting spots
up for grabs: left guard and cornerback. Freshman Ryker Mathews and Houston Reynolds are vying for the guard spot; Preston Hadley and Joe Sampson are competing for one starting cornerback job, while Corby Eason, Robbie Buckner and Jordan Johnson are competing for the other spot. Coach Bronco Mendenhall also said the backup quarterback job is too close to call between
Riley Nelson
and
James Lark
.
TCU:
Coach Gary Patterson might be dipping into his motivational tricks bag. After the Horned Frogs scrimmaged Saturday, he said it was
not a sure thing
that
Casey Pachall
would start against Baylor in Week 1. Pachall missed a few days of practice with a sore shoulder, and Patterson says that impacted his player.
Matt Brown
had a better day in the scrimmage and the two are "neck and neck."
"The time being out hurt Casey," Patterson said. "Matt got a lot better. That's what you do. You don't worry about the guy that's not here. You make the next guys better; that's what big programs are about."
Also in the scrimmage, running back
Ed Wesley
hurt his arm, but Patterson did not know the extent of the injury.
April, 15, 2011
4/15/11
1:30
PM ET
Boise State has plenty of returning starters, but one of the biggest holes it has to fill is kicker. You may have thought that after Kyle Brotzman missed two crucial field goals against Nevada last year, costing the Broncos their undefeated season and a chance at a BCS game.

But Brotzman was a veteran four-year starter, a guy who left school as the highest scoring kicker in FBS history. He may be remembered for those misses. He may not have always been automatic, but he did anchor a position that Chris Petersen did not have to worry about over the course of the past several seasons.

Not so going into 2011. When asked about his kicker situation last week, Petersen joked that his team would always go for it on fourth down. Nobody has emerged as the bona fide starter so far during spring drills in a competition between Dan Goodale, Jimmy Pavel, Michael Frisina and Jacob Hauter. All four are walk-ons and should get opportunities in the spring game Saturday. Scholarship signee Jake Van Ginkel could end up coming in and taking the job when he arrives in time for fall practice.

Of the four who are in school now, Goodale has been the most improved. Like Brotzman, he is a walk-on from the state of Idaho.

Here is what Petersen said of Goodale: "If he can take another step -- and he needs to take another step -- between now and when we play in the fall, he can do some things for us."