March, 12, 2013
Mar 12
11:00
AM ET
UCLA's Dan Guerrero is the Pac-12's top paid athletic director,
according to recently released figures from USA Today
, while Colorado's Mike Bohn ranked last in the conference among the public schools that are required to disclose salaries.
The salaries for Stanford's Bernard Muir or USC's Pat Haden are unavailable because they work for private schools.
Vanderbilt's David Williams tops the list at $3.24 million, but he's a special case. The "true" leader is Louisville's Tom Jurich at $1.412 million.
Nine athletic directors make more than $1 million a year, though none in the Pac-12. It's also notable that the cost of living is much higher in Pac-12 cities compared to cities in just about every other conference.
Guerrero's total pay of $715,211 ranks 18th in the nation.
February, 23, 2012
2/23/12
11:00
AM ET
Oregon coach Chip Kelly was baffled in a phone interview before the Rose Bowl. How the heck could little-old-him be important to a reporter?
"The big story," he said conspiratorially,"is all these new coaches."
Well, it's the big story now as the Pac-12 turns its attention away from the 2011 season and toward 2012 spring practices. And, of course, Kelly is part of a reason there are four new coaches in the conference. Mike Stoops, Dennis Erickson, Rick Neuheisel and Paul Wulff -- fired at Arizona, Arizona State, UCLA and Washington State, respectively -- never beat Kelly and, in fact, came within double digits of his Ducks only once (Arizona, with a 44-41 loss in 2009).
But the story isn't just four new coaches. It's four new coaches whom folks have heard of, each of whom is getting a big-boy salary that would fit in among the SEC or Big Ten. Big salaries are the new normal in the Pac-12 after the conference signed a $3 billion TV deal with ESPN and Fox.
[+] Enlarge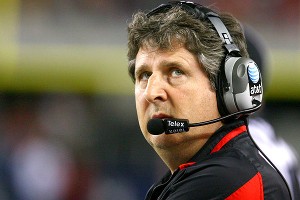 Karl Anderson/Icon SMIWashington State went from paying Paul Wulff a $600,000 salary to paying new coach Mike Leach $2,250,000.
So out goes Stoops and his $1,456,000 salary, and in comes Rich Rodriguez and his $1,910,000 paycheck. Out goes Erickson and his $1,503,000 salary, and in comes Todd Graham and his $2 million tab. Out goes Neuheisel and his $1,285,000 salary, and in comes Jim Mora and his $2.4 million annual take. Out goes Wulff and his $600,000 salary, and in comes Mike Leach and his $2,250,000 price tag.
The chief idea is obvious: Pac-12 schools are paying for an upgrade in coaching talent, and there are high expectations for getting their money's worth. And, by the way, there's an added bonus for each hire: Each new coach has a chip on his shoulder and something to prove.
In 2010, Rodriguez was ingloriously dispatched at Michigan after three tumultuous and unsuccessful years. Athletic director Greg Byrne is betting that Rodriguez is far closer to the highly successful coach he was at West Virginia than the one who got run out of Ann Arbor, and Rodriguez surely wants that impression to be his legacy. It helps that he got his man, Jeff Casteel, to run the Wildcats' defense, which he failed to do at Michigan.

Graham took a lot of heat from a pandering, sanctimonious media and a whiny Pittsburgh fan base for how he left the Panthers. "He didn't even say goodbye," they collectively sobbed. "Waaah." Of course, Graham does have an unfortunate habit of describing every job as his "dream job." All that stuff is mostly hogwash, though. What matters is winning, and if Graham does that, the media will all come down en masse to Tempe pretending they didn't trash Graham's character for taking a better job, in a better conference, in a better place to live while making his family happy in the process.

Mora was fired in 2009 after only one season with the Seattle Seahawks, and he's bided his time looking for another head-coaching job. Seeing that he was two or three names down UCLA athletic director Dan Guerrero's coaching list -- Chris Petersen! Kevin Sumlin! -- some Bruins fans reacted with disappointed smirks to Mora's hiring. Then Mora hired an outstanding staff. Then he reeled in an outstanding recruiting class. Some of those frowns are turning upside down.

Leach was fired at Texas Tech in 2009. He's one of the best offensive minds in the nation, and the almost universal reaction is athletic director Bill Moos hit a home run with this big-name hire. The Pirate Captain looks like the perfect match for Pullman and the Cougs, and he'll be plenty motivated to prove his critics wrong and erase the bad ending in Lubbock.
It's fair to say these four hirings have generated positive momentum for these programs, though, of course, to varying degrees. There's a hope among the fan bases that these four can create quick turnarounds.
And that also leads into another major coaching story entering the spring: The Pac-12's most senior coaches, California's Jeff Tedford and Oregon State's Mike Riley, sit on the hottest seats.
Tedford enters his 11th season in Berkeley having followed up his first losing campaign -- 5-7 in 2010 -- with a middling 7-6 finish in 2011. Riley, the man deserving the most credit for making one of the worst programs in college football respectable, enters his 12th year in Corvallis -- two tenures wrapped around an ill-fated stint with the San Diego Chargers -- burdened by consecutive losing seasons, including a 3-9 finish that felt so 1987.
Spring practices for Tedford and Riley will be about setting up turnaround season that give their frustrated fan bases hope -- and keep their athletic directors from issuing dreaded votes of confidence while checking their coaching Rolodexes.
Meanwhile, Kelly and USC's Lane Kiffin, still relative coaching newbies in the conference, enter spring likely trying to tone down the positive hype. Both will begin the 2012 season ranked in the top 10. USC could be preseason No. 1. Both are overwhelming favorites in the North and South Divisions. And their meeting on Nov. 3 in L.A. could have national title implications.
But that's looking ahead.
The big story this spring in the Pac-12 is newness and rebirth. One-third of the conference's teams hope that newness at the top of their programs will create a rebirth in the Pac-12 standings.
December, 13, 2011
12/13/11
1:30
PM ET
We are about to type that Oregon State coach Mike Riley is on the hot seat. It feels strange, but it is true. And that tells you a lot about being a college coach in an automatic qualifying conference.
Life is good, until it isn't. You make millions, but the put-up or get-out window has been reduced from five to three-to-four years. You win, win, win, win, lose, lose, and you're on the hot seat. Way it goes.
[+] Enlarge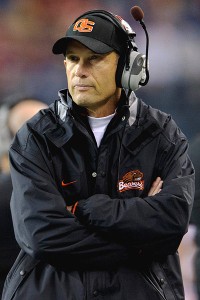 Steven Bisig/US PresswireAfter two straight lowly seasons, Oregon State coach Mike Riley might call offensive plays in 2012.
So where do the Pac-12 coaches stand as we head into the bowl season?
Glad you asked (And, obviously, winning or losing a bowl game would affect these rankings).
We're going from most secure to least, and let's start with the three new guys (Arizona State isn't in this because it doesn't have a coach yet).
New hires
1.
Mike Leach, Washington State
: There seem to be exactly zero people who think Leach is a bad hire. The reaction in Pullman could be described as euphoric, but that sells it short. Still, there is pressure that comes with euphoria -- see that old "too high or too low" syndrome. Folks expect him to work miracles. To me, 6-6 or 7-5 would be a successful 2012 season. Get the feeling some Cougs expect to immediately take down Oregon.
2.
Rich Rodriguez, Arizona
: Folks in Tucson are reasonably juiced. Rich Rod is a heck of an offensive coach, and he's highly motivated to make sure folks see his ill-fated tenure at Michigan as an aberration. A lot of things are in place for Rodriguez to get the Wildcats back to a bowl game in year one. But, again, high expectations mean a 7-5 record -- a three-game turnaround -- might be met with a, "Meh. Stoops did that."
3.
Jim Mora, UCLA
: Mora's hiring hasn't been celebrated. In fact, it's been met with negative reaction among Bruins fans as well as the national media. Much of that reflects a lack of confidence in athletic director Dan Guerrero, but the negativity certainly won't help get the football program back on its feet. For Mora, he needs to understand the environment, remain pleasant and work his butt off to change it.
Returning coaches
1. Chip Kelly, Oregon
: Kelly has won three consecutive conference titles and played for a national title. If he wins the Rose Bowl against Wisconsin, he'll officially become the King of Eugene. The NCAA and Willie Lyles? We shall see, but we leave you with our word of the day: Teflon.
2.
Kyle Whittingham, Utah
: Seven years, seven winning records. His Utes nearly won that Pac-12 South Division without their starting QB. Sure, there jury is still out on whether the Utes can regularly win nine or 10 games in the Pac-12. But this jury looks favorably on it happening as long as Whittingham is around.
3. David Shaw, Stanford
: You can write off an 11-1 year one as being brought to him by Lucky No. 12, but there was plenty of pressure on Shaw to win this year and he delivered. It seems almost certain the program will need to regroup next fall, and the measure will become truer thereafter. But Shaw is a Stanford man who is well-liked, and that will buy him more time than someone who is neither.
4.
Lane Kiffin, USC
: A 10-2 finish couldn't have come at a better time. It proved Kiffin can coach, and it seems there is a solid amount of sober realism around the program about what losing 30 scholarships over the next three seasons is going to mean. There will be some patience -- not a lot but some -- as sanctions tighten the screws. Further, Kiffin can help himself by continuing to be his new, mature and often surprisingly gracious self.
5. Steve Sarkisian, Washington
: The Huskies took a step forward in 2011, as they did Sarkisian's first two seasons. Not a huge step but a notable one. Still, Huskies fans are eager to get back into the top-25 and the Pac-12 race. And they don't like seeing Oregon on top. Nine or 10 wins in 2012 will be the best way to keep the natives from showing any signs of restlessness.
6. Jeff Tedford, California
: Tedford is actually in far better position now than he was on Oct. 29 after a bad loss to UCLA. And if the Bears beat Texas in the Bridgepoint Education Holiday Bowl, there will be considerable offseason momentum. Cal looks like a potential factor in the 2012 North Division race, and playing in a renovated Memorial Stadium also will juice the fans. That said: A losing season -- or perhaps even a 6-6 one -- next fall would make his seat toasty.
7. Jon Embree, Colorado
: A 3-10 finish doesn't make anyone happy, but it's best to post a 3-10 finish for your first season as a head coach. The reason Embree isn't on the bottom here is because it's unlikely, barring a complete collapse, that a bad 2012 season will get him fired. For one, the Buffs look to be mired in a rebuilding mode. It's possible next year's team will be worse than this year's, seeing they lose many of their best players.
8. Mike Riley, Oregon State
: After the 2009 season, Riley was at or at least near the top of this list. But consecutive losing seasons, including a 3-9 faceplant this fall, have some Beavers fans believing they should and can do better. Oregon State has some young talent, and a return to a bowl game seems like a perfectly reasonable expectation in 2012. Another losing season, however, could put Riley's once-secure job status in jeopardy.
December, 5, 2011
12/05/11
11:42
AM ET
While the bowl games were big news over the weekend, UCLA and Arizona State continue to look for new head coaches.
Here's some skinny.

At UCLA, ESPN LA's Peter Yoon reported that interim head coach Mike Johnson would like to be considered for the job. Here's
his update on other candidates
:
UCLA has been turned down by Boise State coach Chris Petersen, according to a source with knowledge of the discussions, and eliminated Houston coach Kevin Sumlin as a candidate after meeting with him on Saturday, according to a source. Al Golden of Miami is considered the next top target, though Golden recently signed a four-year contract extension at Miami.
There's
some chatter out there about former
Atlanta Falcons and Seattle Seahawks coach Jim Mora, Jr. My take: That would be a good hire. While things went badly for Mora in Seattle, let's recall that he was the first choice to replace Tyrone Willingham at Washington. He's a charismatic guy with an NFL sensibility that would translate well at UCLA. Recall that the last time a team in LA hired a charismatic guy with an NFL sensibility who had folks scratching their heads turned out OK.
Here's Jon Gold's take in the
LA Daily News
.
Sources have said that UCLA athletic director Dan Guerrero, who met with Sumlin in Houston on Saturday, is essentially rebooting the search and at this point, there are no clear-cut favorites. Miami head coach Al Golden, whom Guerrero interviewed for the job during the post-Karl Dorrell vacancy, is among the candidates, along with SMU head coach June Jones. Sources indicated on Saturday that there was minimal interest in former Oregon head coach Mike Bellotti.
UCLA has been the sort of job that more than a few folks thought might lure Bellotti back into coaching. But it doesn't seem, at least at this point, that he's high on the Bruins' list.

Meanwhile, at Arizona State, it appears that Sumlin might not be completely out of the picture, but that SMU coach June Jones' name is
front-and-center at present
. Still, there are plenty of other names in the rumor swirl. Writes Doug Haller:
Arizona State officials on Saturday met with SMU coach June Jones for more than three hours in Texas.
A report surfaced Sunday that ASU was in position to announce Jones' hire shortly after the university learned of its bowl destination. That wasn't true. According to a source, the Jones push slowed Sunday night. That doesn't mean it's over, but it could be an indication that ASU is having second thoughts.
Sources confirmed Sunday that Southern Miss coach Larry Fedora is still in the mix. Baylor coach Art Briles has emerged as a candidate.
I continue to hear ASU likes Oregon offensive coordinator Mark Helfrich.
Also, despite reports that ASU has backed off Sumlin, he still could be in play, especially if Texas A&M goes another direction in its quest to replace fired coach Mike Sherman.
In other words, neither coach search has moved -- at least according to reports -- decisively in one direction.
So stay tuned.
December, 2, 2011
12/02/11
11:00
AM ET
EUGENE, Ore. -- Rick Neuheisel was charming, funny and disarmingly honest in the press conference before Friday's Pac-12 championship game. It will be his last game as UCLA's coach, and most believe his Bruins, 32-point underdogs to Oregon, are going to get a prodigious whipping. But here was Neuheisel, refusing to buckle, even with the end on the immediate horizon.
"We are going into the game believing there is hope," he said. "No one across the country will think there was only one team."
[+] Enlarge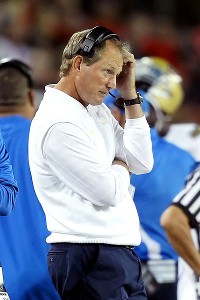 Christian Petersen/Getty Images"We are going into the game believing there is hope," Rick Neuheisel said of his Bruins, 32-point underdogs at Oregon.
Of course, even Neuheisel acknowledged the "unique circumstances" of the Pac-12 title game. The Bruins are 6-6 and are coming off a 50-0 loss to rival USC, the team that finished atop the Pac-12 South Division but is ineligible to play in Friday's game due to NCAA sanctions. Oregon is 10-2 and ranked ninth in the country. UCLA has one of the worst defenses in the Pac-12. Oregon has one of the best offenses in the nation. And the game is in Autzen Stadium, the conference's most boisterous venue, where the Ducks almost never lose.
Yes, it should be a butt-kicking.
How the emotions play out, however, will be interesting. Not for Oregon, of course. Coach Chip Kelly isn't much for the emotional angles reporters are always pestering him about.
Does Kelly have any concern about the Bruins coming in fired up about trying to win one for Neuheisel the week he was fired from his self-described "dream job"?
"I don't know what another team's mindset is," Kelly said. "We worry about what we can control."
Well, what about the stakes? The Rose Bowl is on the line.
"It's not about the prize at the end," Kelly said. "It's about the game."
Ah, but for Neuheisel, it seems to be about much more.
Think about his situation. He was controversially fired at Washington in 2002, and when he won a lawsuit against the school and the bumbling NCAA, many thought he would get blackballed from coaching. He went to the NFL -- landing with the Baltimore Ravens -- but fought hard behind the scenes for years to get his name back in circulation for college head-coaching jobs. Then, by a seeming stroke of magic, he got hired in 2008 at the place where he had always wanted to be.
He rose from the ashes. He got his shot. And this week he was fired. He shook hands with his dream, and his dream rejected him.
"Unfortunately, I wasn't successful enough," he said.
That's the cold, hard fact he carries into his last game. Just a day before, however, his players carried him off the practice field, perhaps trying to show Neuheisel that there isn't just one way to be successful.
Say what you want about Neuheisel -- and the people who know him the least always have strong opinions -- but the guy cares about his players and really --
really
-- wanted to win at UCLA. There were many things that went wrong during his tenure in Westwood. There were plenty of things that were Neuheisel's fault. Others were the fault of UCLA administrators. And there was plenty of bad luck -- two quarterbacks going down with season-ending knee injuries in one spring practice? Really?
But when your players carry you off the field, that's meaningful.
"That was something I will have forever," he said.
For Oregon, it's all business. The Ducks are trying to earn a third consecutive conference title and BCS bowl berth. They see UCLA as their nameless, faceless opponent in a 13th Super Bowl this season.
For Neuheisel, it's the end. Even if his team finds, to use his term, "lightning in a bottle" and upsets the Ducks, offensive coordinator Mike Johnson will take over for Neuheisel for the Rose Bowl, according to the plan laid out by athletic director Dan Guerrero.
Neuheisel lived -- and died -- by his insistence on "relentless optimism" at UCLA. Even in present circumstances he described as a "bitter pill," he's still hoping like a surgeon's knife.
"We're a game away from playing in the Rose Bowl," he said, "which is the amazing thing about this."
November, 29, 2011
11/29/11
5:00
AM ET
1. Athletic directors are itchier than ever to fire coaches. Three years is the new five. If an athletic director makes an unsuccessful hire, he usually gets to make one more. If that one fails, the athletic director isn't long for the campus, either. That's not the case at UCLA, where chancellor Gene Block said Monday that AD Dan Guerrero would hire a replacement for Rick Neuheisel. Guerrero hired Neuheisel and Karl Dorrell before him. In nine seasons, they went a collective 56-56.

2. Pac-12 schools have fired three coaches with a fourth, Paul Wulff at Washington State, awaiting word of his fate (I think Wulff has earned a fifth year). It would be easy to assume that the way that new commissioner Larry Scott is marketing football, that the standards to succeed are higher. But that's not it. The league's standards always have been above mediocre. There are three good teams in the Pac-12 (Oregon, Stanford, USC) and a lot that need to catch up.

3. Thanks to reader Matt Heyes for this note: in five seasons when Mark Richt played a quarterback starting for the first time, Georgia went 41-23 (.640), with one 10-win season. That would have been senior D.J. Shockley, who played regularly in previous years behind David Greene, leading the Dawgs to a 10-3 record and the SEC title. In the six seasons in which Richt has had a returning starter at quarterback, the Dawgs are 65-13 (.833) with one SEC title and four SEC East championships.

November, 28, 2011
11/28/11
7:06
PM ET
Rick Neuheisel spent the last few weeks tirelessly lobbying to keep his job at UCLA, displaying the "relentless optimism" that he has often cited as a foundation for success.
On Monday, less than hour after his termination was announced, a subdued Neuheisel seemed to have a good grasp on why he's not coming back for a fifth year.
"Certainly when you're the UCLA coach you'd like to play better against USC, I know that," Neuheisel said. "We had our chances. When you lose in the fashion that we did, it's a difficult pill to swallow."
[+] Enlarge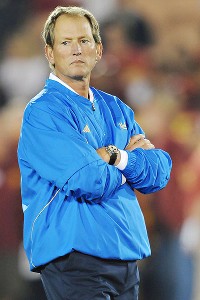 Jayne Kamin-Oncea/US PresswireRick Neuheisel's teams were never able to find any rhythm in his four seasons as UCLA's coach.
You can't go 21-28 in four seasons at UCLA, the lowest win percentage -- .429 -- by any Bruins football coach who was around for at least 20 games. You can't go 0-4 versus USC. And you absolutely can not lose 50-0 to the Trojans, as Neuheisel did on Saturday in a game that was widely viewed as his Rubicon.
The source for Neuheisel's comments was ironic, considering the circumstances. He was appearing on a conference call in advance of the Pac-12 championship game. You surely have heard -- it's been relentlessly mocked everywhere -- that UCLA, despite a 6-6 record and said loss to USC, is playing No. 9 Oregon in the conference's first championship game.
The Bruins are the South Division "champions." And their coach is out after the championship game. Offensive coordinator Mike Johnson will be interim head coach starting next week, according to a statement from the school.
So what if the Bruins, 31-point underdogs, win and earn a berth in the Rose Bowl?
"Let's ask that question at the appropriate time," Neuheisel said.
It is, however, the appropriate time to ask why things didn't work out for Neuheisel at his alma mater, where he once went from walk-on QB to Rose Bowl MVP.
It went wrong from the beginning when Neuheisel agreed to form a "dream team" with offensive coordinator Norm Chow and defensive coordinator DeWayne Walker. That was a mismatched troika from the start. Also, it's head coaching 101: Never, ever take a job where they suggest/tell you who will be on your staff.
Walker bolted after a year to become head coach New Mexico State, and the Bruins never again got good production at defensive coordinator. Chow hung around, but that turned out to be a bad thing. He and Neuheisel seemed to get along personally but not as coaches. The switch to a pistol offense was messy, and the prolonged process of cutting ties last winter just months after Chow was given an ill-advised contract extension was an ugly tango.
Recruiting peaked in 2010 --
the nation's 10th-ranked class
-- and cratered in 2011.
And, really, Neuheisel never developed traction. Neuheisel upset Tennessee in his first game. The next week, the Bruins lost 59-0 at BYU. A 3-0 start in 2009 was followed by five consecutive losses. A strong 2009 finish was followed by an 0-2 start to 2010. A three-game winning streak after that 0-2 start -- including a win at Texas -- was followed by six losses in seven games. This year, the Bruins had won three of four before getting thumped by USC.
Neuheisel lost by 21, 21, 14 and 59 points to the Trojans.
The next coach can't do that.
What can we say nice about Neuheisel's tenure? Some used to question his character. That no longer is an issue. Neuheisel was by the book at UCLA and always conducted himself with class and graciousness. And that was doubly true of his conduct on a day that clearly knocked him for a loop.
Of his time at UCLA, Neuheisel said, "It won't be a bitter memory at all." As for what went wrong, he said, "I have plenty of time to think that over. I'm just thankful for the opportunity. This has always been a place where I wanted to have a chance to bring it back to being a place where everyone could be proud. Obviously, we have fallen short of that, but there are lots of things I'm proud of that happened during my time here. They don't always make it to the front pages of a newspaper."
According to the Los Angeles Times, Neuheisel's buyout is only $250,000. So he'll need to start thinking about his future fairly quickly, something he hadn't done on Monday.
"This has kind of hit me between the eyes a little bit," he said. "I hadn't thought about that. I'm on one track to do the best I can for this particular team. That'll be the case at least through Friday. I love coaching. I know that. I'll take some time to figure it out."
It's hard to imagine Neuheisel getting another shot atop a AQ-conference program any time soon. He could return to the NFL as an assistant. Or he could go into broadcasting.
What's next for UCLA? Almost immediately, big names were included in reports.
ESPNLa.com reported
that Boise State's Chris Petersen will be athletic director Dan Guerrero's first target.
The LA Times said
Guerrero "is expected to make a trip to Boise to meet with Petersen. UCLA is believed to be able to offer a contract worth more than $3 million annually that includes donations from boosters."
We'll see. I'd rate those odds as remote, though getting Petersen would be a monumental coup. The Times also lists Houston coach Kevin Sumlin and former NFL coach Jon Gruden as candidates. Yes, at this early juncture, you roll out the usual suspects.
But there's the immediate present first: Neuheisel's final game, one that most would project as a blowout defeat.
Neuheisel has made a habit of finding ways out of messes throughout his tumultuous career. But he wasn't able to do that UCLA, and it's hard to imagine a happy ending for the Bruins on Friday in Eugene.
November, 27, 2011
11/27/11
12:00
PM ET
Rumors and reports are swirling that Arizona State coach Dennis Erickson, UCLA coach Rick Neuheisel and Washington State coach Paul Wulff will shortly be terminated.
From the
Arizona Republic
:
Vice President of Athletics Lisa Love did not return messages left by The Republic on Saturday, but multiple sources confirmed that the end is near for coach Dennis Erickson, and his dismissal could come soon.
From the
Los Angeles Times
:
Dan Guerrero, the Bruins' athletic director, will sit down with UCLA's football coach after the season is over to discuss the future. That could be as soon as next weekend, after the Bruins play Oregon in the Pac-12 championship game.
Neuheisel's chances of retaining his job are bleak, according to influential people close to the program who did not want to be identified publicly because the decision was not final.
The general gist is Neuheisel will coach the Pac-12 title game on Friday at Oregon. The Orange County Register named candidates to replace Neuheisel:
UCLA coach Rick Neuheisel is expected to be fired following Pac-12 championship game against Oregon with Boise State coach Chris Peterson, Houston's Kevin Sumlin and Cincinnati's Butch Jones the leading candidates to replace him.
From the
Seattle Times
, which names former Texas Tech coach Mike Leach as a top candidate to replace Wulff:
Sources close to the situation say Wulff, whose Cougars lost 38-21 to Washington on Saturday at CenturyLink Field, will be dismissed after a meeting with athletic director Bill Moos, barring a last-minute change of direction by Moos. It could happen as early as Sunday, possibly Monday.
A reversal of thinking is unlikely, and sources familiar with the process say the Cougars will have former Texas Tech coach Mike Leach at the top of their list of possible replacements. Leach has been out of coaching since 2009 after a controversial exit from Tech that resulted in him suing the school.
Sumlin and Leach also likely will be connected to the Arizona State job.
These three guys started the season on the hot seat. All three showed signs of getting off it at various times. But, alas, they couldn't make a turnaround stick.
Tough business. College coaches are paid well, but their job security is always precarious.
End result is it appears the Pac-12 will feature four new coaches -- Arizona has already hired Rich Rodriguez -- next fall.
November, 11, 2011
11/11/11
10:00
AM ET
Texas and UCLA will play at Cowboys Stadium in Arlington, Texas, in 2014, the school announced.


The two schools just wrapped up a home-and-home in 2010 and 2011. Texas won this year's game, 49-20, in the Rose Bowl. UCLA beat Texas in Austin last season, 34-12.
By my count, this would only be the second time Texas has ever played in Cowboys Stadium, which is a bit surprising.
The Longhorns won the Big 12 title and clinched a spot in the national title game in 2009 by beating Nebraska on a last-second field goal in the 2009 Big 12 Championship.
UCLA Athletic Director Dan Guerrero, in a blog posting to donors and boosters, said this week that UCLA had, "negotiated a deal that will feature the Bruins against a marquee opponent at Cowboys Stadium."
The Longhorns were scheduled to play at Arkansas in 2014, but that game has been moved to 2021 to make room for the date in the metroplex against the Bruins.
September, 19, 2011
9/19/11
7:30
PM ET
Oklahoma's and Texas' board of regents granted their school presidents the authority to
take action regarding conference realignment
on Monday, but that doesn't necessarily mean immediate moves are imminent.
Maybe we get a moment to breathe here. Maybe that's a good thing.
There are plenty of folks who remain uncertain about expansion, including Pac-12 administrators. UCLA athletic director Dan Guerrero released a statement Monday on potential Pac-12 expansion:
Expansion just for the sake of expansion is rarely a good thing. Dr. Martin Luther King once said, "We may all have come in different ships, but we are all in the same boat now." Those of us in the same boat, the existing Pac-12 members, need to think long and hard as to the relevancy and value of bringing new members into the boat. Issues of academic compatibility, student-athlete welfare, competitive and financial implications all need to be thought out carefully by the various stakeholders. If further expansion is the right thing to do, then it makes sense to proceed.
The chief question: Is the conference's long-term future best served by being a 12-team league or by adding Texas, Oklahoma, Oklahoma State and Texas Tech and becoming a 16-team league? That means Pac-12 commissioner Larry Scott needs to paint a picture for the Pac-12 presidents about what might happen if other leagues expand and the Pac-12 doesn't.
One thing to understand: Just about everything here is about self-interest. Treat everything you read -- from named and unnamed sources -- as working an angle and you'll be better off.
Texas coach Mack Brown's speech on the Big 12 conference call? ("As much as we talk about money," Brown said, "as much as we talk about college football, as much as we talk about realignment, as much as we talk about great games, playoffs and all that stuff, we better go back and make sure that we're taking care of the players and that the players and the high school coaches are always considered in the equation.")
Right. Texas wants the Big 12 to survive because its the Texas League, where it gets to do anything it wants. (And what do high school coaches have to do with this?)
Baylor's polling of Big 12 fans about conference expansion? Right. The poll wouldn't exist if Baylor were part of the foursome talking to the Pac-12. Or it might have emerged from Lubbock if Texas Tech were left out.
Even Guerrero, packing a Martin Luther King reference, is working an angle. His chief worry is UCLA falling further down the conference pecking order.
So don't listen to any of these guys. They all have agendas.
But you, the college football fan, do not get enriched by any of this, expansion or no expansion. In fact, you're the one who pay all the bills. You buy tickets. You watch TV. Your passion has created this multi-billion-dollar market that is driving these decisions. Your agenda is the game you love and your willingness to spend money -- and time -- on it.
I wonder if you're being taken for granted. No, wait. I don't wonder. I know. And I hear your massive skepticism.
Still, I am cautiously optimistic a Pac-16 would work and even work well, that it could be organized in a way that satisfies most fans interests. And as a college football entity -- heck, college sports entity -- it would be a powerhouse.
To me the larger issue is reaching an endgame where we can find long-term stability. How much of a guarantee would we have that four or so 16-team super-conferences will settle in for the next decade or so? Not much, I suspect.
That ultimately becomes an issue for the guys on the revenue end to consider: If upheaval becomes the standard, that eventually could significantly erode fan interest.
And then the next set of TV contracts might not end up leaving the schools so fat and happy.
July, 18, 2011
7/18/11
11:00
AM ET
Scholarships that cover the full cost of attendance is the answer, not pay-for-play, according to a polling of a handful of Pac-12 athletic directors.
[+] Enlarge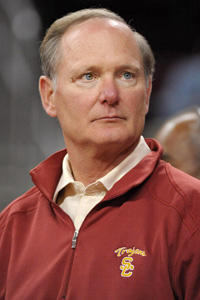 Kirby Lee/Image of Sport/US PresswireUSC athletic director Pat Haden on current scholarship rules: "It is not right to have a student-athlete tell me he or she is going hungry."
USC's Pat Haden felt so strongly about the issue that he has a
post on the matter on the school's official website
.
"The NCAA formulas used to determine student-athlete stipends are not appropriate," Haden said in the post. "Having interviewed 15 different athletes and broken down their stipend against their bills, they are left with about $5 per day for food. I just do not think that is right."
Haden is not alone. Across town at UCLA, Dan Guerrero feels the same way.
"I would much prefer to see the NCAA pursue the notion of allowing athletic scholarships to cover the full cost of attendance at an institution," he said.
In fact, six conference athletic directors said the same thing. None who were asked for their take -- a number of ADs were on vacation -- said they were against increasing the value of scholarships to cover cost of attendance.
But paying athletes for their services beyond a full-cost scholarship also was panned.
"I am not in favor of any 'stipend' that would exceed that amount," Stanford's Bob Bowlsby said.
Why not? Well, while a few ADs sounded at least lukewarm to a revolutionary idea in which athletes in revenue sports -- football and men's basketball -- could receive a stipend, none said they'd heard of a way to do that and not step afoul of Title IX laws on gender equity.
"I haven't heard of one yet," Arizona's Greg Byrne said. "It would have to be a group effort to see if that's even feasible."
And even if someone produced a revolutionary idea that circumvented Title IX, the notion didn't generate much support.
"I'm not for pay-for-play," Washington's Scott Woodward said. "I think it's a great structure the way it is."
So cost of attendance it is.
"Cost of attendance," in fact, is the new catch phrase. It means covering all reasonable expenses a college athlete might have. That would mean an extra $2,500 to $3,500 per athlete. That doesn't sound like much, but when you multiply it across an entire athletic department with, say, 400 or so scholarship athletes, it gets pretty pricey. Woodward estimated it would cost Washington an extra $1 million a year.
Still, that doesn't sound like too much when automatic qualifying conferences in the BCS are signing billion-dollar TV contracts.
Ah, but that's part of the problem. Non-AQ schools would struggle to pick up the extra tab. Many already are losing money on college sports. If AQ programs started to provide "better" scholarships and non-AQ programs didn't, then it would increase an already sizable competitive advantage.
Colorado's Mike Bohn has been an athletic director in non-AQ conferences -- San Diego State and Idaho -- so he understands why the idea isn't generating much traction outside of AQ conferences.
"I recognize the challenges it would put on those types of institutions," he said. "They would have to evaluate that and make decisions on what's best for themselves."
Bohn also feels like many people don't recognize just how valuable a full ride is -- cost of attendance or not. He points out it pays not only tuition plus room and board, but also health care, tutoring and other academic services and summer school. And the experience of a major college athlete is a fairly privileged one.
"It's important to accurately portray the investment each institution is putting into each student-athlete," he said. "The investment in these men and women goes far beyond the scholarship commitment."
Still, there's plenty of momentum behind the idea of improving scholarships and taking further financial burdens off athletes.
Writes Haden: "In a year from now, our new TV contract is going to kick in with $20 million per year in revenue and it is not right to have a student-athlete tell me he or she is going hungry. It is unconscionable."
December, 4, 2008
12/04/08
2:30
PM ET
Posted by ESPN.com's Ted Miller
Two sources confirmed to the Pac-10 blog that these are links.