November, 18, 2013
Nov 18
1:00
PM ET
TALLAHASSEE, Fla. — The play unfolded just as Jeremy Pruitt might've dreamed it up back in spring practice, with the lone exception being the personnel on the field. Florida State's defense has been so dominant that the starters were already resting comfortably on the sideline by the time
Dan Hicks
became the 15th Seminole with a takeaway this season.
Syracuse quarterback
Drew Allen
takes the snap and fakes a handoff. Tight end
Josh Parris
comes over the middle, and Allen tosses a spiral in his direction. Hicks jumps on it, diving in front of Parris at the last second, swiping the ball from midair for the interception.
[+] Enlarge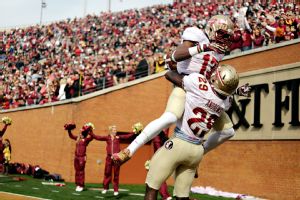 AP Photo/Nell RedmondThe Seminoles have six defensive touchdowns, including this interception by Nate Andrews.
The sideline erupted, and Florida State's offense marched back onto the field and, once again, the Seminoles' defense was making it look easy.
"They're playing extremely well," Jimbo Fisher said. "They're very disciplined, flying to the ball, creating turnovers. We've got a lot of athletic guys that are being very physical and very disciplined."
When Pruitt arrived as defensive coordinator in January, his to-do list was extensive — evaluate personnel, adjust the scheme, shore up fundamentals. At the top of the list though was the one crucial variable that past Seminoles defenses had failed to master: Takeaways.
"As good as Florida State played defensively last fall," Pruitt said upon arrival, "one of the things where we really could improve is getting turnovers."
Indeed, FSU's defense had been among the best in the country two years running under former coordinator Mark Stoops, but it was hardly a turnover machine. In 2012, the Seminoles' pass defense ranked tops in the country overall, but was tied for 65th in interceptions. FSU had one of the most disruptive defensive lines in the nation, but 103 other teams finished with as many forced fumbles as the Seminoles did.
A large portion of the formula for creating turnovers is luck, and that would even out, Pruitt believed. What he hoped to do was fix the rest of the formula by putting his best athletes in position to make more plays and instilling a mind-set to get after the football every chance they got.
Through 10 games this season, that formula is working perfectly.
"Once again, execution is the key," linebacker
Reggie Northrup
said. "We're making sure everybody's where they need to be, and we make stops like that."
Florida State leads the nation with 19 interceptions. The FSU defense creates a takeaway once every 27 plays, the sixth-best mark in the nation and a marked improvement over last season's rate of once every 42 plays. In the Seminoles' last five games alone, they've secured 18 takeaways -- a tally that would rank in the top 50 nationally for the entire season.
All that defensive success has helped key Florida State's offensive explosion, too. For the year, FSU has scored 135 points off turnovers, tops in the nation and more than a quarter of all points the team has scored this year. The defense has already scored six touchdowns of its own, two more than it mustered during the entirety of Mark Stoops' tenure. FSU's
defensive efficiency rating
-- a measure of a unit's contributions to opponent-adjusted scoring margins -- is tops in the nation, better even than Pruitt's former team, Alabama.
"It's crazy," tailback
James Wilder Jr
. said. "We joke around with them like, 'Y'all getting those interceptions, but stop scoring. You're keeping us off the field.' It's great. They're doing a great job. That shows how mature the defense is."
Of course, what has been most impressive about the aggressive approach to takeaways is that it hasn't come at the cost of fundamentals. FSU is allowing 18 more yards per game than last season, but 3.5 fewer points. The secondary has been dominant, and the rushing defense, which struggled a bit early, is rounding into shape.
This was the plan all along, but the speed with which Pruitt's formula yielded results has surprised even his players. Still, it has been fun to watch it all click into place.
"It's something exciting to see," tackle
Timmy Jernigan
said. "I love watching those guys make plays behind us."
October, 1, 2013
Oct 1
11:00
AM ET
TALLAHASSEE, Fla. -- The scenes flickered across the screen as Jimbo Fisher broke down the film on Sunday, and the Florida State coach breathed a sigh of relief.
The outcomes were just as he'd remembered. Boston College's rather mundane attack gashed the Seminoles' defense again and again, big chunks of yardage adding up to 34 points -- the most BC had scored in an ACC game in nearly four years.
Florida State still escaped with a win, thanks to another dynamic effort from
Jameis Winston
, but the defense was exposed, and the future schedule promised to be far less forgiving. Fisher assumed the worst, but the film eased his mind.
[+] Enlarge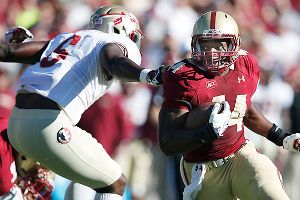 AP Photo/Elise AmendolaBoston College rushed for 200 yards against the Seminoles, led by Andre Williams with 149.
"I wasn't as distraught as I thought I would be," Fisher said Monday, putting a happy face on an otherwise troubling effort. "It was more two or three individuals that caused all the problems."
There is ample room for big-picture concerns. Players admit to being slow to latch on to the subtleties of new coordinator Jeremy Pruitt's defensive scheme. The aggressive approach has yielded a handful of big plays but also surrendered a few more to the opposition. The Seminoles' performance through four games has fans wondering if disaster looms just over the horizon, as the explosive offenses of Maryland and Clemson await.
Instead, what Fisher saw on film were a few minor glitches -- easily correctable mental errors. A few missed assignments here, a few sets of eyes focused on the wrong things there. Rather than panicking, Florida State's defense seems relieved.
"Those mistakes are going to help you," safety
Terrence Brooks
said. "It's bad, but it also can be good for you, too. Those are things you know you've got to key in on. It's just room for improvement."
That's the upbeat spin. These are the raw numbers: Through four games, Florida State has coughed up 606 yards on the ground, nearly half the total its defense allowed in 14 games last year. Boston College amassed 397 total yards Saturday; only Clemson (2010 and 2011) managed more against FSU since the start of the 2011 season -- and the Tigers' high-flying attack gets its shot against the Seminoles in just three weeks. The defense has started slowly in every game, and as a result, FSU has trailed in three of four games. It's a particularly disconcerting picture given that this week's opponent, Maryland, has topped 500 yards of offense three times, is averaging better than 7 yards per play, has a dual-threat quarterback and one of the ACC's most explosive playmakers in receiver
Stefon Diggs
.
[+] Enlarge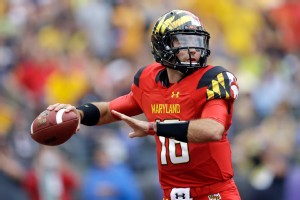 AP Photo/Patrick SemanskyC.J. Brown is averaging 261 yards passing and 71 yards rushing through four games.
And yet, Florida State's players insist they're not worried. The fixes aren't physical failures, but rather mental miscues -- a product of new personnel seeing an increased workload, a handful of gimmick plays by the opposition and a continuing adjustment to Pruitt's new scheme.
"We had some little, stupid mental errors in that game -- letting our guys go, trying to do too much and getting out of gaps," Brooks said. "That's the only reason they were able to get all those points they did get."
It's not an entirely unfair accounting. Two of Boston College's touchdowns came on nearly identical plays, when the offense shifted heavily to one side, then threw the opposite way. FSU's defense aggressively pursued the ball and left a receiver wide open.
Of course, Pruitt's approach also might be part of the problem. As FSU's players raved about the new scheme this offseason, the buzzword used again and again was "aggressive." Pruitt promised to turn the Seminoles' athletes loose to make plays, and the players loved the concept. It all sounded good until Boston College used that mindset against them.
"We're a very aggressive defense, and we want to get to the ball fast," Brooks said. "That right there kind of killed us a little bit."
It's not that the scheme is flawed, however. Pruitt essentially is installing a defense similar to what Alabama used to win three of the past four national titles. There's a track record of success.
The difference is that when Pruitt took over as defensive backs coach at Alabama in 2010, that scheme was already in place, and the veterans already knew it well. At Florida State, it's all new, and the learning process requires time.
"When you come in during the spring and put in a new defense, especially as complex as this one, it's not like you're coaching a team full of guys that have already been in the system," defensive tackle
Timmy Jernigan
said. "It's almost like you're coaching a defense full of freshmen, technically. We're all learning it."
Jernigan insists his teammates have bought in, but the learning process has come more quickly for some. Fisher praised Jernigan's work against BC, saying the junior played perhaps the best game of his career.
Eddie Goldman
earned raves, too, and linebacker
Telvin Smith
earned player of the week honors in the ACC after finishing with 10 tackles.
So where are the problems?
Fisher did his best to avoid criticizing specific players, though the absence of senior
Christian Jones
from his synopsis was noteworthy.
Dan Hicks
was burned for a touchdown, as well, though he was noticeably overmatched in his assignment. Defensive end
Mario Edwards Jr.
and safety
Tyler Hunter
sat out for the second straight game against BC, too, and there are no assurances they'll be ready this week.
But to hear Fisher's analysis, there's no cause for alarm. It's not a matter of a flawed scheme, a too-steep learning curve or a lack of personnel. It's simply about getting the little things right.
Florida State's players are convinced of that, too, and the film from Boston College only burnished that optimism. But even so, this week's practices come with a mandate for improvement.
"Having that happen with these good teams that have mobile quarterbacks, people who can run and pass better, better receivers," Brooks said, "it's just more of a problem at that point."
April, 15, 2013
Apr 15
1:30
PM ET
College football fans
know about the "Tess Effect."
Could something similar be brewing at Notre Dame?
Dan Hicks is the new voice of the Irish, NBC announced Monday. The long-time NBC announcer will call all of Notre Dame's 2013 home games and its Oct. 5 Shamrock Series contest against Arizona State in Arlington, Texas.
"Dan is a gifted commentator, and we wanted to find more high-profile opportunities to showcase his talents," NBC Sports & NBC Sports Network executive producer Sam Flood said in a statement. "Coming off an undefeated regular season and a berth in the BCS Championship Game, Notre Dame Football provides a perfect platform."
Hicks succeeds Tom Hammond, who had been calling Notre Dame games on NBC since 1992 and will remain with the station to be the lead voice of the Triple Crown, figure skating and the 2016 Rio Olympics.
Hicks' last two Irish games were anything but conventional, as he subbed in during this past season's triple-overtime win over Pitt and during the 2011 opener against USF, which saw five turnovers, a quarterback switch and multiple lightning delays in an Irish loss that lasted nearly six hours.
So yes, Notre Dame fans may want to get ready for another season that is taxing on their blood pressure, for better or worse.
Hicks will get started during Saturday's Blue-Gold spring game, calling the action with color commentator Mike Mayock and sideline reporter Alex Flanagan on the NBC Sports Network.
February, 21, 2013
Feb 21
2:11
PM ET
There are going to be position battles this spring at every school in the ACC, but some will be in the spotlight more than others. If you're just tuning in to ACC football, here are some of the biggest competitions in the conference this spring:
OFFENSE

1. Florida State quarterback:
This is arguably the most intriguing competition in the entire conference, as the Seminoles have to replace veteran
EJ Manuel
.
Clint Trickett
enters the spring at the top of the depth chart, but consider this job open. Sophomore
Jacob Coker
is the total package, but redshirt freshman
Jameis Winston
was the nation's No. 1 quarterback and could be the answer, too.
2. North Carolina running back:
The Tar Heels have to find a way to replace leading rusher
Giovani Bernard
, who left early for the NFL draft. Not only will his loss be felt in the running game, but probably even moreso in the return game, as Bernard was one of the nation's top punt returners. UNC returns
A.J. Blue
and
Romar Morris
, who combined for 819 yards rushing and 11 touchdowns last season.
3. Syracuse quarterback:
The Orange enter the ACC with a new coach and in need of a new quarterback. Record-setting quarterback
Ryan Nassib
is gone, leaving behind a wide-open competition. Backup
Charley Loeb
, junior
John Kinder
, and dual-threat
Terrel Hunt
are the top candidates.
Ashton Broyld
, who moved to running back in 2012, could be in the mix as well.
DEFENSE
1. Florida State defensive ends:
The cream of the crop is gone, as
Tank Carradine
,
Bjoern Werner
and
Brandon Jenkins
all have to be replaced. Enter
Mario Edwards Jr.
, who has a leg-up on the competition because he played in 11 games as a true freshman, and started the final two games of the year in place of the injured Carradine. Don't forget about
Giorgio Newberry
, though, and
Chris Casher
, who is now healthy after a knee injury. Casher will start spring ball on the two-deep depth chart.
Dan Hicks
, who was Jenkins' backup two years ago, had a knee injury and missed all of last season. He had moved to tight end, but was in the rotation at defensive end earlier in his career and could come back.
2. NC State secondary:
This group will have an entirely new look this spring, as three starters have to be replaced, including
Earl Wolff
,
Brandan Bishop
and
David Amerson
, the school's career interception leader. Cornerback
Dontae Johnson
returns, along with
Juston Burris
, who played in the nickel package. There are also several redshirts and younger players who will compete.
3. Virginia Tech cornerback:
Virginia Tech's defensive backfield lost its star last month when cornerback
Antone Exum
tore his ACL in a pickup basketball game. Several young players will compete for his reps this spring, including
Donovan Riley
,
Donaldven Manning
and
Davion Tookes
. Highly touted cornerback
Kendall Fuller
will join the team in the summer.
September, 19, 2010
9/19/10
3:52
AM ET
The ACC went 3-4 against its nonconference opponents this week, with wins over Cincinnati, East Carolina and BYU. Here's a look at your top-five performers from the ACC:

Virginia Tech:
That's right, the whole team gets one this week for overcoming a 10-0 deficit at home against ECU and scoring 28 unanswered points in the second half -- without injured running back
Ryan Williams
, who pulled his hamstring in the second quarter. The Hokies are banged up, but they avoided an 0-3 start with a complete effort in the second half,
winning 49-27
.
NC State quarterback Russell Wilson:
Rusty? Nah. Not this time. He threw for 333 yards and three touchdowns in a
30-19 Thursday night win over Cincinnati
. He completed 26 of 40 passes, including an 8-yard touchdown to
Taylor Gentry
with about 7½ minutes left to make it 30-7. He also ran for 33 yards.
NC State's defense.
The Pack has shown measurable improvement. The Wolfpack finished with five sacks, hurried quarterback
Zach Collaros
four times and came up with a big fourth-and-1 stop in the fourth quarter. NC State is 3-0 for the first time in eight years.
Florida State's defense:
The Seminoles showed some needed improvement in their
34-10 win over BYU
. FSU's defense yielded only 191 total yards. The Seminoles had eight sacks; the most in a game since registering nine against Miami in 2005. FSU's top four defensive ends -- Markus White, Brandon Jenkins, Bjoern Werner and Dan Hicks -- combined for five sacks. The Noles had just four from the defensive end position last season.
Georgia Tech quarterback Joshua Nesbitt:
He completed 75 percent of his passes (3 of 4), for 76 yards and a touchdown, and he ran for 104 yards and another touchdown on 26 carries in the
30-24 win over North Carolina
. He also led the Jackets on a 44-yard scoring drive that ended in a field goal for the 27-24 lead.
February, 16, 2010
2/16/10
5:25
PM ET
It's a fair question, and one I've been asked a lot lately: Why the hype over FSU? The Seminoles' defense was one of the worst in the country last year. FSU allowed 30 or more points five times in 2009.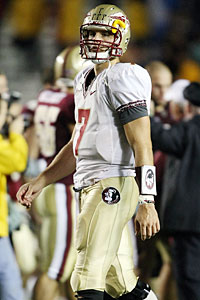 Elsa/Getty ImagesChristian Ponder led the ACC in total offense in 2009.
True. Florida State's defense has
a lot
to prove, and it remains a question and the big reason for doubt. But when you're one of the worst, the only way to go is up. Here are three reasons why Florida State should be considered one of the top 25 teams in the country heading into the 2010 season:
Quarterback Christian Ponder has Heisman Trophy potential. Prior to his shoulder injury last year, he ranked among the country's best in passing yards per game and pass efficiency. He missed the final three games of the regular season and the bowl game, but finished with 2,717 yards, 14 touchdowns and seven interceptions. He completed 68.8 percent of his passes. He'll be protected by an offensive line that returns all five starters, and surrounded by an experienced supporting cast.

New coach, new attitude. There is no longer the uncertainty about where the program is headed, no more wondering about Bobby Bowden's future. FSU football is in Jimbo Fisher's hands, and he's done everything he could so far in recruiting, hiring and marketing to convince fans, boosters and outsiders that he has things headed in the right direction. Having the staff on the same page can go a long way.

New faces on defense means a new defense. Mark Stoops was a promising hire as defensive coordinator, but he's not the only one who can give that side of the ball a boost. And no, the Noles don't have to depend on true freshmen for help. Redshirt sophomore DT Anthony McCloud (juco), redshirt freshman CB Xavier Rhodes, and redshirt freshman DE Dan Hicks are among the top newcomers to watch. But there are also outstanding recruits capable of contributing immediately if need be in freshmen linebackers Jeff Luc and Christian Jones, and cornerback Lamarcus Joyner.
August, 11, 2009
8/11/09
6:52
PM ET
Posted by ESPN.com's Heather Dinich
TALLAHASSEE, Fla. -- The face of Florida State's defensive line will change this fall, as the Noles' lost last season's top defensive end, Everette Brown, early to the NFL, and the coaching staff is expecting to hear within a day or two whether Kevin McNeil, who is listed as a starting defensive end on the preseason depth chart, will be cleared academically.
| | |
| --- | --- |
| | |
| | Ken McKimm/Icon SMI |
| | Mickey Andrews is counting on Markus White to take over the right end spot vacated by Everette Brown. |
While the interior line is deep and strong, the end positions are a question mark, though Markus White is the clear front-runner to take over for Brown on the right end.
"They're going to look for the guy who can make all the sacks," White said of FSU fans. "They're going to look for the standout guy. That's what they're used to. There's always been a dominant defensive end. Now that Everette's gone, who's the dominant guy? I want to step into that role, but only time will tell."
The Saturday scrimmages will help, and so will Wednesday's practice, which will be the first day in pads, but defensive ends coach Jody Allen said the defensive line won't be "near as talented" as it was last year without Brown, but that White has the intangibles it takes to be an aggressive end.
"He plays football with a very mobile and hostile attitude," Allen said. "He's got a good motor, and he plays hard, and he plays mean. He's a super person, but on the field he's a football player."
Allen said maybe one player can't replace Brown, but if he gets a collective effort from four players, the ends might be better as a group than they were last year. Everett Dawkins, Jamar Jackson, Brandon Jenkins, Dan Hicks, Craig Yarborough, and Toshmon Stevens are all candidates to help.
"The interior looks real good but our outside, they have the talent they just need to learn," White said. "They need somebody to learn from. The coach can only do so much, but as a player I can help them, too."
"He looks great," defensive tackle Budd Thacker said. "His confidence level is definitely way up there, I promise you that. He'll hustle, he gets to the football all the time. He knows the playbook front and back, and that's what we need."
Thacker said the unit's goal is to get more pressure on the quarterbacks, get the ball out of his hands, cause some more picks and get some more sacks. FSU had the best pass defense in the ACC last year, but only had nine interceptions. The only ACC team with fewer picks was Miami with a measly four. With Brown in the lineup, FSU led the ACC with 39 total sacks.
White said he's been working on two primary counteraction new moves this summer to help him keep those sack numbers high.
"Last year we had Everette Brown and he would always get pressure on the quarterbacks even if it wasn't sacks, but I got too much pressure and not enough sacks," White said. "This year instead of getting pressure I want to get to the quarterback, get past the guy, be able to grab him and tackle him."
If he does, White just might be the Noles' next "dominant defensive end."
TOP 25 SCOREBOARD
Thursday, 12/5
Friday, 12/6
Saturday, 12/7
TOP PERFORMERS