November, 15, 2011
11/15/11
5:57
PM ET
On Oct. 30, a day after whipping Colorado 48-14, Arizona State was 6-2 and ranked 19th in the BCS standings. Looking at its four remaining games -- UCLA, Washington State, Arizona and California -- a 10-win season and all the rewards that brings seemed possible.
There was talk of coach Dennis Erickson signing a contract extension. A South Division championship seemed a near-certainty, which meant the team could feel free to dream about the Rose Bowl.
[+] Enlarge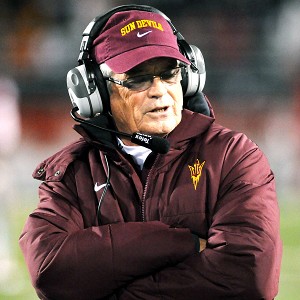 James Snook/US PresswireAfter a strong start to the season, Dennis Erickson's Sun Devils have now dropped two-straight games.
More than a few scribes in the state of Arizona, in advance of the Nov. 19 showdown between the Sun Devils and rival Arizona, probably thought of tracing the divergent fortunes of both programs to last year's Territorial Cup, won in double-overtime, 30-29, by ASU due to two blocked Wildcats PATs.
Ah, but things do change, often dramatically, in college football, in both good and bad ways. While the Sun Devils might be able to console themselves with, "Hey, at least we're not as bad off as 2-8 Arizona," that's shouldn't offer much succor.
Arizona State's season has spiraled into the muck after consecutive losses to UCLA and Washington State. It's one thing to lose at Oregon. It's another to give up 494 yards to redshirt freshman quarterback
Connor Halliday
during a loss in Pullman.
"The last two weeks: not very good," Erickson said when asked to assess the season. "We had a chance to be where we hadn't been before, but I still look at the light at the end of the tunnel."
The funny thing is that is mostly true. If the Sun Devils win their final two games, they still have a solid shot to win the Pac-12's South Division. All they need is for UCLA to lose once against either Colorado or at USC. If they win and the Bruins fall, then the Sun Devils would advance to the Pac-12 championship game on Dec. 2, where they'd most likely play at Oregon, where they'd have a puncher's chance at the Rose Bowl.
But there's a lot of "what could have been" lingering as the Sun Devils prepare for the Wildcats.
"We're fighting through it," quarterback
Brock Osweiler
said. "Obviously, I don't think we had thought that we would lose both of these games against UCLA and Washington State, but that's life. Sometimes, life throws you a curve ball and it's all about how you bounce back from it."
Offensive lineman Dan Knapp said he never imagined the Sun Devils would lose more than two games. And he admitted the players were down after losing their fourth.
"At the beginning of the season, everything was upbeat," he said. "Going to the meeting yesterday, everyone was down. No one was talking. There was no energy. That is something that we need to fix."
If they don't fix it, Erickson might be out of a job.
A few weeks ago, he was a candidate for Pac-12 Coach of the Year. No longer. This was widely viewed as a "win or else" season for Erickson. At first, he was winning. Now, anything less than a division title will feel like a failure.
Erickson, who's not a rookie with "hot seat" talk, said he's only focused on the game at hand. But his players admit they are aware of the frustration among fans and how that threatens Erickson's job status.
"I would be lying if I said that we weren't aware of it," Osweiler said. "We are. That just goes with the game of football. If you don't win, you're probably going to get fired. If you don't produce as a player, you're probably not going to start. So, we are aware of it. But, that's not the major concern."
The problem during the downturn, Erickson said, is the defense giving up big plays. UCLA had a 76-yard touchdown pass. Washington State had an 85-yard one. The Bruins converted on a third and 29 on their game-winning drive. The Cougars converted 8 of 17 third downs with almost no running game.
And passing is the one thing the Wildcats do well, with quarterback
Nick Foles
leading the conference with 360.7 yards per game through the air.
"I would think they're probably licking their chops right now watching [the Washington State game]," Erickson said.
A lot is on the line. It's a rivalry game, for one, one of the nation's most underrated in terms of bitterness. The South Division title has yet to be claimed. And, it's hard to imagine that Erickson's job will be secure if he loses to his program's arch-rival when it is led by an interim coach.
It may be overstating things to call this one "do or die" for the Sun Devils and Erickson. But, then again, it might not.
August, 18, 2010
8/18/10
11:57
AM ET
Only two Pac-10 teams entered fall camp not knowing who their starting quarterback would be: Oregon and Arizona State. That remains the case with just over three weeks until the season begins.
The process seems to have bogged down a bit at Arizona State, with
Brock Osweiler
and
Steven Threet
flashing ability but
failing to be consistent
(as for third option
Samson Szakacsy
: It's not good that his arm is giving him trouble again). Said coach Dennis Erickson to the Arizona Republic, "Like I told them today, we're still missing too many things. We're going to miss throws; that's a natural thing. But we're missing too many reads right now that we need to get better at."
Doug Haller also collected this telling and amusing quote from offensive tackle
Dan Knapp
"I really wish they would speed up the process and name a starter so everyone would stop worrying about it and the quarterbacks would stop stressing."
Osweiler started camp with what seemed like a slight lead, but the pecking seems even more of a toss-up today.
Same thing at Oregon, where senior
Nate Costa
and sophomore
Darron Thomas
continue to battle. Some
writers are picking sides
, but this one still seems too close to call even after the sorta-scrimmage Tuesday.
While Costa led all three TD drives in the redzone, that doesn't mean he had a decisively better day, writes Rob Moseley: "Thus, Costa did the superior job getting the offense into scoring position Tuesday. But Thomas had some explosive moments in the run game and was 25-of-35 passing by one unofficial tally; Costa was 18-of-35 on the day. Thomas, however, twice took sacks in the late-game scenarios."
So Thomas had perhaps
slightly better numbers
but made more mistakes. And didn't get into the endzone.
Ken Goe, thankfully back on the college football beat, throws up his hands and admits he has
no idea who's going to win the job
.
I've long though Costa would eventually earn the nod. Fans love playmaking upside, but my experience through the years is talented young QBs lose more games because of mistakes than they win with fancy playmaking. The Ducks aren't playing for the future. It's now-time for this team.
That said, I'm feeling more like Goe these days. The only guy who's got a clue on who will eventually get the call is coach Chip Kelly, and I'm not sure he's that close to anointing anyone.
Still, Kelly wants to name one guy, and that one guy will be challenged by a road trip to Tennessee in week two. Even if the Volunteers are down, that stadium is something else -- trust me on that.
Arizona State, on the other hand, might be better off taking advantage of its unusual schedule: Two games against FCS foes to start the season. Read: preseason games -- the Sun Devils aren't going to lose to either Portland State or Northern Arizona. It might be worthwhile then to play both quarterbacks and see how they manage things under fire for eight quarters, then name a starter for the tough road trip to Wisconsin.
As it is, it appears that both competitions won't be settled until the final week of preseason camp. If then.
August, 16, 2010
8/16/10
6:46
PM ET
TEMPE, Ariz. -- Two years ago, Adam Tello was a big reason to doubt Arizona State. When he briefly became the starting right offense tackle as redshirt freshman, his ascension revealed just how down the talent on the Sun Devils line was.
Tello didn't pass the sight test. Whatever he was listed at, he looked like he carried about 270 pounds on his 6-foot-3 frame. The sight test, of course, isn't always right, but it proved prescient in Tello's case as he struggled mightily in losses to UNLV and Georgia.
"I remember mentally just not being in the right spot," Tello said. "Mentally, I just fell apart. Everything I got thrown into and I just fell apart. It carried over to playing on the field."
[+] Enlarge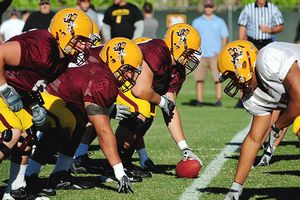 Matt Kartozian/US PresswireGarth Gerhart (snapping the ball) is Arizona State's most experienced offensive lineman with 10 starts.
His confidence evaporated in the desert heat. He was a non-factor in 2009 -- back problems didn't exactly help, either.
This preseason, however, Tello might be a reason for hope. While he's again ascended to the starting lineup because of roster attrition -- the retirement due to knee injuries of guards Zach Schlink and Matt Hustad and the absence of Jon Hargis due to another knee injury -- he no longer does badly with the site test.
He's a solid 290 pounds. He bench presses over 400 pounds. He looks like a Pac-10 offensive lineman.
"This year I'm ready," he said. "I'm healthy. I got stronger. I got bigger in the weight room."
It all comes down to the offensive line for the Sun Devils. Sure, the quarterback competition is grabbing the spotlight, but
Brock Osweiler
,
Steven Threet
and
Samson Szakacsy
each appear capable of giving the offense at least competent play at the position. Perhaps even more than that. But the line's competency will determine the ultimate trajectory of the season -- either a third-straight losing one or a run to a bowl game.
Make no mistake: There are legitimate reasons to question the line. With four career starts, Tello will be the Sun Devils second most experienced lineman behind center Garth Gerhart (10 starts). Left tackle
Dan Knapp
is a converted tight end. Right tackle Evan Finkenberg is a redshirt freshman. Right guard Brice Schwab is a JC transfer.
There isn't anyone on the team who hasn't heard the doubts about the line. While many players and coaches feign ignorance when asked about preseason rankings and skeptical media reports, Gerhart admits he reads just about everything. No, he doesn't like it or agree with it.
"It's real frustrating," he said. "You always see this stuff, 'Oh the offensive line is terrible! They're struggling!' It kills you because you know that you're that person they're talking about. But I think we might change people's minds about what they think of the offensive line at Arizona State."
Both Tello and Gerhart know there's an easy way to find out what their chances are this season: Block their own defense. The Sun Devils front seven should be one of the best in the Pac-10. That's been hit or miss thus far, but a new spread offense, which features a quick-hit passing attack, and better (read: faster) depth at the skill positions, should make life easier up front.
Gerhart also knows how fast teams can turn things around (in either direction). He and brother -- you may have heard of a former Stanford running back named Toby Gerhart -- used to talk on the phone in 2007. The Sun Devils were headed to a 10-win season. Stanford finished 4-8 after going 1-11 the year before.
"He used to tell me how it sucked, how he hated it and how happy he was that baseball season was coming around," the younger Gerhart recalled. "But [last year] he started telling me they were going to surprise people, and sure enough, they surprised everybody."
Will the Sun Devils surprise folks in 2010? Only if Tello, Gerhart and their linemates dramatically improve over the past two seasons.
The good news is they at least
look
like they could do it.