September, 9, 2012
9/09/12
3:28
PM ET
Brian Kelly re-enforced Sunday that
Everett Golson
is his starting quarterback, but the decision to put
Tommy Rees
in for Saturday's final drive had little to do with Golson's thumb injury.
[+] Enlarge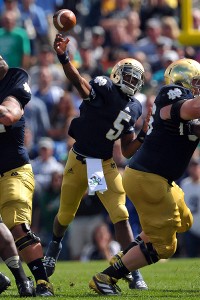 Matt Cashore/US PresswireEverett Golson put up good numbers (21-of-31 for 289 yards, 1 TD) before leaving the game.
"I had already begun the conversation with Coach [Chuck] Martin about installing Tommy into that situation, so the knowledge of running our two-minute trumped any kind of injury that he may have had," Kelly said during a teleconference. "Now, it contributed at the end to make it an easier decision for me."
Kelly again used a pitching analogy to describe his quarterbacks' roles, though he was careful not to peg Rees as his "two-minute" guy should a similar situation arise in the future.
"I don't see it as a role, I see it as if we feel like Tommy can help us win a game or he can come in a situation where we believe its the right fit, then he'll be prepared to do so," Kelly said. "I used this baseball analogy: We like our starters to finish the game. We want them to go all nine innings. Occasionally we might need some help. Maybe we need long relief, maybe we need short relief. I don't want to take anything off the table but we'd like our starter to start it and finish it."
Injury/personnel updates
:
Odds and ends:
Asked if he has a No. 1 running back with Cierre Wood back in the fold, Kelly said: "Yes, Theo Riddick."
Justin Ferguson will wear No. 82 for the rest of the season. Notre Dame was penalized (Purdue declined) during a first-half kickoff Saturday because the freshman wideout, who was No. 15, was on the field at the same time as senior Dan McCarthy, also No. 15. Ferguson changed to No. 82 at halftime. Alex Welch, out for the year (ACL), was No. 82 before.
Kelly elaborated on why he allowed only Te'o and Zack Martin to speak to reporters after the game: "I had to do what I thought was in the best interests of the team. At times that might put me at odds with you guys, and I understand that. Last night I thought it was best for our team to have a couple captains speak and I'll just leave it at that."
March, 29, 2012
3/29/12
9:00
AM ET
Our breakdown of Notre Dame's 2012 roster continues today with the defensive side of the ball.
DEFENSIVE LINE
The players:
Aaron Lynch
,
Louis Nix
,
Stephon Tuitt
,
Kapron Lewis-Moore
,
Tony Springmann
,
Chase Hounshell
, Sheldon Day,
Tyler Stockton
,
Kona Schwenke
The incoming:
Jarron Jones
,
Romeo Okwara
[+] Enlarge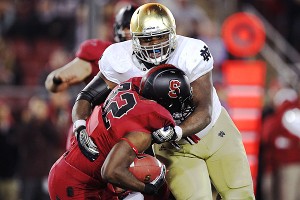 Ezra Shaw/Getty ImagesTackle Louis Nix is a key cog in what should be a strong, experienced defensive line for Notre Dame.
The breakdown:
Injuries forced all three current starters — Lynch, Nix and Tuitt — to play much more than expected last season, and none disappointed. They are all second-year players now, and their pass-rushing ability should have opposing offensive lines and quarterbacks on their heels. Lewis-Moore has been cleared for spring following a season-ending knee injury in 2011 but might not start, though he will likely see plenty of playing time as the line rotates. Hounshell (shoulder surgery) is not cleared yet, but he will likely see significant time this fall after playing as a true freshman last year as well.
LINEBACKERS
The players:
Danny Spond
,
Manti Te'o
,
Dan Fox
,
Prince Shembo
,
Kendall Moore
,
Ishaq Williams
,
Anthony Rabasa
,
Carlo Calabrese
,
Jarrett Grace
, Justin Utopo,
Connor Little
,
Ben Councell
,
Joe Schmidt
The incoming:
None
The breakdown:
As we said with
Tyler Eifert
yesterday, everyone knows what Te'o is capable of, as he likely would have been a first-round NFL draft pick had he left school following his junior year. Fox and Calabrese shared the other inside role last year, and their experience should prove valuable. Shembo has been working at the cat spot this spring, and up-and-coming talents like Williams and Spond figure to see extensive playing time.
SECONDARY
The players:
Bennett Jackson
,
Jamoris Slaughter
,
Zeke Motta
,
Lo Wood
,
Josh Atkinson
,
Austin Collinsworth
,
Dan McCarthy
,
Jalen Brown
,
Cam McDaniel
,
Eilar Hardy
,
Chris Salvi
,
Joe Romano
, Will Salvi,
Connor Cavalaris
,
Matthias Farley
,
Blake Breslau
The incoming:
Elijah Shumate
,
Nicky Baratti
,
C.J. Prosise
,
John Turner
The breakdown:
The loss of
Tee Shepard
really stings this group, which is down to four scholarship corners with a combined zero career starts. Jackson and Wood are in position to take over as the new starters, and playing time last season should help with the transition. At safety, Slaughter and Motta saw plenty of time the last two seasons, and Slaughter in particular has shown a nose for the ball and the capability of providing a leadership force that
Harrison Smith
is leaving behind. Collinsworth will likely also see plenty of snaps after playing last year.
September, 16, 2010
9/16/10
10:15
AM ET
What to watch from Notre Dame in its game Saturday night at Michigan State
(ABC, 8 ET)
:
1. Keeping Dayne in the game:
The No. 1 priority for the Irish is keeping
Dayne Crist
healthy and at quarterback. Notre Dame likely would have beaten Michigan last week had Crist not missed the majority of the first half. Head coach Brian Kelly says his quarterback is feeling no ill aftereffects from the head bruise he sustained last week. If the Irish have to turn to their backups again this week, they'll be feeling some ill effects.
2. Safety dance:
Notre Dame has been depleted at safety with Jamoris Slaughter (ankle) and Dan McCarthy (soft tissue) sidelined. Harrison Smith and Zeke Motta had to basically play the entire game last week. Michigan State will test the secondary with veteran quarterback
Kirk Cousins
and receivers
Mark Dell
and
B.J. Cunningham
.
3. How tough are the Irish?:
Kelly has talked about putting the fight back in the Fighting Irish. Well, here's a good time to find out how far that's come along. Coming off the team's first loss, Notre Dame has to go on the road for the first time this year in a night game. Michigan State will be physical, with defenders such as Greg Jones not afraid to hit people. How will Kelly's team stack up?
August, 6, 2010
8/06/10
4:02
PM ET
SOUTH BEND, Ind. -- The image on the cover of Notre Dame's media guide tells the story of what kind of team Brian Kelly wants. Instead of depicting any current players or the new head coach, the guide has a portrait of old-school, anonymous players emerging from the stadium tunnel in leather helmets.
Kelly is seeking a return to the glory days of Irish football, which some cynics may say has been gone as long as that leather headgear.
"I think that is the pervasive theme here," Kelly said. "Let's get back to understanding the great tradition, who we are and how we play the game. I won't go as far as no facemasks. But I will tell you that toughness, the Fighting Irish theme, is what I want to continue to advance forward."
[+] Enlarge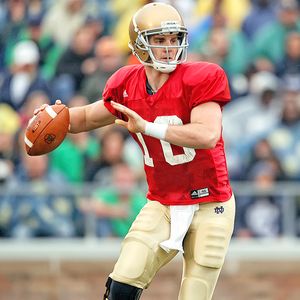 Robin Alam/Icon SMIDayne Crist is the only Irish quarterback with game experience.
Kelly didn't make any grand pronouncements at Friday's kickoff luncheon, held one day before Notre Dame opens fall practice. He seemed more upbeat about the team's prospects than he did at times during the spring when the players were still learning the system. Kelly said the Irish have strengths, vulnerabilities and questions marks, which he listed as the following:
Strengths: Depth on the offensive line, "great depth" at running back and defensive playmakers on the perimeter.
Vulnerabilities: Experience at quarterback (only Dayne Crist has played in a game, and he's never started) and depth on the defensive line.
Question marks: Consistency from the secondary and kicking game.
Kelly said the key battles of fall camp will occur on the offensive line, where he believes he has 10 players capable of contributing; at one of the inside linebacker spots, where Anthony McDonald, Steve Paskorz and David Posluszny are among those fighting for time; and safety.
Dan McCarthy, Zeke Motta, Jamoris Slaughter and Harrison Smith are all in the mix for starting safety spots. Behind them, the team is thin with Spencer Boyd transferring and Chris Badger opting to go on a Mormon mission to Ecuador. Kelly said he'll consider moving some players there from the offense, but he wouldn't disclose who that might be until he has discussed it with them.
Of the freshmen who arrived this summer, Kelly singled out receivers Bennett Jackson and Austin Collinsworth as having impressed the most and having perhaps the best chance to make the travel roster. One freshman who appears to have a long way to go is highly touted defensive lineman Louis Nix.
Nix weighed in at a whopping 350 pounds, or about 35 pounds more than he was listed at on signing day. Defensive coordinator Bob Diaco said Nix was working with the training staff to shed the weight.
"It's going to be a while," said Diaco, who added that he wants his noseguards to weigh between 290 and 300 pounds.
Kelly said he usually wishes he had more time when fall camp rolls around, but that he can't wait to get back to work with this group. He wants the players to embrace the tradition and take on a tough attitude. And he only mentioned one goal.
"We're here to win championships," he said.