November, 7, 2011
11/07/11
3:55
PM ET
Here are the non-AQ players of the week, as selected by each conference.
C-USA
Offense:
Nick Fanuzzi
, QB, Rice. Fanuzzi had career highs with 405 yards passing, 30 completions and 439 yards of total offense, while throwing three touchdowns and leading Rice to a 41-37 win over UTEP. Fanuzzi helped lead the Owls to the third-highest offensive output in school history with 671 yards.
Defense:
Curnelius Arnick, LB, Tulsa. Arnick had a career-best 19 tackles, including 12 solos and one tackle for loss, as well as one pass breakup in a 24-17 road victory over UCF.
Special teams:
Tracey Lampley, PR, Southern Miss. Lampley returned a punt 60 yards for a touchdown in a win at East Carolina. It was his first punt return for a touchdown since his freshman year in 2009.
MAC
East Division
Offense:
Donte' Harden
, RB, Ohio. Harden had a school-record 322 all-purpose yards (184 rushing, 75 receiving and 63 return yards) and scored a pair of touchdowns in a 35-31 win over Temple.
Defense:
Jerrell Wedge, LB, Miami (Ohio). Wedge had nine tackles and a fumble recovery in a 35-3 victory over Akron.
Special teams:
Rob Hollomon, KR, Kent State. Hollomon averaged 35.7 yards on three kick returns in a 24-21 win over Central Michigan.
West Division
Offense:
Chandler Harnish
, QB, Northern Illinois. Harnish threw six touchdown passes, the second-most in MAC history, to lead Northern Illinois to a 63-60 shootout victory at Toledo. Harnish also rushed 16 times for 133 yards to account for 398 yards of total offense.
Defense:
Dan Molls, LB, Toledo. Molls had 17 tackles and one tackle for loss in a 63-60 loss to Northern Illinois
Special teams:
Tommylee Lewis
, KR, Northern Illinois. Lewis became only the 13th player in NCAA FBS history to return two kickoffs for touchdowns in the same game when he scored on back-to-back kickoff returns for Northern Illinois in a 63-60 win at Toledo. Lewis brought the opening kickoff back 100 yards. After Toledo scored, he returned the ensuing kickoff 95 yards for the score.
Mountain West
Offense:
Waymon James
, RB, TCU. Rushed for a career-high 181 yards on 12 carries in a 31-20 win at Wyoming. James, who had a career-long 74-yard run on the first play of the fourth quarter, had 117 yards on five carries in the final period.
Defense:
Jon Davis, DB, Air Force. Davis tied a career-high with 12 tackles as Air Force captured the Commander-In-Chief Trophy for the second consecutive year with a 24-14 victory over Army.
Special teams:
Parker Herrington, PK, Air Force. Kicked a career-high three field goals in a 24-14 win over Army. Herrington improved to 10-of-10 on the season inside 40 yards.
Sun Belt
Offense:
Ryan Aplin
, QB, Arkansas State. Aplin accounted for five touchdowns in leading Arkansas State to a 39-21 victory at FAU. Aplin rushed for 49 yards and four touchdowns and completed 24 of 37 passes for 244 yards and another score.
Defense:
Devon Lewis-Buchanan, LB, ULL. Lewis-Buchanan had a career-high 12 tackles, including 11 solo, in a 36-35 win over Louisiana-Monroe. He also had three tackles for loss and a pass breakup in the win.
Special teams:
Brett Baer, K, ULL. Baer perfectly executed an onside kick late in the game against ULM, allowing
Ladarius Green
to recover the kick at the ULM 39 to set up the game-winning score.
WAC
Offense:
Colby Cameron
, QB, Louisiana Tech. Cameron completed 19 of 33 passes for 376 yards and four touchdowns with no interceptions in Louisiana Tech's 41-21 win at Fresno State.
Defense:
Travis Johnson, DE, San Jose State. Johnson tied a school record with four sacks in a loss to Idaho. One of his sacks resulted in San Jose State's first safety in seven years. He had a total of 10 tackles and a fumble recovery.
Special teams:
Stanley Morrison
, WR, Utah State. Executed two successful fake punts in a 35-31 comeback win at Hawaii. In the second quarter, he rushed for 8 yards on fourth-and 4 and then in the second half, he threw a 23-yard pass on fourth-and-5 to
Joe Hill
for a first down.
January, 24, 2011
1/24/11
4:30
PM ET
Earlier today I did a post with the
top non-AQ offensive players
, according to the final NCAA stats. Now let us take a look at the top NCAA defensive players from the non-AQs.
We start with tackles. Seven of the top 10 leaders in tackles per game came from non-AQ teams:
No. 3 Jamon Hughes, Memphis, 12.25
No. 4 Mario Harvey, Marshall, 11.92
No. 5 Archie Donald, Toledo, 11.23
No. 6 Dwayne Woods Jr., Bowling Green, 11.17
t. No. 7 Bobby Wagner, Utah State, 11.08
t. No. 7 Craig Robertson, North Texas, 11.08
No. 10 Dan Molls, Toledo, 11
Only three of these players return for next season -- Woods, Wagner and Molls. Donald and Molls formed one of the best linebacker duos in the nation if you want to look at their numbers alone. Donald finished with 146 total tackles, while Molls had 143. The only other school with two tacklers in the top 30 was Akron with Brian Wagner (130) and Mike Thomas (113).
Next up: sacks. Five of the top 10 in the NCAA stats are from non-AQ schools.
No. 4 Jonathan Massaquoi, Troy, 13.5 (1.04 pg)
No. 5 Vinny Curry, Marshall, 12 (1.0 pg)
No. 7 Jamari Lattimore, Middle Tennessee, 11.5 (0.88 per game)
No. 8 Mario Addison, Troy, 10.5 (0.88 per game)
No. 9 Chris Carter, Fresno State, 11 (0.88 per game)
Just missing the list is Kent State true freshman Roosevelt Nix, who will most definitely be a player to watch for 2011. Nix had 10 sacks and 20 tackles for loss in his debut season, en route to winning MAC defensive player of the year honors. Troy will lose one member of its sack duo -- Addison just finished his senior season. So did Lattimore and Carter. Massaquoi is an early candidate for Sun Belt defensive player of the year. The honors went to Lattimore this past season.
Finally, we take a look at interceptions. Many non-AQ players made the list here if you want to count total interceptions:
No. 3 Mana Silva, Hawaii, 8 (0.57 pg)
t. No. 5 Dexter McCoil, Tulsa, 6 (0.5 pg)
t. No. 5 Sean Baker, Ball State
t. No. 5 Domonic Cook, Buffalo
t. No. 10 Marco Nelson, Tulsa (.046 pg)
t. No. 13 Evan Harris, Miami (Ohio), (0.43 pg)
t. No. 13 Dayonne Nunley, Miami (0.43 pg)
Everybody on the list but Silva had six interceptions this past season. Impressive to see duos from Tulsa and Miami on the list. Each of those players returns for 2011. There were only three seniors on this list -- Baker, Cook and Silva.
December, 23, 2010
12/23/10
2:00
PM ET
You saw my preview and prediction for the Little Caesars Pizza Bowl between FIU and Toledo on Sunday night in Detroit. Now here are three keys for each team:

FIU (6-6)
1. T.Y. Hilton everywhere.
For FIU to have a shot, Hilton is going to need to have one of his monster games. He has had several of those this season, including his performance against ULM when he had 291 all-purpose yards and scored four touchdowns. Those scores came three different ways -- a reception, a run and a kickoff return. Hilton can line up at receiver and running back and also plays special teams, so Toledo is going to have to make sure it has a man on him at all times.
2. Avoid turnovers.
FIU is the second-most penalized team in the country, so it cannot afford to make costly mistakes. Toledo is excellent at forcing turnovers, and one of the best in the nation with 33 takeaways. Toledo has 19 interceptions, and FIU quarterback
Wes Carroll
has thrown his share of picks this season (13). However, the Rockets have also struggled against the pass at times this season. FIU must take advantage there with some big plays to Hilton to help open up the passing game against a defense that has been excellent against the run.
3. Keep cool.
One of the few people in the FIU program with bowl experience is Carroll, who played for Mississippi State when the Bulldogs faced UCF in the Liberty Bowl in 2007. Perhaps he can relate his experiences to his teammates to help keep them calm. This is going to be a true away game, as FIU has had a hard time selling tickets. The Panthers would have preferred to play closer to home, but have to avoid the "just happy to be here" feeling.

Toledo (8-4)
1. Terrance Owens or Austin Dantin?
Owens is set to start the game, but Dantin has returned to practice after injuring his shoulder in October and could come on in relief should Owens struggle. Coach Tim Beckman said Dantin has looked a little rusty in practice, but had not decided whether his starter would see time in the game. Owens is more mobile, but Dantin has the better arm. So perhaps he may just wait and see how the game progresses.
2. Eric Page alert.
Just as FIU has Hilton, Toledo has Page. He led the team in receiving this season and will most likely be paired up against Anthony Gaitor, FIU's best cornerback. Page had a terrific game against the Panthers when the two teams met last season, catching five passes for 113 yards and two touchdowns. Page is better this season, but of course the big question is who is going to get him the ball. Toledo also has receiver
Kenny Stafford
(6-foot-4) as a big-play target as well.
3. Dan Molls and Archie Donald watch.
The top tackling tandem in the nation with a combined 167 total tackles, Molls and Donald are going to be instrumental in slowing down FIU -- especially Hilton when he lines up in the backfield. Donald will become the first player in school history to lead the team in tackles in three consecutive seasons should he finish with more takedowns than Molls in the game.
December, 6, 2010
12/06/10
12:56
AM ET
Florida International Golden Panthers (6-6) vs. Toledo Rockets (8-4)
Dec. 26, 8:30 p.m. ET (ESPN)


Nation blogger Andrea Adelson's take:
Not sure this was the first preference for the Panthers, who are making their first bowl appearance after winning a share of the Sun Belt championship -- also a school first. FIU would have preferred to play closer to home in either Mobile or New Orleans, but when you are the conference newbie with a relatively small fan base, sometimes things don't go your way.
Still, this is a tremendous accomplishment for coach Mario Cristobal, in his fourth season with the program. FIU has notched the most wins in school history and will be going for the first winning season in school history in the bowl game. The defense has been outstanding, and kept them in games early on against AQ teams -- in fact FIU came oh-so-close to upsetting Rutgers and Texas A&M.
T.Y. Hilton
is one of the best all-purpose threats in the conference, so Toledo should keep an eye on him.
It was a resurgent season for the Rockets as well, in Year 2 of the Tim Beckman era. Toledo is making its first bowl appearance since 2005. Three of its four losses this season were to bowl-bound teams: Boise State, Northern Illinois and Arizona. The Rockets have played the past several games with redshirt freshman
Terrance Owens
at quarterback in place of injured starter
Austin Dantin
. Owens has held his own, and it's unclear whether Dantin will be available for the bowl game. But the key player is
Eric Page
, MAC Special Teams Player of the Year and first-team wide receiver. Page led the country with three kickoffs returned for touchdowns. Also, Toledo has two of the top eight tacklers in the country in Archie Donald and Dan Molls.
October, 6, 2010
10/06/10
11:30
AM ET
Before you even ask, no, Toledo did not paint its practice field blue this week to prepare for its game at Boise State.
"We can't afford to do that," coach Tim Beckman said with a laugh.
The Rockets may not have the same athletic budget as Oregon State, but they are going into Saturday's game against the Broncos in much the same way -- as the underdog.
[+] Enlarge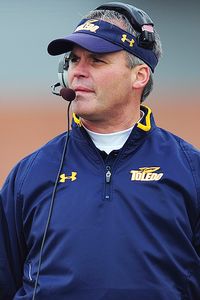 Andrew Weber/US PresswireTim Beckman's Rockets are a perfect 3-0 on the road this season.
Of course, they might be giving themselves a better shot to win because they are going on the road. Curiously, Toledo is 3-0 away from home with a win at Purdue.
Both of its losses have come at the Glass Bowl, including a disappointing 20-15 defeat to Wyoming last week.
"I really don't know what it is, but for some reason we seem to start off a lot faster on the road," said Toledo linebacker Dan Molls, who is second on the team with 50 tackles. "I don't even know how to explain it. It's frustrating and it's something we have to figure out because home-field advantage is a big factor in college football and as of now, we don't really have it too much so we have to do everything in our power to get that back."
Toledo was riding high on a three-game winning road streak going into the game against the Cowboys, but mistakes doomed the Rockets. They had nine penalties for 71 yards, seven dropped passes and starting quarterback
Austin Dantin
was benched after going 8-of-20 for 76 yards.
Redshirt freshman
Terrance Owens
came into the game after the Rockets trailed 20-0 and furiously tried to lead a comeback with two fourth-quarter touchdowns. Toledo had two opportunities to take the lead, the best with about six minutes to play when Mark Singer intercepted a pass and Toledo took over at its own 42.
But on fourth-and-8 from the Wyoming 33, Owens managed a 7-yard completion to
Eric Page
. They had one more possession, but the drive ended at their own 49. Dantin is listed as the starter going into the Boise State game, but Beckman said he was allowing both quarterbacks to compete during practice this week.
"I'm not ever happy with not winning a football game, but I am proud of the way they're trying to finish," Beckman said. "We're getting better at those things, but until we figure out how not to beat ourselves, we're not going to be very successful."
Beckman, in his second season at Toledo, is trying to instill some winning traditions in his program. After wins, he treats his team to Sunday dinners of steak and ice cream. He has implored them to watch more film, to get into the weight room, and to understand what it takes to do all the little things the right way. Toledo has not been to a bowl game since 2005.
But there are hopes of building a program as successful as the one the Rockets are going to see Saturday. Toledo is 6-8 all-time against Top 25 opponents.
The big talk this week was their drop to No. 4 in the polls after a 59-0 win over New Mexico State. Molls believes Boise State deserves to be right there in the national championship discussion.
"They almost have to be," he said. "They haven't lost a game. They're putting up some pretty ridiculous numbers. They have a Heisman candidate at quarterback. It's an unbelievable opportunity for us. It would be great if we could take advantage of it. We know it's not going to be an easy task, but all we can do is prepare the way we've been preparing and play the best possible game we can."
September, 13, 2010
9/13/10
5:44
PM ET
Here are your non-AQ players of the week:
Conference USA
Offense:
Bryce Beall
, RB, Houston. Ran for a career-high 195 yards and tied a career-high with three touchdown runs in a 54-24 win over UTEP.
Defense: Vinny Curry, DE, Marshall. Had 11 tackles, two sacks and two forced fumbles in a loss to West Virginia on Friday night.
Special Teams:
Kevin Fitzpatrick
, K, Tulsa. Tied a career-best when he made four-of-four field goals, including two in each half.
MAC
East Division
Offense:
Thomas Merriweather
, RB, Miami. Ran for 100 yards for the second time in his career, getting 105 yards on 15 carries and tied his career high with three touchdowns in a win over Eastern Michigan.
Defense: Muhammad Wilkerson, DT, Temple. Had six tackles, a career-high two sacks, a career-high three tackles for loss and one forced fumble in a 13-10 overtime win over Central Michigan last Thursday.
Special Teams: Freddy Cortez, K, Kent State. Made field goals from 45 and 41 yards in a 26-13 loss at Boston College. It was the first time in his career Cortez has made two field goals of 40-plus yards.
West Division
Offense:
Alex Carder
, QB, Western Michigan. Completed a career-high 24-of-33 passing for 298 yards and five touchdowns in a 49-14 win over Nicholls State. Carder became the sixth Bronco quarterback with five passing touchdowns in a game and the first since Oct. 8, 2005.
Defense: Dan Molls, LB, Toledo. Had a career-high 11 tackles, 2.5 tackles for loss, one sack and two interceptions in a 20-13 win at Ohio.
Special Teams: Jay Karutz, P, Eastern Michigan. Set a school record with a 49.5 punt average against Miami with three of the four inside the 20-yard line, including two that were downed inside the 1. His fourth punt was a 56 yarder that went out of bounds.
Mountain West
Offense:
Ronnie Hillman
, RB, San Diego State. Rushed for 150 yards and four touchdowns in a 41-21 victory over New Mexico State. The four rushing touchdowns set a conference freshman single-game high and are the most by a San Diego State player since Larry Ned had four touchdowns against Wyoming in 2001.
Defense: Alex Ibiloye, S, TCU. Forced three fumbles and added a team-high tying nine tackles in a 62-7 win over Tennessee Tech. Ibiloye became the first Horned Frog to force more than one fumble in a game since Jerry Hughes forced two against BYU in 2008.
Special teams:
Shaky Smithson
, WR/PR, Utah. Returned five punts for 128 yards, including a 77-yard touchdown, to help Utah beat UNLV 38-10. He is the first Utah player to return a punt for a touchdown since 2007.
Sun Belt
Offense:
Ryan Aplin
, QB, Arkansas State. Threw for a single-game school record 438 yards in a loss to Louisiana. That is the highest total for an FBS player this season. He currently has the second-most passing yards in the country with 716.
Co-Defense: Maurice Rolle, DB, Louisiana; Jonathan Massaquoi, DE, Troy. Rolle had a key interception of Aplin with 1:59 remaining to secure the win. Massaquoi had eight total tackles, a sack, a forced fumble and fumble recovery in a loss to Oklahoma State.
Special Teams:
Jerrel Jernigan
, KR, Troy. Became the fourth player in league history to return a kickoff 100 yards for a touchdown in a loss to Oklahoma State. Jernigan finished the game with 277 all-purpose yards and moved past former Middle Tennessee star Desmond Gee into fifth place on the SBC career list with 4,362 career all-purpose yards.
WAC
Offense:
Bryant Moniz
, QB, Hawaii. Completed 25 of 36 passes for 343 yards and three touchdowns in a 31-28 win at Army. Moniz led the Warriors to touchdowns in three of their first four possessions.
Defense: James-Michael Johnson, LB, Nevada. Had a team and career-high nine tackles, including 1.5 sacks in a 51-6 win at Colorado State. Nevada notched its first shutout since 2006.
Special teams: Anthony Martinez, K, Nevada. Made all three of his field goal attempts and six extra point in the win over Colorado State. The field goal attempts were the first of his college career, while the 15 points he scored in the game are tied for the third most of any kicker in the nation in a game this year.
September, 13, 2010
9/13/10
2:00
PM ET
Let's take a look at the good and the bad for the non-AQs in Week 2.
[+] Enlarge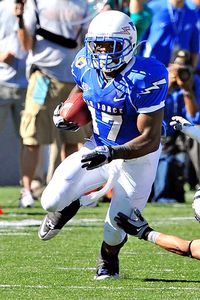 Ron Chenoy/US PresswireAsher Clark rushed 18 times for 121 yards in Saturday's win.
The good:
Air Force really showed what it is capable of in a 35-14 win over BYU. It was the Falcons' first win over the Cougars in six years. In fact, it was the first time coach Troy Calhoun has ever beaten BYU in his career.
Jared Tew
and
Asher Clark
showed why they are one of the best running back duos among the non-AQs, maybe even in the nation, with 198 yards combined on the ground.
Jonathan Warzeka
contributed as well, with six carries for 62 yards and a touchdown. Meanwhile, San Diego State is off to its first 2-0 start since 1994.
The bad:
The MAC had some pretty brutal losses, with Ball State and Akron falling to FCS opponents. Ball State coach Stan Parrish, whose team lost to Liberty 27-23, said he thought the Flames would be able to compete in the MAC, especially behind quarterback
Mike Brown
. "When you have a special player playing quarterback, look at the history of our league, it's very quarterback driven, when you have a very special quarterback like Liberty does, you can be special every week," he said. Meanwhile, New Mexico has now been outscored 124-17 in its two losses this season.
The new:
We heard all the hype about San Diego State freshman running back
Ronnie Hillman
and the hope that he would be able to rescue the Aztecs' rushing attack. Hillman proved it Saturday night against New Mexico State, rushing for 150 yards and four touchdowns in a 41-21 victory. He averaged 6.8 yards a carry, a huge improvement for the Aztecs, who had one of the worst rushing offenses in the country last year. His four rushing touchdowns set a Mountain West freshman single-game high and are the most by a San Diego State player since Larry Ned had four touchdowns against Wyoming in 2001.
A few more helmet stickers:
Toledo linebacker Dan Molls made a career-high 11 tackles, 2.5 tackles for loss, one sack and two interceptions in a 20-13 road win at Ohio. Molls set up the first Toledo touchdown with a 28-yard interception return to the 2-yard line, and also had a big fourth-down sack that allowed the Rockets to beat Ohio a 20-13 win. ... Marshall DE Vinny Curry also had 11 tackles, three for loss, two sacks and two forced fumbles in Marshall's near upset of No. 22 West Virginia on Friday night. ... Arkansas State sophomore quarterback
Ryan Aplin
passed for a school-record 438 yards and two touchdowns in a loss to Louisiana-Lafayette. Aplin has the second-most passing yards in the nation with 716.
A few injury items to note:
Houston quarterback
Case Keenum
(concussion) is day to day. Kent State running back
Eugene Jarvis
missed last week's game against Boise State with a groin injury and is most likely out this week, coach Doug Martin said Monday. He still lists Jarvis as day to day. Middle Tennessee quarterback
Logan Kilgore
sat out last week's win against Austin Peay with a foot injury, and coach Rick Stockstill said the team would know more about his status this week. Utah quarterback
Jordan Wynn
(thumb) missed last week's game against UNLV and his status is uncertain for this week.
Week 3 look ahead:
This is another big week for non-AQ teams playing some pretty important nonconference games. The biggest to watch: East Carolina at Virginia Tech; Air Force at Oklahoma; BYU at Florida State; Baylor at TCU and Houston at UCLA.