NCF Nation:

Dan Radakovich
December, 4, 2013
Dec 4
10:30
AM ET
Clemson is a bystander this weekend when No. 1 Florida State faces No. 20 Duke in the ACC title game. At 10-2, though, the Tigers are ranked No. 13 in the BCS standings, and still very much alive for an at-large BCS bowl berth.
If they finish in the top 14 of Sunday's standings, and if the Seminoles are in the national title game, then the Discover Orange Bowl looks like a very real possibility for Clemson for the second time in three years. (Just check the Twitter accounts of
athletic director Dan Radakovich
and
the Orange Bowl itself
.)

Could things have been better for Clemson this season? Possibly. Here's how close the Tigers might have been to playing for it all.
Where it all started:
Everything looked Roses for Clemson at the beginning of the season. The Tigers, riding high off consecutive 10-win seasons and an upset over LSU in the Chick-fil-A Bowl to close 2012, entered this fall as the preseason No. 8 team in the nation. ESPN's "College GameDay" was on the scene for the Tigers' opener, a tight win over No. 5 Georgia, and a 6-0 start had Clemson all the way up to No. 3 in the country by the time GameDay returned on Oct. 19, when No. 5 Florida State visited.
Where it went wrong:
Did someone say Florida State? The Seminoles made their biggest national statement at Clemson, dominating from start to finish in a 51-14 win that, believe it or not, probably was not indicative of just how badly they outplayed the Tigers. The initial BCS standings were unveiled a day later, with Florida State up to No. 2 and Clemson falling to No. 9.
Where it got back on track:
Clemson recovered nicely from the loss to the Seminoles, winning its next four games by double digits and eclipsing the 50-point total in three of those four contests.
Tajh Boyd
rewrote the ACC record books during the quarterback's farewell tour, and the Tigers climbed back up to No. 6 in the BCS standings heading into their regular-season finale at rival and 10th-ranked South Carolina, which then beat them 31-17 for the fifth straight time.
Here is the thing about that game, during which Clemson lost the turnover margin by a ridiculous 6-0: The Tigers may have still had a slim shot -- with an emphasis of the word
slim
-- at getting to Pasadena, Calif., going into this past weekend. It would have taken a lot to fall into their favor, but think about some of these possible scenarios had Clemson beaten the Gamecocks: then-No. 3 Ohio State loses (which it almost did to Michigan, and still could this weekend against Michigan State), then-No. 5 Missouri loses to then-No. 21 Texas A&M (close, but no cigar) and the South Carolina team that Clemson just beat then tops Auburn in the SEC title game.
The decision for which team plays Florida State in the BCS title game then may essentially have come down to Clemson and Alabama, an argument that the Crimson Tide probably would have won anyway -- especially since no one wants to see a rematch of a game that was decided by 37 points -- but it is worth pondering. (Georgia, after all, recovered from a 35-7 loss to rival South Carolina last year to come within five yards of playing for it all.)
March, 7, 2013
Mar 7
5:00
PM ET
Head coaching salaries have been on the rise for years. So have assistant coach salaries, sparking a further separation between the programs that can pay and the programs that cannot.
Therefore, it should come as no surprise that athletic directors have seen their salaries grow as well.

USA Today, which annually compiles head coaching salaries, recently found FBS athletic directors make
an average of $515,000
. That is an increase of more than 14 percent since USA Today last reported on AD salaries in 2011.
The ACC beats that average. Of the
available salaries compiled by USA Today
, ACC athletic directors were set to make an average of $602,829 in 2013. All but two made more than $500,000 -- Kevin Anderson at Maryland ($499,490), and Randy Spetman at Florida State ($350,00).
That doesn't count incoming Louisville athletic director Tom Jurich, who makes a cool $1.4 million -- the highest paid athletic director at a public school. Only nine athletic directors make $1 million or more. The next highest paid public school AD is Dan Radakovich at Clemson, checking in at $725,000.
Boston College and Miami, two private schools, did not disclose figures.
While Spetman's salary has remained the same for the past several years, it still surprises me that the athletic director at one of the most high-profile football programs in the nation is the lowest paid in his league. And one of the lowest paid in the entire state of Florida. Florida AD Jeremy Foley makes more than $1 million; USF AD Doug Woolard makes nearly $500,000; Todd Stansbury at UCF makes just a smidge more ($375,000); and FIU AD Pete Garcia makes $441,832.
I know Spetman has faced his share of criticism, and the Noles have fought through some financial problems. They do pay Jimbo Fisher $2.75 million -- the highest paid coach in the ACC. But something seems off when the ADs at FIU, UCF and USF make more than the guy at Florida State.
Here are is the complete list of AD salaries in the ACC, thanks to USA Today.
Tom Jurich, Louisville: $1.4 million*
Kevin White, Duke, $906,536
Dan Radakovich, Clemson: $725,000
Ron Wellman, Wake Forest: $688,000
Mike Bobinski, Georgia Tech: $625,000
Jim Weaver, Virginia Tech: $621,529
Steve Pederson, Pitt: $596,595
Craig Littlepage, Virginia: $586,750
Daryl Gross, Syracuse: $570,057
Bubba Cunningham, North Carolina: $565,000
Debbie Yow, NC State: $500,000
Kevin Anderson, Maryland: $499,490**
Randy Spetman, Florida State: $350,000
Brad Bates, Boston College: NA
Blake James, Miami: NA
*Louisville expected to join ACC in 2014
** Maryland will depart ACC in 2014
July, 15, 2011
7/15/11
3:24
PM ET
Scratch Georgia Tech's Dan Radakovich from Tennessee's list for a new athletic director.
Georgia Tech's recent NCAA troubles and the NCAA's assertion that Georgia Tech officials attempted to "manipulate the information surrounding potential violations" makes Radakovich untouchable for a school that appeared before the Committee on Infractions just last month for major violations in both football and men's basketball.
Tennessee should find out sometime next month what sanctions it will face for violations that occurred on the watch of former athletic director Mike Hamilton, who stepped down in June.
[+] Enlarge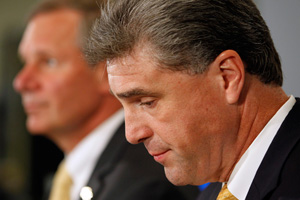 AP Photo/John BazemoreGeorgia Tech athletic director Dan Radakovich had been a front-runner to take the same job at Tennessee.
In the meantime, Tennessee is left to pick up the pieces now that Radakovich is out.
What's most troublesome for Tennessee supporters is that the university forked out six figures to the Parker Executive Search firm to help identify candidates, gather information … and conduct background checks.
If that's the case, how does a guy like Radakovich emerge as the front-runner when his own shop is about to get hit with NCAA penalties?
Given what Tennessee has gone through with the NCAA over the past year or so, the first directive Tennessee chancellor Jimmy Cheek gives to the Parker search firm is to make sure that any and all serious candidates don't have even a trace of NCAA baggage.
Yet, until the news broke Thursday that Georgia Tech was being stripped of its 2009 ACC championship and going on NCAA probation, the feeling of many in and around the Tennessee athletic department was that Radakovich was clearly the guy to beat in the Vols' search for a new athletic director.
Again, good thing they forked over all that money to the Parker search firm, which has collected nearly $300,000 of Tennessee's money when you throw in the searches that led to the hiring of football coach Derek Dooley and basketball coach Cuonzo Martin.
And one more thing: Who is Cheek listening to?
Better yet, is he purposely trying to botch this one even worse than he did the Bruce Pearl situation?
Cheek openly supported Pearl after the former basketball coach admitted to lying to the NCAA and was adamant that Pearl was going to be the Vols' coach. Cheek reiterated that support even after the SEC suspended Pearl for eight games. And then after allowing the whole thing to fester for a season and Tennessee to take a public relations bloodbath nationally, Cheek then decided it was time to pull the plug on Pearl.
Needless to say, his handling of the matter didn't exactly inspire confidence among the Big Orange Nation.
He faces an even more important decision in this next hire, because if Tennessee football doesn't get back to playing for and winning championships -- and doing it the right way -- Cheek might be the next one Tennessee is searching to replace.
No word yet on whether a search firm would be necessary.
As for the athletic director candidates remaining on Tennessee's board, Tulsa's Bubba Cunningham, Buffalo's Warde Manuel and Cincinnati's Mike Thomas appear to be at the top of the list.
From the day Hamilton stepped down, Cheek's initiative was to attract an established athletic director from a bigger school, and he assured key people it would be somebody with a strong football background.
Tennessee took its shot at several so-called bigger names, but those candidates weren't interested in making the move. It's no secret that righting the Vols' ship is going to be a major undertaking for anybody.
Part of Tennessee's problem in this whole search might be that it hasn't looked closely enough within the family.
Senior associate athletic director David Blackburn is a candidate. Where he is in the pecking order at this point is anybody's guess.
But if Cheek genuinely wants to get this one right, Blackburn ought to be at the very top.
He's a Tennessee guy. He understands what's important to the Tennessee people. He's willing to fight for Tennessee, and he's also willing to fight against those (coaches, boosters, anybody) who put Tennessee at risk.
It was Blackburn who saved Tennessee's football program from a failure to monitor charge in the whole Lane Kiffin-NCAA mess. For that matter, Blackburn saved Tennessee football from much worse charges because of his diligence, his integrity and his willingness to stand up to people.
Simply, he's the right fit at Tennessee, the kind of person and the kind of administrator the Vols' athletic department desperately needs.
And it doesn't take a $100,000 search firm to figure that out.
July, 14, 2011
7/14/11
6:35
PM ET
Georgia Tech true freshman quarterback Vad Lee, according to his tweet, was so excited for his first team meeting at 4 p.m. Thursday that he arrived 30 minutes early.
It wasn't quite the introduction to Georgia Tech football he or any of the other freshmen were probably expecting:
Vacate the 2009 ACC title game.
$100,000 fine.
Following a 20-month investigation, which was kept quieter than the Duke library, Georgia Tech on Thursday was slapped with its second major violation in five years. The Yellow Jackets apologetically joined North Carolina, Tennessee, Boise State, USC, Auburn, Oregon and Ohio State on the NCAA's naughty list. Long story short: What could have been a secondary violation for impermissible benefits and preferential treatment (a player received $312 worth of clothing from a friend of a sports agency employee) turned into a major violation and public relations nightmare because of a few poor decisions made along the way. Because there were no scholarship reductions, though, Georgia Tech will pay its hefty fine, cherish its memories of the 39-34 win over Clemson in the 2009 ACC title game and move on.
In Georgia Tech's case, been there, done that.
"In 2005, when they had the issues, coach [Paul] Johnson came in in 2008, while we were still on probation, and it was not something we talked about each and every day," said athletic director Dan Radakovich, who was in the team meeting Thursday afternoon. "Part of what we need to do going forward is to continue to have a positive air of compliance, and make sure that we're doing the right things each and every day.
"They are very resilient," he said of the players. "There were a number of people in that room today who watched that game on television like millions of others. The ones who were there certainly were disappointed, but the lesson moving forward is how the actions of a few can affect many. That's something coach Johnson really stressed to that group. We need to utilize this not only with our football team and our men's basketball team, but also all of our teams as a learning experience moving forward and how important it is to when you're a part of a team, to put that team ahead of anything that comes your way and be up front and open with our compliance process."
Part of the sanctions stemmed from a conversation Radakovich had with Johnson. Radakovich wanted to inform his coach that the NCAA wanted to interview one of his players, but the NCAA was operating under a need-to-know basis and thought the coach didn't need to know (no wonder Butch Davis is safe). In retrospect, Radakovich said he should have contacted the NCAA directly and explained his rationale for informing Johnson.
The NCAA, though, should explain exactly how these sanctions are going to be a deterrent for other programs. If this can happen at Georgia Tech, it can happen anywhere. And it's happening all over the country.
Dennis Thomas, the NCAA's chair of the Committee on Infractions, insisted that the NCAA was not using Georgia Tech as an example to the rest of the college football world.
Georgia Tech officials insisted nobody did anything to intentionally mislead anyone along the way.
"I believe that we could have been more aggressive in our investigation," president G.P. "Bud" Peterson said. "Had we known then what we know now, we might have acted differently. But given the information we had at the time, I believe we took reasonable, and appropriate steps to determine a proper course of action regarding the eligibility of the two student-athletes in question, and most importantly we acted in good faith. At no time prior to or since the 20-month long investigation do I believe anyone at Georgia Tech did anything or took any actions with the deliberate intent to hinder or impede this investigation."
And the NCAA, save for some money and a trophy, hasn't done anything to hinder Georgia Tech from moving on.
May, 13, 2009
5/13/09
3:00
PM ET
Posted by ESPN.com's Heather Dinich
AMELIA ISLAND, Fla. -- Take a look at Michigan's team photo if you want an example of why ACC officials and football coaches are concerned.
In Michigan's team photo, there are 53 staff members wearing white polo shirts -- and 43 of them are not coaches.
In a sport where head coaches are only allowed nine assistants, ACC officials want to know exactly what all of those other people have been hired to do, and it's not just at Michigan. Alabama hired former Virginia offensive coordinator Mike Groh as a graduate assistant, and inflated staffs are popping up all over the country. And they've got every right to because there isn't any current NCAA legislation that limits the number of non-coaching personnel allowed on staff.
The ACC would like to see that change, if not at least monitored a little closer.
"They're really concerned about that," said associate commissioner/football Michael Kelly.
It's an issue the NCAA's recruiting cabinet has already decided it will look into, and Georgia Tech athletic director Dan Radakovich is the ACC's conference representative on that panel. The ACC would like to weigh in on how many coaches can actually be on the field, but officials didn't have enough information at this week's spring meetings to form a concrete proposal with their position. Radakovich will meet with the NCAA recruiting cabinet in June in San Diego.
"I'm sure this will be one of the major items that will be discussed at that meeting," he said. "It's a big issue, but it's really more sport specific. One of the things the NCAA is trying to do right now is pull it together under one umbrella -- the number of accountable coaches, the number of other personnel inside each sport. Hopefully what will come out of the meeting in June is that maybe we need to take a step back and look at sports on an individual basis rather than trying to deal with this issue on an all-encompassing basis."
Kelly said the ACC coaches have to go back and examine their own staff sizes to see how many they have, and what they think would be an appropriate limit for them in terms of being on the field.
"If people have the resources to do whatever they want with X-number of video guys and trainers and strength coaches that's fine," Kelly said. "More power to them. The biggest thing the NCAA is going to focus on and what we want to weigh in on is how many guys can be on the field. I don't think it's run rampant, but there obviously a few programs who have those types of resources to have huge staffs."
Radakovich cautioned it's a problem broader than just college football.
"There are issues in baseball, there are issues in basketball," he said. "I wouldn't look at this as a football-centric issue. These are more national issues."
It was a hot topic at this week's otherwise quiet ACC spring meetings.
"In some places it's really doubling the staff just about," said Wake Forest athletic director Ron Wellman. "We're labeling them one thing, but their activities certainly suggest they're doing other things. They're non-coaches who are coaching. We've got to find a way to address that issue, otherwise the playing field is not level at all. People are always looking for ways to maneuver and gain advantages and this is one of those loopholes that has been found that hopefully we'll be able to address."
NC State athletic director Lee Fowler said helping create legislation was something the ACC officials and coaches talked extensively about and "felt was very important."
"I think it's a concern because we're hearing that's the case at other schools, and they're using weight coaches to be skill trainers and that sort of stuff, which is against what the rules were made for," Fowler said. "We just want to make sure there's some legislation or whatever it takes to make sure everybody is under the same rules and regulations."
Posted by ESPN.com's Heather Dinich

Everyone is concerned about their wallets in these struggling economic times, and St. Patrick's Day is the perfect time for a fiscal review of how the ACC is spending its green. Here are three good -- and three not-so-good -- ways of spending or saving the green:
1. Whip-ing Miami's offense into shape -- However much green was spent to bring in offensive coordinator Mark Whipple was worth it. Regardless of how Miami's offense fared on the field, clearly Patrick Nix and Randy Shannon weren't on the same page when it came to philosophy. Shannon and Whipple are.
2. Upgrade in Durham -- David Cutcliffe gave his football team a makeover, now it's time to do the same with the facilities. The practice field, which looked like it was used by the local parks and rec department, is getting an overhaul. The artificial turf field is being extended from about 75 yards to 120 yards, and the school is currently rebuilding the visiting locker room. In the stadium, two bathrooms and a concession stand are being renovated.
3. Robbing Peter to pay Paul -- While it might seem a little premature to make Paul Johnson one of the highest-paid coaches in the conference before he's even won a league title, the Yellow Jackets can't win the ACC crown unless they dish out the money to keep him. Kudos to athletic director Dan Radakovich for staying competitive with the SEC salaries.
4. The cost of offense in College Park -- In 2006, Maryland coach Ralph Friedgen bought a $240,000 Pro Simulator, a complex computer program designed to help the athletes learn the playbook and read defenses in real-time. Considering Maryland hasn't finished better than sixth in the ACC in scoring offense since then -- including ninth in 2008 -- they might want to stick with Madden.
5. Commonwealth Cup overfloweth in Charlottesville -- Virginia Tech can't let rival Virginia get away with paying Al Groh more. Not when Frank Beamer is winning a BCS bowl and Groh is home for the holidays. It's time for athletic director Jim Weaver to ante up.
6. Spread the wealth -- Is Miami really in such a financial hole it needs to bus to the in-state games this year? Other coaches are sure to use even that tiny detail against the school in recruiting because it doesn't project the image of a big-time program.
December, 12, 2008
12/12/08
12:30
PM ET
Posted by ESPN.com's Heather Dinich
Virginia Tech coach Frank Beamer is trying to recruit some fans to the Orange Bowl, where ticket sales are struggling. Beamer even put up a video on the Hokies' Web site advertising the game. I know the economy is bad, really I do. But has anyone considered the fact that ticket sales might not be flying because it's not a thrilling matchup? I'm telling you, Papajohns.com Bowl ...
While Beamer is trying to recruit fans, Clemson is trying to recruit more than eight players.
Georgia Tech athletic director Dan Radakovich began to renegotiate Paul Johnson's contract this week. That's pretty impressive, considering Johnson's contract was seven years to begin with. Ah, what a win over Georgia can do for you.
Will Ralph Friedgen make good on his promise at the start of the season that quarterback Jordan Steffy "will come in and win a game for us before the season is over?" He's only got one game left to do it.
There is one huge difference between the coach-in-waiting scenario at Wisconsin, and the one Jimbo Fisher has at Florida State. At Wisconsin, Bret Bielema "knew when it was going to happen and how it was going to happen." FSU's situation has an added emphasis on the "waiting" part.
December, 7, 2008
12/07/08
2:18
PM ET
Posted by ESPN.com's Heather Dinich

The ACC isn't ready for prime time. If there were more than 20,000 people at the ACC Championship Game, I'd be surprised. Once again, there were thousands of empty seats, and it came on a day where the SEC Championship Game couldn't have provided any more drama or entertainment. If the ACC wants to reach that level, two things need to happen: First, the conference needs to step up its play and have teams like Florida State and Miami contending for more than just an ACC title. And second, ACC officials need to move this game to Charlotte and keep it there. In an economic time where money is scarce, and families are forced to choose between a bowl game or a title game, the latter needs to be within driving distance. The ACC is fortunate enough to have a centrally-located fan base and should take advantage of it. The scene in Jacksonville last year was an embarrassment to the league, and this year in Tampa wasn't any better.
Don't doubt Frank Beamer. You can give Beamer your best shot, but he won't go down -- just ask Cory Holt, who almost accidentally took his coach out on the sideline Saturday when he was celebrating and whacked Beamer in his jaw. Even with his "bum knee," Beamer is tough, and he and his staff are the reason the Hokies survived this season in the face of criticism. He did it with the youngest roster he has ever had, and during a season in which playmakers were scarce on both sides of the ball. Beamer has given much of the credit to his senior leadership, but that is a reflection of the staff's attitudes. If they start to lose it, so do the players.
Virginia Tech has dominated the ACC. Even when it's not at its best, Virginia Tech can still beat the best. For the third time in five seasons, the Hokies won the title, and for the second straight year, they're going to the Orange Bowl. Since it joined the ACC, Virginia Tech has been the most consistent program in the league, and will continue to be its representative in the BCS until somebody proves otherwise on the field.
Defense wins championships, but so do quarterbacks. One of the main differences in the ACC championship game was quarterbacks. Boston College backup Dominique Davis was not ready for the big stage, but it's unfair to criticize him, considering it was only the second start of his career, and his first road game as starter. (Then again, the Eagles couldn't win the ACC title with Matt Ryan, either). Tyrod Taylor, on the other hand, showed his maturation against one of the toughest defenses in the country. Both of his rushing touchdowns were called pass plays, but when receivers weren't open, he was able to make plays with his feet.
Auburn has not contacted Jimbo Fisher, and Georgia Tech will try and do what it can to keep Paul Johnson in Atlanta. It's a good sign when your coaches are wanted, but it would only cause problems for their respective programs if either of these guys left. I spoke with Fisher Saturday night and he assured me Auburn has not contacted him or his agent, and that he has been out recruiting. With all of the coaching vacancies, Georgia Tech's Johnson SHOULD be a hot commodity. He has certainly proven any doubters of his offense wrong this season. He's expected to meet with AD Dan Radakovich this week.
TOP 25 SCOREBOARD
Thursday, 12/5
Friday, 12/6
Saturday, 12/7